With a strong job market, moderate weather, and rich history, Santa Ana is one of California's most diverse cultural hubs.
Santa Ana is a safe place with plenty of things to do. It has a long history as the financial and political center of Orange County. It extends over 27.4 square miles with a diverse body of residents. Santa Ana is known for its amazing cultural scene and kind-hearted people.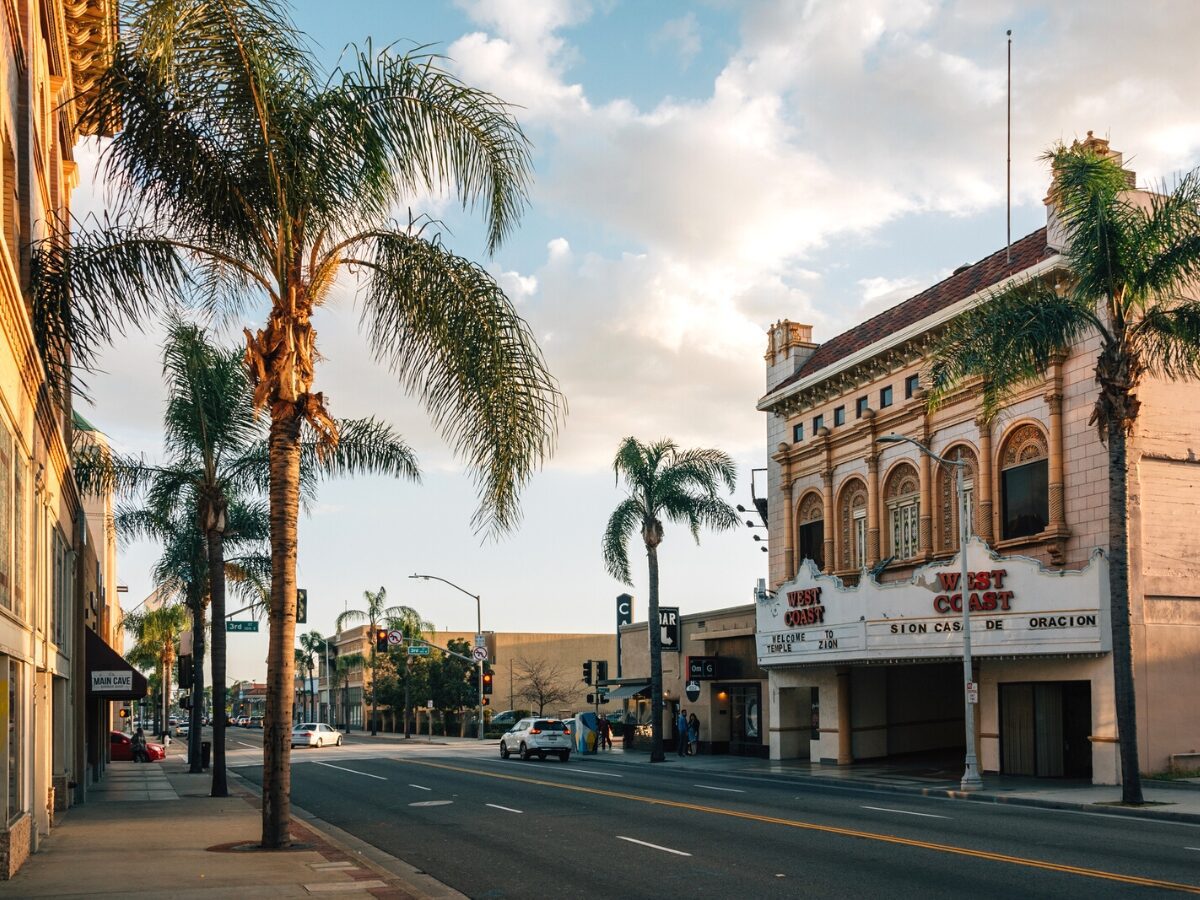 Facts About Santa Ana, California
Land Area: 27.4 sq mi
Zipcodes: 92701 – 92702 – 92703 – 92704 – 92705 – 92706 – 92707 – 92711 – 92712 – 92735 – 92793 – 92799 – 92866 – 92868
Crime rate: 18% safer than other US cities
Best hotels: Holiday Inn Santa ANA-Orange Co. Arpt, an IHG Hotel, DoubleTree by Hilton Hotel Santa Ana – Orange County Airport, Hampton Inn & Suites Santa Ana/Orange County Airport
Best Restaurants: Darya, Boiling Crab, 4th Street Market, Tangata, Baja Fish Tacos, Antonello Ristorante, Las Brisas Restaurant & Ostioneria
Where Is Santa Ana?
The city of Santa Ana is located right at the heart of Orange County, California along the Santa Ana River. It's about ten miles inland from the Pacific Ocean and 35 miles south of Los Angeles.
On top of that, it's the largest and most populous city in the county with a population of 309.441 people, of which about 76% descend from Hispanic or Latino origins.
History of Santa Ana, California
The city of Santa Ana was established in 1869 as an isolated mustard field. It later became a town after William H. Spurgeon laid out a 24-block village on 4 acres he bought from the Yorba estate.
Spurgeon constructed a massive stone courthouse with a high tower, rising over every building in town. Interestingly, this courthouse still stands in good condition after being recently restored.
Santa Ana peaked when the Southern Pacific Railroad began reaching it in 1877. Later, it became a city.
The Establishment of Orange County
Dissatisfied with the quality of the public service that Los Angeles County provides, the people of the area decided to form their own county.
Over one hundred years ago, about 4900 residents of Santa Ana fought their  Anaheim neighbors for the seat of the government of the new Orange County.
In fact, the city of Santa Ana was named the "county seat" in 1889, making it the heart of the area's political power.
Moder-Day Santa Ana
After World War II, Santa Ana witnessed a boom with the huge job market that presented itself with the rise of industries. This has attracted thousands of people to the area.
However, things didn't remain that bright for long. The city lost its appeal in the 1960s due to the stagnation of business.
In the 1980s, Santa Ana has gone through impressive redevelopment thanks to the work of civic leaders. Such revitalization efforts induced major retailers, industries, and hotels.
Perhaps the MainPlace Shopping Center in the downtown area is a clear example of such redevelopment. It was established in 1987 to offer 2000 job opportunities.
Now the city of Santa Ana has a clear name and sits on top of all the financial and governmental services of the county.
What Is Santa Ana, California Known For?
Santa Ana represents the governmental and financial center of the county. It's known for its vivid industrial scene as it attracts several major businesses across different sectors.
On top of that, Santa Ana is an ethnically diverse city bustling with cultural activities. It hosts plenty of events that cater to different ethnicities.
In fact, you'll find in Santa Ana that every holiday is a call for a party. It's common to see annual street events during Independence Day, Fiestas Patrias, Cinco de Mayo, and the 4th of July.
Such spectacular events are loaded with live music, tent vendors, and amazing fireworks. They offer the residents a chance to enjoy a wild night in the midst of their busy schedules.
More importantly, the people of Santa Ana, just like everywhere in Orange County, are known for having a kind heart. There are always plenty of volunteers in the Center OC and the Orange County Rescue Mission to help out.
What to Do in Santa Ana, California?
No one gets bored in Santa Ana, for the city has something for everyone. Whether you're into art, music, museums, or even pure entertainment, you'll certainly find it in Santa Ana.
Art
If you're into arts, you can visit the Grand Central Art Center, which is affiliated with California State University. It houses
Grand Central Gallery
Grand Central Theater
Watermark Press
Classrooms
In addition, you can also visit the Orange County Center for Contemporary Art (OCCCA), which features different exhibits for all fields of visual arts.
Moreover, the Showcase Gallery features a wide variety of artworks by artists of different styles. It also offers original paintings as well as mixed media, sculptures, jewelry, and photography.
Entertainment
For entertainment, you can visit the one-of-a-kind Dinner Detective Murder Mystery Show, which is the largest in the US. Enjoy a four-course meal and an unpredictable award-winning show.
If you have kids, they'll definitely appreciate the Santa Ana Zoo. Built on about 20 acres, the zoo is a regular site for tourists and residents alike as a public zoological garden.
In addition, you can enjoy a day at the Rockin' Jump Orange County, the ultimate trampoline park. This can be a fun day for the entire family with different activities that cater to all.
For great music, you can go to the Observatory Theater or the OC Pavilion Performing Arts Theater. There, you can catch live music of all genres or enjoy a drink at one of the bars.
Historical Sites
Given the city's rich history, there are also plenty of historical sites to visit. For instance, in Santa Ana, you can visit the Episcopal Church of the Messiah, which is used constantly since 1888.
You can also check out the Dr. Howe-Waffle House, built in 1889 by Dr. Alvin Howe and his wife, Dr. Willella Howe. The Santa Ana Historical Society provides tours of the house.
If you're into oldies, you'll surely appreciate the Floral Park neighborhood. This is a community of over 600 vintage homes that represent a long-gone era of beauty and grace.
For a unique experience, go see Kellogg House of Heritage Museum built in 1888. This museum features a wide range of unique architectural elements inspired by the love of ships.
Perhaps, one of the most important historical sites is the county courthouse which has shaped and witnessed the history of Orange County, in general, and Santa Ana, in particular.
Museums
As a cultural hub, Santa Ana has some amazing museums to provide visitors with a unique experience. For instance, the Bowers Museum of Cultural Art and Bowers Kidseum is the largest museum in the county. It's dedicated to promoting understanding through art.
For an unforgettable experience, visit the Discovery Cube, which is dedicated to hands-on scientific experiences. If you're lucky enough, you may catch one of its signature events.
Finally, the Heritage Museum of Orange County is a centennial historic plaza with several buildings from the 1890s.
Santa Ana, California FAQs
Is Santa Ana, California a good place to live?
Santa Ana is an amazing place to live if you have school-age children, prefer moderate weather, and make enough money. The schools in this city have earned different awards, including 28 acknowledgments for California Distinguished Schools and 4 National Blue Ribbons.
In addition, Santa Ana enjoys delightful weather that hardly ever goes below 39°F or above 92°F. Typically, the city has short warm summers and long cool winters. The average temperature ranges between 45°F and 84°F all year long.
On the downside, the cost of living in Santa Ana is relatively high. It's among the top 3% of the most expensive cities in the world. Therefore, make sure your salary can cover your needs.
Is Santa Ana, California safe?
Generally speaking, Santa Ana is among the safest cities in the US according to Forbes. The city features a crime rate that's significantly below the national average. However, only one aspect ranks way higher than the national average. In Santa Ana, the Motor Vehicle Theft rate is almost double the national average.
All in all, Santa Ana is a safe place for residents and tourists alike. Though, just like most large cities, you might want to steer clear of the areas with bad rap by the city's edges.
Is Santa Ana, California worth visiting?
Santa Ana is an ideal touristic city with world-class nightlife, great weather, myriad cultural and historic sites, and welcoming people. You can also attend one of its many street events and enjoy a parade, live music, and great food.
References