King City is a small area in Monterey County, California. This friendly community of 14,221 people was named after its founder, Charles King.
The city offers a variety of remarkable places to explore and activities to try. Nature lovers can enjoy the scenic view of mountains and lakes. Moreover, if you're interested in winery, architecture, literature, and history, this place might be what you've been looking for!
About King City,
King City's origin dates back to 1884 when Charles King bought 13,000 acres of the San Lorenzo Rancho, a Spanish land grant. The city was incorporated in 1911 and has been a prosperous agricultural region.
Facts About King City
Location:155 miles south of San Francisco and 277 miles north of Los Angeles
County: Monterey County
Nearby cities: Greenfield, Soledad, Gonzales, Chualar, Lake Nacimiento, San Miguel, Carmel Valley Village, Coalinga, Ridgemark, Salinas, Cambria
Land area: 3.9 square miles
Zip code: 93930
Population: 14,221
Crime rate: 20.78
Average temperature June: 54.7°F to 83.5°F
Average temperature January: 41.5°F to 59.4°F
University: Hartnell College
Airport: Mesa Del Rey Airport
Best hotels: Motel 6, Keefer's Inn, Quality Inn Near Fort Hunter Liggett, Days Inn by Wyndham
Best Restaurants: Guadalajara Restaurant, The Cork & Plough, Wildhorse Cafe, Tacos La Potranca de Jalisco, Vietnam Restaurant
What's King City Known For?   
King City is known for its Salinas Valley Fairgrounds and annual Salinas Valley Fair.  It's also a gateway to the Pinnacles National Park and the Monterey County wine region.
King City's location provides suitable access to all areas of the state of California. It also boasts picturesque mountain sights and its thriving agricultural area.
People From King City
King City is home to several renowned individuals in various industries. They are:
William Joseph Oswald, Educator, scientist, and engineer
Jeff Andrus, Author
Eldon Dedini, Cartoonist
Danny Desmond Gillmore, Politician and law enforcement officer
George Taylor Morris, Disc jockey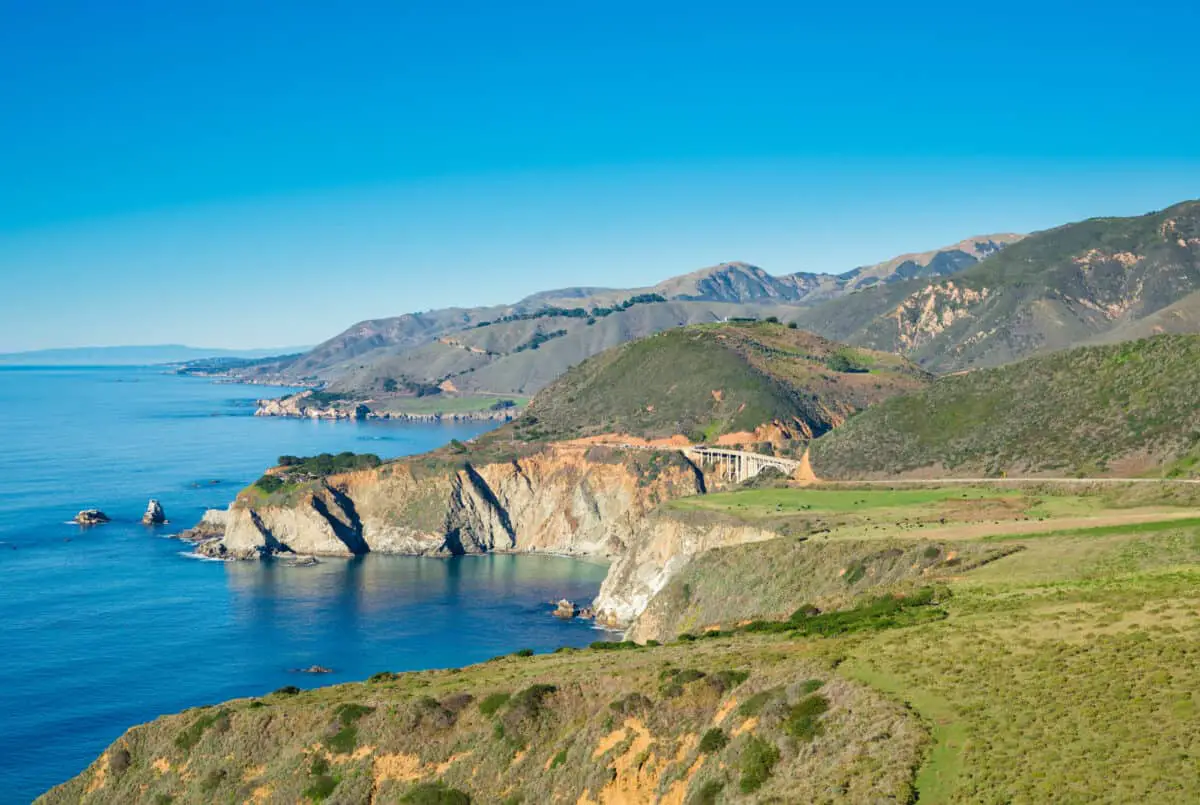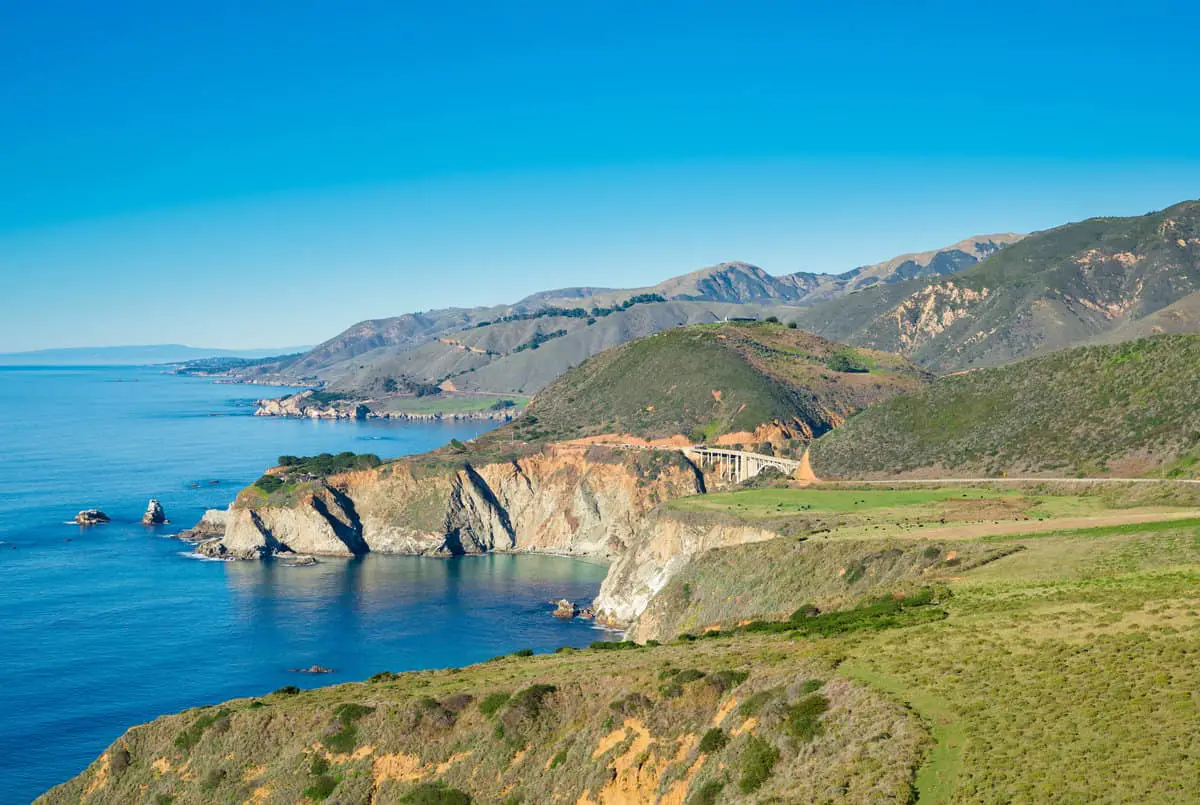 Where Is King City?
King City is in the central part of California between San Jose and San Luis Obispo. It's situated on the Salinas River, only 51 miles southeast of Salinas, and lies along U.S. Route 101, which is at the southern end of the Salinas Valley.
Nearby Locations
These are the nearby communities found within 15 miles of King City, California:
| | |
| --- | --- |
| Location | Distance from Bay City |
| Elsa | 3 miles |
| Welby | 4.1 miles |
| Coburn | 5.8 miles |
| San Lucas | 10.1 miles |
| Metz | 11.6 miles |
| Greenfield | 12.7 miles |
| Lonoak | 14.7 miles |
| Docas | 15 miles |
| Bitterwater | 14.6 miles |
Places near King City, California
Layout of King City
King City is surrounded by productive farmland along the Salinas River in southern Monterey County. It's located in the top portion of Salinas Valley, one of the nation's richest agricultural regions.
The valley's mild temperature and deep soils both contribute to the city's prosperity. The city has benefited from its compact physical layout since then.
Areas in King City
Green Field
Pine Canyon
San Lucas
King's Station Apartments
Salinas Valley Fairgrounds
Forden Park
San Lorenzo Park Campground
San Antonio Park
Creekbridge Baseball/Softball Park
Aera Soccer Park
Pocket Park
The first four items on the list are considered the best places to live in King City, while the rest are different recreational areas.
Getting About King City
The city is small but offers many amenities that might surprise you. King city is proud of its golf course, swimming pool complex, municipal airport, hotels, campgrounds, performing arts center, and local parks.
On Foot
As it's a small city, walking around the city would be easy. But when you visit, make sure to stop by the King City Visitor Center. You can get a booklet for a self-guided tour on the historic Highway 101.
Public Transport  
There are many ways to travel when you're in King City. Some are via the King City Bus Line, Greyhound Bus Line, SLO Safe Ride, Interstate Freeway 1, and the Monterey-Salinas Transit, which also provides door-to-door service for the city's residents.
Driving
The place doesn't have very high accident cases compared to most cities. But the government continues to develop the roads and intersections.
King city is also working on including a local road safety plan in their jurisdiction. This makes the city safer for drivers and pedestrians alike.
What to Do in King City
Though King City is small, you can find beautiful outdoor views. These are some things you can do:
Visit the San Lorenzo County Park
If you want to stay in a quiet place, then this might be the right place for you. You can enjoy nature and relax.
Visit the Monterey County Agricultural & Rural Life Museum
This museum is considered a gem by many visitors. The exhibits showcase the evolution of farming in the county. This is a good place to start if you're interested in history and diverse cultures.
Where to Eat  
King City's most popular restaurants include:
The Cork & Plough, American
Guadalajara Restaurant, Mexican
Tacos La Potranca de Jalisco, Mexican
Wildhorse Cafe, American
Vietnam Restaurant, Asian/Vietnamese
Where to Stay  
These are some of the best places to stay in King City:
Motel 6
Keefer's Inn
Quality Inn Near Fort Hunter Liggett
Days Inn by Wyndham
King City FAQs
Is King City a good place to live?  
King City is a good place to live if you prefer a community where people have a close-knit bond. Though the house price in the area is over $400k, you might find a cheaper deal based on the location and size of the residence.
Is King City safe?  
With a crime rate of only 20.78 per 1000 residents, King City is safer than 27% of U.S. cities.
Is King City worth visiting?  
Yes, because aside from the scenic areas within the city, you can easily visit nearby destinations. Examples are the Pinnacles National Monument, Santa Lucia Mountain, San Antonio Mission, Soledad Mission, Lake San Antonio, and more.
References