Pinnacles National Park is one of the newest national parks in the United States that has quickly attracted thousands of visitors each year. The 26,606-acre park spans San Benito and Monterey Counties. People visit Pinnacles to experience the caves and unique rock formations and catch sight of the California Condor, one of the world's rarest birds.
Visit Pinnacles National Park for plenty of options to spend the day in the rocky landscape resulting from volcanic eruptions millions of years ago. Rock climb, explore caves, hike the trails and watch for birds in this California park. Several accommodations nearby provide lodging for your trip, even if you don't like camping.
Location: 5000 East Entrance Road, Paicines, CA 95043
Entrance Fee: $30 for a private, non-commercial vehicle.
Getting There: Highway 101 for the West entrance, Highway 25 for the East entrance.
How Long To Stay: The entrance fee is valid for seven days.
Best Time of Year: Fall and Spring
Is It Worth Visiting Pinnacles National Park?
Whether it's worth visiting for your family or group depends on personal tastes, but there are plenty of one-of-a-kind experiences at Pinnacles.
Pinnacles National Park has two sides, with moderate to strenuous trails stretching thirty miles across the park. Some of the hiking trails take explorers through caves. Pinnacles National Park is also one of the few places to observe endangered California Condors in the wild.
Pinnacles National Park Facts:
Age: 9 years as a national park.
Size: 26,606 acres
Named After: Rock formations within the park.
Weather: Hot-summer Mediterranean climate.
What To Do In Pinnacles National Park
Visitors come to Pinnacles National Park to experience various outdoor activities, including challenging rock climbing and bird watching. There are many trails to hike, even ones that will take you through caves, so don't forget your flashlight!
Year-round birding for seldom-seen species.
Camping of all kinds at Pinnacle Campground.
Miles of hiking trails, from easy to moderate difficulty.
Two Talus Caves to explore.
Rock climbing for enthusiasts.
Bird Watching
Birding in Pinnacle National Park can be a challenging but rewarding experience. Bring binoculars and pick a place to bird. Different birds inhabit other park areas, including migratory birds like orioles and warblers.
For a chance at seeing the Pinnacles' most famous bird, the California Condor, head up to High Peaks. Other birds of prey can also be spotted in the area, including Turkey Vultures and falcons.
Highlight: A population of endangered California Condors inhabits the park. There are fewer than five hundred of these birds in the world.
Camping
Unlike larger national parks, Pinnacles only hosts one campground, but it's large and offers more than just tent sites for camping. Pinnacles Campground has over one hundred sites and access to several trails. To reach Pinnacles Campground, you must enter from the East entrance.
The campground provides water, coin-operated showers, and a swimming pool open from April to September. Purchase food at the Campground Store, but bring supplies because their offerings are limited.
Highlight: A large campground with tent, RV, and tent cabin camping options with a pool available in the summer months.
Hiking
Pinnacles National Park has thirty miles of hiking trails with varying difficulty levels. Park Rangers are available at several locations around the park to help you assess suitable routes for your skill level.
Many trails increase in elevation, making Pinnacle a great place for challenging hikes and stunning views of the rocky area. There are alternative options for those looking for something more easygoing.
Highlight: Condor Gulch to High Peaks Loop provides a challenging but rewarding route for those who wish to walk through the center of the Pinnacles rock formations.
Talus Caves
Pinnacles National Park contains two talus caves, caves formed between boulders on rocky slopes. Bear Gulch Cave houses a large number of bats. The cave closes in the summer when the bats rear their young. Check with the park for additional closures before heading out. Caves are sensitive areas, and there are many reasons they need to close.
To explore the second cave, head out to the Balconies Cave Trail. The trail takes you through the cave and then to the ridge above for stunning views of High Peaks. Remember to pack a flashlight, or a headlamp, when exploring Pinnacles National Park caves.
Highlight: Balconies Cave Trail ranks among visitors as a must-see feature of the park with a beautiful view of the landscape and a unique cave.
Rock Climbing
Even before Pinnacles reached national park status, rock climbing has been a favorite activity. Rock at Pinnacles is incredibly brittle, making climbing challenging even for experienced climbers. While this is not an activity to try on a whim, there are many opportunities for rock climbing in the park.
Several climbs close to the Bear Gulch Day Use Area are just a few minutes walk from parking. More challenging and remote climbs exist in the High Peaks. Always use caution and proper safety equipment when climbing in Pinnacles National Park.
Highlight: The Photographer's Delight climb in the High Peaks area has stunning views paired with a challenging climb.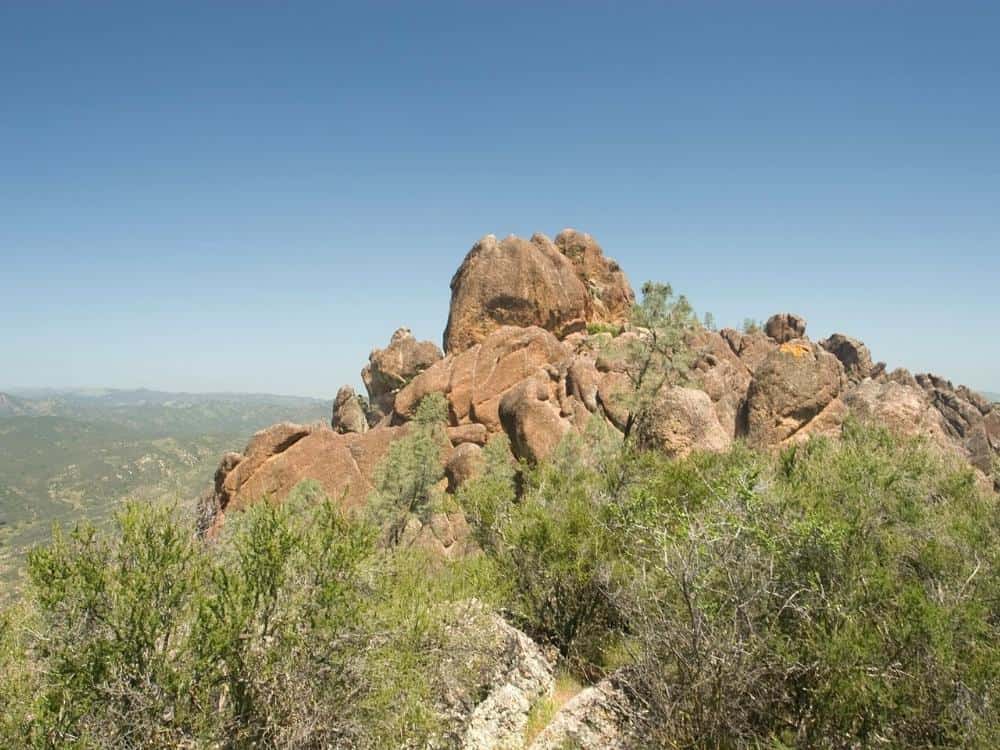 How To Spend a Day In Pinnacles National Park
The West side of Pinnacles National Park makes for a great day trip. Check out this sample itinerary for how to spend a day in Pinnacles. Before heading out, pack a lunch and lots of water. This itinerary includes lots of hiking, so be prepared for the weather.
Morning
Enter the park through the West Entrance and follow Chaparral Road to the Chaparral Picnic Area. The first trail on the list is Juniper Canyon Loop. Though this trail spans less than five miles, the hike is strenuous. Views of the High Peaks and, hopefully, California Condors make the effort worth it for this three-hour hike.
Lunch
A three-hour hike should bring you back to the Chaparral Picnic Area around lunchtime. Enjoy your packed lunch and take some time to use the restrooms.
Afternoon
The afternoon hike is less challenging and passes through one of the Pinnacles' caves. Look for the Balconies Cliffs-Cave Loop Trail. The trail passes over the caves and loops back for visitors to walk through them.
The whole trail is only about two and a half miles long, taking about an hour or more to traverse. Don't forget a flashlight for navigating caves in the dim light! The loop will bring you back around towards the Chaparral Picnic Area.
When is Pinnacles National Park Open?
Pinnacles is open year-round, providing 24-hour access to trails on the East side. The West side entry point only opens from 7:30 am to 8:00 pm. Parts of the park are subject to closure at different points for the safety of visitors and wildlife. Some amenities are only available during specific times as well.
East Entrance: 24-hour access to trails.
West Entrance: 7:30am – 8:00pm.
East Pinnacles Book Store: Thursday – Monday; 9 am-4 pm.
Bear Gulch Nature Center: Saturday – Wednesday; 10 am to 4 pm.
Pinnacles Campground: 9:30am – 5:30pm.
West Pinnacles Visitor Contact Station: Saturday & Sunday 10 am to 3 pm.
Can You Drive to Pinnacles National Park?
There are a few ways to drive to Pinnacles National Park. Whether coming from the North or the South, drivers heading towards Pinnacles should get on Highway 101.
To East Entrance from the North: Highway 101 South to Highway 25 to Highway 146
To West Entrance from the North: Highway 101 South to Highway 146 East
To East Entrance from the South: Highway 101 North to 1st Street to Highway 25 to Highway 146
To West Entrance from the South: Highway 101 North to Highway 146 East.
Where to Stay in Pinnacles National Park?
When planning your stay in Pinnacles National Park, you could either book a hotel, stay at one of the many lodges or take the more rustic approach and camp.
Lodging
When visiting Pinnacles National Park, there are more than just hotels and camping places. From rustic rentals to golf course resorts, there's a lot in the area surrounding Pinnacles.
Bar SZ Ranch's Log Cabin or Ranch House, Paicines, CA.
Ridgemark Golf Club and Resort, Hollister, CA.
St. Francis Retreat with Rooms and Cottages, San Juan Bautista, CA.
Hotels
Traditional hotels are available around Pinnacles National Park. Some are more luxurious than others, but it's always good to have options.
Inn at the Pinnacles, Soledad, CA.
Days Inn by Wyndham, King City, CA.
Best Western Apricot Inn, Firebaugh, CA.
Camping
Pinnacles Campground is the only available camping area in the park. Backcountry camping is not offered here. Outside of Pinnacles, there are other camping options as well.
Pinnacles Campground: Tent and Group Camping, RV Sites, Tent Cabins.
San Benito County Fair RV Park, Tres Pinos, CA.
McAlpine Lake and Park, San Juan Bautista, CA.
Pinnacles National Park FAQ
Here are some of the most common questions regarding Pinnacles National Park.
What are the dangers in Pinnacles National Park?
In Pinnacles National Park, one of the biggest dangers is extreme heat. Temperatures above 100° occur during the summer and early fall. People hiking during these times should pack lots of water. Other things to look out for include stinging nettle, poison oak, and rattlesnakes. Stay on designated trails to avoid these dangers.
Can you drive through Pinnacles National Park?
No. Though you can access the park from either the East or West entrances, no roads pass through the park. Driving around the park from one entrance to the other takes over an hour.
Hiking trails exist between both sides of the park. These trails are moderate to strenuous and take many hours to traverse.
Where do you fly into Pinnacles National Park?
While there are small municipal airports closer to the park, most travelers arrive at the San Jose Airport. Driving from the airport to Pinnacles National Park takes about one and a half hours to reach the East entrance and two hours to reach the West entrance.