California and Washington are two of the biggest and most important states in the U.S. Due to their close proximity along the west coast, many people make the move between states in search of a change. While they're a short flight (or a long drive) from each other, these major states are vastly different. 
The state of California is a unique one. As the most popular region in America, it's a hub of diversity, mixing cultures worldwide. It has some of the best weather in the country, making it a hotspot for tourism. Washington is a little smaller but boasts incredible nature and several vibrant cities. 
California Versus Washington: A Comparison
As the most populous state in the entire country, millions flood California every single year. It's the most popular tourist destination and has always been a favored place to relocate to. However, in recent years, taxes, increases in the cost of living, and other political factors have driven many Californians away.
Washington is among the most popular destinations for fleeing residents. It's relatively close to California and has a similarly pristine abundance of nature, including forests, mountains, and beaches. Washington also has some great cities, a thriving economy, and world-class amenities, museums, and tourist attractions.
Whether you're contemplating a move from the Californian shores to Washington or vice versa, this article compares these two great states. It's a useful guide to help you determine whether a change of scenery is the right move for you and your family. 
Washington vs. California: Quality of Life
Quality of life is one of the most important considerations for anyone ahead of a big move. That said, what does the quality of life actually mean? In most instances, it's a subjective topic that can incorporate several factors.
According to the World Health Organization (WHO), quality of life includes things like climate, economy, and cost of living. So, these will be our areas of focus.
Climate
Firstly, the weather in California is known worldwide as being exceptional. There is sunshine practically all year round and virtually endless options when it comes to outdoor activities. 
Located north of the Golden State, the Washington weather isn't quite as good. Although winters are warm and pleasant, there is considerably more rainfall and far less sun. However, winters tend to be fairly mild, and snow is rare. In terms of weather, California undoubtedly trumps Washington. 
Population Density
Since California is a bigger and more population-dense state, it has a higher GDP. But, when we look at GDP per capita, Washington has a slight edge. Unemployment rates are virtually identical but homelessness is much more common in California and is in fact a societal issue in its major cities. 
Fun and Entertainment
California is home to the stars, and Hollywood's allure is one of the main reasons for its unparalleled growth in the past 100 years. From Disneyland to Alcatraz prison, and from Joshua Tree to Napa Valley, you'll never run out of things to do in California. With almost 40 million people, the state caters to everyone's interests. 
While it may not be as famous, Washington is also a great place to live, offering city thrills and outdoor adventures. Cities like Seattle are bursting with life and a wide variety of subcultures. In terms of nature, there are endless mountains to hike, as well as thousands of acres of forest land to explore. 
Washington vs. California: Cost of Living
The cost of living simply cannot be ignored when comparing cities. That's why we've created a separate section to discuss the financial considerations. First and foremost, the average cost of living in California is €46,000 per annum, which makes it around 40% more expensive than the average U.S. state.
The primary factor in the high cost of living is housing. Housing costs are almost double the price in California compared to the rest of the U.S. The mean house price in Washington is still relatively high, at around half a million, but it's some $200,000 shy of California's average.
Another advantage to living in Washington is the lack of income tax. It helps offset housing costs significantly. That said, if you live in some of the more affluent areas of Seattle, you can find houses and apartments close to those in L.A. or San Francisco's Bay Area.
However, if cost is a significant factor in a decision to live in either state, Washington is more affordable.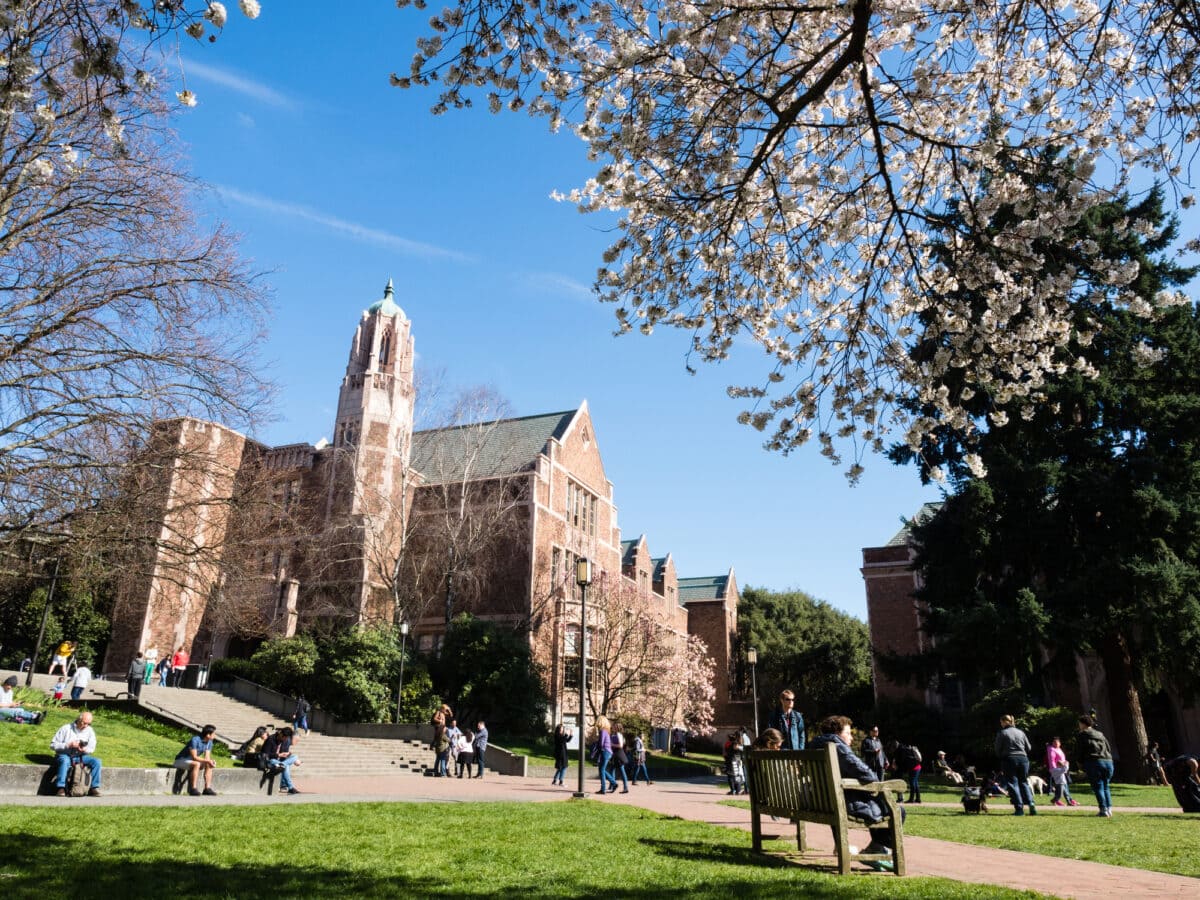 Washington vs. California: Education
Washington sits at number 4 in the country in the education rankings. While California has a reputation for good students and excellent universities, it has slipped down the rankings in recent years and currently occupies the number 20 slot. 
Washington has placed considerable investment into education over the past few decades, which many people credit for the state's progress. It has a revitalized secondary education system and several top universities, including Gonzaga University, Seattle University, and Washington State University.
Moreover, Washington has some unique draws for students. Since 2015, some college students have been eligible for tuition reductions of up to 20%. This also gives them the opportunity to complete their degrees in a shorter time span, getting them into the workforce quickly. 
While Stanford, UCLA, and Berkeley are still among the top education hubs in the country, many students are beginning to favor Washington. The financial incentives, living costs, and presence of major companies have a significant influence on their decisions. 
Washington vs. California: Job Opportunities 
Washington and California have similar unemployment rates of 4% and 4.1% respectively. There are ample job opportunities in both states, yet Silicon Valley is the world-renowned spot that most people are familiar with. It continues to draw top professionals and start-ups from around the globe. 
However, if you look a little closer, Washington is among the premier locations in the country to secure a great job. There are a number of major companies headquartered in the Evergreen State, including Google, Amazon, Boeing, and Starbucks. Many people falsely assume that these companies are based in California.
Although California has a lot of opportunities, the job market is notoriously volatile. The average salary is $85,000, compared to $78,000 in Washington. But it's important to consider that the cost of living and taxes are considerably lower in Washington so you can get more bang for your buck. 
Washington vs. California: Taxes
Regarding taxes, there is no debate between California and Washington. Washington is one of seven states where residents don't pay personal income tax. In contrast, California has the highest income tax rates in the entire country. 
The only standout tax where Washington is higher than California is sales tax. However, it can vary depending on the specific location, and essential goods, like groceries, are exempt. Moreover, Washington has one of the highest minimum wage rates in the U.S., helping offset these extra expenses. 
California Versus Washington: Making The Move
Moving From California to Washington State might be easier than you think. If you've weighed the pros and cons and decided to make the switch, moving costs average at around $3,600. However, it can cost more or less, depending on what and how you move.
When you factor in the potential cost savings, you could make this up very quickly. As costs continue to rise nationwide, more and more U.S. residents are looking at moving to enjoy a better quality of life. Unfortunately, while amazing, California is expensive and can be difficult to get by.
Is it cheaper to live in Washington state or California?
Generally, living in Washington state is cheaper than living in California. The favorable tax rates, cheaper housing, and similar salaries make it much more affordable.
References