If you've ever been to California, you won't be surprised to learn it's the most visited state in all of the U.S. It's not only a beach lover's paradise, but it's also a city escape, a nature lover's getaway, and a perfect location for thrill seekers. However, as one of the most expensive states in the country, budget travelers are often deterred. 
While there's no denying that your dollar doesn't go quite as far in L.A. or other major cities, plenty of cheap California vacations are available. It's an enormous landmass with an incredible variety of places to see and things to do, regardless of your budget. 
Cheap Vacations in Southern California
There is an element of romance in southern California, from the countless songs written about the region to its relationship with the film industry. The coast is speckled with vast beaches and sumptuous mountain ranges, offering miles of natural beauty. Approximately 60% of Californians reside there.
The south of the state is a major draw for a good reason. There is virtually no rain all year, and winters are warmer than many states' summers. Many of California's major cities are located in the south, including L.A. and San Diego. Unfortunately, this means that many of the tourist hotspots are popular and expensive. 
However, we've gathered several low-cost southern California vacation ideas, ensuring you can enjoy all the state has to offer, even if you're on a budget. Our list contains a combination of city and country escapes to find something that aligns with your interests. 
Joshua Tree Camping Trip
If you're an outdoors type, no trip to California is complete without a visit to Joshua Tree National Park. Situated on the border of the Mojave and Colorado Deserts, this world-famous park blends a variety of terrains. The most notable plant is the Yucca brevifolia, more commonly known as the Joshua Tree.
The majority of the landscape is desert and spotted with plants and trees that give it its uniqueness. You can find ocotillos, palo verde trees, and several types of cacti. The rock, sand, and vegetation provide the perfect environment for hiking trails, of which there are many. 
Nature pathways and walking trails are plentiful for all levels of hikers, from beginners to experienced outdoors enthusiasts. While the park is easily accessible by road, the majority of the 800,000 acres must be explored on foot. If you're not into hiking, the park's beauty can be appreciated virtually anywhere. 
Aside from national holidays, visitors must pay for entry into the park. However, the fee is minimal and the passes are valid for multiple days, giving you good value for money. There are dozens of campsites across various budgets, including rudimentary low-cost options. 
One of the many great things about California is that there are beautiful national parks located around the state. You can sample several parks if you've already seen Joshua Tree or it doesn't fit with your travel plans.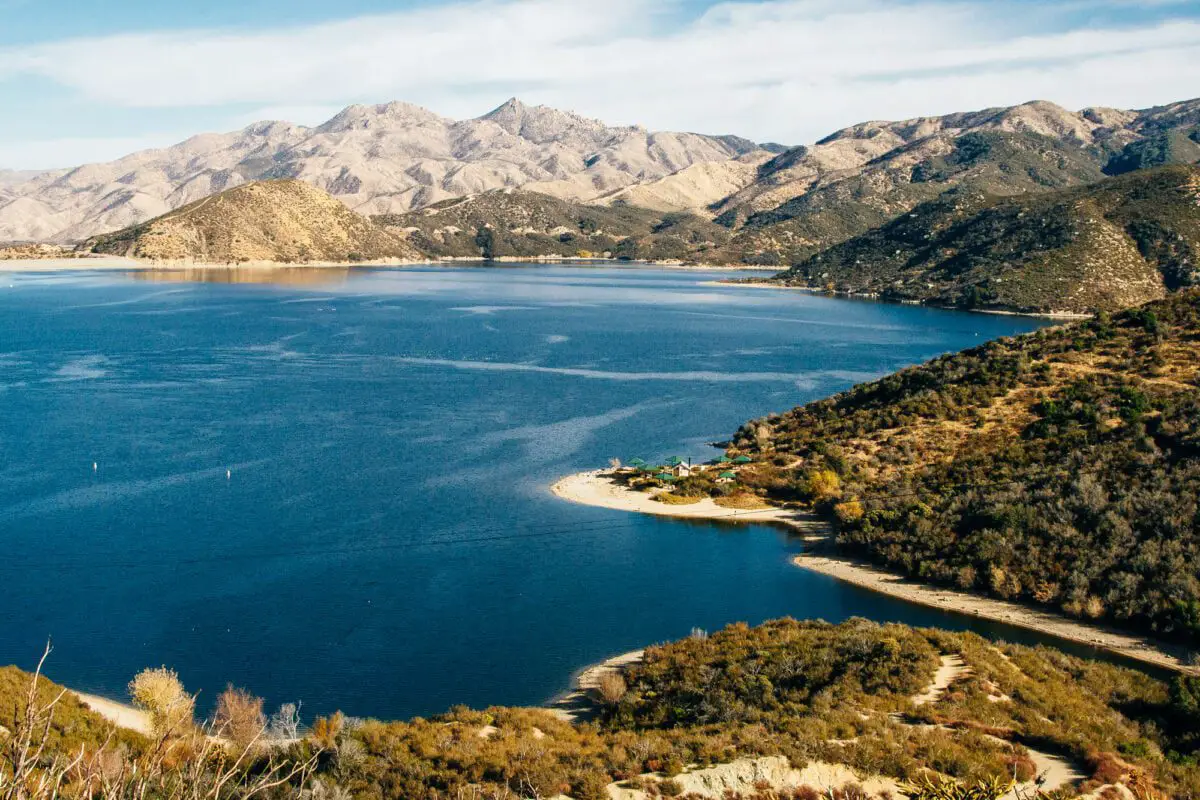 Mountain Adventures at Big Bear
Big Bear is a glorious nature escape that's just a couple of hours' drive from L.A., California's largest city. It's a beautiful mountainous region with a huge lake, offering stunning views from dusk til dawn. You can enjoy a mountain adventure in Big Bear at any time of year. 
Unless you find an incredible special offer, skiing at one of Big Bear's fancy resorts is probably off the cards. However, that doesn't mean you can't take a day trip to the slopes during winter. In high season, the ski slopes are a fun place to hang out as they are bursting with energy, great food, drinks, and music. 
For the best bargains, visit Big Bear during the summer months, when there is no skiing. You can find cut deals in hotels and Air BnBs, and there is no shortage of fun outdoor activities. As with most Californian nature reserves, there are plenty of spectacular hiking and mountain bike trails. 
If you have kids, be sure to set up shop near the lake. The water is clean and safe, ensuring you can swim and enjoy water sports. Big Bear is also a popular area for fishing. The downtown area is packed full of excellent restaurants, bars, shops, and even movie theaters for evening entertainment.
Budget L.A. Sightseeing
L.A. can be an expensive destination if you stay in plush hotels, eat in fancy restaurants, and party in posh clubs. However, there are plenty of things to see within the city that are either free of charge or cheap. On a budget trip, consider staying outside the city and taking day trips to see the sights. 
In general, the biggest conundrum for L.A. vacationers is finding a balance between savings and proximity to the city. While staying well outside is sure to save you some money, L.A. is notorious for its traffic, which may eat up your holiday time. Our advice is to do a couple of day trips from a suburb or pack all your L.A. time into one night. 
Use the rest of your vacation to see some of the spectacular sights around Angel City. To squeeze the most out of your L.A. visit, sign up for a walking or bus tour that hits the walk of fame, Getty Center, Venice Beach, and the TCL Chinese Theater. You can also visit the Hollywood Sign and Griffith Observatory for free.
Hidden Getaways in Southern California
When visiting California, most people want to see famous landmarks, like downtown L.A., San Francisco, Venice Boardwalk, and Hollywood Hills. However, the state is filled with hidden gems that are well worth a look. Moreover, they can save you a lot of money on your vacation. 
Here are some hidden getaways off the beaten track that is sure to make your trip even more memorable. Don't be afraid to ask locals for some tips. Californians tend to be friendly, approachable, and opinionated when it comes to the best places to visit. 
Catalina Island
Although it isn't an obvious pick, Catalina Island is a beautiful vacation option for a couple or family in search of sun and sand. The island has plenty of outdoor activities to offer, such as snorkeling, kayaking, or hiking. It also has a museum, and you can take a tour of the island through an agency. 
This relaxing getaway has unparalleled ocean views. With two harbors along a popular trail, many visitors enjoy strolling along the pier. The island is accessible via the Catalina Express, which is a relatively low-cost ferry from the mainland. 
San Luis Obispo
Although it's not strictly in the south (central), San Luis Obispo has all the characteristics of a southern Californian city. Pismo Beach is an underrated beach in the state with miles of golden sand. The Oceano Dunes are an absolute must and are particularly spectacular at sunset. 
Downtown San Luis Obispo is a quaint and fun place to hang out. The main street has local gift shops, pretty cafes, and fine restaurants. Also, cafes and restaurants are typically much cheaper than in major cities like L.A. or San Diego. This is a cute pick for romantic getaways in southern California on a budget
Ventura Beach
Ventura Beach is a wonderful cheap getaway location for surfers and sun seekers. The beach is simply stunning and undoubtedly one of the prettiest in southern California. Its unique pier is perfect for an evening stroll and offers immaculate photo opportunities at sunset. 
There are several budget accommodation options in the surrounding areas and very reasonably priced places to shop and eat. The nearby Ventura Botanical Gardens and Channel Islands National Park are excellent cheap activity options for nature lovers. 
Cheap Vacations in Northern California 
While beautiful, northern California isn't necessarily as popular as the south. The weather isn't as consistent year-round and it lacks the big city draw of its southern counterpart. That said, affordable getaways in northern California are a lot more plentiful. 
Budget San Francisco Trip
Many people assume that a cheap San Francisco vacation is impossible. However, if you find suitable low-cost accommodation at a hostel or Air Bnb, you can enjoy a lot of the city for free and spend minimally on street food and groceries. 
For sand and sun, hit Ocean Beach. It's a stone's throw from the city and is free to enter. The ocean views are endless, and the beautiful landscape offers excellent photo opportunities. The only downside is that it can be chilly in heavy winds. 
Golden Gate Park, while popular, is also free to enter. It's surrounded by quirky cafes and restaurants. However, if you don't want to splash out, just bring a picnic and enjoy the atmosphere. We recommend visiting in the evening when lots of people gather to watch the legendary San Fran sunset.
Finally, visiting two of San Francisco's most famous landmarks, the Golden Gate Bridge and Twin Peaks won't cost you a dime. They are both also easily accessible via bus if you don't want to spend on an Uber. These two locations are absolute musts when visiting the Bay Area.
Redwood National Park
Many Californians regard the Redwood National Park as the most beautiful in the state. The native redwoods are worth the visit alone. These mammoth, mysterious, and towering trees are incredible sights in-person. The woods are bustling with nature and wildlife unlike anywhere else. 
With no hotels or lodges on site, the only overnight options in the park are campgrounds, making the park a great budget option. Just make sure to do your research and have the necessary equipment. It's also a good idea to consult a local ranger about safety concerns relating to the local wildlife.
Vacation FAQs
How can I vacation in California on a budget?
On a budget, the best way to vacation in California is to find low-cost accommodation away from major cities and identify free or cheap activities, like hiking or walking tours. As a nature-filled state, camping or hiking trips in the National Parks are a great budget option.
What part of California is best for vacation?
Northern and southern California are both excellent vacation spots. If you're looking for sun and sand, the south is usually best. However, for nature and more isolated getaways, consider visiting the north.
What's the best month to visit California?
March and April are usually the best times to visit California as they fall between busy holiday seasons. During these months, you can find cheap flights and low-cost accommodation offers.
References