California is one of the hottest tourist destinations in the United States, with visits regularly passing 200 million annually. Over the past decade, annual tourism spending has also increased significantly. Visitors spend over $100 billion in California annually, providing a valuable source of income for the state.
One of the biggest draws for tourists in the Golden State is the incredible weather year-round weather. There is never a wrong time to visit, even if you're an outdoors enthusiast or a surfer. However, if you're planning a visit to the west coast, you might wonder, does it get cold in California?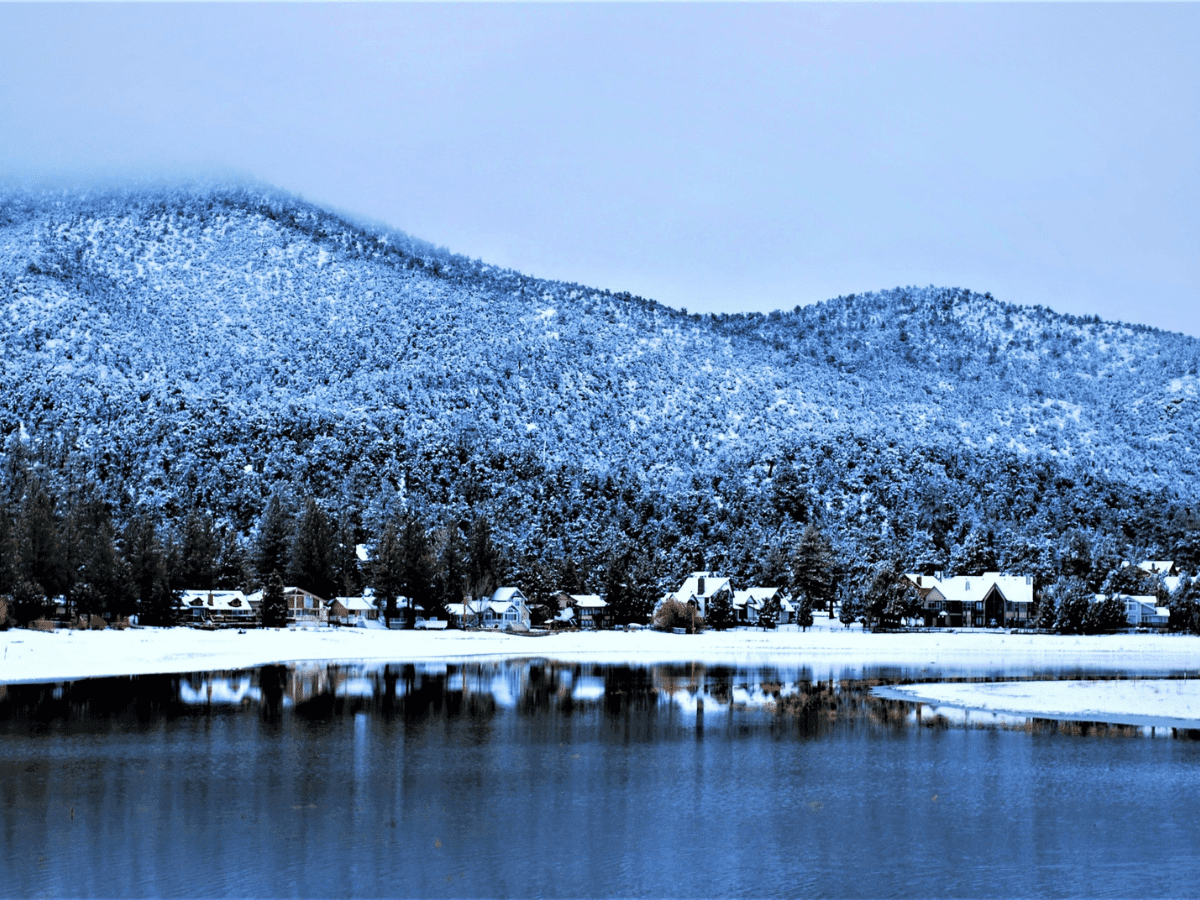 Does it Get Cold in California? A Climate Overview
California is one of the most unique states in the United States, combining a broad range of terrains, including behemoth mountain ranges, a vast coast speckled with beaches, arid desserts, luscious forests, alpine tundras, and deep valleys. Due to the diverse topography, the region experiences multiple ecosystems and miniature climates.
However, the vast majority of the state boasts a Mediterranean climate, making for optimal year-round conditions. Regardless of where you are in the Golden State, you can expect warm, dry summers and mild winters. Despite the relatively predictable weather, California occasionally experiences tropical conditions from storms or hurricanes off the pacific coast.
Throughout its history, California has been synonymous with beach culture. Many of its major cities, like L.A., San Francisco, and San Diego, are located along the coast. The cool pacific currents combine with the year-round sunshine to form hot yet pleasant summers.
As you move further inland toward the National Parks and mountains, the climate naturally becomes more continental. In areas of higher elevation, you can expect far cooler winters.
The further south you travel (toward the Mexican border), the more tropical the weather becomes. Cities in the southwest of the state, like San Diego, often have tropical summers, with occasional rain, but dry and warm winters.
California Temperature By Month
On average, December is the coldest month of the year in California, while July is the hottest. Although temperatures occasionally drop into the 30°F range, it rarely gets much colder. Unless there is an extreme weather event, like a cold snap, you can enjoy warm and pleasant temperatures in California at any time of the year.
| | | | |
| --- | --- | --- | --- |
| | Average | High | Low |
| January | 59°F | 88°F | 40°F |
| February | 60.5°F | 82°F | 46°F |
| March | 59.5°F | 88°F | 44°F |
| April | 64.6°F | 90°F | 51°F |
| May | 66.3°F | 85°F | 54°F |
| June | 71.1°F | 90°F | 58°F |
| July | 74.9°F | 90°F | 62°F |
| August | 74.4°F | 92°F | 60°F |
| September | 71.3°F | 94°F | 57°F |
| October | 66.6°F | 93°F | 50°F |
| November | 64°F | 90°F | 47°F |
| December | 54.5°F | 73°F | 39°F |
| Annual | 65.6°F | 94°F | 39°F |
Breakdown of temperature averages, highs, and lows in California (2021)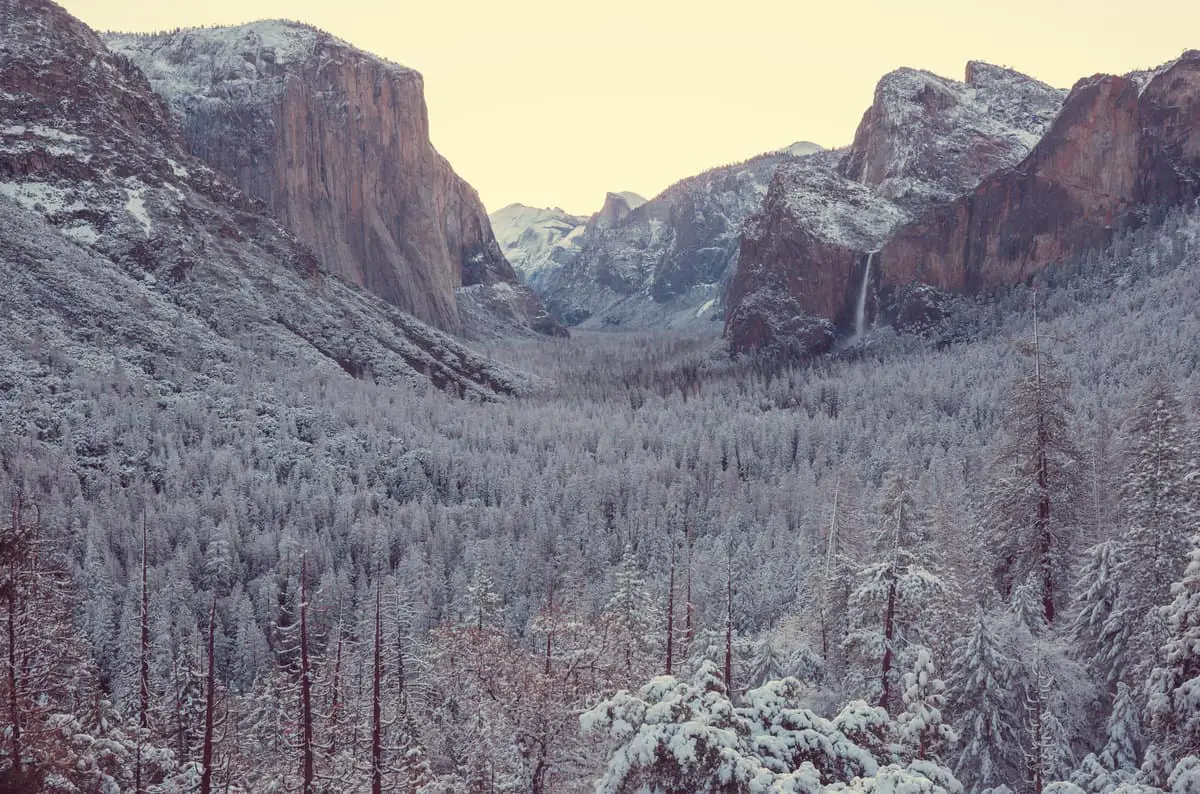 Is it Cold in California in December?
December is usually the coldest month of the year in California, with average temperatures of around 55°F. That said, there are few better places to be in the United States during winter than California. Florida might trump Cali in terms of winter temperatures but there is nowhere in the country where you go on a mountain hike and sunbathe on the beach on the same day, in December.
California is a popular destination for snowbirds. If you're unfamiliar with the term, it refers to people who relocate during winter to areas with warmer climates. If you live in a high-elevation state or a region that gets cold in winter, spending December, January, and February in California can be a welcome break from your chilly home.
Does it Snow in California?
It might come as a surprise to learn that it does in fact snow in California. However, it mainly snows in high-elevation areas next to mountains or hills, like the Sierra Nevadas or near Big Bear Lake. In addition to having a surf and sake subculture, Californians can also enjoy winter skiing and snowboarding.
California's main snow season takes place in January and February. It follows the "rainy season", which occurs sparsely around the state throughout November and December. However, many regions in California usually contend with very little rainfall. The heaviest snow usually falls on the Sierra Nevadas, where there is typically between 300 and 500 inches per year.
The snow-capped mountains provide a beautiful backdrop for photos when you visit the northwestern part of the state. Other areas where it frequently snows include:
Frazier Park
Lake Tahoe
Lake Arrowhead
Mammoth Mountain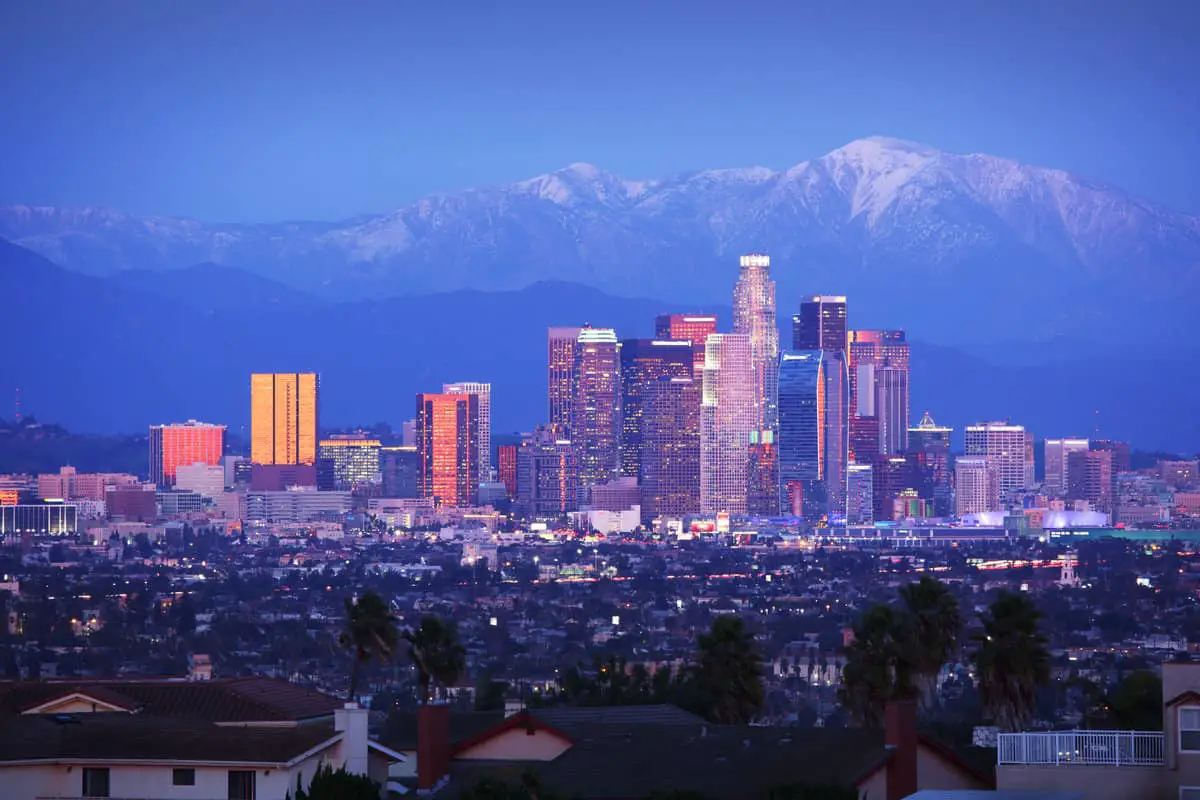 California Temperature By Location
Since the entire state of California is bigger than many countries, generalizing the climate is often unhelpful, especially when you're planning a trip. If you're thinking about visiting California this winter, here's a breakdown of when it gets cold in the state's most popular areas.
How Cold Does it Get in Northern California?
California gets colder the further north you go, particularly in the northwest where the ocean meets the mountains. This area gets hit with westerly winds from the pacific ocean, meaning it's much wetter than the south. However, the temperatures don't drop dramatically, so you can expect the average winter temperatures to hit approximately 50°F.
While northern California may not be a tropical escape for snowbirds, the mild winters are pleasant for Californians. One of the main downsides of spending winter in northern California is that it rains far more frequently than in the south.
Does it Get Cold in Southern California?
Southern California is undoubtedly the best place to be in the Golden State during winter. Overnight lows rarely drop below 50°F, while temperature highs often hit 65°F and above. While it rains occasionally, there is far less than in the north. Areas like San Diego are primed for winter, as long as you can avoid thunderstorms.
When Does it Get Cold in Los Angeles?
Los Angeles' location means it's home to multiple microclimates. Fortunately, for L.A. residents, it remains mild to hot for 12 months of the year, with minimal rain. The coldest months are December, January, and February, with December being the coldest of the three. Daily lows drop to around 48.2°F, but average temperatures are around 57.8°F during December.
When Does it Get Cold in the Bay Area?
The coldest (and wettest) time of year in the Bay Area is between November and March. However, like the rest of the state, it doesn't get too cold, with average temperatures in the mid-50s. The main issue in the Bay Area during winter is the cloud cover and rain. If you're taking a winter break in San Francisco, don't forget to pack an umbrella.
California Weather FAQs
What is California's coldest month?
December is typically California's coldest month. However, it can vary from year to year. In 2021, the average temperature in December was 54.5°F and the lowest recorded temperature was 39°F.
Does it get very cold in California?
California rarely gets very cold weather, even during winter months. The majority of the state experiences a Mediterranean-type climate, with hot and dry weather in summer and mild winters. Average winter temperatures are around 59°F. Temperatures rarely dip below freezing in the Golden State.
What's the coldest it gets in California?
On average, the coldest weather you can expect in California is around 39°F. However, occasionally, during extreme weather events, it can get a lot colder. The lowest temperature ever recorded in California was -45°F. It was registered in Boca, east-central California in January of 1937.
How cold is winter in California?
California has some of the mildest and most pleasant winters in all of the United States. Depending on your precise location, you can experience different temperatures. However, winter temperature lows rarely fall below 39°F.
Resources