California's legendary coastline runs over 840 miles long and contains over 420 public beaches. Thanks to the diverse terrain, the state has countless unique places where you can enjoy a Pacific Ocean sunset. California is home to beaches of all shapes and sizes, from Santa Monica's vast collection of white sand to Glass Beach's sea glass-covered shores. 
There's nothing quite like a California sunset, especially when you can take it in by the ocean. Unfortunately, the sunset spells closing time for many California beaches. It's pretty common for beaches to have strict opening and closing times that fall between sunrise and sunset. However, beach rules and restrictions vary between locations, with some remaining open 24 hours per day.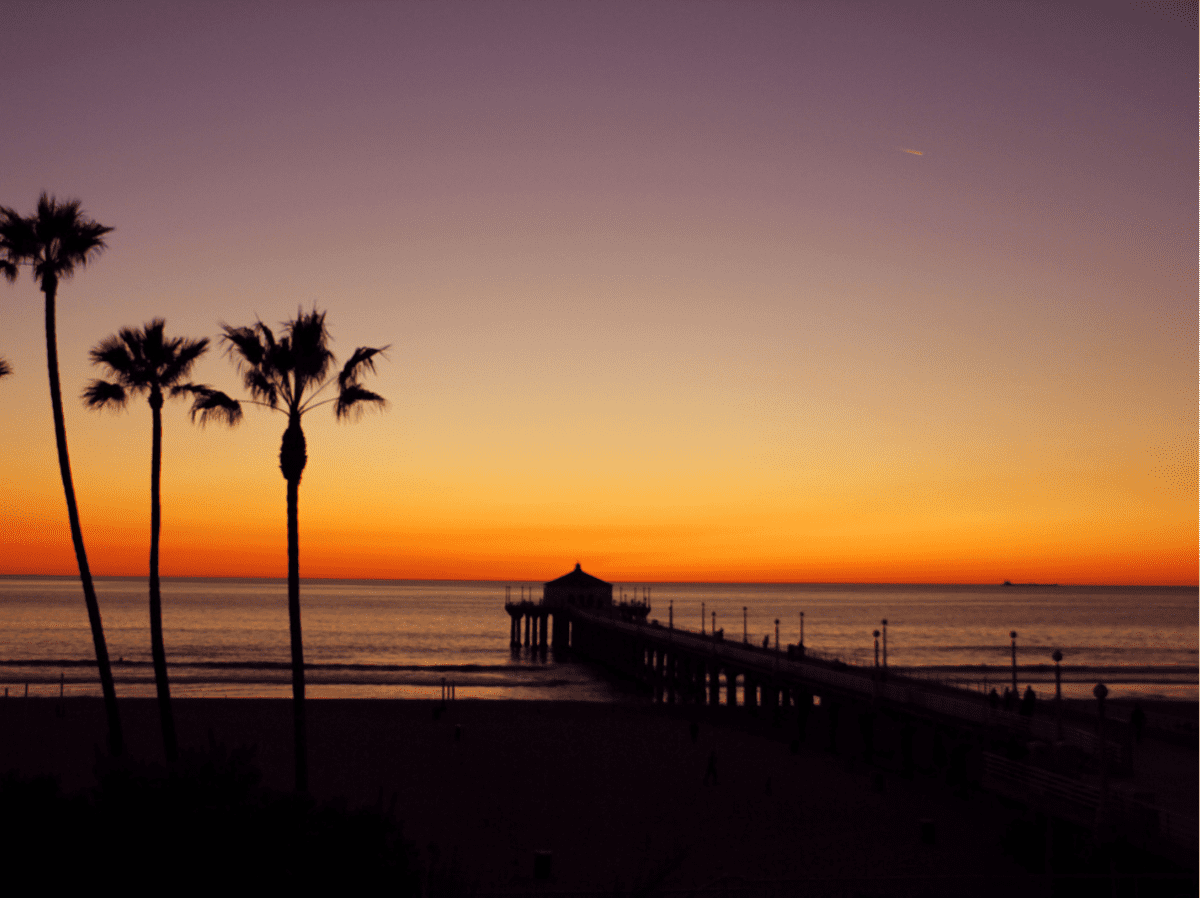 What Beaches Open at Night in California?
Most beaches in the United States have opening and closing times based loosely on sunlight hours. This is mainly for safety reasons, as it's not feasible to station lifeguards or beach security on-site 24/7, 365 days per year. Moreover, several popular beaches, like Malibu have properties built onto them, so opening hours ensure they can enjoy more privacy. 
However, many of California's beaches are open at night. Some even have no restrictions for visitors so you can camp or spend the night there as you please. That said, virtually all beaches have rules that can change after hours so make sure to do your research before visiting or arranging a party. 
How to Find Out Beach Opening and Closing Times
If you're wondering, "what time do beaches close in California?", it's important to realize that there isn't a uniform answer. Rules and closing times are dependent on the individual beach so make sure to plan your visit if you want to stay after dark. Here's how to find out beach closing times in California:
Consult the beach website: most popular beaches have websites or at least have their information posted on a government information page or forum. Google the beach you want to visit and you can typically find the opening and closing times. 
Look out for signage: public beaches generally have information signposted near the entry and exit points or in the car parks. These signs explain the rules, closing times, and any restrictions, such as designated pet areas. 
Reach out to government or beach authorities: if you're struggling to find the information you're looking for online or on-site, seek out contact information for the beach and call them directly. If this approach doesn't work, contact the local police department with your queries. 
While most public beaches in California have key information readily available online, this isn't always the case. In more remote areas or unlisted locations, restrictions may be a little more flexible. 
24-Hour Beaches in Northern California
Northern California has hundreds of precious beaches that are worth visiting at any time of year. However, the vast majority of them have set opening and closing times. If you're visiting NorCal and want to extend your beach day into the night, consider the following three locations:
Black Sands Beach
Black Sands Beach is one of the most unique beaches in the entire country. It was aptly named because of its jet-black sand. The sand gets its color from volcanic minerals that are present in the earth: basalt, andesite, and volcanic glass. Aside from the sand, one of the main reasons visitors love exploring this location is that it's open 24 hours per day.
After sinking your feet into the black sand, you can enjoy multiple scenic hiking trails, where there are breathtaking views of the beach and ocean. Located around 45 miles south of Eureka, the beach is quite isolated. It's the perfect location to take photographs at sunset or go for a peaceful walk. However, you must also note that no dogs are allowed on the beach. 
Baker Beach 
Baker Beach is a must-visit if you're in the San Francisco area. In terms of swimming and sunbathing, Baker Beach doesn't compare with other beaches in the region. The main selling points of this area are the jaw-dropping views of the Golden Gate Bridge and the Marin Headlands. 
The beach is well equipped for visitors, with restrooms, picnic tables, and grills next to the parking lot. You can also find the Battery Chamberlin, "Disappearing Gun" which was built in 1904 as a coastal defense weapon. Although the beach is accessible 24 hours per day, the amenities may not be available after dark.
Rodeo Beach
Rodeo Beach is another 24 hours coastal destination near San Francisco. Despite being located just 3 or so miles from the Golden Gate Bridge, you can't see the famous landmark from Rodeo. 
The main attractions at this beach are the pebbles and stones that you can find on the sand. Everywhere you walk, there are multicolored fragments, including pieces of jasper, black agate, jade, and carnelian. However, you are not permitted to take any of these materials from the ground. 
Rodeo Beach is unique in that it experiences strong winds but also contains discrete coves that are sheltered by the surrounding cliffs. There are several campsites nearby if you're looking for a comfortable place to lay your tent for the night. 
24-Hour Beaches in Southern California
There are several beautiful beaches in California that allow you to enjoy the beauty of the Pacific Ocean after sundown. Several of these beaches are located near built-up areas, whether you fancy a late-night stroll down Santa Monica or night star gazing on Ocean Beach. Here are some of the top spots if you're looking for a beach without closing times.  
Redondo Beach 
Redondo Beach is one of the best locations for anyone looking for a fun night on the town. It's serviced by a 24-hour multi-story parking lot that's a stone's throw from the beach, pier, and picturesque boardwalk. 
There are several fun bars and cozy restaurants along the strip. If you need a breath of fresh air, just take a stroll to the beach and enjoy a moonlight walk with the calming sound of the ocean ringing in your ears.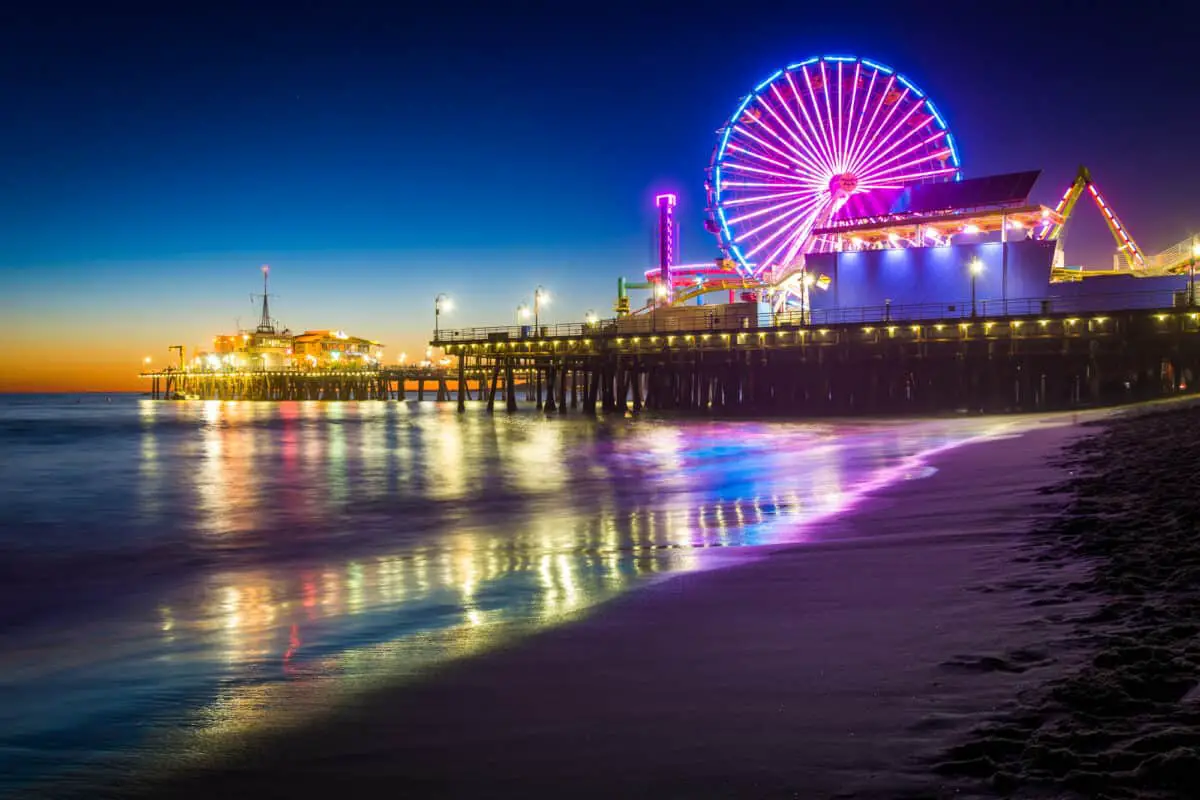 Santa Monica Beach 
Santa Monica Beach is one of the finest and most popular beaches in the state of California. It's over three miles long and contains approximately 245 acres of golden sand. 
Located just west of Downtown L.A., the beach is always busy. The primary area for activity is along the pier, where you can eat great food from a variety of restaurants, take a ride on one of the many rollercoasters, or simply go for a stroll along the seafront. 
Although the beach is accessible all night, not all of the parking lots are open 24 hours. It's also important to note that it's illegal to make a lot of noise on the beach between 10 pm and 8 am. So, if you fancy a midnight beach party, you'll have to look elsewhere.
Ocean Beach 
Ocean Beach in San Diego is one of the few dog-friendly 24-hour beaches in southern California. Your dog can enjoy a long day off its leash or a late-night swim without restrictions. Just remember to clean up after your pet to ensure the beach is kept clean for other users. 
If you're interested in fishing, you can cast off the south end of the beach at the Ocean Beach Municipal Pier at any time, day or night. Ocean Beach at sunset is an incredible sight, as the hot sun appears to melt into the ocean's horizon. 
Resources