Big Sur boasts many attractions, like the Bixby Bridge, Julia Pfeiffer Burns State Park, and Pfeiffer Big Sur State Park. One more attraction it has is Pfeiffer Beach.
Pfieffer Beach, near Sycamore Canyon Road, is a hidden gem that offers an excellent spot for sunsets and relaxing activities. It boasts the Keyhole Arch and its majestic purple sand. People crowd this place because of its natural beauty away from the busyness of the city. It may be challenging to travel there, but the work is worth it.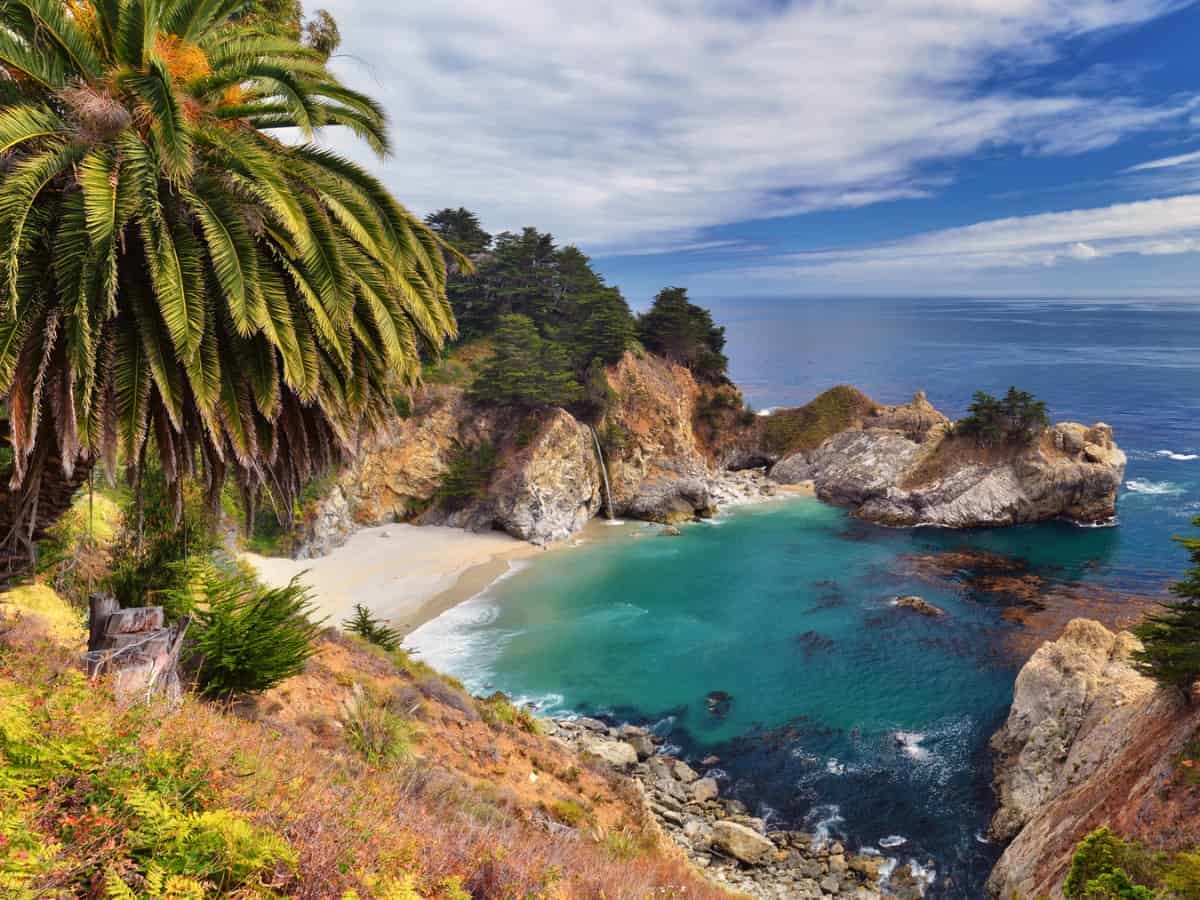 Facts About Pfeiffer Beach
Land Area: Pfeiffer Beach's land area spans a mile.
Zipcodes: 93920
Crime rate: Strictly speaking, it's difficult to measure the crime rate at Pfeiffer Beach since it's not a residential area. However, the Big Sur area sees a higher crime rate in violence and property crimes than average.
Best hotels: Alila Ventana Big Sur, Post Ranch Inn, Hyatt Regency Monterey Hotel & Spa
Best Restaurants: Sierra Mar, Deetjen's Big Sur Inn Restaurant, Nepenthe
Where Is Pfeiffer Beach?
Pfeiffer Beach may be hard to find for tourists or new residents of Big Sur. Not only does it lack clear signage going to the beach, but it's also out of the way. The exact spot of this beach is between the north and south of Big Sur. It's towards the boundary of Sycamore
Canyon Road. You can also find it between the Big Sur Station and Big Sur Post Office. Big Sur is a part of the Central California Coast, just off the Pacific Coast Highway. If you're driving from the north, keep an eye for Pfeiffer Big Sur State Park. You'll take an extremely sharp right turn about a mile after this landmark.
The turn will be on your right with a yellow sign saying "Narrow Road." You can also find this on the west side of California Highway 1. However, driving from the south will require you to pass the Julia Pfeiffer Burns State Park, which is less than ten miles until you need to take the turn.
It can also help to remember Nepenthe Restaurant, since it's only about two miles away from the turnoff. To make sure you're making the right turns, you can also download a digital map beforehand.
That's because there's no cell reception, so it'll be hard to use a GPS. You can also bring a physical map if you're the old-fashioned type. You'll know you're on the right track when you see the Pfeiffer Beach signage on Sycamore Canyon Road. The beach is just two miles away from this sign.
Once you're in the beach's parking lot, you'll still need to walk for about five minutes through a sandy trail. This trail is between two forests and passes through many Monterey cypress trees. So, don't be surprised if you run into some wildlife animals.
At the trail's end, you'll find the majestic view of Pfeiffer Beach and its recognizable purple sand.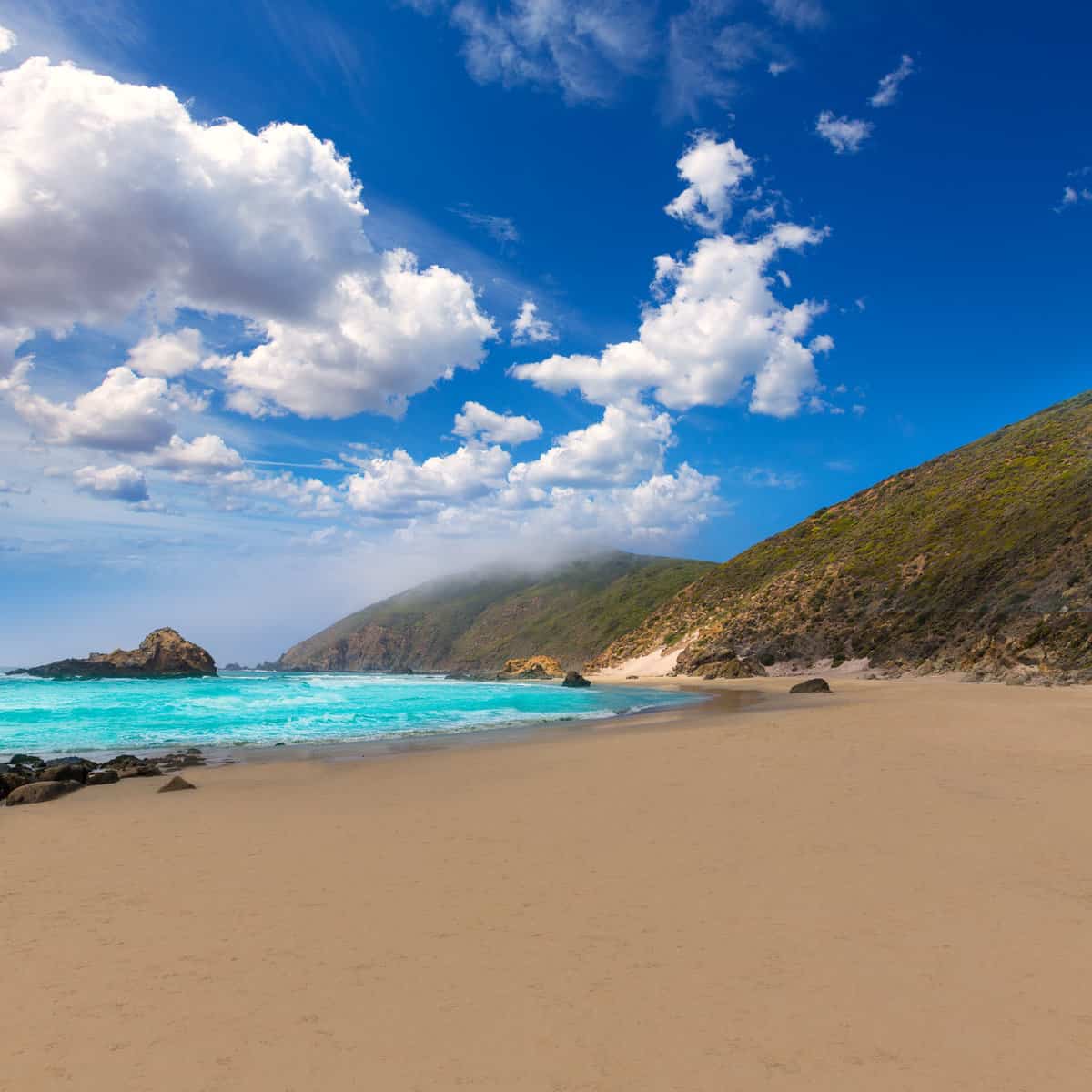 History of Pfeiffer Beach
The name Pfeiffer Beach comes from the Pfeiffer family. In 1869, when one of the Pfeiffer sons got sick, they stopped in Sycamore Canyon and waited until he got better. To their surprise, they liked the place so much that they decided to live there instead.
Michael Pfeiffer eventually built a small cabin in the area and applied for patents on the land in 1883 and 1889. Over the years, it became an attraction for people along the coast. Once popularity rose more, the Pfeiffers began charging a fee.
In 1930, Michael's son was offered a large sum for their land. However, the family wanted to preserve the natural land and refused the money. Instead, they donated 700 acres of the land to the California state, not including Pfeiffer Beach.
What's Pfeiffer Beach known for?
Pfeiffer Beach boasts two things: the Keyhole Arch and the purple sand. The Keyhole Arch is famous for its hole in the middle that resembles a keyhole, and the purple sand also looks attractive.
Keyhole Arch
True to its name, Keyhole Arch brags a key-like cavity in the middle of the rock. The rest of the rock shapes into an arch, perfect for sunset watching.
When waves crash into the rocks, the Keyhole Arch allows them to pass through, creating a beautiful exhibition.
Try to schedule your visit around the middle of January to catch the phenomenal "Light Show." It's where the sun hits at the right angle and peeks through the hole.
Purple Sand
If your main objective is to see the purple sand, make sure you time your visits right. Winter and early spring are the best seasons for a visit since that's when it rains more often in California.
Take note that not every sand in Pfeiffer Beach is purple. Instead, they'll appear as purple patches of sand. It's the effect of manganese garnet deposits traveling down the hills, especially after a strong storm.
The purple sand will still be visible on any other day, but it won't be as evident. You can also see it more clearly if the tide is low.
What to Do in Pfeiffer Beach
You can take photos, stroll, climb rocks, and have a picnic at Pfieffer Beach.
Take Photos
If you're into photography, Pfeiffer Beach is a great location to shoot for sunsets and beaches. Since it's still under the radar, you can expect fewer people to be in the shot.
However, you may be competing with other photographers trying to capture the sunlight. So, it's better to position yourself early to catch the right angle.
Aside from the sunlight in the Keyhole Arch, you can climb up the hills behind the beach to get a bird's eye view of the scenery. From here, you can see the rock formations and the extent of the sea.
Stroll
One of the best ways to spend your time at Pfeiffer Beach is to stroll. You can feel the cold sand against your bare feet or choose to walk along the beach with shoes. Either way, you're sure to feel the cold breeze brush against your face.
From one end of the beach to the other side, you'll get to admire the beauty of Pfeiffer Beach and hear the crashing waves against the rocks. What's more relaxing than that?
Plus, if you're a dog parent, you can bring your furry friend along for a stroll. You can even play some fetch at this dog-friendly beach.
Climb Rocks
The rock formations at Pfeiffer Beach allow you to engage in some types of rock climbing. Of course, only those wearing the right gear and have enough knowledge should try climbing.
For an ordinary person, climbing may be hard and even harder to go down. The rocks are slippery and wet because of the water crashing against them. That's why undertaking this task will require you to wear shoes with a tight grip.
Rock climbing is great if you're looking for the right altitude to enjoy the view. You can see the expansive sea at this height and even spot some marine animals if you're lucky. The wind will also be breezy, so make sure to wear an extra layer of clothes.
Have a Picnic
Not up for any physical activities at the beach? You can still enjoy your time by bringing your own picnic set. It can be for an afternoon snack or even for lunch.
The great thing about eating at Pfeiffer Beach is that you won't have to worry about the heat. If anything, you'll be thankful that the sun is peeking through the clouds. That's because the average temperature at the beach is only 57 degrees Fahrenheit, while the highest can reach up to 86 degrees Fahrenheit.
You can also choose to eat while watching the sunset, a perfect way to end the day. It can serve as a mood booster for stressed-out individuals.
What's more, having a picnic is an affordable way to bond with your loved ones. Add some food to share, and you'll treasure the time more.
Pfeiffer Beach FAQs
Here are some of the frequently asked questions about Pfeiffer Beach.
Is Pfeiffer Beach a good place to live?
Considering it's a beach, Pfeiffer Beach doesn't make a great location to live. Plus, it can be hard to get there because of its hidden location.
Is Pfeiffer Beach safe?
Pfeiffer Beach is relatively safe. Many tourists and locals flock to this beach all year round to catch the beautiful sunset and marvel at rock formations.
Is Pfeiffer Beach worth visiting?
Pfeiffer Beach is worth visiting, even if it detours you from the main road. You won't see another beach with purple sand.
References:
That's because the average temperature at the beach is only 57 degrees Fahrenheit, while the highest can reach up to 86 degrees Fahrenheit.: willyweather.com
However, the Big Sur area sees a higher crime rate in violent and property crimes than average: bestplaces.net
The name Pfeiffer Beach comes from the Pfeiffer family. In 1869, when one of the Pfeiffer sons got sick, they stopped in Sycamore Canyon and waited until he got better.: castateparks.oncell.com