If you love beaches, then you'll love Carlsbad. It's a city in California, within San Diego county. It's home to beautiful beaches and a Legoland theme park. In this article, we'll discuss Carlsbad beaches and the best ones.
Carlsbad beaches are a great place to spend your spring or summer breaks. The most popular beaches are Tamarack State Beach and South Ponto, for their amenities and the numerous activities available. Additionally, Carlsbad beaches are close to many premium hotels and restaurants.
"The sea, once it casts its spell, holds one in its net of wonder forever"

Jacques Yves Cousteau.
Facts About Carlsbad City
Here is the general information about Carlsbad:
| | |
| --- | --- |
| Land Area | 101.3 square kilometers |
| Zipcodes | 92008-92011, 92013, 92018, 92034, 92056 |
| Crime rate | 208.16 per 100,000 people |
| Population (as of 2020) | 114,746 |
Carlsbad land area, zipcodes, crime rate and population.
Compared to the population count of 2010, Carlsbad has an average population growth rate of roughly 0.81% a year.  
Best Carlsbad Hotels on the Beach
According to Tripadvisor, these are the top-rated hotels by the beach in Carlsbad:
Beach Terrace
Cape Rey Carlsbad Beach, a Hilton Resort and Spa
Carlsbad Seapointe Resort
Carlsbad Inn Beach Resort
Hilton Garden Inn Carlsbad Beach
Tamarack Beach Resort
The Westin Carlsbad Resort and Spa
Best Restaurants Near Carlsbad Beaches
According to Yelp, these are the best restaurants you can try at the beach in Carlsbad. You can either order takeout or dine in.
Carlsbad Oceanfront Dining
Beach Terrace Inn
Pacific Coast Grill
333 Pacific
Vigilucci's Seafood and Steakhouse
Harbor Fish Cafe
Cardiff Beach Bar at Tower 13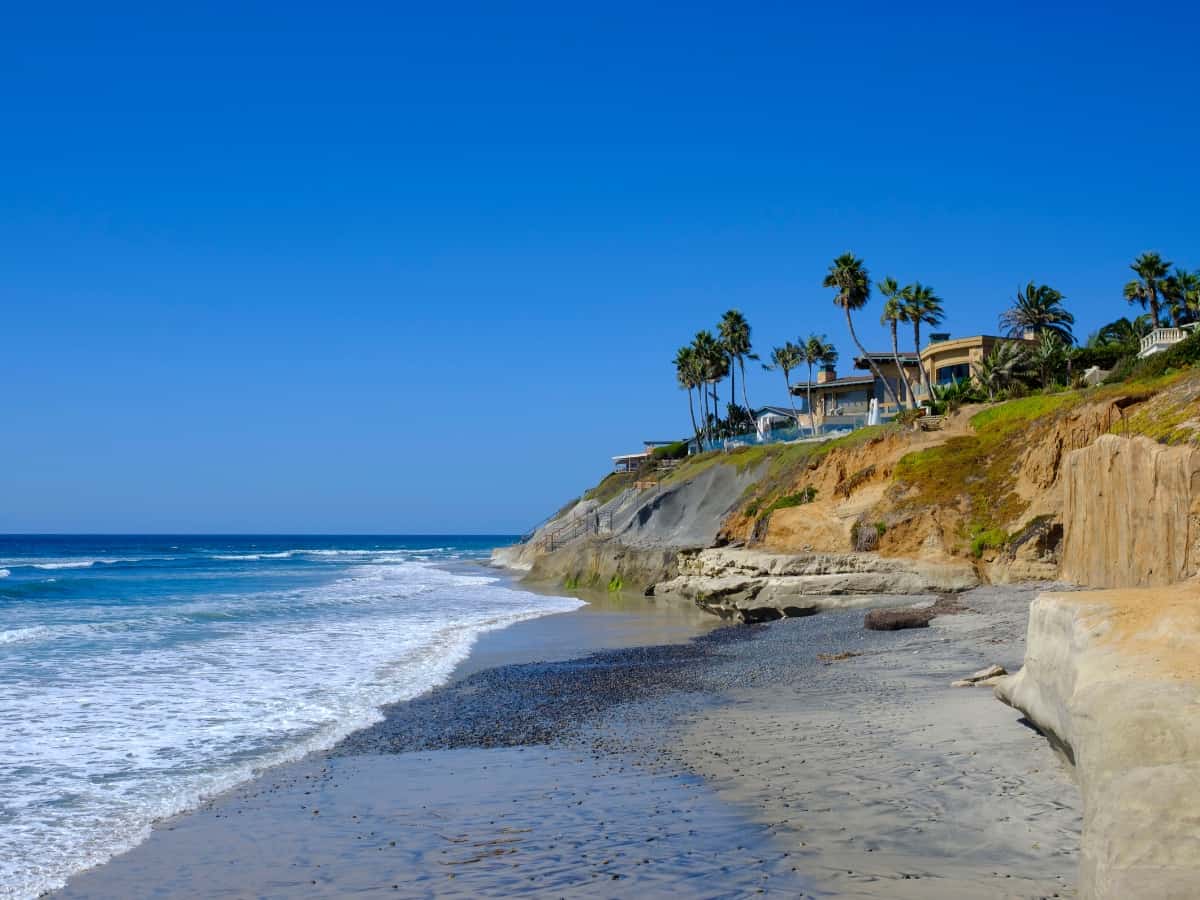 How to Get to the Beach in Carlsbad?
In Carlsbad, all beaches are open to the public. You'll want to drive west from the I-5 freeway to access the beach to get to Pacific Coast Highway. You can reach this via Tamarack Avenue, Cannon Road, Palomar Road,  La Costa Avenue, Poinsettia Lane, or Carlsbad Village Drive.
Once you're on Pacific Coast Highway, you'll easily reach all of Carlsbad's beaches. This highway is also known as Carlsbad Boulevard.
Then, find a parking spot near the beach you're headed to or by the roadside. Note that some beaches don't have parking lots, so you'll have to park at nearby beaches.
To access the beach, follow the marked trails and stairways.
What Are the Best Beaches in Carlsbad?
Depending on what you want to do, where you'll be spending the night, and whether or not you have a car, you can choose which beach to visit first. We highly recommend visiting more than one beach during your stay because of the different views and experiences you'll have.
Carlsbad has many options for chilling on the beach, whether by the magnificent Pacific ocean or the breathtaking Buena Vista Lagoon.
These are the best beaches in Carlsbad, moving from the north to the south:
North Carlsbad City Beach
This is the northernmost beach in Carlsbad. It's located between Elm Street and Robert Frazee State Beach. Close to this beach is St Malo Beach, which is on the lagoon on the other side. During low tide, you can walk to St Malo Beach.
Some of the activities you can do at North Carlsbad City beach are sunbathing, swimming, bird watching, surfing, lagoon exploration, and beach strolling.
Robert Frazee State Beach
Just after North Carlsbad Beach, you'll find Robert Frazee State Beach near Carlsbad Village. This place is relatively uncrowded, with the option of either getting in the sand or enjoying the view from above on street level.
You can swim, sunbathe, fish, or surf on the beach. If you're on the Promenade walkway or Carlsbad Seawall, you can enjoy long walks, running, or riding your bike. There's also a park with benches there to watch the sunset without getting sand on your feet.
On Robert Frazee State Beach, there's a parking lot. However, there aren't any beach lifeguards, showers, or restrooms. The closest public restrooms are on the nearby Tamarack Beach.
Tamarack State Beach (Carlsbad State Beach)
This is one of the most popular beaches in Carlsbad for families due to the availability of amenities and its closeness to Carlsbad Village. There are restrooms, showers, a parking lot, and many cafes and restaurants nearby.
You can enjoy an endless list of activities here, such as
Surfing
Swimming
Sunbathing
Kayaking
Running or strolling
Scuba diving
Cycling or skateboarding on the seawall
Boogie boarding, beach combing, windsurfing, etc
Warm Water Jetty
For obvious reasons, the most prominent feature of Warm Water Jetty beach is its water temperature. Here, the beach waves pass through rock jetties from the nearby NRG Cabrillo power plant, which warms the water.
At Warm Water Jetty Beach, visitors can enjoy surfing, swimming, fishing, and rock exploration.
Terramar Beach
Terramar Beach is located towards the southern part of the Carlsbad beachline. This part of Carlsbad's beaches is small and secluded. Most of the beachgoers of Terramar are residents of the Terra Mar community nearby. Luckily, it's open to the public too.
Visitors can access Terramar beach by walking along the seashore from the nearby Warm Water Jetty Beach. From the road, you can climb down designated stairs from Carlsbad Boulevard.
Although Terramar Beach is beautiful and uncrowded, there are no toilets and lifeguards around.
Among the activities you can enjoy at this beach are surfing, swimming, sunbathing, and tide pooling. Since there aren't any lifeguards around, make sure to check the weather before swimming or surfing. Also, if you have children, keep an eye on them at all times.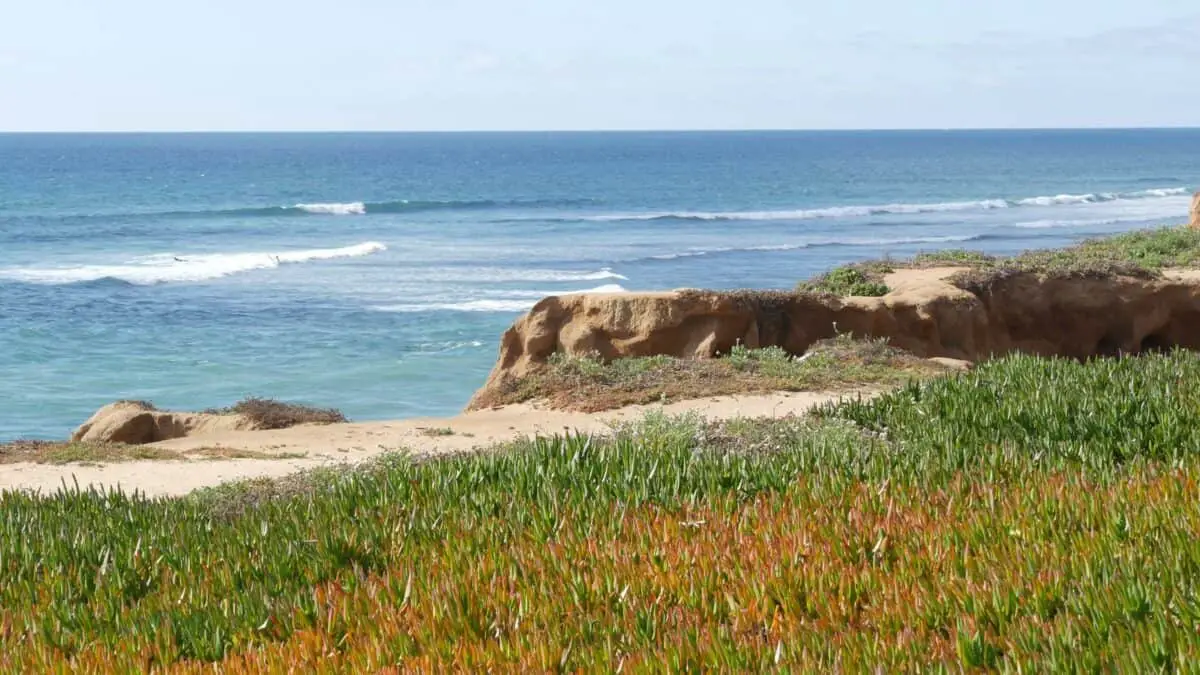 North Ponto Beach
Although it contains 'north' in its name, North Ponto Beach lies in the southern part of Carlsbad. The word 'north' just refers to which of the Ponto beaches, since there's a South Ponto Beach which we'll talk about shortly.
At North Ponto, the beach is narrow, which doesn't make it as enticing for tourists to swim or sunbathe. However, you can scuba dive and fish there.
Apart from that, the towering bluffs that narrow the beach are very picturesque, especially from afar. This makes North Ponto beach great for relaxing strolls and taking pictures.
South Carlsbad State Beach
This idyllic spot at Carlsbad is popular among families as it offers various activities for all ages. For example, there's a camping ground on it where you can set up tents and spend the night. Among locals, South Carlsbad Beach is also referred to as Ponto Beach.
The landscape at South Carlsbad State Beach is part cliffs and part undisturbed open sandy shore. The activities that can be done here are hiking, fishing, swimming, sunbathing, camping, surfing, boogie-boarding, and scuba diving.
South Ponto Beach
This is the southernmost of the beaches outlined in this article. South Ponto Beach has a wide shore and is favored by many locals and visiting beachgoers. During the summer months, this place becomes very crowded.
On the sand, there are volleyball courts and poles onto which you can install your net and play with family and friends. Although there's a large parking lot, you may find it challenging to find a spot during peak hours in the summer.
The best things you can do on South Ponto Beach are volleyball, swimming, surfing, sunbathing, whale-watching, fishing, and diving.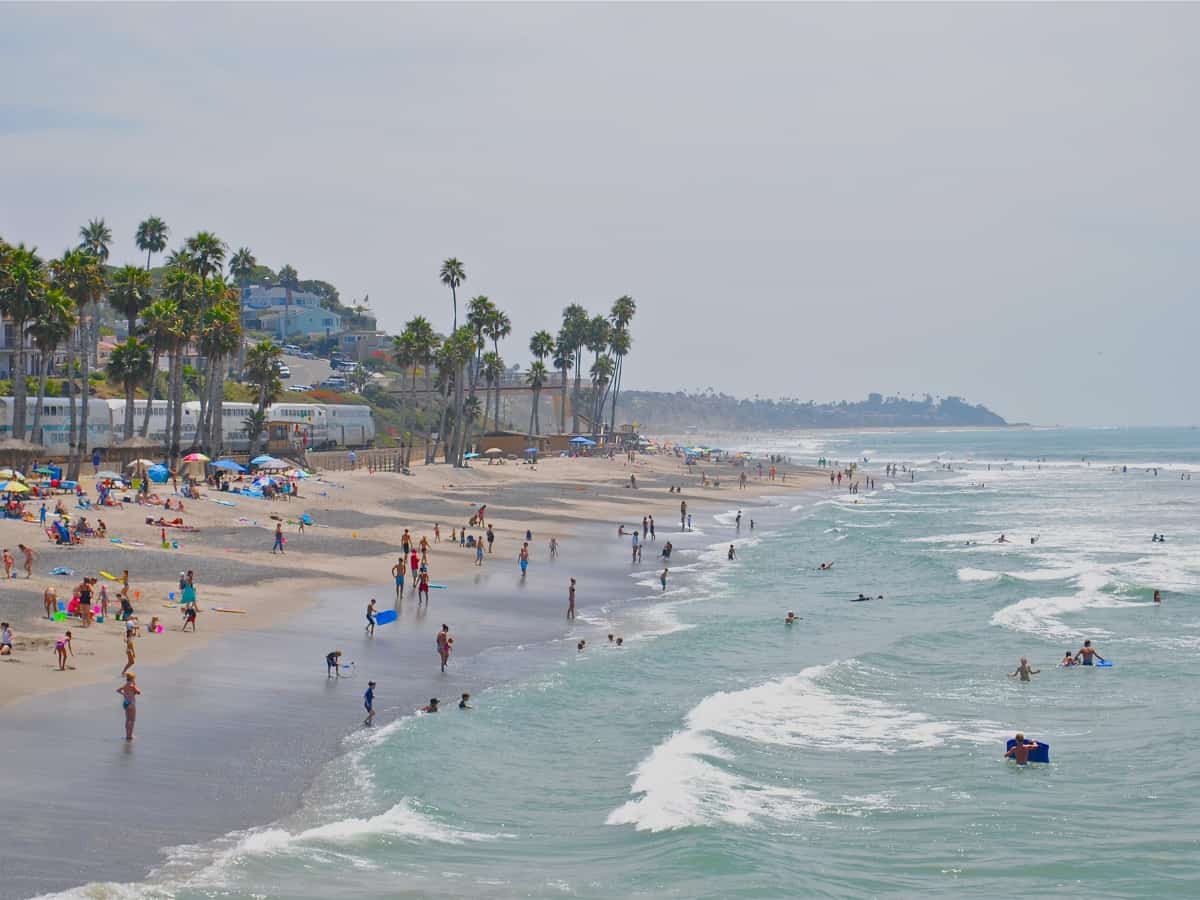 What Can You Do in Carlsbad Beaches?
On all of Carlsbad's beaches, you can enjoy the usual seashore activities such as swimming, sunbathing, surfing, and strolling.
On the Carlsbad Boulevard walkway, you can run, jog, skate, or walk your dog with a leash.
On some beaches, you can do other activities such as camping, bird watching, volleyball, fishing, rock hunting, diving, boogie boarding, and paddle boarding.
Carlsbad Beach FAQs
1. Is Carlsbad beach safe?
Carlsbad beaches offer excellent surfing spots, which means the beaches also have pounding shore breaks, rip currents, backwash, and sudden drop-offs.
Along the beaches in Carlsbad, there are 16 lifeguard towers. It's important to follow instructions from the lifeguards and stay away from the water during bad weather.
2. Are there sharks on Carlsbad beaches?
Over the years, some sharks have been spotted swimming in the ocean in Carlsbad. However, it's very uncommon to be attacked by a shark while swimming or surfing there.
3. Are Carlsbad beaches worth visiting?
Carlsbad beaches are worth visiting as they offer a unique experience for tourists and locals alike. Some activities you can enjoy there are swimming, surfing, cycling, and birdwatching. However, dogs aren't allowed on any of the beaches here.
4. Is Oceanside or Carlsbad Beach better?
Although Carlsbad beaches have many facilities for tourists, Oceanside seems to be developing at a faster pace. For instance, many hotels have been built in Oceanside in recent years.
5. Is there a boardwalk in Carlsbad?
Yes, there's a boardwalk in Carlsbad. There, you can hear the sound of the waves and feel the breeze as you fill your eyes with the scenic beauty. You can access this wonderful place from Carlsbad Village.
6. What time do beaches in Carlsbad open and close?
In Carlsbad, most beaches open at 6 a.m and close at 10 p.m. However, Tamarack beach opens earlier at 5 a.m and closes at the same time as the rest of the beaches.
References