Despite its geographical location, the coast of California is the state's heart, but did you ever wonder why it's such a hot spot for residents and visitors alike?
Coastal California makes up a significant part of the Golden State's population, infrastructure, and economy, thanks to its buzzing tourism sector. The major highlights of the coastal area are the surfing breaks, diverse culture, and natural scenery.
Overview of the Coast of California
The coastline in California runs for around 1,000 miles from Chula Vista, San Diego in the south to Yontocket up north.
On land, the coastal zone ranges from 5 miles in rural areas to an average of 1,000 yards in urban spots. Meanwhile, the ocean band extends three miles into the Pacific.
However, this strip of land has around two-thirds (26.3 million out of 38.4 million) of the entire state's population.
Plus, it holds 75% of the state's jobs. That's why the coast is a luring place for many people looking to relocate to the Golden State.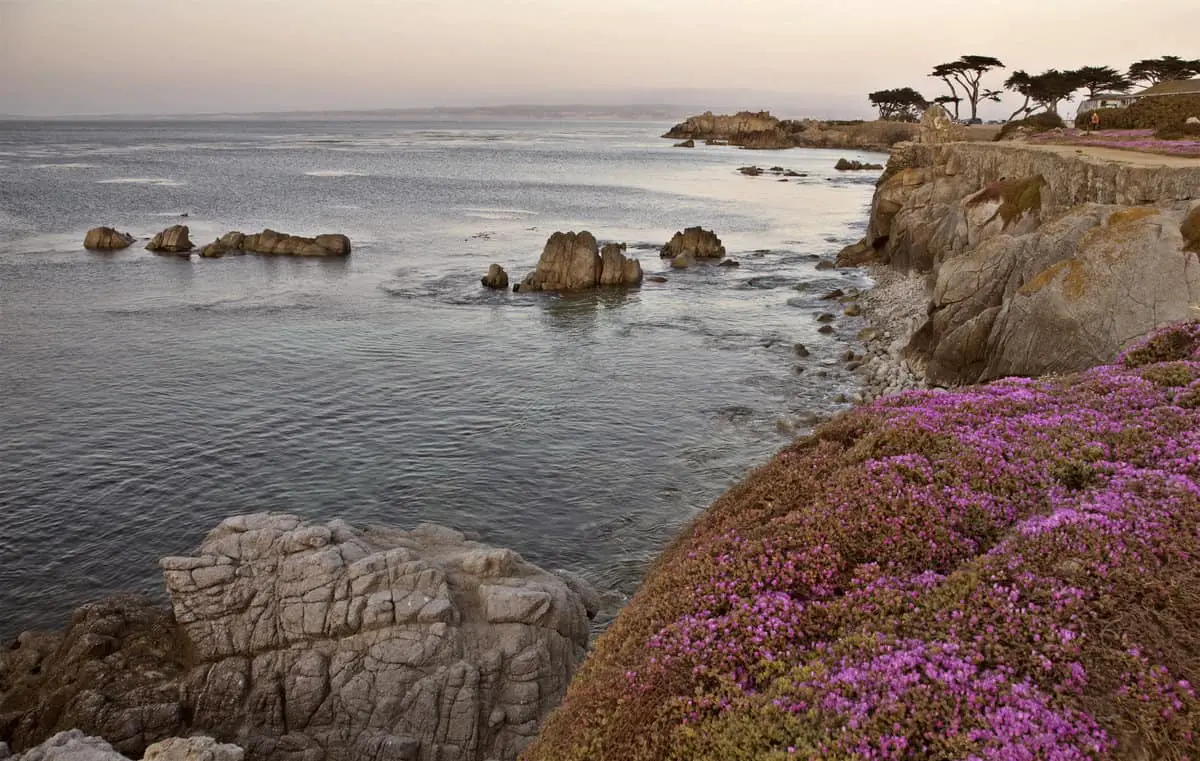 Historical Highlights of Coastal California
California's coast underwent different phases over the years but still maintained its alluring vibe.
Let's take a look at the highlights of the coast's history:
Simple Lives and Handmade Canoes
Much like other places in the states, the first people to step foot on California's coastline were from the Native American tribes. The major vessel types that you'd see on the shore at that time were dugout, tules, and Tomol sewn plank canoes.
Waves of Cultural Changes
Then, the Spanish missionaries made their way along the coast and up to San Francisco bay. That all started with the presidio settlement in 1769.
Soon, the cultural vibe on the coastline began shifting from the native people's lifestyle to match the settler's traditions.
Mexican Governance and Marine Trade
By 1821, California and its coast became a Mexican province, which allowed the marine trade to bloom. From the shore, ships sailed off with tallow and cow hides into the Pacific Ocean.
Gold Rush, Fishing, and More as an American State
Nearly 30 years later, California was an American state. By that time, the Gold Rush and the whale oil industry drove more people to California, where the coastline bloomed with fisheries and tourism.
However, the Californians also had a hand in keeping the coastline blooming. Whenever the welfare of the area was threatened, they rallied up.
Take, for instance, Jim Mills' iconic bike ride from San Francisco to San Diego that gave us the California Coastal Commission as we know it today. From there on, coastal California's recreational value only increased!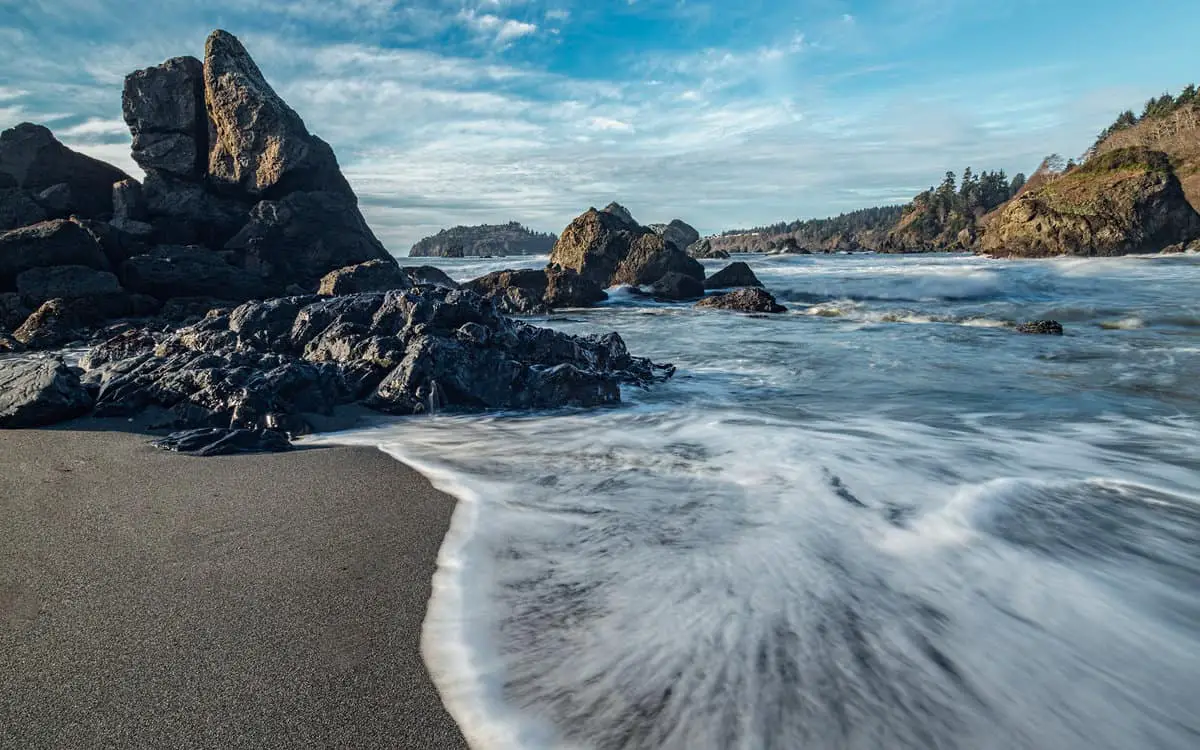 What the California Coastline Is Known for
Although there are a lot of attractions in Coastal California, it's mainly notorious for its sandy beaches and summer vacation vibes.
According to the American Shore and Beach Preservation Association, state beaches make up less than 3% of all the national parks in California. Yet, they wrap up a whopping 72% of all visits.
That means most people visiting California for a holiday prioritize the beaches over other destinations.
When you add a diverse population into the mix, you'll see why the beaches along the coastline are ideal destinations for tourism. They cater to surfers and swimmers of different experience levels and cultural backgrounds.
Things to Do on the Coast of California
While the sandy beaches are the number one attraction along the coastline, there's plenty more to do here than go swimming in the Pacific.
Let's take a look at the top activities to try in coastal California:
1. Surf California's Break Points
San Diego, Santa Cruz, and Malibu are known for having some of the best beaches in the world. However, you won't have a hard time finding a suitable spot in almost all coastal cities in California.
Not only is the view and waves absolutely stunning in the summer, but it also makes for a perfect group outing, especially if you find a beach with pits and get a bonfire going for the night!
That all makes for a great beach experience, but the signature activity for California's beaches is surfing. If you're a surfer, you'll find plenty of options, from San Onofre's three iconic breaks to the Rincon Point.
The best part is that you'll find breaks with various wave heights. So, you'll fit right in whether you're a pro surfer or just a beginner!
2. Drive Along the Scenic Coastline
Opting for a coastal drive along Highway 1 might be your best bet if you want to enjoy the ocean view without getting wet.
The highway extends from Dana Point to Leggett. This way, you'll be able to enjoy the sweet aroma of the shoreline and stop wherever you see an attraction you'd like to visit. For instance, if you're around the Pacific groove, you might want to stop and take a tour of the breathtaking.
Overall, you'll find plenty of landmarks along your ride on Highway 1 on the California coastline. Here are the main options to consider:
Point Arena Lighthouse
Point Sur Lighthouse
Golden Gate Bridge
San Luis Obispo's Bubblegum Alley
Pebble beach's Lone Cypress
3. Bike on the Coast
With the Pacific Coast Bike Route spanning from Crescent City all the way to Imperial Beach down on the US-Mexico border, you have over 1,000 miles of bike lanes to explore.
Biking might limit the range of attractions and landmarks you can visit in comparison to driving. However, hitting the pedals with the ocean in view is a blast on its own. Plus, you get an extra boost of cardio as an added bonus!
It's suitable all year round, so it could be a good option if you're visiting California in the winter and don't want to jump into the cold water but still want to enjoy the coastline.
If you're looking for more adrenaline rushes, you can take your bike a bit inland for a hiking trail. The Coast Trailhead in Point Reyes is a good spot to keep in mind.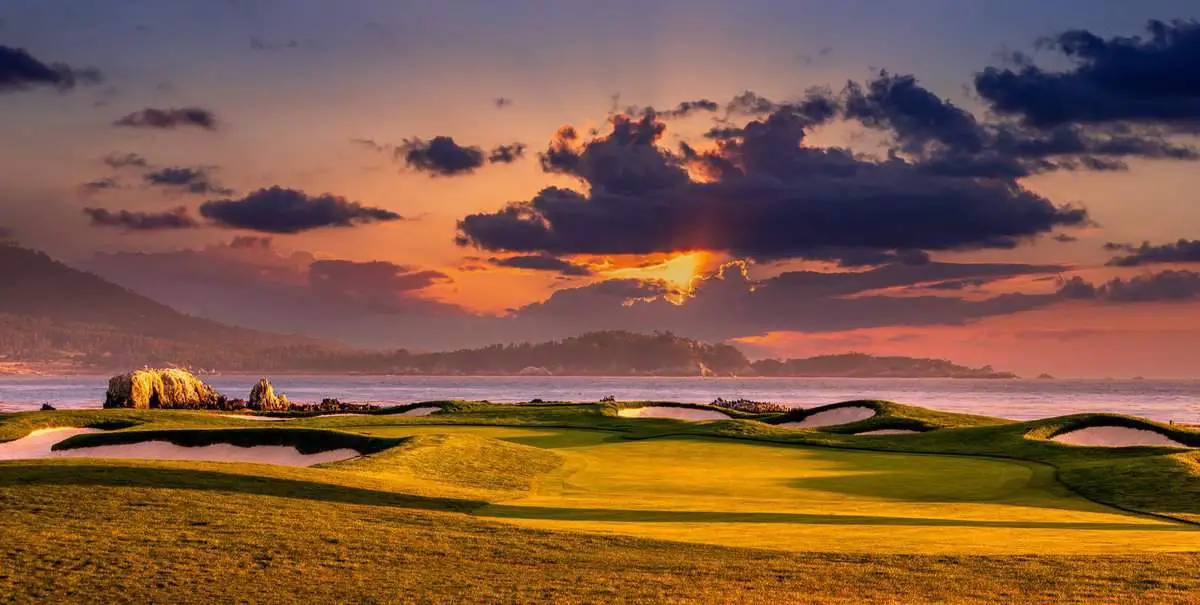 4. Camp by the Ocean
When people say camping, the image that pops into mind is setting up tents in a dense forest. Maybe, if you're lucky, you'll get to set up right next to a river or lake, but imagine camping right next to the Pacific.
The aroma of the salted water and the sound of waves hitting the shore walking up you in the morning. Divine!
Thankfully, there are plenty of campsites on the coast of California to visit with your friends and family. You might even be able to find one with dump stations, grills, picnic tables, campfires, and laundry facilities, like on the San Elijo State Beach.
That said, it's important to note that many beaches require you to reserve a camping spot in advance. Not only because the places can get hectic during peak season but also because there might be regulations on the RVs and camping gear you're allowed to bring along.
5. Visit Amusement Parks
To turn that adrenaline rush to the max, you can hit any of the theme parks along the coast of California.
So, if you have young kids or just looking to have some fun time yourself, check out the nearest amusement park:
California's Great America, Santa Clara
Six Flags Discovery Kingdom, Vallejo
Six Flags Hurricane Harbor, Concord
Pixieland Amusement Park, Concord
Balboa Fun Zone, Newport
Pacific Park, Santa Monica
Belmont Park, San Diego
Sesame Place, San Diego
6. Setup a Shoreline Photoshoot
Since the scenery is what drives most people to coastal California, it's only normal to see a lot of professional and hobbyist photographers on the shoreline.
From dynamic surfing videos to nature macro photography, there are plenty of opportunities to capture some amazing shots on your camera.
Remember that while street photography is legal in California, you might need a seller's permit from the California Department of Tax and Fee Administration for commercial photoshoots. After all, it's still taxable if you make money from your photography!
7. Play Golf
Fewer places in the world offer the views and weather that California can and what better way to spend half a day than playing golf along the coast?
The only one downside could be the wind and the challenge that bring when pinging a ball across the fairway!
There's plenty to choose from, with over ten golf courses along the California coast.
California's Coast: FAQs
Let's take a look at some of the frequently asked questions regarding coastal California:
Is the coast of California safe?
If you're looking for safe beaches, California is generally peaceful as long as you stay within the restrictions and regulations. However, it still gets hit by wildfires and harsh weather often. So, it's crucial to check the forecast and the fire regulations before planning a day on the beach!
When is the best time to surf in California?
Ideally, late summer to early fall balance the wave heights with the wind and water temperature nicely.
Is coastal California worth visiting?
For surfers, cycling enthusiasts, nature lovers, and people seeking adrenaline rushes, coastal California is an attractive vacation destination. Additionally, it offers a lot of family-suited attractions, from theme parks to RV camping on state beaches.
References