Nothing says spring like a burst of blooming fields. If you're in the San Diego region, then you can witness a colorful spring by visiting the Carlsbad Flower Fields.
Available for two or so months per year, you'll want to head to the Flower Fields and browse their multiple attractions. You can walk or take a wagon trip around the area and watch the scenery of diverse cultivation from poinsettias, ranunculus, and gladiolus.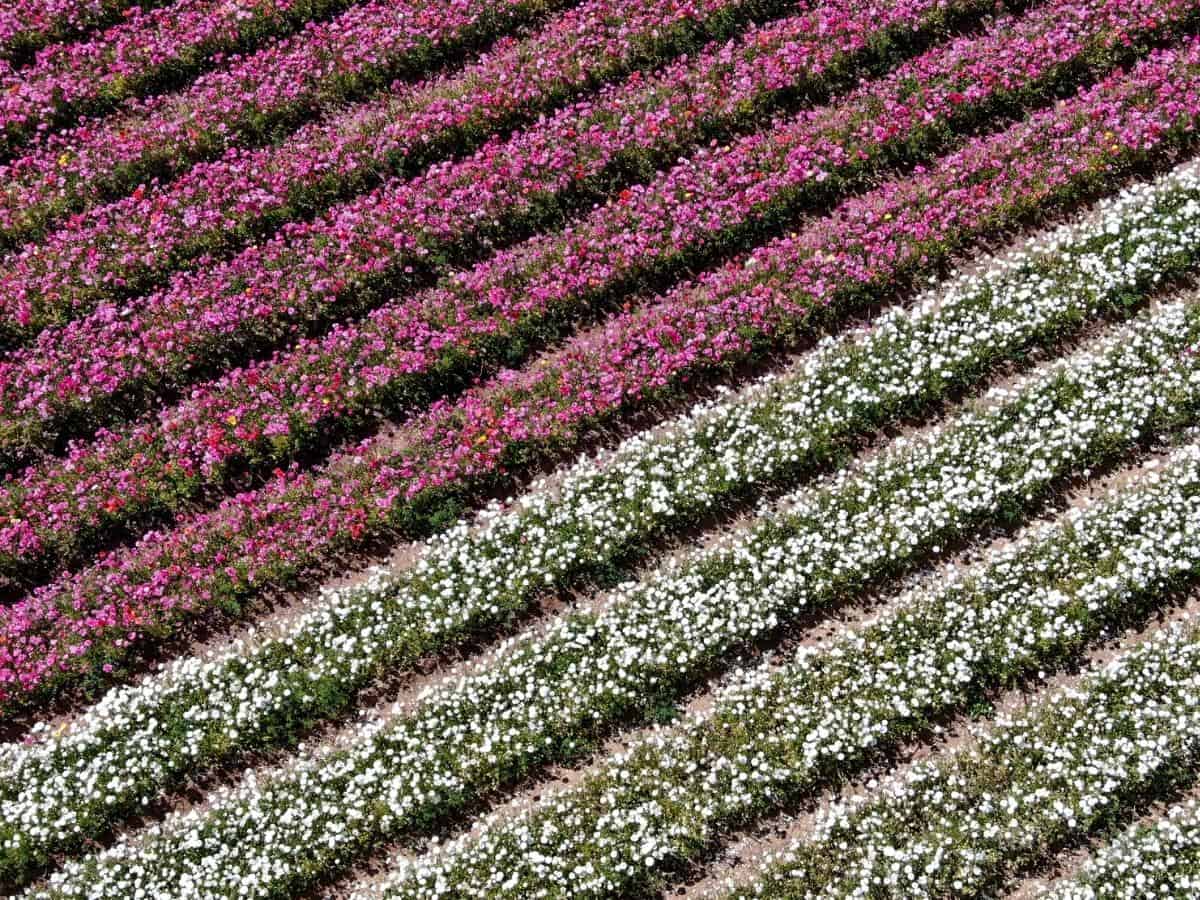 What to Do in Carlsbad Flower Field
The Carlsbad Flower Fields feature gorgeous displays and tours for you to visit. Here are some of the area's can't-miss spots.
Poinsettia Display
Santa's Playground
Sweet Pea Maze
Cymbidium Greenhouse
Butterfly Garden
Mediterranean Garden
Fountain Garden
Stroll Through the Attractions
You won't know where to begin with plentiful spots to look at. That being said, you don't want to miss the American Flag of Flowers. You'll be looking at an array of red, white, and blue petunias placed on a slope to display the U.S flag.
You can also visit the butterfly garden and bird aviaries to enjoy the view and sound of pollinators and chirping birds.
If you're a fan of greenhouses, then the history-rich poinsettia display and Cymbidium Orchid greenhouses are a must-see. The 20 varieties of poinsettia are held in a 1,500 sq ft greenhouse, originally cultivated by the early florist, Paul Ecke.
If the Cymbidium Orchids in the greenhouse have captured your liking, you can bring some home from the Armstrong Garden Center.
For the Kids
If you're bringing kids to the Flower Fields, we suggest walking into the Sweet Pea Maze for a flora-filled challenge. Additionally, the kids can hop on to Santa's Playground, which features a collection of colored mushrooms, the 'Doll House,' 'Guard Shack,' and 'Crooked Treehouse.'
We also suggest going through the illusion garden, where you can marvel at topiaries created by garden artist, Jennifer Cobern.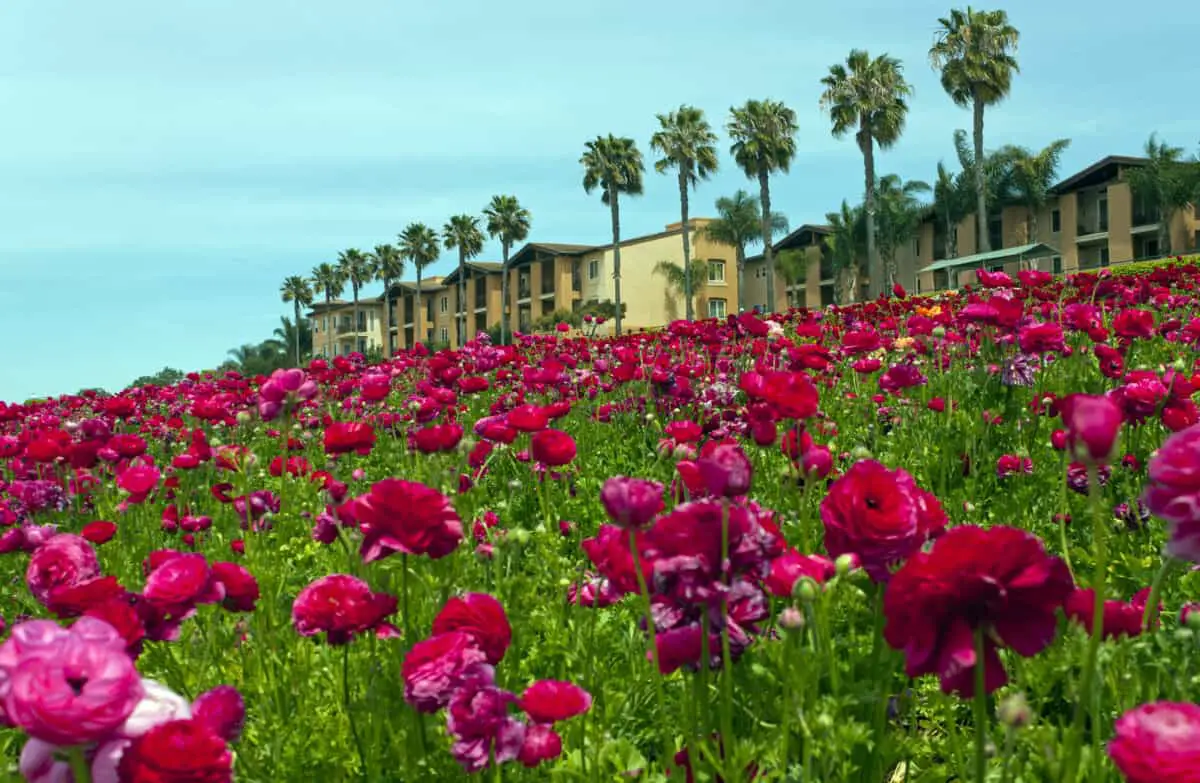 Pick Some Fruit
To immerse yourself in the Flower Field experience, you can check out the U-Pick blueberry patch. Once you go to Flower Field, there may be signage to determine whether picking is available. In some cases, this attraction won't be active when blueberries are not in season.
Indulge Yourself in a Tasty Treat
After all the walking around, you're bound to have a grumbling stomach. You can go to the Pizza Trolley for some artisan-style pizza and salads to grab some sustenance. You get some ice cream from Sweet Swirls or popcorn at the Kettle Kernels Popcorn stand for dessert.
If you're browsing for something a little fresher, the Strawberry Shack of Carlsbad may tickle your taste. The shop offers strawberry shortcake sundaes, shakes, and strawberries. It also has gluten and dairy-free options.
What to Consider Before Visiting Carlsbad Flower Fields
You and your family probably can't wait to feast your eyes on the vibrant-petaled Flower Fields. Nevertheless, before you visit, here are some helpful tips.
1. Be Aware of Opening Times
The Carlsbad Flower Fields are typically open for approximately two months annually. In these couple of months, the field's signature ranunculus flowers bloom. In most cases, these two months are from the beginning of March till mid-May.
If you want more updates on the flowers' status in the field, you can check out the Flower Field website. On the site, click on the top right tab that says "Bloom Status," which should inform you of the current stage in the flowers' life cycle.
Apart from that, once these blooming months arrive, the opening hours of the field are between 9 AM to 6 PM daily.
2. Purchase Tickets in Advance
You can buy your tickets in advance on the Carlsbad Flower Field website. You want to purchase them as soon as possible because they tend to sell out fast, especially the weekend ones.
For reference, here are the ticket prices for each type of visitor.
| | | | |
| --- | --- | --- | --- |
| Ticket Type | Price | Season Passes Price | Wagon Tour Price |
| Kids ages 3 to 10 | $10 | $20 | $3 |
| Toddlers ages 2 and under | Free | Free | Free |
| Seniors ages 60 and above | $20 | $42 | $6 |
| Adults | $22 | $46 | $6 |
Price Description for Carlsbad Flower Field Tickets
3. Wear the Right Attire
There will be a lot of walking in the Flower Fields as you visit each station. You'll want to wear comfortable shoes and preferably clothes. The area is almost 50 acres and a little inclined, so you'll get some good cardio.
Besides the walking in the Carlsbad Flower Fields, you may also have to endure some prior walking from the parking lot to the front gate. This is especially true on crowded weekends. Since the parking lot is considerably spacious, the walk is around five to ten minutes.
Apart from that, you will be surrounded by hundreds of pretty flowers. A floral spring dress with a summer straw hat can go a long way in capturing aesthetic pictures.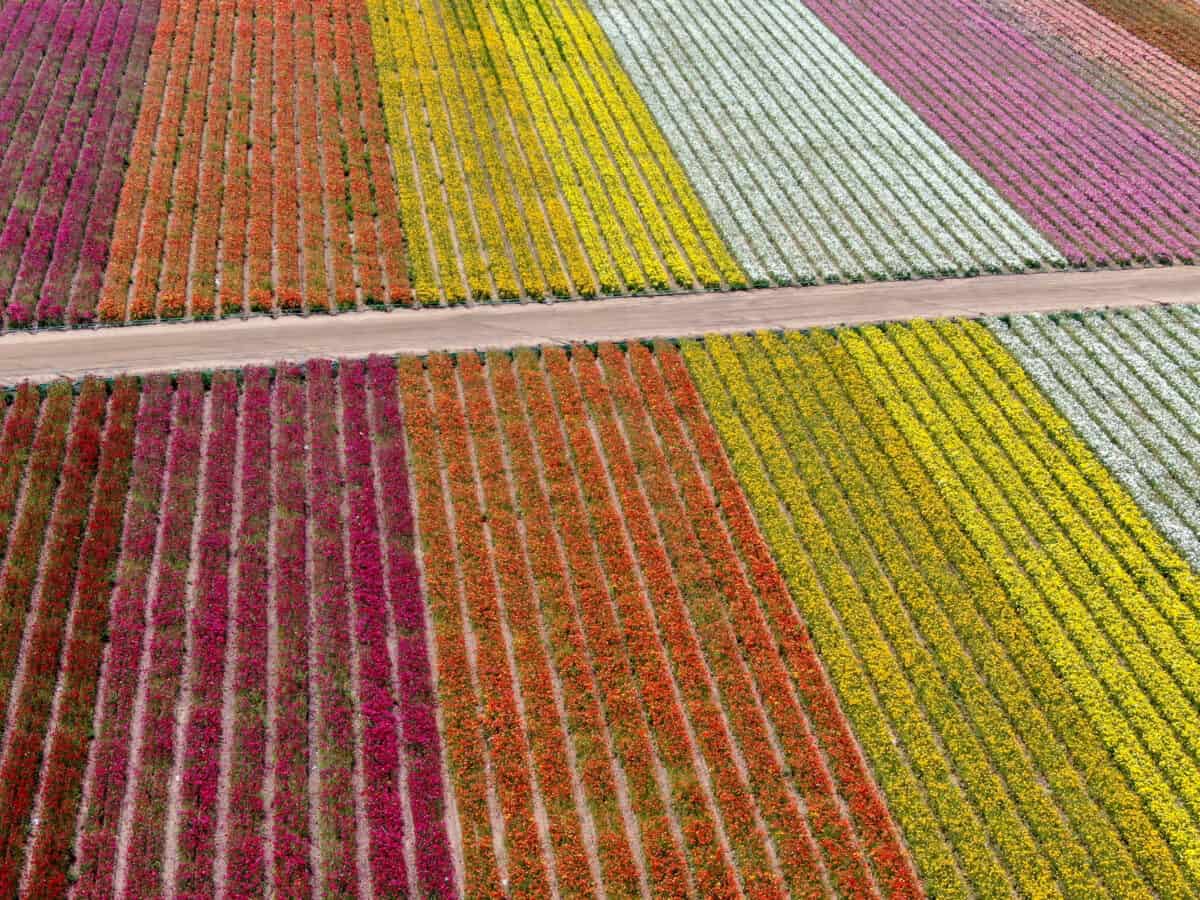 4. For Wheelchair Users and Strollers
It's worth noting that if you're pushing wheelchairs or strollers, you may have a tough time since the ground is practically all dirt. For this reason, we recommend getting on one of the John Deere tractor-pulled wagons.
Fortunately, the wagons have a boarding ramp so wheelchairs and strollers can climb up. You'll have an elevated view of all the spring flowers. Plus, there'll be a background audio recording touring you through the Carlsbad Flower Fields.
5. Figure Out the Directions
The last thing you want is to get lost when visiting the Flower Fields, particularly if you're trying to get there early. If you're traveling from San Diego, you'll want to drive north to Interstate 5 and east toward Palomar Airport Road.
While on Interstate 5 road, roll your windows down to get a breathtaking view of the Flower Fields.
After passing Interstate 5, from Paseo Del Norto, go left, then take a sharp right turn to Carlsbad Flower Field's parking lot.
If you're going from Orange County to Los Angeles, then first go south on Interstate 5, and drive east by the exit on Palomar Airport Road. Afterward, turn left near Paseo Del Norte and go right once you see Flower Field's parking area.
The directions from East San Diego County and Inland Empire are the same as in Orange County. Before you go south on Interstate 5, you just need to drive Interstate 15 and then reach Highway 78 West.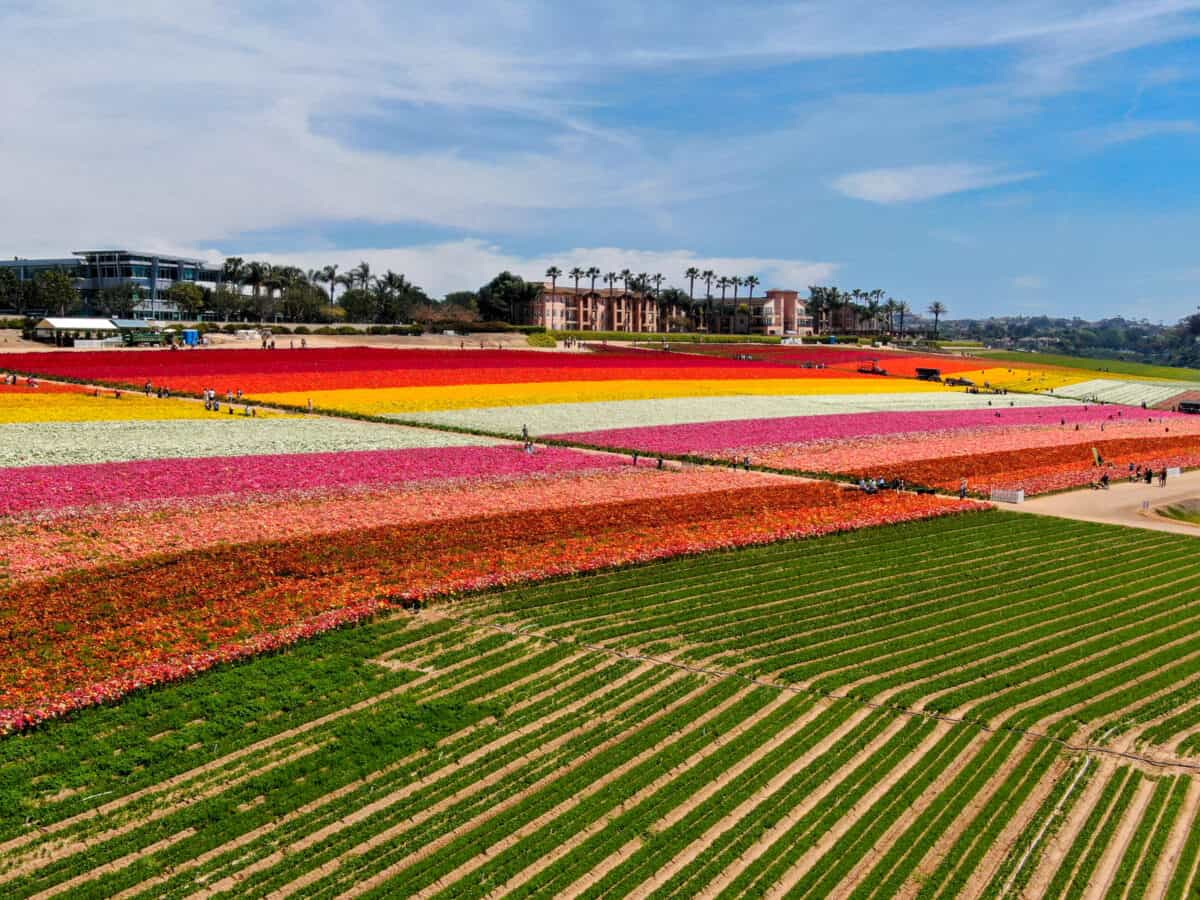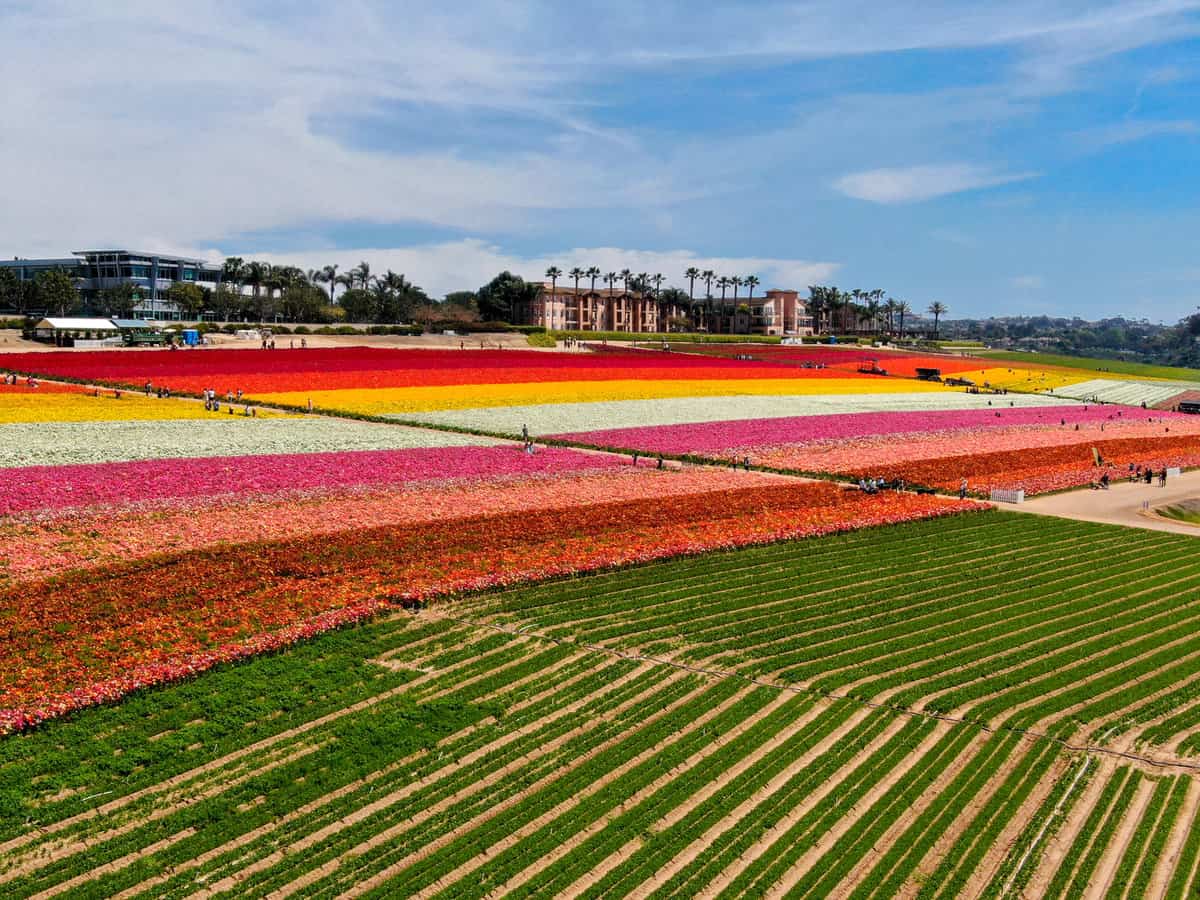 History of Carlsbad Flower Fields
The Carlsbad Flower Fields wouldn't be what they are today without the help of the early horticulturist Luther Gage. Gage's floral planting began in the 1920s when he cultivated ranunculus seeds.
Beside the horticulturist's land was Frank Fazee's vegetable garden, located in South Oceanside. By the year 1933, Fazee became inclined to cultivate ranunculus blooms. So much so, that he taught his son, Edwin Fazee, how to grow these effortlessly beautiful flowers.
Edwin's dedication to growing ranunculus became apparent when he dropped out of high school to pursue a job at his father's flower farm.
How the Flower Fields Gained Variety
Earlier, the ranunculus flowers were single-petaled and colored either red or yellow. With years of expertise gained by Edwin, the flower farmer cultivated a larger variety of colors. He did so by preserving seeds of flowers with different colors and more than one petal.
This careful selection of seeds brought on the 13 bright-colored and full-petaled flowers you can see today in Carlsbad Flower Fields. Over the years, Edwin collaborated with other farmers such as Paul Ecke Jr. and the organization, Mellano, and Company.
These cooperations expanded the Flower Fields' flower variety by providing poinsettias. Not only did the partnerships enrich the field's flowers, but its tourism as well. The land became a famous cultural spot in Carlsbad.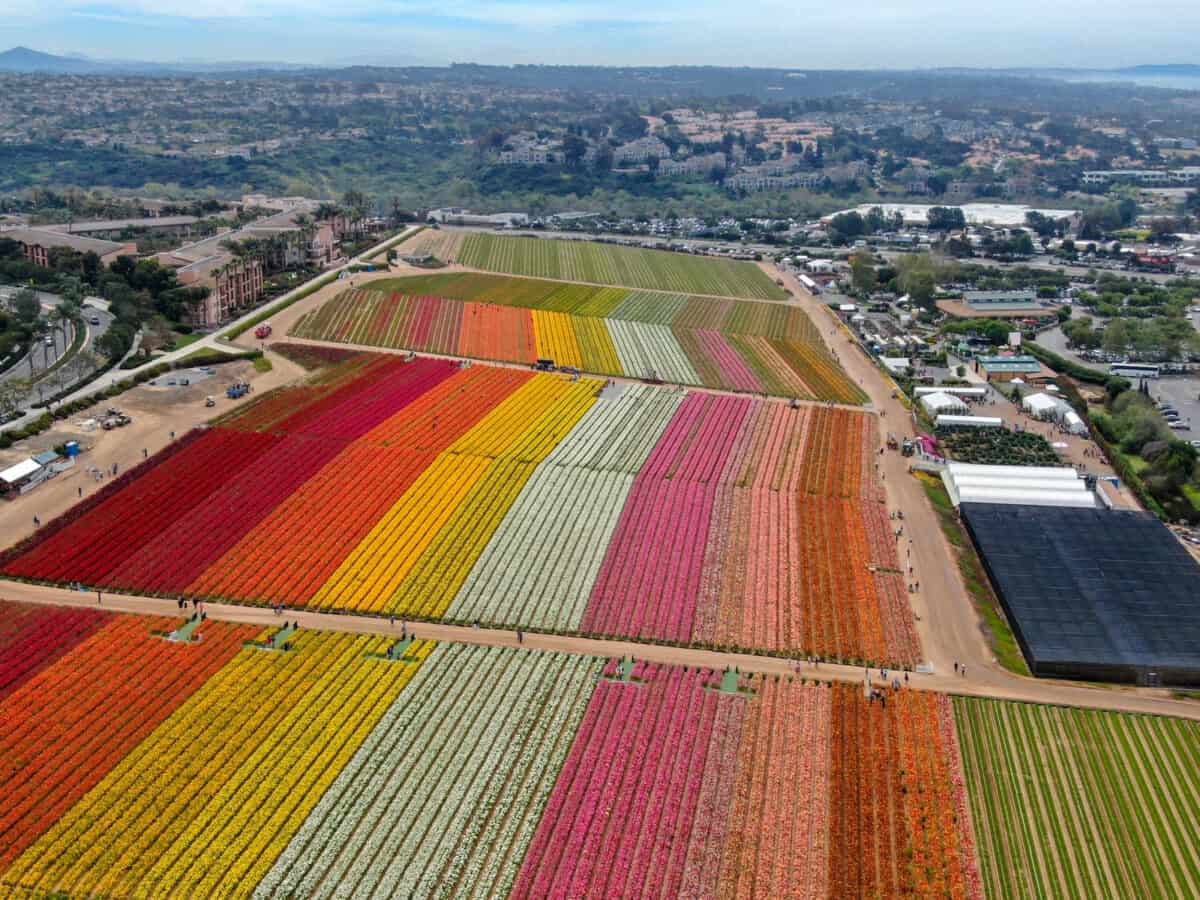 Carlsbad Flower Fields FAQs
Is Carlsbad Flower Field Worth the Visit?
If you're in the San Diego area and want to go for some colorful sightseeing, the Carlsbad Flower Field is worth the visit. The landmark is ideal for all visitors, the elderly, adults, and children. The attractions are all diverse and offer you a serene landscape.
Although you can't exactly run into the Flower Field, you can safely admire the bloomers' beauty and snap some memorable pictures.
What Is the Best Time to Go to Carlsbad Flower Field?
Once the two months of spring arrive, you'll want to book your tickets soon and visit the Flower Fields as early as 8:45 AM. The place opens at 9 AM, but you want to get there early to avoid large crowds.
In addition, you don't want to go during the afternoon when the sun is at its peak and hottest. Instead, the early morning weather will provide enough light to admire the pretty flowers without scorching your skin.
Alternatively, if you're looking to capture some aesthetic shots, then visiting during the golden hour will be your best chance. Nonetheless, it may still be hotter then than in the morning.
References