Located just south of LAX, El Segundo is a beach city that was originally an oil town. It's best known today as the home of the Los Angeles Times and the Los Angeles Air Force Base. However, one of its hidden gems is the quaint El Segundo Beach.
El Segundo Beach is one of many stunning sandy beaches on the Southern California Coast. While it's not a tourist destination, the beach has all of the fanfare attractions other beaches have, without the crowds and rush.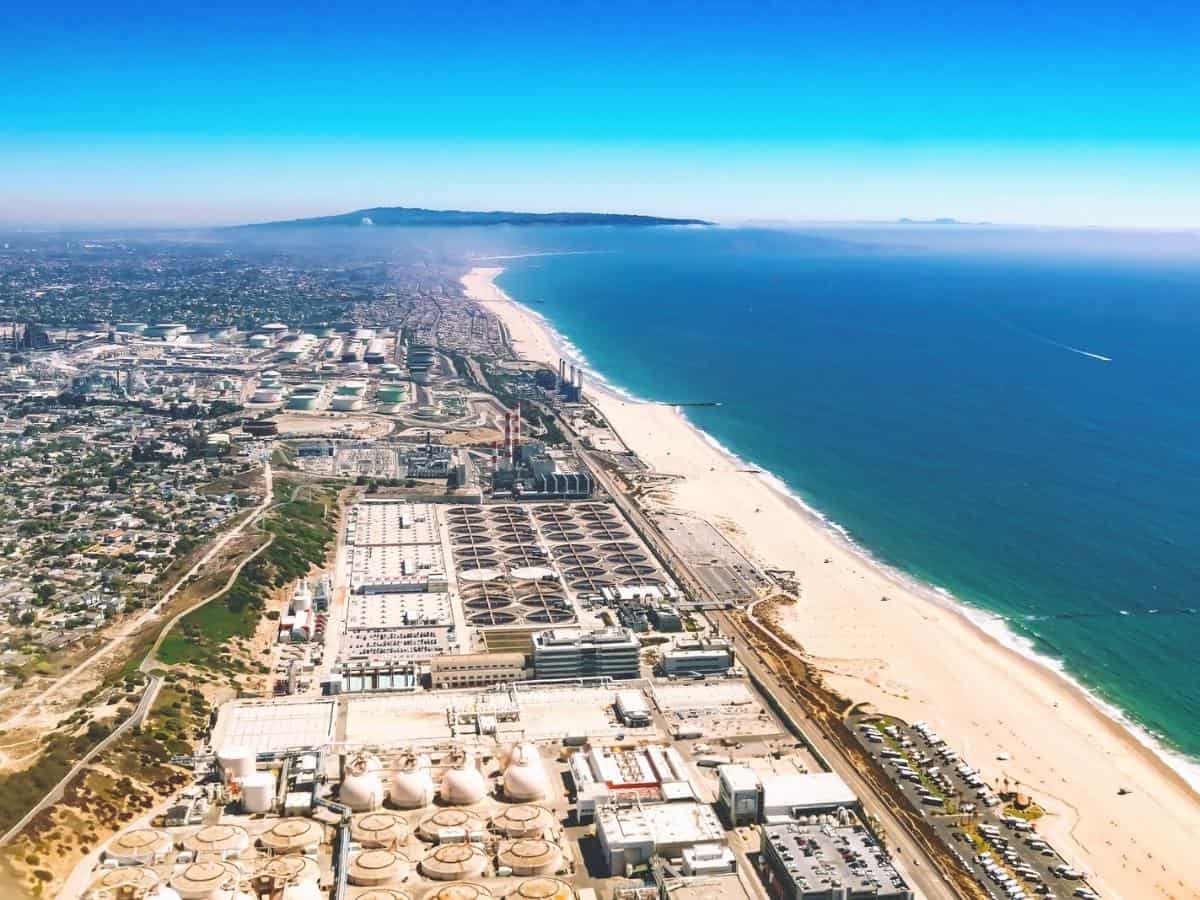 Facts About El Segundo Beach
Land area: Stretches for one mile
Zipcode: 90245
Crime rate: There has been no reported crime on El Segundo Beach. El Segundo has one of California's lowest crime rates and the highest ratios of police officers and firefighters.
Best hotels: Hampton Inn & Suites LAX El Segundo, Aloft El Segundo – Los Angeles Airport, Cambria Hotel LAX
Best restaurants: Good Stuff – El Segundo, Chef Hannes Restaurant, Sausal
Where Is El Segundo Beach?
Between Manhattan Beach and Playa Del Rey lies a mile-long area of waterfront called El Segundo Beach. The beach is right between the Southern end of Playa Del Rey, North of Grand Avenue.
You must put yourself on the Vista Del Mar from the North of Grand Avenue to get to the beach. From the South, the beach is at 45th Street at the North end of Manhattan's El Porto beach.
Know that you've arrived at El Segundo Beach if you see:
The oil refinery is visible from the entire length of the beach.
If you're coming from the south, some high fences and walls obscure the view from the refinery.
If you want to park your car, the parking lot entrance to the beach is right where West Grand Avenue intersects with Vista Del Mar.
History of El Segundo Beach
In 1822, El Segundo was a 25,000-acre area stretching north of what is now known as the Playa Del Rey up to Inglewood and Hermosa Beach. It was part of the Spanish land grant for "Rancho Sausal Redondo."
However, in May 1911, five representatives from the Standard Oil refinery found the undeveloped nature of the land as well as its proximity to both the seashore and a populated area ideal for their new oil refinery.
As a result, they needed to build a town so that the workers could live nearby. Because it was the second oil refinery, they came up with the name "El Segundo," which means "the second" in Spanish.
Up until the 1920s, El Segundo remained an oil-refinery industry town. After that, the city started hosting plants and stations from other industries.
Still, the turning point for El Segundo and El Segundo Beach was when Los Angeles International Airport officially opened in the 1930s. Because of this opportunity, this small town became known as the Aerospace Capital of the World.
Given the city's history, it's easy to see why El Segundo Beach is surrounded by oil refineries, water treatment plants, and energy plants.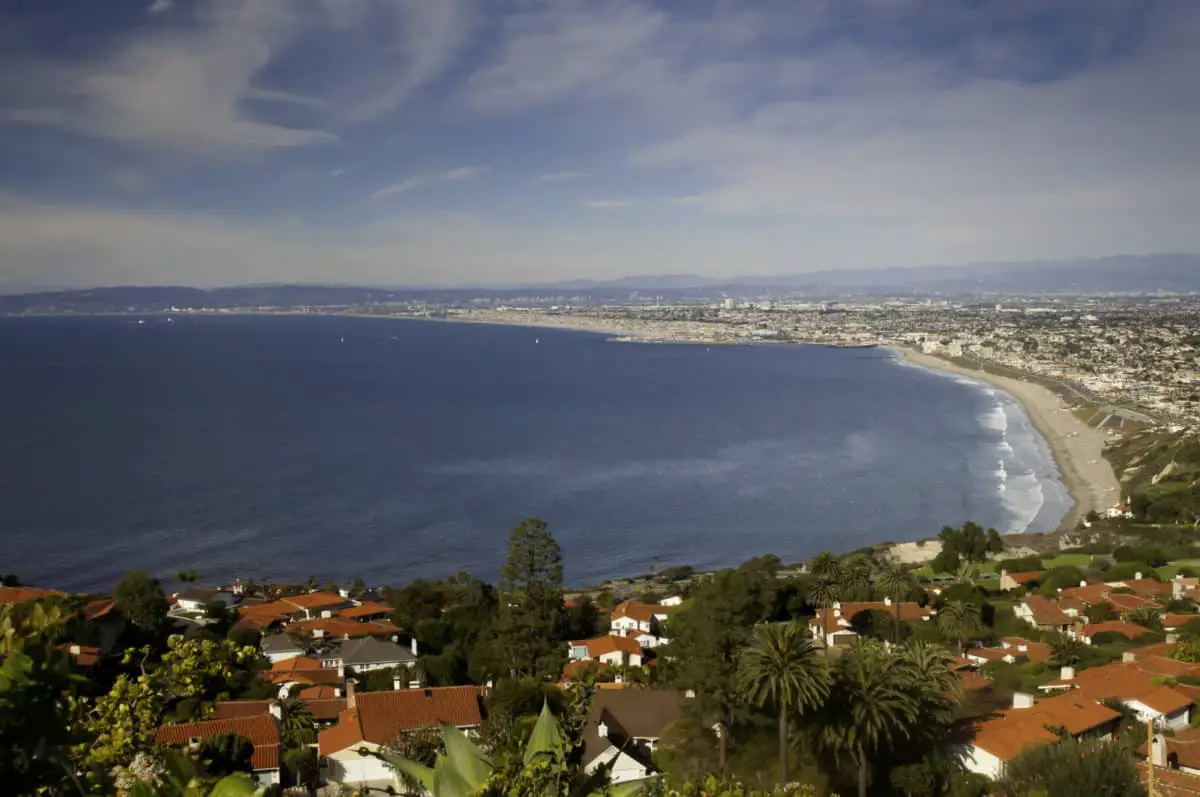 What El Segundo Beach Known for
El Segundo Beach has no "attractions" except for the oil refinery, the water treatment plant, and the energy plant. Aside from that, it's a simple, wide, open beach where you can relax and enjoy the peace.
What to Do In El Segundo Beach
Even though El Segundo Beach is in front of an oil refinery and surrounded by the flight path of LAX, the beach is equipped with amenities that allow you to have as enjoyable a time as you would at any other beach.
Those amenities include:
Lifeguard post
Volleyball courts
Showers
Restrooms
Paved bike path
Surfing
El Segundo Beach receives ideal northeast winds in the summer, creating favorable surfing conditions. The El Segundo Beach Jetty is also a breakwater that allows some surfable waves to pass through. Many surfers who want to avoid the crowds at El Porto come to El Segundo Beach to surf.
Luckily, the waves aren't always so high that you can't participate in other water-related activities. You and your friends or family can go swimming, kayaking, or paddle boarding.
Sunbathing
The sun-soaked El Segundo Beach is serene and uncrowded if you want to sunbathe and enjoy the salty ocean breeze. El Segundo Beach is open daily from 6 a.m. to 10 p.m., so you can get there early to catch the 10 a.m. sun and get a healthy tan.
You can also go to the beach in the afternoon when the sun rays are less damaging to your skin. Either way, you'll most likely be able to enjoy some solitary sunbathing if you're tired of the usual crowds of LA beaches.
Another reason why El Segundo Beach is ideal for sunbathing is that the sky is clear, mostly clear, or partly cloudy 91 percent of the time from late April to early November.
Not to mention that the average temperature during the warm season ranges from 74°F to 65°F. So you can soak up the sun without fear of getting a heat stroke.
Biking, Rollerblading, and Walking
Behind El Segundo Beach is a 22-mile Marvin Braude Bike Trail paved path that stretches along the Los Angeles County coastline. The path is wide, clean, and sandy, making it suitable for beachgoers who want to bike, rollerblade, skate, or simply walk.
El Segundo stretches for a mile, so you can enjoy a walk from one end of the beach to the other as you breathe in the salt air and listen to the sound of the crashing waves.
You can also take a short walk north to visit the Dockweiler Youth Center, where you can take Hang Gliding lessons. If you head a bit south, you can get to Manhattan Beach and try some of the restaurants there.
Just keep in mind that no pets are allowed on the bike path, as well as on the beach and the parking lot.
Playing Volleyball
Like many other LA County beaches, El Segundo Beach has volleyball nets set up. These nets occasionally serve as training grounds for El Segundo's volleyball teams and professional athletes. For beachgoers, the volleyball court is a chance for friends or family to engage in a game together.
Having a Picnic
Having a picnic on the beach while watching the sunset is one of the best beach activities at El Segundo Beach. Remember that no fire pits or barbeques are allowed according to LA County rules and regulations. In addition, alcoholic beverages aren't allowed.
Apart from those two, there are no restrictions on the types of food and beverages you can get for your picnic. Even if you don't plan on having a picnic, you should bring food and water to El Segundo Beach because there are usually no nearby establishments selling food and refreshments.
Watching Sea Lions
Over the years, there have been multiple sightings of Steller sea lions along the coasts of Southern California, including El Segundo Beach. Not only is seeing a sea lion exciting in and of itself but seeing a Steller sea lion is even more so. This particular species was thought to be declining in numbers, so seeing any of them is rare.
Steller sea lions are the largest sea lion species and are much lighter in color than the much darker California sea lions. So, look for them with a pair of binoculars, and if you're lucky, you'll spot them sitting on buoys or jetties.
A word of caution: if a sea lion ends up on the beach, try to keep it as far away as possible. Most people would try to coax it toward them, pour water on them, or feed them. However, sea lions have razor-sharp teeth, so you'd be in danger if you're anywhere near one.
El Segundo Beach FAQs
Is El Segundo Beach a good place to live in?
Unlike in Malibu and Santa Monica, no houses or apartment buildings overlook El Segundo Beach. This could be due to the proximity of the oil refinery, wastewater treatment plant, and energy plant to the beach.
The city, El Segundo, on the other hand, is a pleasant place to live in. It's a diverse city that's brimming with job opportunities. Moreover, the city is an ideal alternative to the denser and more expensive cities of Downtown LA and West Los Angeles.
That said, with LAX on the north, the oil refinery on the south, the sewage treatment plant on the west, and Sepulveda Boulevard on the east, El Segundo can be noisy and stinky at times.
Is El Segundo Beach safe?
El Segundo Beach is safe because the city itself is safe. In addition, most beachgoers are locals or people looking for peace, so it's uncommon for anyone to try to cause trouble of any kind.
Is El Segundo Beach worth visiting?
El Segundo Beach is worth visiting. Because it's not a common tourist destination, the beach is clean and rarely crowded. You'll be able to enjoy various activities, kick back, and relax on the beach.
References