California is one of the most popular destinations in the United States and for good reason. Whether you're a sun-seeking tourist, I.T. professional, or aspiring actor, there are few more rewarding places to set up shop.
The Pacific Ocean provides the perfect coastal backdrop and lends itself to a plethora of stunning beaches and seaside paradises. While many are drawn to Santa Monica, Malibu, and Laguna in SoCal, there are many underappreciated landmarks in the northern quarter of the state. 
One of Northern Cali's not-so-hidden gems is Glass Beach. It's a rare and unique beach that was made famous for its spectacular display of sea glass. Although glass stocks are gradually depleting, brightly colored ornaments can be found for miles along the coastline. This semi-natural phenomenon was created as a result of dumping and ocean degradation, turning waste materials into colorful glass pebbles.
Glass Beach is situated a stone's throw from Fort Bragg and forms part of the Mackerricher State Park. It has brought a lot of tourism to this sunlit town that has a population of around 40,000 people. Over a thousand tourists visit the area daily in the peak summer season, bringing valuable revenue to the local community.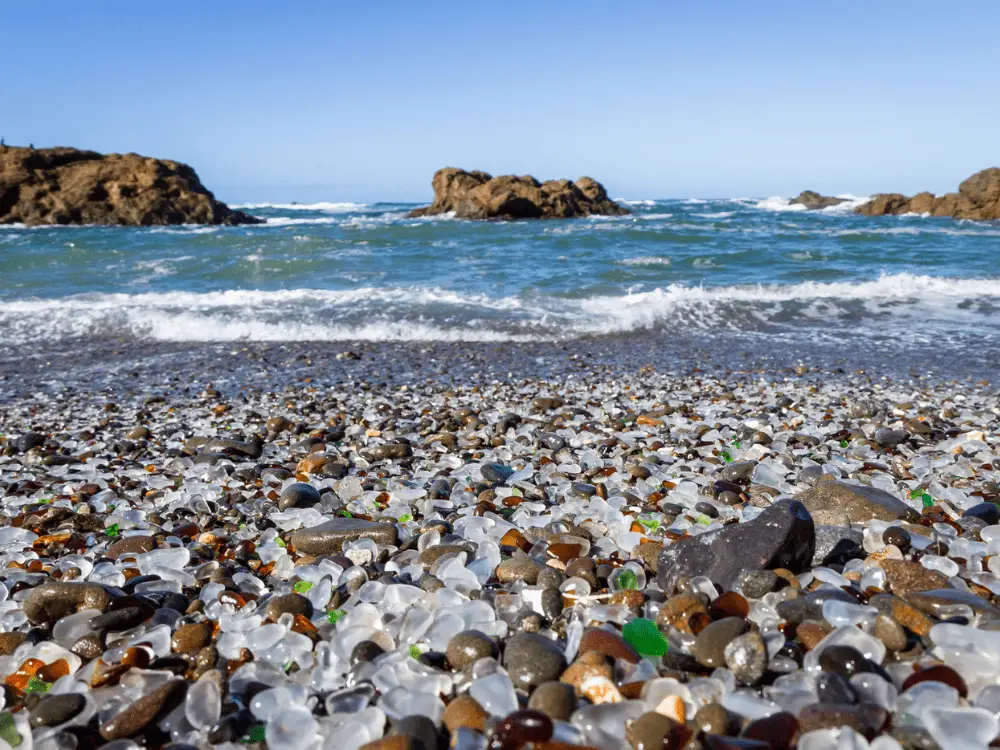 Glass Beach California: How It Came To Be
Glass Beach isn't the only place you can find sea glass in the U.S. However, it's undoubtedly the best location to experience densely gathered pieces. At one time, the beach was covered in around 7 feet of glass sand. These days, only a fraction remains but you won't have to look too far to find some as the majority of the ground is still covered.
Glass Beach: A Brief History
There are two schools of thought as to how Glass Beach was formed, with one slightly more believable than the other. We'll let you decide which one you prefer. The first, yet lesser-known history, is somewhat of a fairytale.
Do You Believe In Fairy Tales?
Rumor has it that an explorer was lost at sea in the deep Pacific. He was discovered by a group of mermaids who felt great sorrow for the sailor's predicament. The mermaids are said to have wept for the man so dearly that their tears turned to glass and were swept to shore. Each time mermaids discovered a lost sailor, they would comfort them and cry, which eventually led to vast beaches filled with their glass tears.
What a beautiful story, right? Please note that this fairy tale may have been altered slightly for dramatic effect!
An Alternative History
The second history of Glass Beach is for the cynics out there. Although it may not be as thrilling as mermaids and explorers, it's fascinating, and perhaps, more believable.
Most Californians are aware of the devastating earthquake that hit San Francisco in 1906. Despite lasting less than 60 seconds, the quake caused catastrophic damage. It also ignited a series of fires in the area that destroyed hundreds of neighboring cities.
Fort Bragg was one of the locations that were devastated by the earthquake, leaving many buildings and homes torn apart.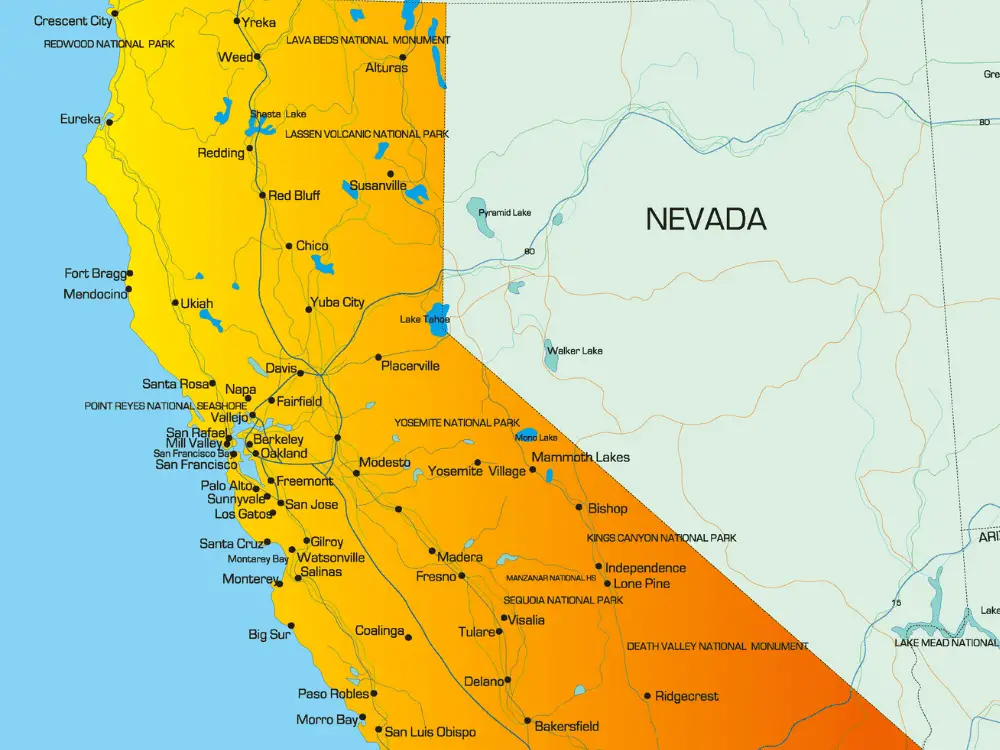 Irresponsible Dumping
Prior to this, Fort Bragg residents practiced sustainable (for the time) waste disposal, storing and reusing garbage where possible. However, the wreckage from the quake had to be cleared before the community could rebuild. Locals burned what they could and established dump sites near the water's edge. Inevitably, much of the debris and garbage ended up in the ocean.
Since the earthquake caused extensive property damage, these dump sites were not only used for garbage and waste, but they were also piled high with windows, broken pottery, mirrors, and household appliances.
Over the years, the site became full so a second dump was created, known as "Site 2". This become the main dumping ground for 6 years until a third site was set up in 1949, named "Site 3". Site 3 was situated on a beach and lasted 18 years until it was closed in 1967.  
The local government implemented several cleanup programs to help restore the beach. Over the following decades, most of the metal and reusable components were removed and sold as scrap. There were also some creative initiatives where local artists use scrap materials to curate pieces. 
The remaining glass and pottery-type items experienced natural degradation from seawater and changing tides. This created sparkling and smooth colored glass, producing a spectacular-looking shore.
Other waste material that was dumped in the ocean also broke down and washed ashore, producing a massive accumulation of sea glass, which the beach eventually became known for. 
What Is Sea Glass?
Sea glass is the only real positive that can come from dumping. When glass is exposed continuously to seawater, physical and chemical erosion occurs from a combination of movement and salt water. The first stage of the process occurs as bottles and large pieces of glass are thrust around by currents and waves. This breaks down the shards into smaller pieces.
The second stage is chemical erosion, as the abrasive salt water etches away the sharp and rough edges. Over years and even decades, the glass becomes weathered and smooth. This process also causes the material to take on a frosted glass look. Large chunks of glass and ceramics often spend 100 to 200 years in the surf before they wash ashore, making for spectacular, jewelry-like sea glass pieces.
Sea glass can be found in a number of locations worldwide. Shipwrecks, natural disasters, and illegal dumping have led to an enormous amount of glass accumulation in the ocean.
However, Fort Bragg is one of the few locations where high concentrations of materials were dumped along the shores for decades. This is what makes Glass Beach such a rarity and must-see landmark.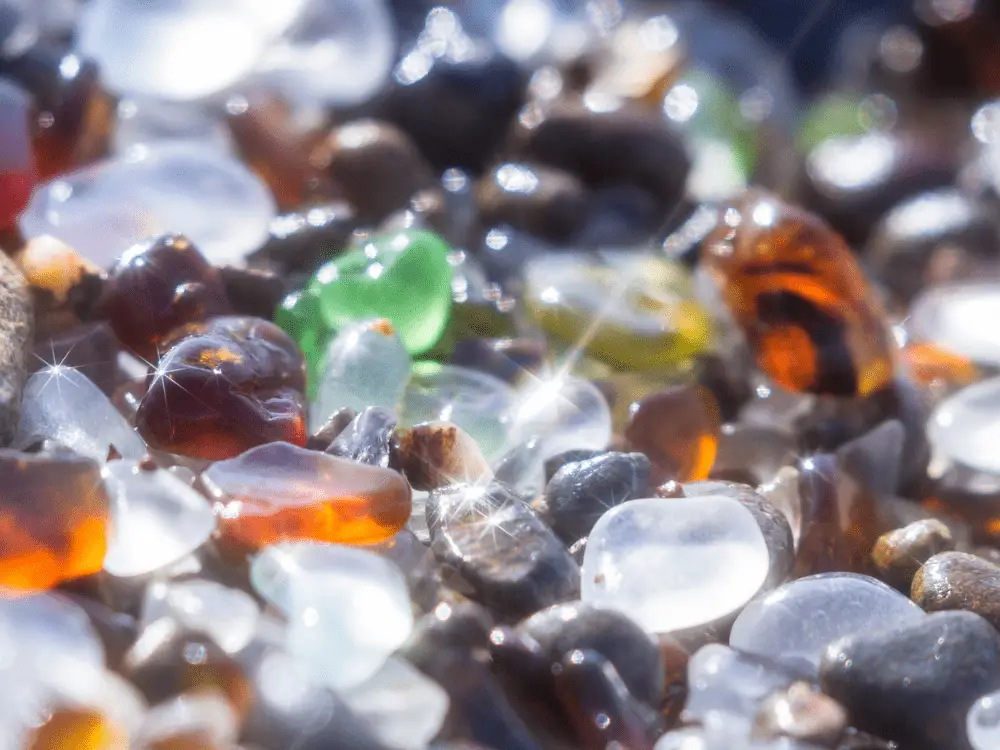 Is There Still Glass On Glass Beach?
As mentioned, enormous sea glass deposits gathered on Glass Beach shores in the mid-1900s. As a once gleaming coastline, the shine of Glass Beach has lost some of its lusters over the past few decades.
A steady flow of tourists looking to take a souvenir from their travels has led to significant over-poaching of sea glass, gradually eating away at its supply. While removing glass from a beach is usually seen as a positive, this isn't the case with Fort Bragg's shiny edge. 
Today, you can still find plenty of sea glass on the beach. There just isn't the abundance of jewels as in previous decades. Rest assured, Glass Beach is still well worth a visit. In fact, glass is scattered across all 3 dump sites; which is something that most visitors don't realize.
Can You Take Glass From Glass Beach, California?
Since Glass Beach became part of MacKerricher State Park, concerted efforts have been made to conserve the supplies of sea glass. It's now prohibited to take any glass pieces from the beach. Unfortunately, this rule is hard to enforce so tourists continue to deplete the glossy beach.
Park authorities urge visitors to act responsibly in the knowledge that the spectacular anomaly will no longer exist if tourists continue to bring a home glass for keepsakes. 
The speckled beach isn't the only reason to conserve precious sea glass. Oxidation causes several mineral deposits from glass to be absorbed into the water, creating unique underwater life. Although the water is cold, snorkelers can enjoy a colorful swim, unlike anything they've ever seen.
If stocks are maintained, sea glass can eventually transform into glass reefs. There is a possibility that these semi-natural formations can replenish marine food chains in the Pacific.
Sea glass is a finite resource so keep this in mind when you stop by. If you're a collector, try not to overindulge and help preserve one of California's coolest beaches.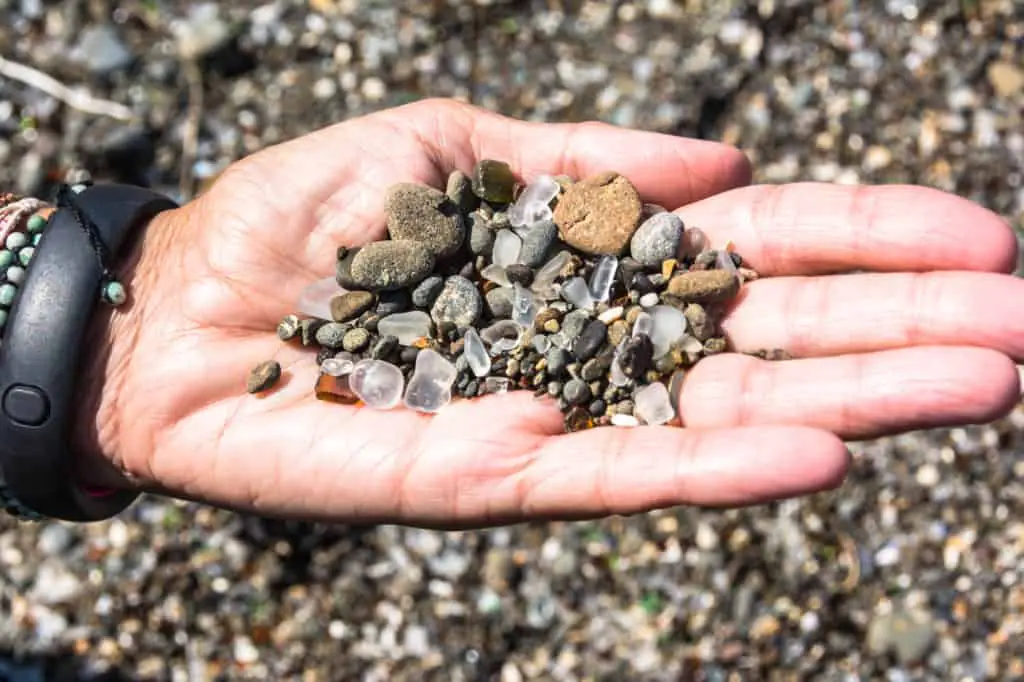 Types Of Glass You Can Find At Glass Beach
Sea glass conforms to a particular color, size, and shape, depending on the material it's made from. The most common types of discarded glass include clear bottles, jars, and windows, brown or green beer and wine bottles, and blue or pink medical containers. Pieces of glass that contain ceramics or pottery produce an array of exotic colors.
Glass Beach is a product of decades of dumping. This makes it a sea glass admirer's dream. It has an eclectic variety of mesmerizing pieces, from round lavender shades to small frosted pebbles. Some of the rare gems to look out for include:
It's believed that most blue sea glass comes from either prescription medicine packaging or perfume bottles. Due to their striking beauty, blue pebbles are popular souvenirs for visitors making them increasingly rare.
Pink sea gems are also a rare commodity because of their unique aesthetic. Various shades of pink glass are likely formed from clear glass. Over time the oxidation process combined with trace minerals in the ocean tint the glass. You can find oxidized sea glass across a spectrum of bright colors from light pink to lavender.
Green and aqua blue glass are two of the most common colors found in Fort Bragg. Green glass is used frequently to house beer, wine, and soda, which is consumed and dumped in large quantities daily. However, there are some large and rare green pieces that glow when exposed to light. These are created when uranium deposits melt into glass chunks.
Red and brown sea glass is also quite common. It's derived from drink bottles and glass from car lights or household appliances. There is a broad range of reddish glass shades on each site.
Fire glass is one of the rarest and most beautiful types of sea glass you can set your eyes on. While it isn't unique to Glass Beach, it can only be found in a select few locations.
For fire glass to develop, the material must have been exposed to flame. Since much of the debris was burned on the dump sites, a lot of the glass developed impurities before falling into the water. 
As the glass degrades, the charred effect creates a dark, cloudy, and texturized appearance. If you want to find a piece of fire glass, your best bet is to visit the glass museum.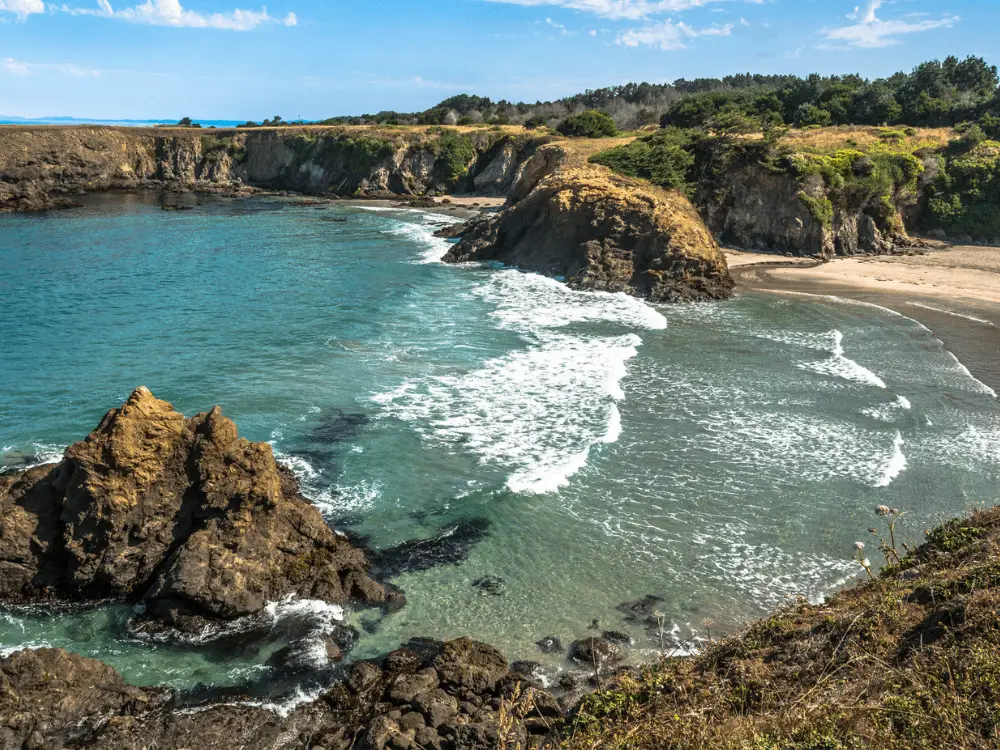 Where To Visit At Glass Beach
Glass Beach was officially integrated into the Mac Kerricher National Park in 2002. The California Department of Parks and Recreation has made it highly accessible, with plenty of signage from roadways guiding you to the original site. Once you park, an easy-to-follow dirt trail takes you the rest of the way.
For many years, the main attraction was the only easily accessible location for visitors. Sites 1 and 2 boast plenty of sea glass but require a slight climb from a cliff to get to. Alternatively, you can take your kayak along the coastline from the main beach. This makes them a no-go for some visitors, while many don't realize they even exist.
However, since the sea glass at Site 3 is no longer as abundant, tourists have begun to explore the other areas. Some argue that Sites 1 and 2 are now even more appealing than the original beach.
Glass Beach (Site 3)
Glass Beach, or Site 3, is undoubtedly the most popular visiting spot, with tens of thousands of tourists flocking to the shores annually. It's the only beach that gets mainstream coverage and tends to be the focus of most tours, postcards, and local merchandise. One of the main reasons for this is that it forms part of the National Park.
Site 2
Site 2 is a popular site for true sea glass enthusiasts as it's perhaps the most plentiful of all. However, the high tide makes it tricky to navigate. If you're planning a trip, be sure to check the tide beforehand.
Site 1
Site 1, also known as Treasure Cover, is often referred to as the hidden gem of Fort Bragg. It's relatively easy to access. Simply follow the Fort Bragg Coastal Trail from Noyo Headlands for around a quarter-mile.
Is Glass Beach Worth The Trip?
Glass Beach is most certainly worth the trip! You can visit Fort Bragg year-round and expect clear skies and sunshine. Aside from the beaches, there are several other noteworthy attractions to consider.
Sea Glass Museum
If you want to learn more about Glass Beach's rich history, the Sea Glass museum is a must-visit. It's owned by Capt. Cass Forrington, a retired Marine Captain. He is a leading advocate for preserving the beach and rejuvenating marine life with sea glass. Inside the museum, you can find a comprehensive collection of beautiful sea glass, as well as hand-crafted jewelry. Admission to the museum is free but donations are welcome.
Fort Bragg Coastal Trail
The newly created coastal trail is paved along the cliff edge and offers magnificent views of the NorCal coastline. There are also several lookout points, artistic displays, and benches to marvel at. The coastal trail is ADA-accessible and suitable for walking and biking.
Annual Glass Festival
The International Sea Glass Festival takes place in Fort Bragg on Memorial Day Weekend every year. It's the best time to purchase jewelry and view fine collections of sea glass. If you're looking for a cultural experience on your holidays, consider a trip to Glass Beach.
References