The National Park System in the United States covers 423 national parks of all types. One of the most unique national parks is Lassen Volcanic National Park, a 106,452-acre park spanning California's Shasta, Lassen, Plumas, and Tehama counties.
Lassen Volcanic National Park is one of a kind. It is beautiful, and the volcanic activity in the area makes it unlike other national parks. Visitors can hike, swim, boat, and fish in the summer and ski and snowboard in winter. Camping is available year-round, and the park hosts events and seminars throughout the summer.
Location:
38050 Highway 36 East
Park Headquarters
Mineral, CA 96063
Entrance Fee:
Winter Pass – $10 for 1-7 days between December 1 and April 15
Vehicle Pass – $30 for 1-7 days between April 16 and November 30
Motorcycle Pass – $25 for one motorcycle regardless of passengers, valid for seven days
Individual Entrance Pass – $15 per person traveling on foot, bicycle, or traveling together as an organized group, valid for seven days.
Getting There:
From Interstate 5 (Redding)

Take Highway 44 and go 48 miles east to Highway 89
Take Highway 89 south 1 mile to the north park entrance
From Interstate 5 (Red Bluff)

Take Highway 36E and go 51 miles east to Highway 89
Take Highway 89 north 6 miles to the south park entrance
How Long To Stay: To see all the amazing sights of the park, you'll want to stay for a few days. Only have a few hours? That's okay; you can still see plenty of incredible sights.
Best Time of Year: While the park is open all year, activities are limited when it's snowy. The best time to visit for the most activities and access is after the snow melts in May until the snow begins again in November.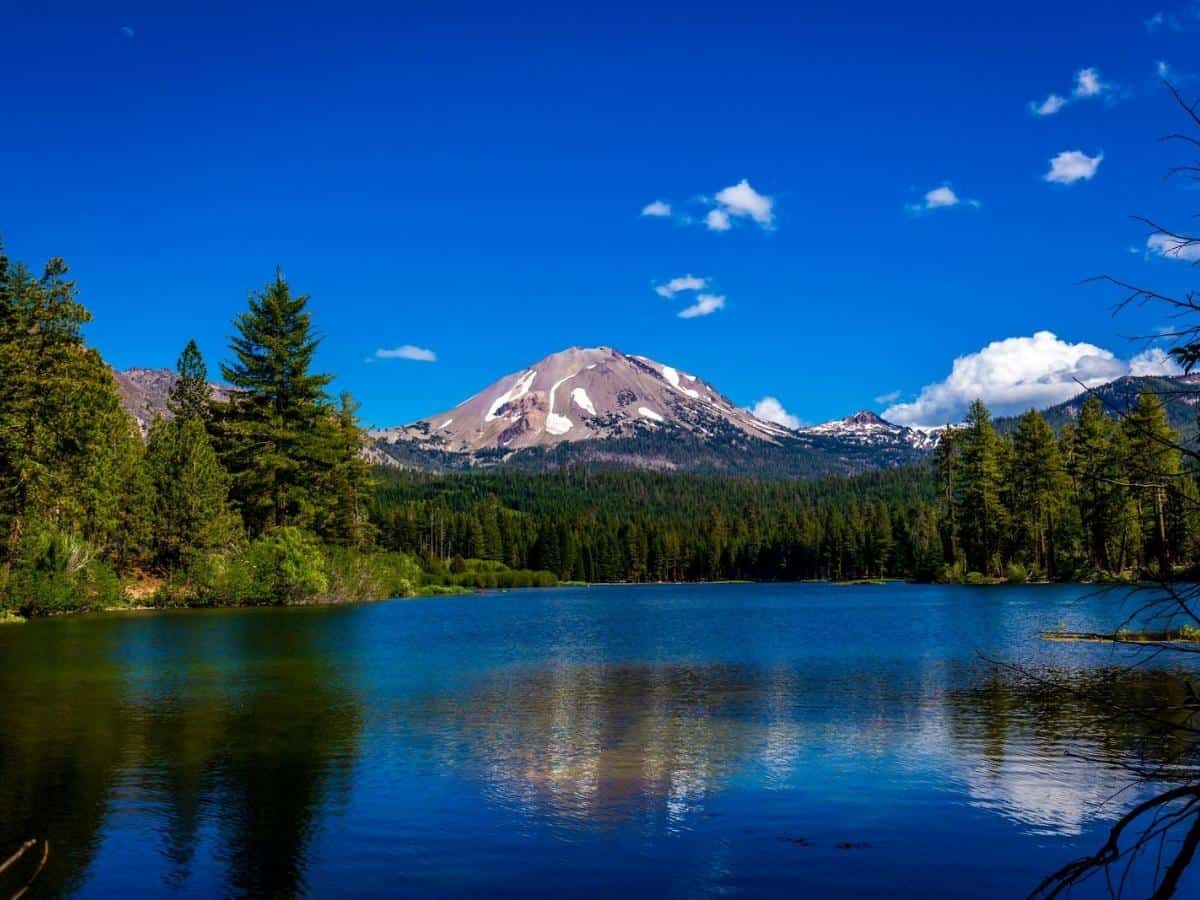 Is It Worth Visiting Lassen Volcanic National Park?
Lassen Volcanic National Park is breathtaking. The scenery alone makes it worth the trip! Hikers will enjoy the wide range of hiking trails available inside the park. For those who are interested in volcanology, it's a can't-miss sight.
Lassen Volcanic National Park is ideal for anyone who enjoys the great outdoors. Hikers can choose from trails with varying lengths, altitudes, and difficulty levels. On the many lakes, guests can swim, fish, and boat. Winter in the park is prime for skiing and snowshoeing.
The park contains all four kinds of volcanoes and is full of hydrothermal areas where volcanic heat and gasses seep underground. Even NASA is fascinated by these vents; they study the microbes living in these extreme environments.
Lassen Volcanic National Park Facts
Age: Established August 9, 1916
Size: 166 sq. miles
Named After: Peter Lassen, a Danish immigrant turned California pioneer and guide.
Weather: Most of the park is covered in snow from November through May, although snow persists outside these months in higher elevations. The weather is sunnier from June through October, with temperatures reaching the mid-80s. Hikers may want to aim for a fall trip, as the air is beginning to cool, but it hasn't yet snowed.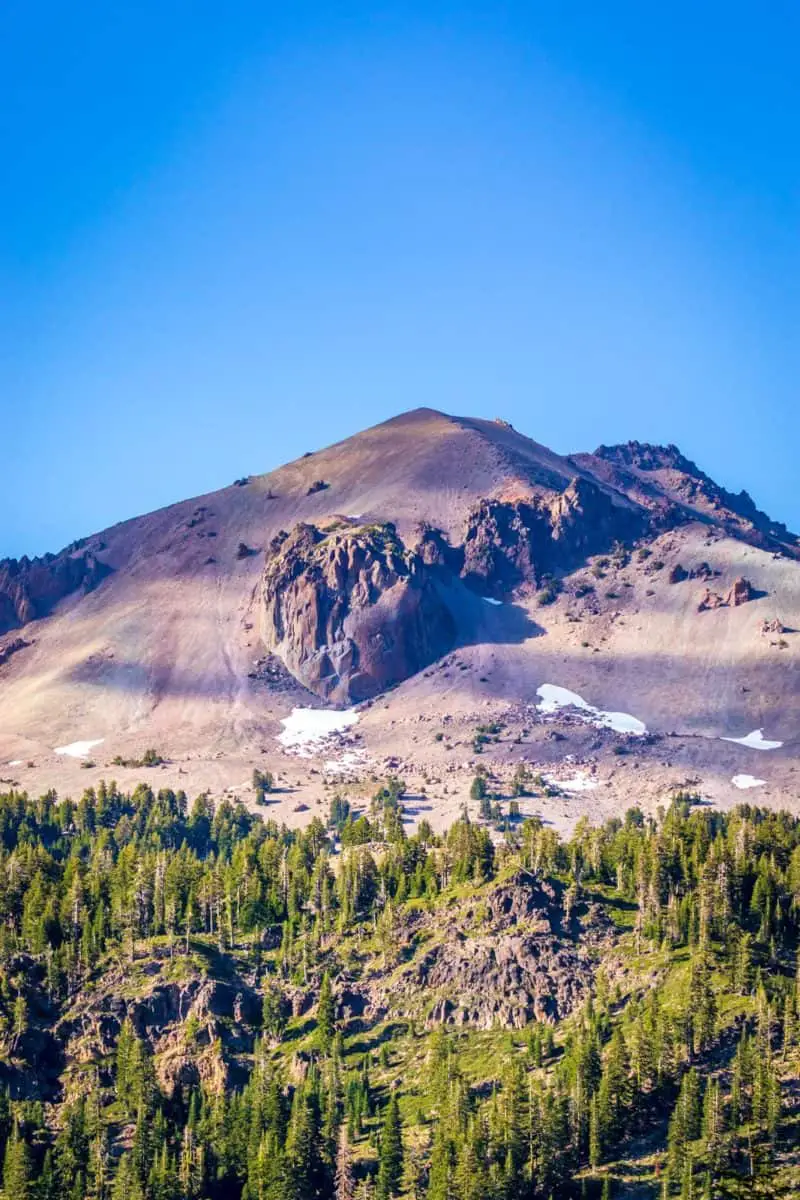 What To Do in Lassen Volcanic National Park
The activities available in Lassen Volcanic National Park vary depending on the season. While winter activities are mainly limited to snow sports, summer and fall offer various options.
Activities available in the park include:
Camping
Hiking and backpacking
Boating
Seminars and programs
The Sulphur Works
Snow activities
Camping
Lassen Volcanic National Park offers several campsites for overnight visitors to use. Some are only open seasonally, but several are available year-round.
Butte Lake Campground
Juniper Lake Campground
Lost Creek Group Campground
Manzanita Lake Campground
Summit Lake Campground
Southwest Campground
Warner Valley Campground
Many campgrounds require reservations, especially for group sites and the cabins at Manzanita Lake. For those who don't require reservations, they're still a good idea because the campsites can fill up quickly.
Some situations, such as wildfires or early snow, may cause a campground to close during the regular operating season.
Highlight: The Manzanita Lake Campground is a great option for families. The nearby showers, laundry, and camp store are godsends when camping with little kids.
Hiking and Backpacking
Hiking is one of the primary reasons visitors come to Lassen Volcanic National Park. Throughout the park are dozens of trails, ranging from a quarter of a mile up to seven miles. Visitors can choose from trails surrounding one of the park's many lakes, go through volcanic devastation, or take them up to beautiful sites like Kings Creek Falls.
The park also permits overnight backpacking on many of the trails. Backpacking allows guests to take their time on longer trails and spend the night in the park wilderness. Backpackers must have a permit from the park.
Highlight: The trails around Manzanita Lake are home to many species of birds, perfect for birdwatchers or those wanting to enjoy the songs of nature.
Boating
Non-motorized boats, like canoes and kayaks, are allowed on many lakes within Lassen Volcanic National Park, and guests can rent kayaks at Manzanita lake.
The park prohibits boating on Lake Helen, Reflection Lake, Emerald Lake, and Boiling Springs Lake. Engines are not allowed on any lakes within Lassen Volcanic National Park.
Fishing
Fishing is popular within Lassen Volcanic National Park. Manzanita Lake is a favorite spot, thanks to the lake's trout population and easy access to the water. Many of the park's creeks and other lakes also host trout species.
Those fishing within the park must follow the park's regulations:
Must have a California fishing license
Visitors can only use lures, flies, and a single, barbless hook when fishing on Manzanita Lake. All fish caught must be released.
No fishing in the boat launch areas.
Seminars and Programs
The Park holds events throughout the year at Lassen Volcanic National Park. From June through September, visitors can attend seminars at the park or join a hiking event. Kids will enjoy the junior ranger programs available during summer break.
The Sulphur Works
Because the park is a hotspot for volcanic activity, it's also full of hydrothermal areas. The Sulpher Works is the most accessible. While the volcano beneath it is long dead, gas and heat still come up through the vent, creating a strong sulfur smell and continuing to alter the landscape today.
Highlight: Thanks to the gasses seeping through the vent, the surrounding rock has developed beautiful arrays of colors and patterns.
Snow Activities
When the snow falls at Lassen Volcanic National Park, a new world of activity opens up. Guests may enjoy sledding or play in the snow near the plowed parking lots. Visitors can tackle the trails by snowshoeing, skiing, or snowboarding.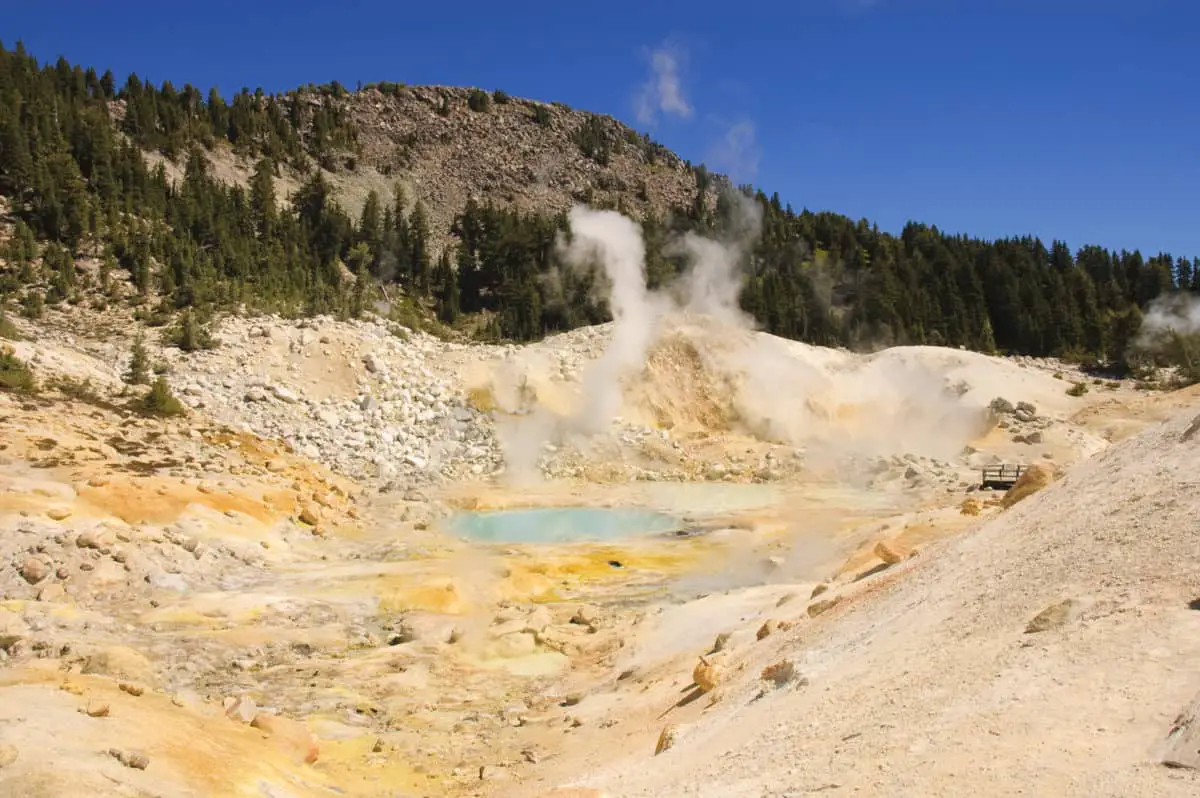 How to Spend a Day in Lassen Volcanic National Park
You wake up to the birds chirping and sunlight filtering through the canvas of your tent. You stretch and head out to the campsite for breakfast. What's next on your agenda for a day in Lassen Volcanic National Park?
Morning
Why not start your day off with a morning hike? Try the Kings Creek Falls Trail. It's a little over two miles and will take you to overlook Kings Creek Falls. Volcano enthusiasts should hike the 2-mile Ridges Lakes Trail to get a perfect view of the Sulpher Works or the Bumpass Hell Trail leading to the park's largest hydrothermal area.
Lunch
Now that you've worked up an appetite, it's time for lunch. You have a few options for meals inside the park. To keep it simple, you can eat at your campsite. Too tired from hiking to cook? Grab a meal at the Lassen Cafe inside the visitor's center or the Drakesbad Guest Ranch in the Warner Valley Area.
Afternoon
After lunch, cool off from the midday sun by hitting the lake. Take a kayak out, go fishing in a canoe, or spend some time swimming.
Up for more hiking? Make sure you visit the Devastated Area, the area destroyed in the 1915 Lassen Peak eruption.
After dinner, try walking the Manzanita Lake Trail and watching the sunset over the water. Once the sun is down, visit one of the many stargazing sites.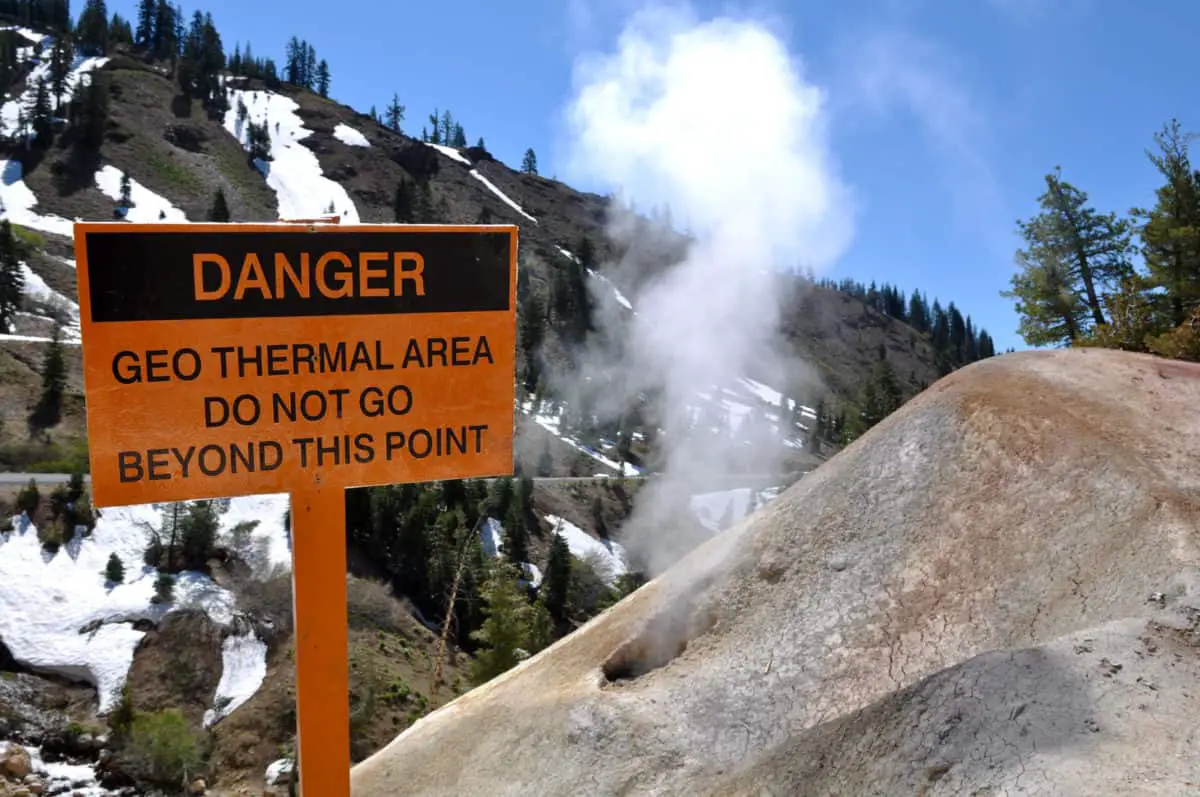 When Is Lassen Volcanic National Park Open?
The park is open 24 hours a day, 365 days a year. Some park areas are closed during winter, and others may be closed due to inclement weather or disaster.
The Visitor Center is open all year from 9 am to 5 pm. Many buildings within the park, like the Cafe & Gift Store and the Loomis Museum, have seasonal hours.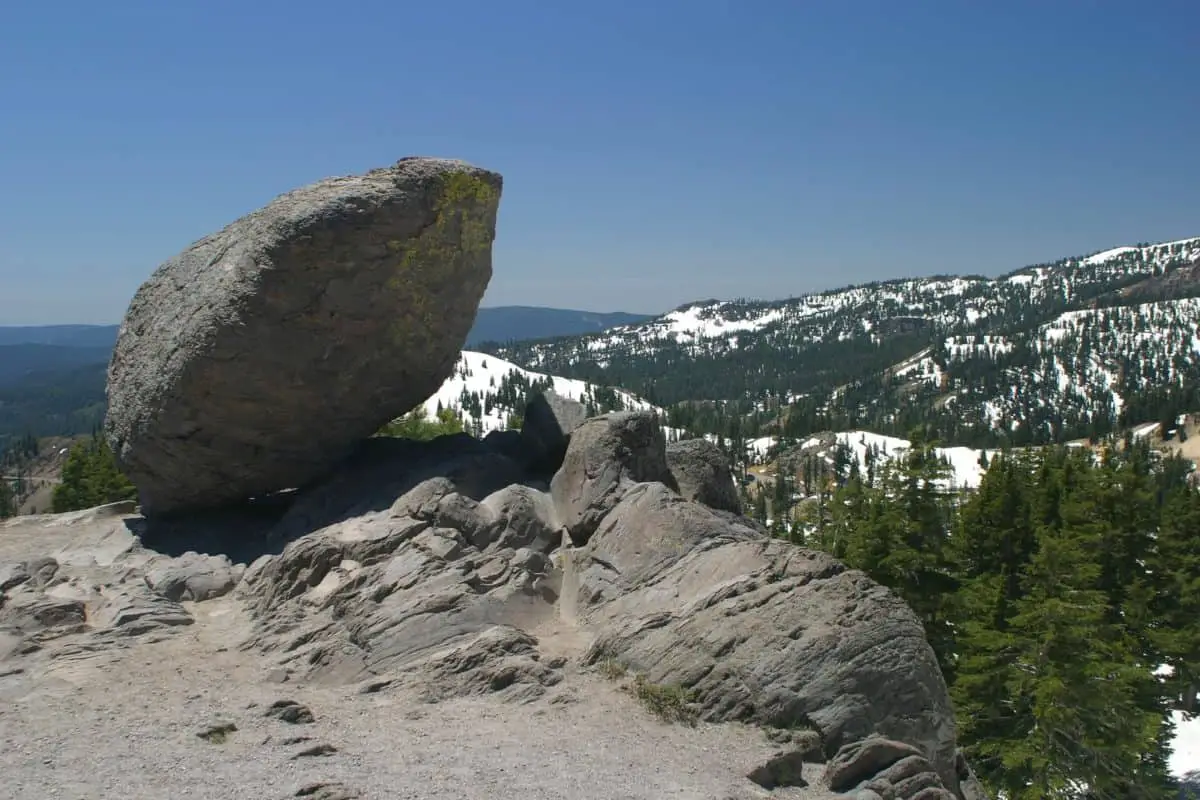 Can You Drive to Lassen Volcanic National Park?
You can drive to Lassen Volcanic National Park using the Lassen Volcanic Park Highway. It's the only road that goes through the park. There are three other roads to allow access to more remote areas of the park.
Lassen Volcanic National Highway – This highway is 30-mile long and connects the northwest and the southwest park entrances. Be mindful that there are no guardrails and that the southern part of the road is subject to winds.
Juniper Lake Road – This road will take you to the Juniper Lake area, in the park's southeast corner. You only be able to use it from June to October. The last 6 miles are not appropriate for buses or trailers.
Warner Valley Road – Use this road to access the Warner Valley area from June to October; it's closed for the rest of the year. If you have a trailer, choose another path because the last 3 miles are a dirt road.
Butte Lake Road – The Butte Lake area, northeast of the park, is accessible through this road. It's open from May to November and can be used by passenger vehicles.
What are the dangers in Lassen Volcanic National Park?
Because Lassen Volcanic National Park is a large wildlife area, guests should be cautious of black bears, burned areas, high elevations, snow and ice, and vector-borne diseases.
Black bears: while black bear incidents are rare, they are still inhabitants of the park. To stay safe in the presence of a black bear, do not feed the bears, stay calm, pick up children, and move away slowly. Try to stay at least 100 yards away.
Burned areas can be unstable due to loose or falling rocks, trees, and hidden holes. Stay out of closed-off areas.
High elevation: high elevation can cause headache, dizziness, and shortness of breath. When hiking, bring enough water and take breaks as needed. If you begin to feel symptoms of altitude sickness, turn back.
Snow and ice: Winter weather can quickly turn deadly. Don't go hiking in winter without avalanche training. Make sure you have waterproof and warm gear. When sledding, watch for ice.
Vector-borne diseases: When camping and hiking, you're in the habitat of many different wild animals. To avoid diseases like hantavirus, plague, and rabies, stay away from wild animals and their droppings.
Where To Stay in Lassen Volcanic National Park
Aside from camping or backpacking, the park has one lodging option. Drakebad Guest Ranch is a secluded piece of paradise in Warner Valley. The ranch offers 19 lodges and bungalows, many with private showers and electricity.
Guests have access to a swimming pool heated by natural hot springs, horseback riding, fishing, and access to hiking trails. The ranch includes a restaurant, and you can include meals in your reservation.
Lassen Volcanic National Park FAQ
Can you drive through Lassen Volcanic National Park?
Driving through Lassen Volcanic National Park is very common. Lassen Volcanic National Highway connects the north and south entrances of the park. The drive is full of beautiful scenery but is closed to through traffic in the snowy months.
The park has three dirt roads that lead to Butte Lake, Warner Valley, and Juniper Lake. These roads also close in the snowy season.
Where do you fly into Lassen Volcanic National Park?
The nearest airport to Lassen Volcanic National Park is the Redding Municipal Airport, about 45 miles away. This is a smaller airport, and it only takes flights from Alaska Airlines, United Airlines, and Avelo Airlines.
The nearest major airports are the Sacramento International Airport, 151 miles away, and the Reno-Tahoe International Airport, 152 miles away.
Sources:
https://www.nps.gov/lavo/