Lassen is a small county in Northern Californian with a stunning natural environment. The county has lofty mountain ranges, unique volcanic formations, surreal hydrothermal areas, clear alpine lakes, and arid plateaus.
Lassen County encompasses parts of the Cascade and Sierra Nevada mountains. The county has hydrothermal vents and pools and volcanic formations such as Lassen Peak, which is the largest plug dome volcano in the world. Lassen County also includes Eagle Lake – one of the biggest lakes in California.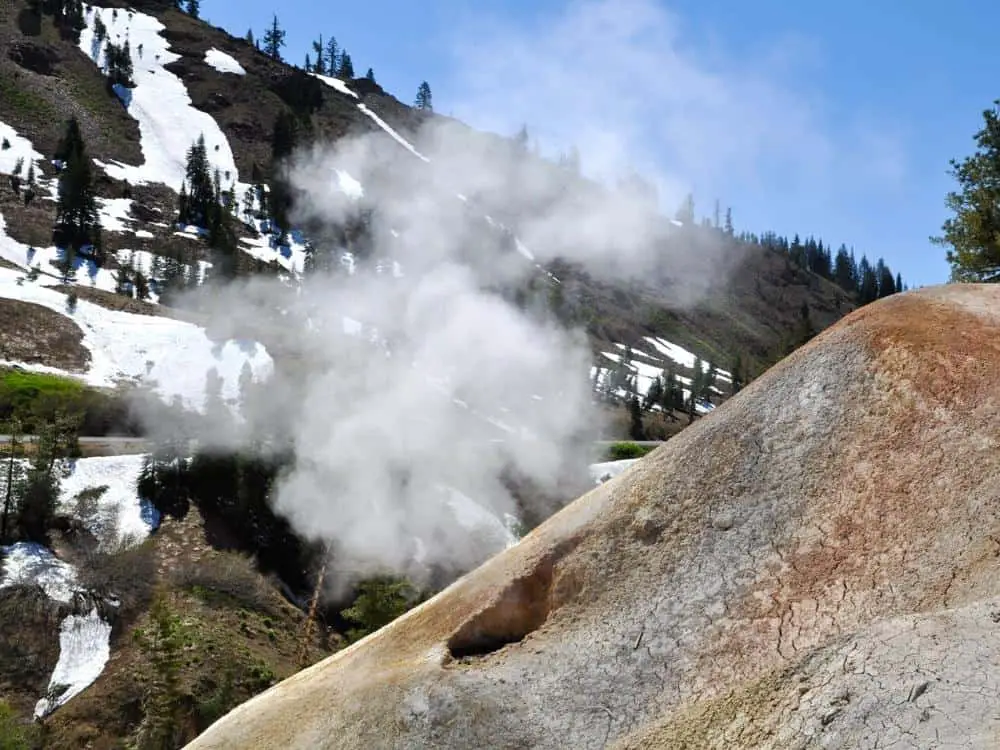 What Is Lassen County California Known For?
Lassen County is known for its unspoiled and dramatic forested mountains, volcanoes, hydrothermal areas, and high-elevation lakes. Lassen is also known for its fascinating Native American and frontier history. Here are some prominent natural and historical features of Lassen County.
Volcanoes
Hydrothermal and geothermal areas
Alpine lakes
Native American and frontier history
Volcanoes
Lassen is renowned for the volcanoes that dot the northeastern region of the county. The volcanoes are part of the southern Cascade Mountains, and include the four basic volcano types:
shield,
plug dome,
cinder cone,
stratovolcano.
Many volcanoes in Lassen County are active, including Lassen Volcano Center and Lassen Peak.
Lassen Peak is probably the most famous volcano in Lassen County. This 10547-foot volcanic peak consists of igneous rock. Lassen Peak is the largest plug dome volcano on earth and is active, having last erupted about a century ago.
Hydrothermal And Geothermal Areas
Lassen County is known for its otherworldly geothermal and hydrothermal areas. These areas include lava gas vents, steam vents, boiling pools, and mud pots.
The bizarre volcanic phenomena are created when snow melt and rainwater flow underground. The water then gets heated by magma and is forced above ground again as boiling water, mud, gas, and steam.
Alpine Lakes
There is a close association in the popular imagination between Lassen and pristine lakes in the high, snow-tipped mountains of the Cascades. The lakes are in the eastern half of Lassen County and are part of the Great Basin region.
Eagle Lake is one of the biggest and most well-known lakes in Lassen County.
This stunning lake is one of the largest in California, and is perched 5100-feet above sea level. Eagle Lake is set against the background of stoic sagebrush hills along its northwestern banks and stands of pine, juniper, and cypress cover the lake's southeastern shores.
The lake is ideally suited for summer outdoor recreational activities like swimming, hiking, fishing, and picnicking.
Native American And Frontier History
Lassen County is known for its intriguing ancient and modern history.
Native American groups like the Maidu, Yana, Atsugewi, and Yahi inhabited the local area for millennia.
These Native American peoples lived in the region during the spring and summer months when they harvested plants for food and medicine and for making baskets and other woven artifacts. The Yana, Maidu, Yahi, and Atsugewi also hunted deer populations migrating through the valleys and meadows of Lassen during the warmer months of the year.
People of European descent started exploring and settling in this part of Northern California in increasing numbers from the mid-19th Century. Fur trappers and traders were among the first non-natives to arrive in the area.
The first European towns were constructed during the local gold rush during the 1880s. These settlements grew more rapidly soon afterward when the railroads made their way into the region. The railroads also facilitated the development of the logging industry. Logging shaped the landscape and economy of Lassen County for much of the 20th-Century.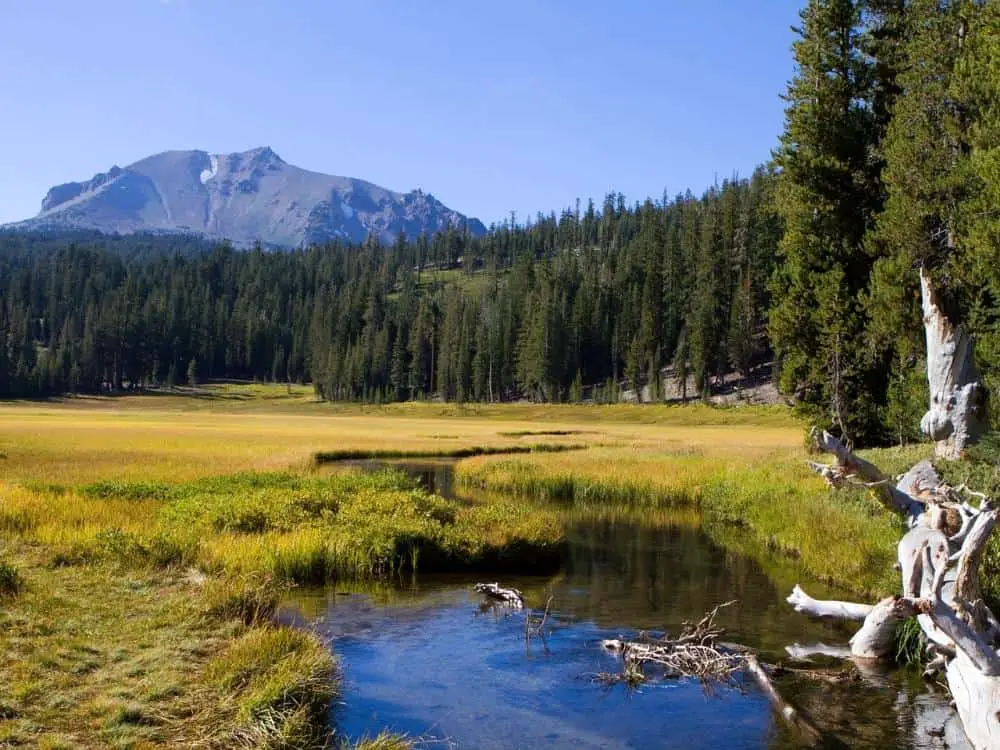 What's In Lassen County?
Numerous nature parks and reserves in Lassen showcase the county's wild and wondrous natural beauty. Lassen County also has places like museums that exhibit and interpret the history of the local area.
Lassen Volcanic National Park
Lassen Volcanic National Park is the jewel of Lassen County. The park is near the city of Susanville and covers an area of 166-square miles.
Most of the volcanoes in Lassen County are within the borders of Lassen Volcanic National Park, including the famed Lassen Peak, Lassen Volcanic Center, and Cinder Cone. There are also hydrothermal and geothermal areas dotted throughout the park, such as Sulfur Works and Cold Boiling Lake.
In addition to volcanic peaks, Lassen Volcanic National Park has verdant forests of pine and fir trees and wildflower meadows in the springtime. Kings Creek and a host of other crystalline streams of fresh mountain water flow in the park.
The mesmerizing Manzanita Lake is another prominent feature of Lassen Volcanic National Park's landscape. This 50-acre natural lake formed roughly 300 years ago when rockfall inadvertently created a dam wall across Manzanita Creek.
Part of the Lassen Volcanic National Park still carries the scars of the most recent eruption of Lassen Peak about a century ago. This zone is called the Devastated Area and has a dedicated walking trail for visitors to view and interpret the effects of the volcanic eruption.
Beyond these natural wonders, the Kohm Yah-mah-nee Visitor Center and the Loomis Museum in the Lassen Volcanic National Park showcase the social and cultural history of the local area.
National Forests
Magnificent stands of pine and fir trees surround Lassen County. Much of the county's arboreal bounty is protected inside the boundaries of four national forests:
The US Forest Service (an agency of the US Department of Agriculture) manages these national forests, and logging occurs in some areas. However, the national forests contain large expanses of designated wilderness, where one can experience the untouched beauty of Lassen County's forests.
Lassen National Forest is one of the most impressive protected forest areas in Lassen County. This 1700 square mile national forest is bordered by the Modoc Plateau (to the east), the Sierra Nevada (to the south), and the Central Valley (to the west).
The conifer tree species in Lassen National Forest include:
Douglas fir,
red fir,
white fir,
lodgepole pine,
ponderosa pine,
Jeffrey pine.
Lassen National Forest has 92 000 acres of old-growth conifer forests composed of red fir (though there are also old-growth stands of Jeffrey Pine).
There are also three remarkable wilderness areas within the boundaries of Lassen National Forest. These wild and untouched sections of the national forest encompass an area of roughly 78 000 acres.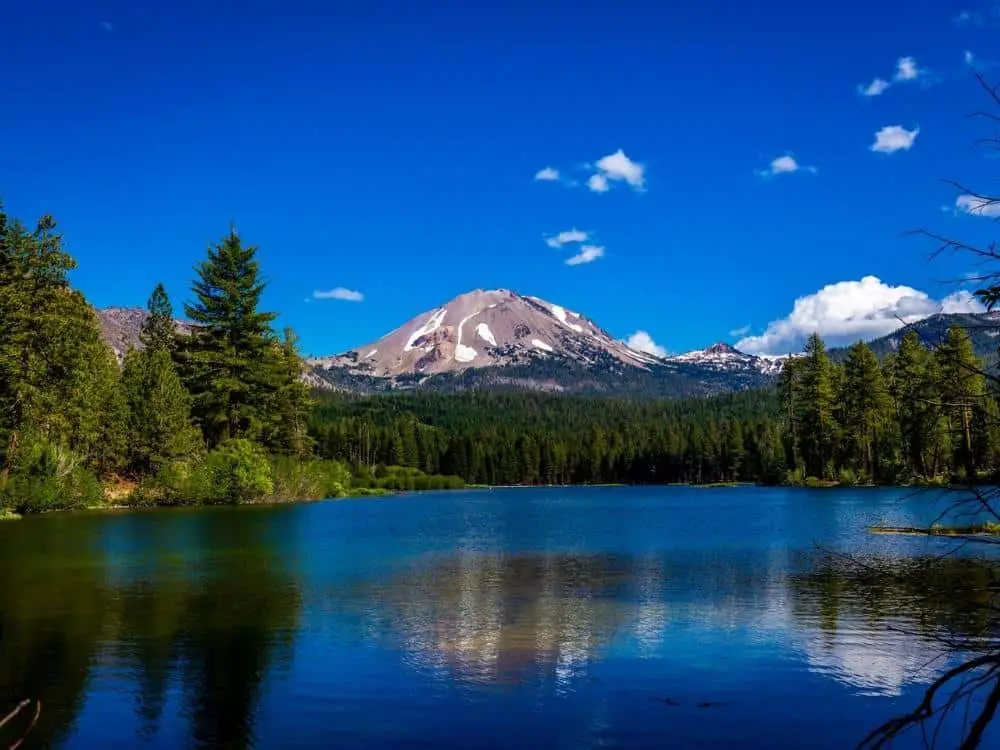 Things To Do In Lassen County
There are plenty of things to do in Lassen County. The county is a prime destination for experiencing the natural splendor of Northern California and has endless opportunities to enjoy an array of outdoor recreational activities in summer and winter. Learning about the local history of Lassen is another worthwhile thing to do in this rural county.
Drive the Lassen Volcanic National Park Highway
Enjoy endless hiking trails
Fish for trout and bass
Drive The Lassen Volcanic National Park Highway
The Lassen Volcanic National Park Highway is a scenic route that passes conveniently by many of the park's primary attractions. This highway is 30-miles long and takes about an hour to drive in one direction (excluding time taken to stop along the way).
The Lassen Volcanic National Park Highway reaches an elevation of over 8500-feet and has more than several excellent viewpoints where one can absorb the breath-taking beauty of the Cascade Mountains.
Some of the most highly-recommended stops on the Lassen Volcanic National Park Highway include Lake Helen, Emerald Lake, and Sulfur Works. The scenic route also traverses around the base of the park's iconic volcanoes like Lassen Peak and Cinder Cone.
Enjoy Endless Hiking Trails
Lassen County is an ideal place for hiking. The county has dozens of hiking trails in its many parks and wilderness areas, giving day-hikers and backpackers a chance to experience Lassen's natural splendor and abundant wildlife.
Backpackers can do a multi-day hike on the Lassen County section of the Pacific Crest Trail. The legendary Pacific Crest Trail cuts through Lassen Volcanic National Park and Lassen National Forest as it moves through the county.
Lassen Volcanic National Park has an extensive system of hiking trails. The park's day-hiking trails ascend famous peaks like Cinder Cone and Lassen Peak. These trails are challenging due to their steep gradients (though the panoramic views from the summit of these volcanoes are sufficient reward for the hard work).
There are also numerous idyllic but less strenuous hikes in Lassen Volcanic National Park. For instance, some trails loop around the park's pristine alpine lakes. These gently-sloping loop trails include the Eagle Lake Trail (4.5-miles) and Manzanita Lake Trail (1.7-miles).
Fish For Trout And Bass
Lassen County is a fantastic destination for fishing. Trout and bass are the most common fish caught in Lassen County's alpine lakes and creeks.
Eagle Lake in Lassen National Forest is one of the premier fly-fishing zones in Lassen County. Populations of largemouth bass frequent the lake's pristine waters. Eagle Lake is also home to an endemic subspecies of rainbow trout.
There are also countless fly-fishing spots in Lassen Volcanic National Park. Fishers experience minimal difficulty catching largemouth bass, rainbow trout, and brown trout in the park's lakes and creeks. Manzanita Lake, Butte Lake, Grassy Swale Creek, and Hat Creek are among the most favored fishing areas in Lassen Volcanic National Park.
Famous People From Lassen County
Lassen has produced many illustrious individuals during the county's history.
Selena LaMarr
Selena LaMarr belonged to the Atsugewi tribe and was renowned as the first female naturalist at Lassen Volcanic National Park. She began teaching and demonstrating Atsugewi cultural and plant-related knowledge and practices in 1952.
LaMarr worked at the park until her eighties and contributed significantly to preserving the Atsugewi cultural legacy.
Ishi
Ishi was one of the most famous Native Americans in modern US history. He was a member of the Yahi people.
In 1911, Ishi started working at the California Museum of Anthropology (now the Hearst Museum). Ishi demonstrated the creation of Yahi artifacts and recorded traditional songs and stories from his tribe.
After his death, Ishi's life was immortalized in movies, books, and plays.
Peter Lassen
Peter Lassen was a famed fur trapper, rancher, and gold prospector who played an influential role in the early history of Lassen County. Lassen County and many of its prominent natural features are named after the Danish-born frontiersman.
Lassen County FAQ
Interesting Facts About Lassen County?
Farm livestock and hay are the most significant agricultural commodities that Lassen County produces. These local agricultural sectors each generate roughly $30million annually.
Correctional facilities in Lassen provide nearly half the county's jobs.
Is Lassen County A Good Place To Live?
Lassen County offers a high quality of life. The natural surroundings and quiet, rural lifestyle in Lassen make this a wonderful county to live and raise a family.
Is It Expensive In Lassen County?
The cost of living in Lassen County is a relatively inexpensive, and is more affordable than most other counties in California. For example, the median price for a house in Lassen County is $176 700, which is a considerably less the state average. However, medical and utility costs in Lassen are closer to the average for California.
References: