When you think about California, the cities of Los Angeles and San Francisco immediately come to mind. Despite being bigger, these two cities are not California's state capital; instead, that honor falls to Sacramento.
Created in 1850, Sacramento County in California has a rich history of exploration, rail track development, and the California Gold Rush. The city of Sacramento is the seat of government of the Californian state government and the official seat of the county itself.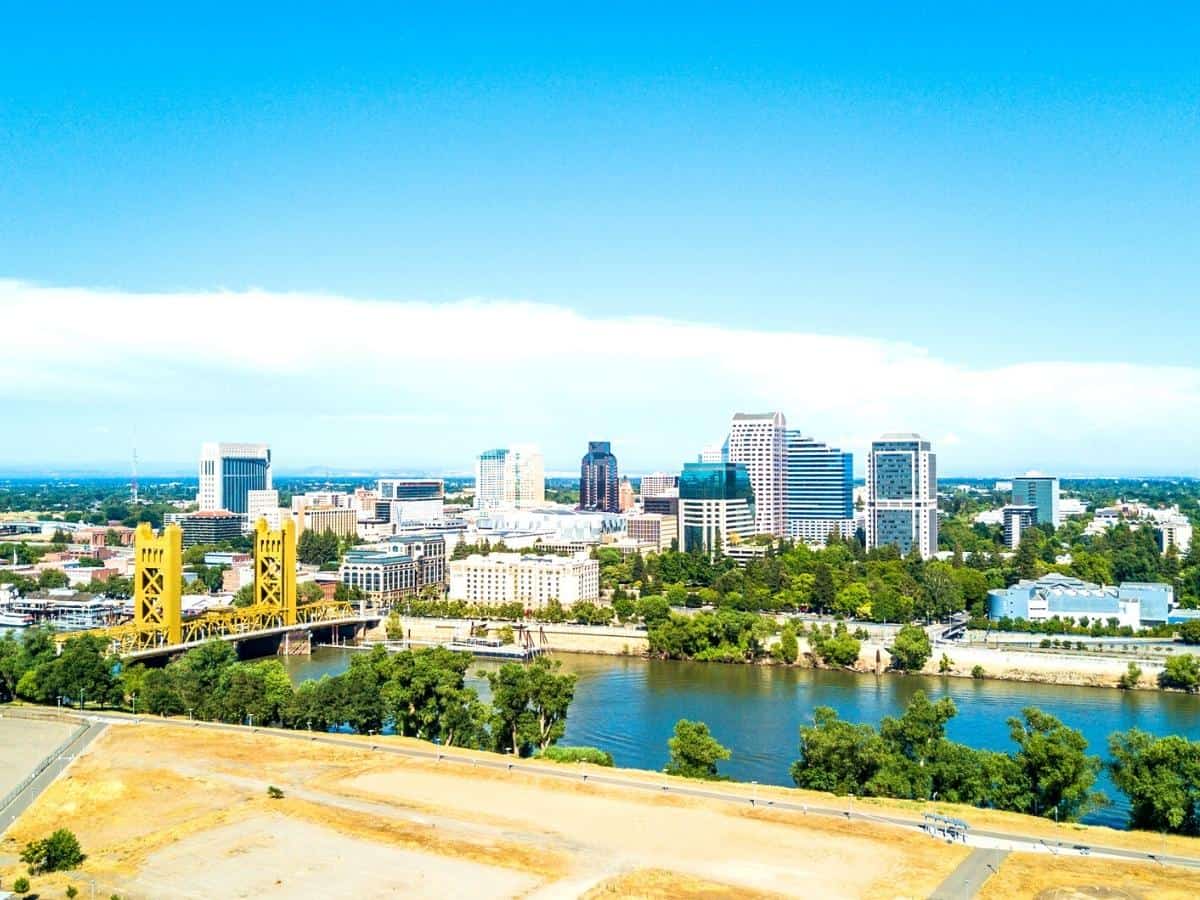 What Is Sacramento County, California, Known For?
Sacramento County is one of California's founding counties and is home to 1,585,055 people. The county is spread over 994 square miles (2,570 km2) in the North of the central valley. It's mainly known for the following:
Sacramento City
The Sacramento County's Many Museums
The Sacramento River
The county's panhandle shape on the southwestern corner reaches San Francisco Bay. The Sacramento River is the basis of the name, which, in turn, was named after the Catholic Eucharist,  Santisimo Sacramento (Most Holy Sacrament).
It was the home of the great California gold rush in 1839, which changed the face of both the county of Sacramento and the state of California. Sacramento is separated from San Francisco by the infamous San Andreas Fault.
Sacramento City
Sacramento City is the capital city of California, US, and is the legislative seat of the county.
The Sacramento County's Many Museums
Sacramento county has 28 museums celebrating the county's history, covering everything from the area's medical history, the Gold Rush, California history art, and the railroad.
The Sacramento River
The county is named after the Sacramento River, the largest river in California.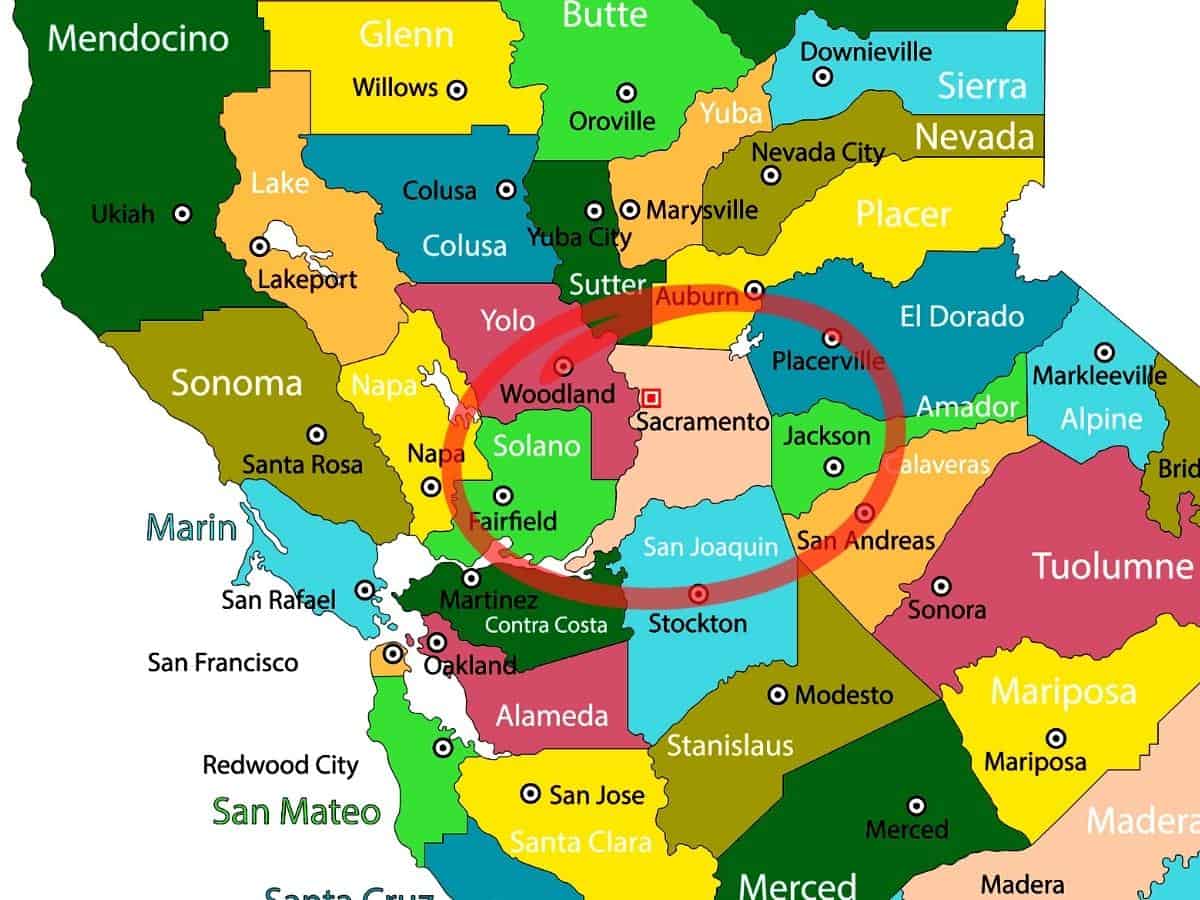 What's In Sacramento County?
Sacramento County, California, is one of the original Californian counties and is the capital with more than 1.5 million residents. It is the most populated state in North America. While they are very interesting, don't let its gold rush or agricultural heritage distract you, this county is full of features and structures which paint a colorful picture.
Tower Bridge
Construction of the Bridge started in 1933, and the first train crossed it on November 7, 1935. The bridge is one of Sacramento's iconic landmarks and consists of two lifting towers on either side which support the steel bridge. The towers lift the middle section parallel to the ground to let marine traffic through.
Hornet Stadium
The 21,000-seater Hornet Stadium is home to one of the most successful college football teams – the State Hornets.
The American River Bike Trail
The American River Bike Trail runs between Discovery Park in Old Sacramento and Beal's Point for 32 miles. The trail surface is fully paved the whole way and has watering taps, restrooms, and rest areas placed strategically on the route.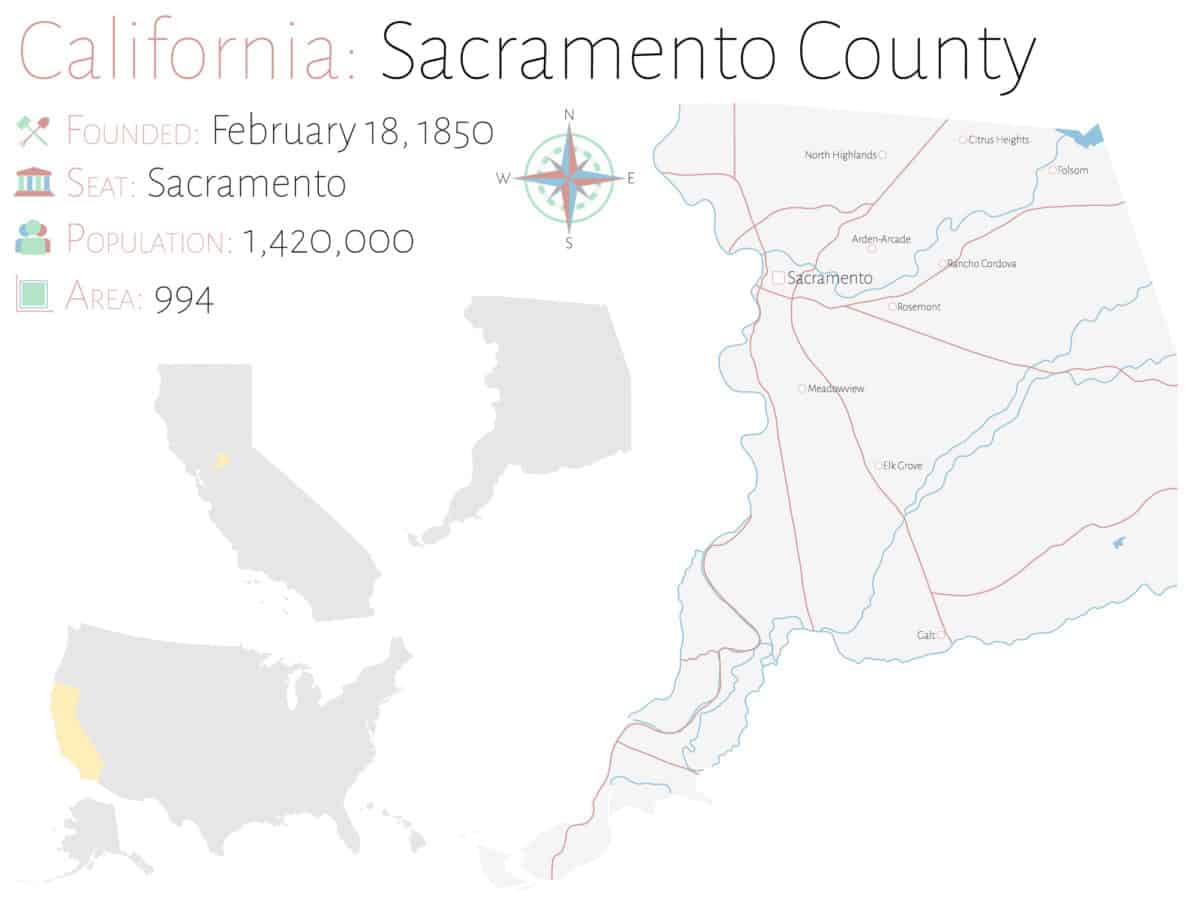 Things To Do In Sacramento County
Sacramento offers a mix of activities between cultural, historical, and current. Some of the main attractions are listed below.
The California State Railroad Museum
Sacramento Zoo
Sutter's Fort
California State Capitol Museum
Raging Waters
Jesus Culture
Fairy Tale Town
The California State Railroad Museum
Join over 500,000 people a year who pass through this novel museum. Inside you will find exhibits which show.
Information about the life of Chinese migrant workers who built the western portion of the nation's first Transcontinental Railroad.
The inside of the Georgia Northern
One thousand functional model trains are laid out on a 3,300-square-foot exhibit.
Nineteen steam locomotives dating from 1862 to 1944.
The forty-ton wood-burning steam Central Pacific Railroad No. 1 Gov. Stanford locomotive.
The small Southern Pacific Railroad No. 1 C.P. Huntington steam locomotive.
A large number of exquisitely restored rolling stock and passenger carriages.
Visit The World-Famous Sacramento Zoo
Caring for over 400 animals, Sacramento Zoo has a well-earned international reputation. You can view and learn more about the African lion, Cheetah, Or Jaguar, or you want to see a giraffe close up (as close as you can get that high up!
You may want to feel the cold tingle up your arm as you watch and learn about Boa Constrictors, Rattle Snakes, or Pythons. Whatever your interest is, the Sacramento Zoo provides an incredible learning experience for the whole family.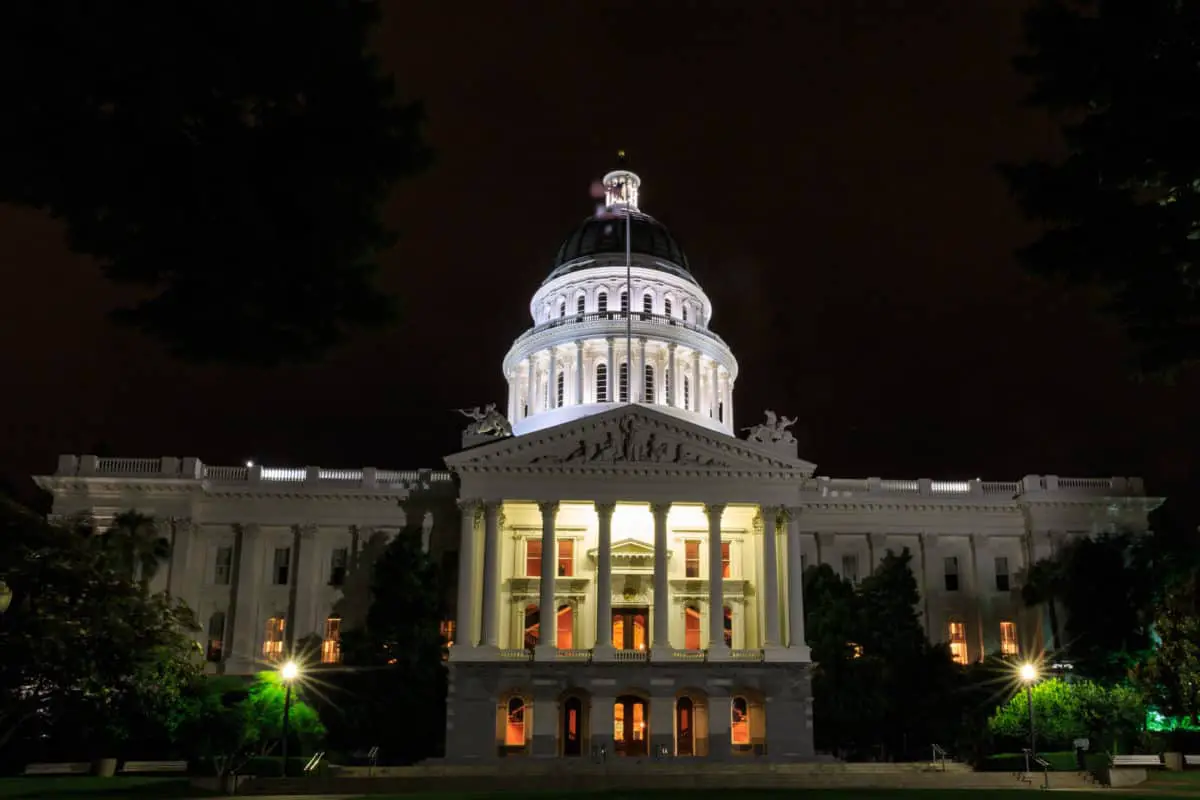 Sutter's Fort Sacramento County, California
Before James W. Marshall discovered gold in 1839, which led to the infamous Californian gold rush, Sutter's Fort was the center of activity. John Sutter developed Sutter's Fort, and had gold not been found, it would most likely be the county's capital today.
However, with riches on their mind, the occupants completely the fort to head out 45 km to the East. Sutter's fort has been completely preserved and is now a popular tourist destination.
California State Capitol Museum
Sitting next, the Capitol Museum and the state legislature work alongside each other. Both guided tours or walking alone are available and provide an interesting view of Sacramento County's history on the first floor and the basement.
Get Very Wet At Raging Waters
Situated on the Cal Expo grounds in Sacramento raging water amusement park features twenty family-friendly water slides, an 800foot "lazy" river to float down, and one of the first wave pools in California.
Water slides include.
The Dragon's Den catapults the rider down five stories.
Splashdown, where the rider freefalls six feet down into a ten-foot pool.
The Hammerhead is where the rider is pushed down an enclosed tube.
The Hurricane Bolt Slide where the riders slide down six frightening stories.
The Great White, appropriately named after the shark, is North America's fastest inline water luge.
The Maco is a more relaxing ride down into a calm pool.
Honolulu Half Pipe is for the more adventurous and starts with a free fall down four stories.
Stingray and Manta are sure to get your screaming vocal cords working!
The cliff-hanger allows you to race your buddy down two six-story slides.
Jesus Culture Sacramento County California
Jesus Culture is a large Christian faith community situated on 625 Coolidge Drive, Folsom, CA, 95630. The church has an international footprint for both the music it produces and its extensive support to marginalized people worldwide.
The community is led by Banning and SeaJay Liebscher and focuses on sharing their faith and building leadership capability.
And For Those Who Want A Fairy Tale Ending
Fairy Tale Town offers 2.5 acres of magical play area and a children's museum. Children's stories are brought to life in twenty-five differently themed areas. From Peter Rabbit to Mary's sheep and the Little Engine That Could, the experience will activate your children.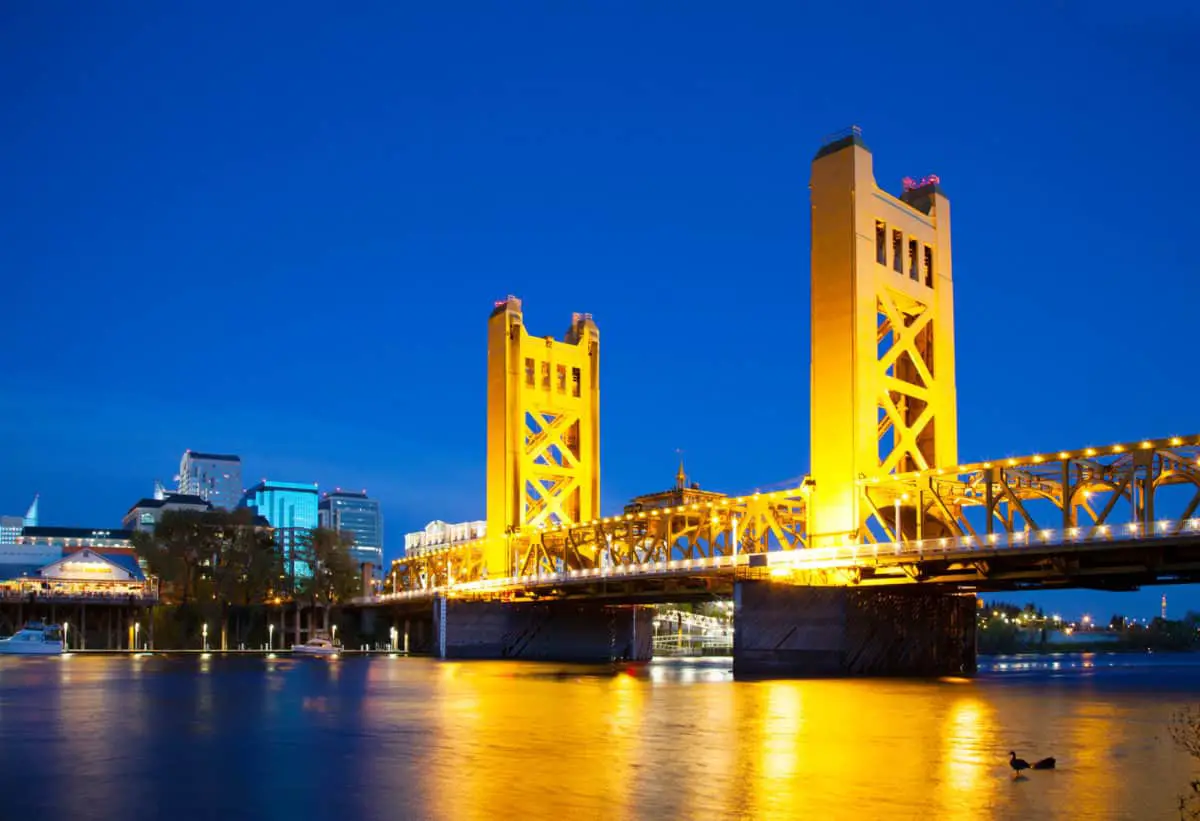 Famous People From Sacramento County
Many well-known people call Sacramento County their home. Some of these names are listed below.
Jessica Chastain
Jessica's date of birth is March 24, 1977, and she was born in Sacramento County, California; Jessica is a well-known and respected actress. She has won an Oscar and another 98 wins & 153 nominations.
She is best known for the following roles.
Murph in Interstellar (2014).
Molly Bloom in Molly's Game (2017).
Eleanor in The Disappearance of Eleanor Rigby (2013).
Celia in The Help (2011).
Samantha is taking Shelter (2011).
Anna in A Most Violent Year (2014).
Madeline in Miss Sloane (2016).
Mrs. O'Brien in the film – "The Tree of Life (2011)."
Tammy in The Eyes of Tammy Faye (2021).
Maya in Zero Dark Thirty (2012).
Brie Larson
On October 1, 1989, Brie Larson was born in Sacramento County, California. She is well-known and has played many roles, the most remembered of which are.
"Ma" In Room (2015).
Carol Danvers in Captain Marvel (2019).
Grace in Short Term 12 (2013).
Cassidy In The Spectacular Now (2013).
Sam Elliott
He was born in Sacramento County, California, on August 9, 1944. Sam Elliot is best known for his breakout role in Butch Cassidy and the Sundance Kid. Other well own movies he has acted in include.
Bobby in A Star Is Born (2018).
Wade Garrett in Roadhouse (1989).
Lee Hayden in The Hero (2017).
The Stranger in The Big Lebowski (1998).
Daniel William Descalso
On October 19, 1986, Daniel was born in Sacramento County, California. He is a Major League Baseball player who has played with the Colorado Rockies, Arizona Diamondbacks, and Chicago Cubs.
Gregory Porter
On November 4, 1971, Gregory was born in Sacramento County, California. He is a talented performing artist, composer, singer-songwriter, jazz musician, and stage actor.
Megan Dodd's
Megan is an American-British actress born on February 15, 1970, in Sacramento County, California. She is well known for playing Kate in the television sitcom "Not Going Out."
Her best-known roles include playing.
Marguerite in Ever After A Cinderella Story (1998).
Agent Walsh in Bait (2000).
Jess Harkins in Detroit 1-8-7 (2011).
Christine Whitney in CSI: NY (2012-2013).
Carrie in Juliet, Naked (2018).
Josie Malone in The Will (2020).
Sacramento County FAQs
Interesting Facts About Sacramento County?
There are over 40 farmers' markets in Sacramento County, California, and farm produce is sent around America all year round. Sacramento is called "the city of trees." There are more trees per capita than anywhere else in the world.
Sacramento is home to the oldest art museum in America, west of the Mississippi. Sacramento is home to the world's oldest" and only non-swim triathlon, consisting of a 5.82-mile run, 12.5-mile bike ride, and a 6.10-mile kayak route down the American River Parkway. Since 1900 it has only snowed three times in Sacramento.
Is Sacramento County A Good Place To Live?
Whether you are fascinated by history, looking to grow your knowledge of America's birth, or want to live in a county with an eclectic choice of activities, Sacramento County, California, will meet each of these objectives.
Regarding weather conditions, the hottest month are May, Jun, July, Aug, and Sep (93°F), while November through to February (55°F) are the coldest. Sadly, the crime rate is higher than the national average.
Crimes per 100,000 people
Assault – 479.0 (national average national 282.7)
Murder – 8.00 (national average 6.1)
Rape – 24.00 (national average 40.7)
Robbery – 168.0 (national average 135.5)
Burglary – 550.0 (national average 500.1)
Theft – 1,802 (national average 2,042.8)
Motor Vehicle Theft – 583 (national average 284.0)
Is It Expensive In Sacramento County?
While the house prices in Sacramento County are 40% higher than the nation's average, this is more related to the limited availability of houses rather than an indicator of the county's inflation.
Cost of Housing
1. Median home values – $524,000 (American Median $374,900)
2. Median home Rent – Between $2,036 and $2,891.
3. Median Household income – $72,017 (American Median $67,521)
Average Wage
The average wage is almost 7% higher than the national average, and the actual cost of living is only half of that in nearby San Francisco.
References