Once the home of the Mutsun Ohlone Native Americans, San Benito County nestles in the California Coast Range mountains. It is sometimes considered to be part of the San Francisco Bay Area. Named after the San Benito River and its valley, this county has become well known recently for agritourism, with many small and organic farms benefiting from increased tourism.
Benito County's dominant economy comes from agriculture and agritourism. Located in the central coast region of California, the county covers an area of 1,390 square miles. The largest city is the agricultural town of Hollister, known for its vineyards, apricots, chocolate, and pomegranates.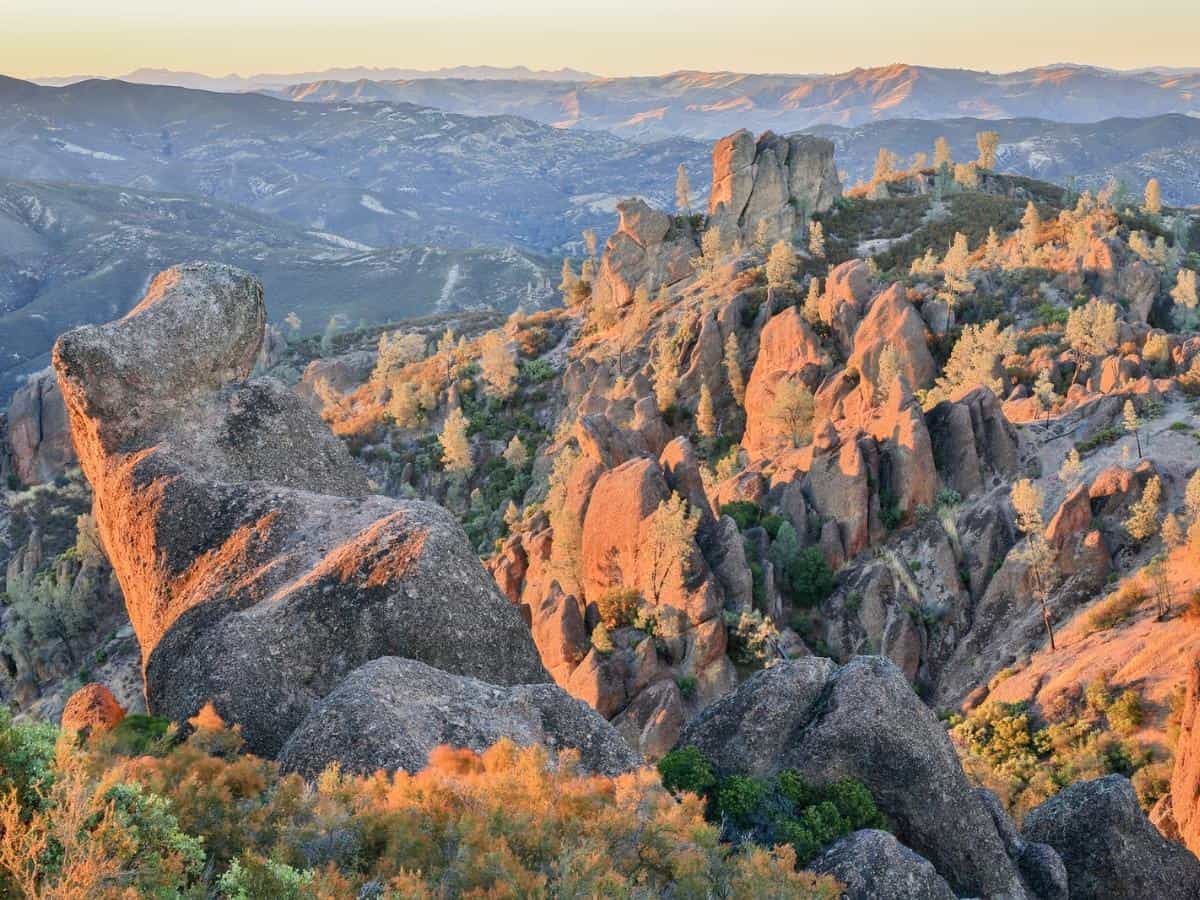 What is San Benito County California Known For?
Known mainly for agricultural production, the County of San Benito is located on the King's Highway – El Camino Real – and in the latter part of the 1770s, was settled by Spanish missionaries. However, San Benito County is well-known for its vineyards, and it was later French and German immigrants who planted the first grapes.
These vineyards were first established in the 1880s, and since then, San Benito wineries have flourished. The growth of wine tours and other agricultural tourism has increased the number of organic farms, open farm tours, and accommodation in local inns.
● Vineyards
● Organic Farms
● Spanish Colonial Architecture
● Pinnacles National Monument
San Benito Vineyards
When French and German settlers first began planting grapes in San Benito County in the 1880s, it began a boom in wine farms and vineyards. The fertile soil and climate enable the county to be a leading agricultural provider, and the rolling countryside makes for a picturesque setting for the many vineyards.
Visitors to the wine farms are encouraged, and the San Benito County Wine Trail takes in many local vineyards and attractions. The region's limestone-rich soils mean San Benito County is known for its chardonnay and pinot noir.
San Benito Organic Farms
Although San Benito County is known as a whole for its agriculture, with Earthbound Farms being one of the top employers in the county, there has also been a rise in small, organic farms. These local farms are known for their innovative farming techniques, and the sales of organic foods have been steadily increasing around the country.
Hollister is host to an organic farm tour that forms part of a four-day conference by the Ecological Farming Association, which has been running for 25 years. The move away from commercial farming has created new opportunities for small farm owners.
Spanish Colonial Architecture
As San Benito County forms part of El Camino Real, a 600-mile route that connects 21 Spanish missions throughout California and several other sub-missions, it's no surprise that San Benito county boasts some beautiful examples of Spanish Colonial architecture.
The Mission San Juan Bautista is located on 406 2nd Street San Juan Basista and was built in 1797, and has served a daily mass since then and still functions as a parish church. The mission building and its grounds were used in the Hitchcock film Vertigo.
Pinnacles National Monument
Pinnacles National Monument is a series of uniquely-shaped rock formations popular with climbers. These rock formations were first established as a national monument in 1908, but the area was made into a national park by 2013.
The park protects an area of wilderness and foot trails that provide excellent habitat for prairie falcons. Due to the summer's intense heat, Pinnacles is more popular with visitors in fall and spring.
What's In San Benito County?
Most of San Benito County is devoted to farming, and the county seat and largest city, Hollister, keeps the tradition. Stunning natural parks provide habitat for various fauna and flora, including the Sargent cypress forest.
Hollister City
One of the largest Monterey Bay Area cities, Hollister still retains much of its agricultural charm. It's the county seat of San Benito County and is well known for its local produce. Situated amid the sparling hills and rolling countryside, it's the perfect base to explore the local country hikes and Pinnacles National Park.
Formed by an association of farmers in 1896, Hollister retains much of its small-town agricultural character and is an excellent city for food and wine supplied by the local farms.
Bear Gulch Caves
Located in the Pinnacles National Park, these caves are home to a colony of Townsend's big-eared bats, listed species in California. The caves are divided into two sections known as Bear Gulch and Balconies Caves.
Depending on the breeding status of the bats, part of the caves may be closed for much of the year. The park has built a gate that allows access to part of the caves while still protecting the bat colony.
San Benito River
A 109-mile-long river that flows between the Diablo Range and the Gabilan Range, the San Benito River gave the county its name. Its headwaters are in the southern part of San Benito County, and the river flows northwesterly down towards Monterey Bay.
The river was named in 1772 by Father Juan Crespi after the patron saint of monasticism.
Things To Do In San Benito County
Besides offering hikers and naturalists opportunities to follow trails through Pinnacles National Park, San Benito County boats terrific food and drink. Hollister has many great restaurants that source food from local and organic farms. A fun way to view the stunning landscape is from the air, and some companies offer aerial sightseeing tours.
● Hiking in Pinnacles National Park
● San Benito County Wine Trails
● Glider Rides
● Food and Drink
Hiking in Pinnacles National Park
While there are other hiking trails throughout the county, Pinnacles national park offers a range of trails from shorter, more accessible, intermediate, and advanced treks.
With easy hikes like the Condor Gulch Overlook Loop, which is suitable for most hikers and is only 2 miles long, to the 11-mile Anvil Rocks to High peaks loop for expert hikers, you'll find a trail to suit while taking in the stunning wilderness.
San Benito County Wine Trails
An excellent way to sample the best of San Benito's wines while taking in the gorgeous vistas of the countryside is to go on a wine trail. The San Benito County Wine Trail winds through a selection of top vineyards with tasting rooms and stunning countryside views.
Some notable wineries open to the public are Aimee June Winery, Bonny Doon Vineyard, Casa De Fruta Winery, Eden Rift Winery, and Sumnmerayne Vineyard. Especially popular are the pinot noir, chardonnay, and zinfandel wines.
Glider Rides
If you prefer a bird's eye view of the world, aerial tourism takes a new look at things. Bay Area Glider Rides take off from the Hollister Soaring Center and offer introductory glider flights, allowing you to experience 'true' flight without a powered engine.
Glider rides are a fantastic way to get a feel for the rolling hills and farmlands of San Benito County.
Food and Drink
Experience the best of San Benito County cuisine with food and drink tours in Hollister. Hollister hosts several Food Festivals throughout the year, where farms, wineries, and local breweries showcase their goods. Many of Hollister's golf clubs have food events, while local farm cafés broaden palates with food tours and tasting courses.
While known for its wines, San Benito county also has microbreweries specializing in craft beers, and many offer tours and have onsite pubs and restaurants.
Famous People From San Benito County
Famous people from San Benito County include the actor Kirk Ward, conchologist Annia Law, and pitcher Charlie Root.
Kirk Ward
Kirk Ward is a stand-up comic and actor who has appeared in feature films ranging from Forrest Gump to Lords of Dogtown. He's a native of Hollister who moved to Southern California.
Annie Law
Originally from England, the conchologist Annie Law spent several years in California, some of them in Hollister. She discovered 11 species of mollusk, and one genus, though she never published formal descriptions.
Charlie Root
Charlie Root was a right-handed batter and pitcher who was a pitcher with the Chicago Cubs AND St. Louis Browns. Originally from Ohio, he later moved to Hollister and died there.
San Benito County FAQ
Interesting Facts About San Benito County?
The plant genus known as Benitoa was actually named for San Benito County.
Benitoite was discovered in San Benito County and is the official gem of the State of California.
Hollister is known for its Blenheim apricots, as well as vineyards, olive oil, pomegranate, and dark chocolate.
Originally inhabited by a sub-group of the Ohlone Native Americans, the Mutsun.
The San Benito evening primrose is found here
The last United States Census put the San Benito County population at 55,269 people
The climate is warm and dry, with only an average of 58 rainy days a year. It is rated one of the more comfortable counties in California.
Is San Benito County A Good Place To Live?
With economic growth on an upward trend, San Benito County has become an ideal relocation destination. With stunning countryside, good weather, and excellent local produce, San Benito is encouraging development.
Thanks to a combination of its placement between Silicon Valley and Monterey Bay, the excellent schooling and hospital system, the housing industry has exploded over recent years. San Benito County prides itself on being a forerunner of healthy trends such as organic farming and driving education forward for everyone.
Is It Expensive In San Benito County?
San Benito County is one of the more expensive places to live, with a cost of living index of 157.6, compared to 100 for the USA. Housing in San Benito is costly, but rent remains lower than the California median. A three-bedroom house in San Benito County has a median rental of $2,342.
The median cost of a home in San Benito County is $779,000, and the cost of health, transport, groceries, and utilities is also high.
However, the household income in San Benito averages $80,760 vs. the USA Household Income of $57,652, and future job growth looks high at 37.01%.
References: