Fresno County, California, is growing and exciting. Fresno city offers a small-town vibe with all the big city amenities. To visit for a holiday or if you are considering moving to Fresno County, this is undoubtedly one of the best and most interesting places in California, if not the whole country!
Centered around agriculture, Fresno County blends the heart of the farmlands with city living. Fresno takes the farm to the table in restaurants across the county and pairs it with award-winning local wines. Fresno opens a gateway to recreational parks, national parks, and outdoor adventure; Fresno County is an exciting place to live and play.
What Is Fresno County, California Known For?
Fresno County is known mostly for its agriculture, dating back to the 1880s. Fresno County is known for its vineyards and viticulture, natural beauty, restaurant life, arts and culture events, and outdoor activities for all skill levels. Fresno County blends agriculture with amenities like nowhere else in the heart of California.
Situated in the middle of a triangle between San Francisco, Los Angeles, and Las Vegas, it is perfectly situated to have the best of all worlds!
Being the closest major city to Yosemite National Park and boasting several regional parks, Fresno County is also known for its outdoor lifestyle and sightseeing opportunities.
The county and Fresno City were named after Fresno Creek. In Spanish, Fresno refers to "ash trees," which are abundant in the county.
Fresno County is best known for:
Agriculture
As a gateway to the Sierra National Forest
Its Mediterranean climate
Fresno City
Agriculture
The surrounding farmland in Fresno County produces crops like grapes, almonds, tomatoes, and oranges. Fresno County also processes and markets cotton, grain, fruits, wines, sugar beets, and dairy products.
As A Gateway To The Sierra National Forest
Fresno is also well known as the headquarters of Sierra National Forest. Fresno City and County are gateways of the Sierra Nevada.
Its Mediterranean Climate
Being situated in the Central Valley, the climate is a hot Mediterranean climate in the north while the southerly regions are dry.
Fresno City
Fresno City is the largest city in the greater Central Valley, the most populous inland city in California, and the fifth-most populous city in California. Known for its history, arts, restaurants, and tourist attractions, Fresno city, is an attraction in itself.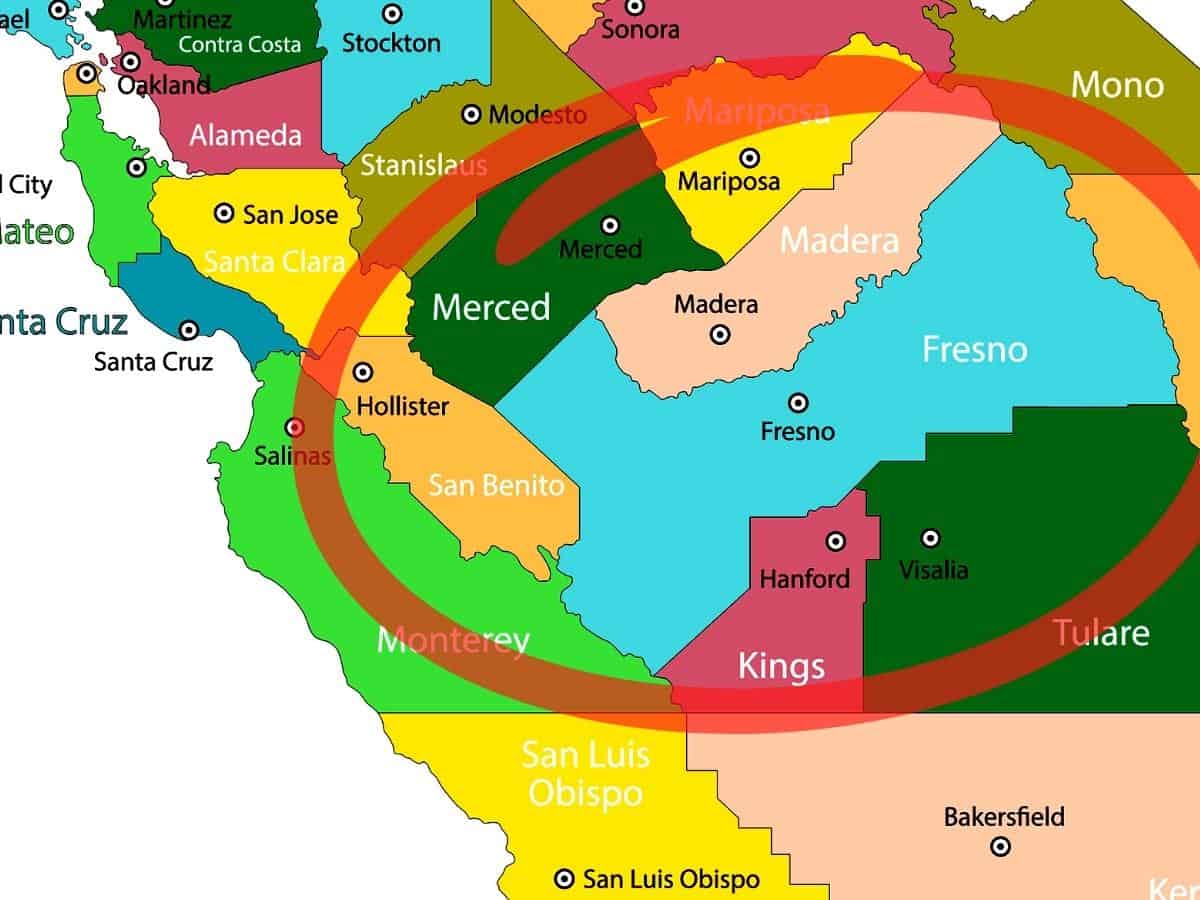 Interesting Facts About Fresno County and Fresno City
Fresno City is the third-largest majority-Hispanic city in the United States. 50.5% of Fresno's population is Hispanic (2020)
The Fresno Municipal Sanitary Landfill was the first modern landfill in the United States and operated for 50 years from 1937 to 1987. This landfill used trenching, compacting, and daily covering with dirt as innovations in waste disposal. It is now a National Historic Landmark.
The dance style, known as popping, evolved in Fresno in the 1970s.
The thriving raisin industry in Fresno started accidentally. Fresno is home to one of the nation's largest and most popular blues festivals, attracting thousands of people worldwide.
More than 100 different nationalities make up the population of Fresno. It is a diverse and multi-cultural melting pot in the heart of California.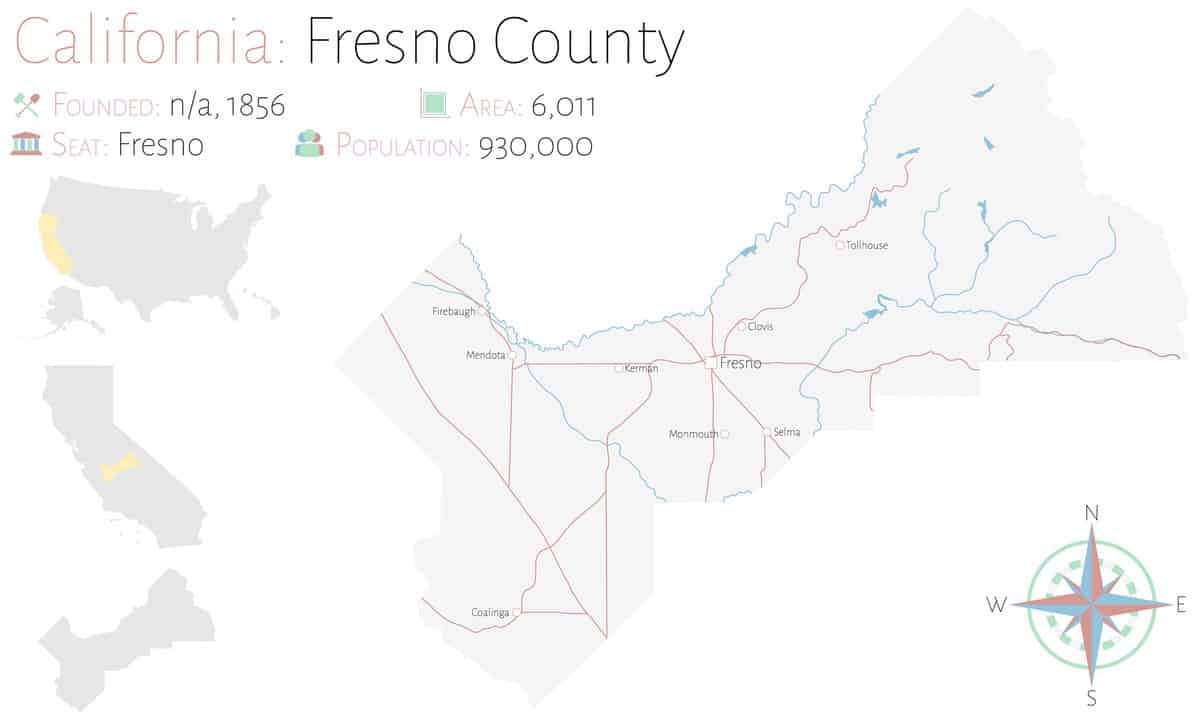 What's In Fresno County?
Fresno County has been called the "agricultural center of the world," so it will be no surprise that much of what you will find in Fresno County is outdoors, agriculture, and produce related. Think of some of the best farmer's markets in the state, farm-to-table restaurants, great produce, open spaces, and natural beauty.
But don't let the dominating agriculture get you thinking Fresno County is just farmlands. Fresno City is jam-packed with sights, sounds, tastes, and experiences you won't get anywhere else in the world! World-class foods, sights, arts, and cultural adventures are also found all over Fresno.
The sign above Van Ness Avenue in Fresno city says it all: "The best little city in USA"!
There is plenty to see and do, landmarks like Forestiere Underground Gardens and the Japanese gardens, to name just two of many. You will always have somewhere new to go and something interesting to see.
Forestiere Underground Gardens
In the early 1900's Sicilian immigrant Baldassare Forestiere built a series of underground patios and grottos and planted gardens in them. All the stonework was done by hand, and it took him forty years to complete. Filled with fruit-bearing trees, this California Historical Landmark is a marvel and fun to visit.
Kearney Mansion Museum, Gallery & Park
Surrounded by a park designed by Rudolph Ulrich, the noted American landscape architect, this museum and its surroundings have been described as one of the most beautiful parks in the United States.
Fresno Blossom Trail
This 62-mile-long driving and biking route is a spectacular tour for blossom lovers in springtime. The fruit and nut orchards are filled with apple, apricot, and peach trees on the southeast side of Fresno. Between mid-February and mid-March, this is one of the most beautiful activities for the whole family.
Things To Do In Fresno County
Fresno County is filled with places to go, things to see, and experiences. In Fresno County, you truly can have your cake (or taco) and eat it. There is something for everyone.
There are hundreds of places to go and things to see in Fresno County, but these are the top five things to do in Fresno:
Forestiere Underground Gardens
Shinzen Japanese Gardens
Fresno Chaffee Zoo
Fresno Art Museum
Woodward Regional Park
Forestiere Underground Gardens
Less than 10 miles from downtown Fresno, this historic landmark is not only breathtaking; it is a testament to the dreams, skill, and dedication of all Fresnians. The one-hour guided tour will open your eyes to a world you never thought possible. The tour lets you see some of the original trees and learn how the catacombs were built.
This is a great activity in the hot summer as the underground gardens are designed to be 10-20 degrees lower than the surface temperature!
Shinzen Japanese Gardens
If above-ground gardens are your thing, then the Shinzen Japanese Garden (also known as the Shinzen Friendship Garden) must go on your Fresno County 'To Do' list.
See the Clark Bonsai Collection with its rotating bonsai trees, stroll the many landscaped walkways, walk under the hanging lanterns, and stop at one of the ornate bridges for a tranquil visit. Spend time at the ceremonial teahouse and stroll past the large koi pond to complete your time in the garden.
Fresno Chaffee Zoo
Go on an African Adventure safari, visit the Wilderness Falls, or even pet some farmyard animals. Sound like these are all different destinations to visit? No, all this and more can be done at the Fresno Chaffee Zoo.
With over 190 different animal species, there is something new for everyone to see. Particularly special are the big cats: cheetahs, tigers, and lions, as well as the exciting African animals; orangutans, elephants, rhinos, and even some warthogs.
Fresno Art Museum
This is more than just an art museum recognized nationwide for its diverse collection. The museum focuses on Mexican and Pre-Columbian folk and modern art from the 20th and 21st centuries, giving it a special place in the heart of Fresno.
Visit the museum to appreciate works by Salvador Dali, Ansel Adams, Clement Rensi, Pablo Picasso, Andy Warhol, Diego Rivera, Norman Rockwell, and Varaz Samuelian. These artists are showcased alongside local masterpieces by diverse artists.
Woodward Regional Park
This massive 300-acre park is a place of peacefulness mixed with fun outdoor activity. The park hosts over five miles of hiking trails, the Woodward Mountain Bike Skills Progression Park, and acres of park to walk and enjoy. Visitors are drawn to the bird sanctuary, a beautiful redwood glen, and the large lake in the park.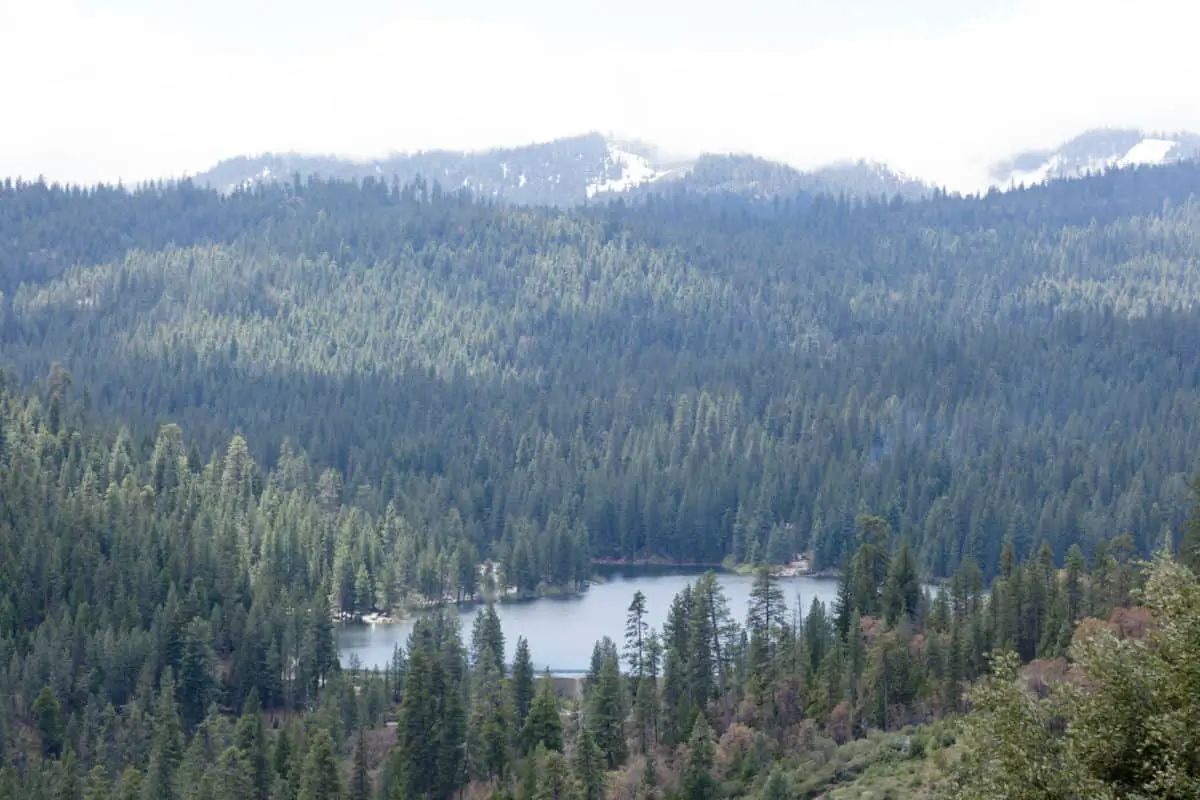 Famous People From Fresno County
From Astronauts to well-known YouTubers, sportspeople to well-known actors and musicians, Fresno County is the birthplace and home to many famous people.
Famous Sportspeople
Derek Carr – American Football Quarterback
Carson Palmer – American football player
Flex Wheeler – Bodybuilder
Bison Dele – Basketball player
DeShawn Stevenson – Basketball Player
Jenna Prandini – Athlete
Aari McDonald – Basketball Player
Zoila Frausto Gurgel – Mixed martial artist
Andy Finch – Snowboarder
Well-Known Actors, Musicians, And Directors
Sam Peckinpah – Film director
Golden Brooks – Actress
Kevin Federline (K-Fed) – Actor, DJ, Professional wrestler
Other People Of Note
James van Hoften – Former astronaut for NASA.
David St. John – American poet.
William Saroyan – American-Armenian novelist
Meghan Camarena – YouTuber
Fresno County FAQ
Is Fresno County A Good Place To Live?
Fresno County is a great place to live. Some of the biggest pros of living here are that the cost of living is very affordable, especially compared to other major cities a few hours away.
The people of Fresno County are friendly, warm, and open. The weather is hot with an arid subtropical climate and wet winters. The agriculture and natural beauty of the county make it a tranquil and beautiful place to live, no matter where in the county you find yourself.
The food is amazing and abundant. The local wine to go with it is award-winning, and there is a mix and fusion of flavors like nowhere else in the world. There is always something to do with so many attractions and amenities; living in Fresno County will never be dull!
Is It Expensive In Fresno County?
The cost of living in Fresno County is one of the lowest in the United States. Compared to the two major cities near it, Fresno city is four times cheaper than San Francisco and twice as cheap as Los Angeles. Outside of Fresno city, the county ranks less expensive than other counties in California.
References: