Alpine County, California, is a small county dominated by national forests, with federal land making up 96% of the entire county. Named due to its resemblance to the European Alps, Alpine County is well-known for its alpine recreation enjoyed throughout the year.
Alpine County is the least populous county in California, with a population of around 1200. Markleeville is the county seat, and there are no cities as such. Census-designated places include Alpine Village, Bear Valley, Kirkwood, and Mesa Vista.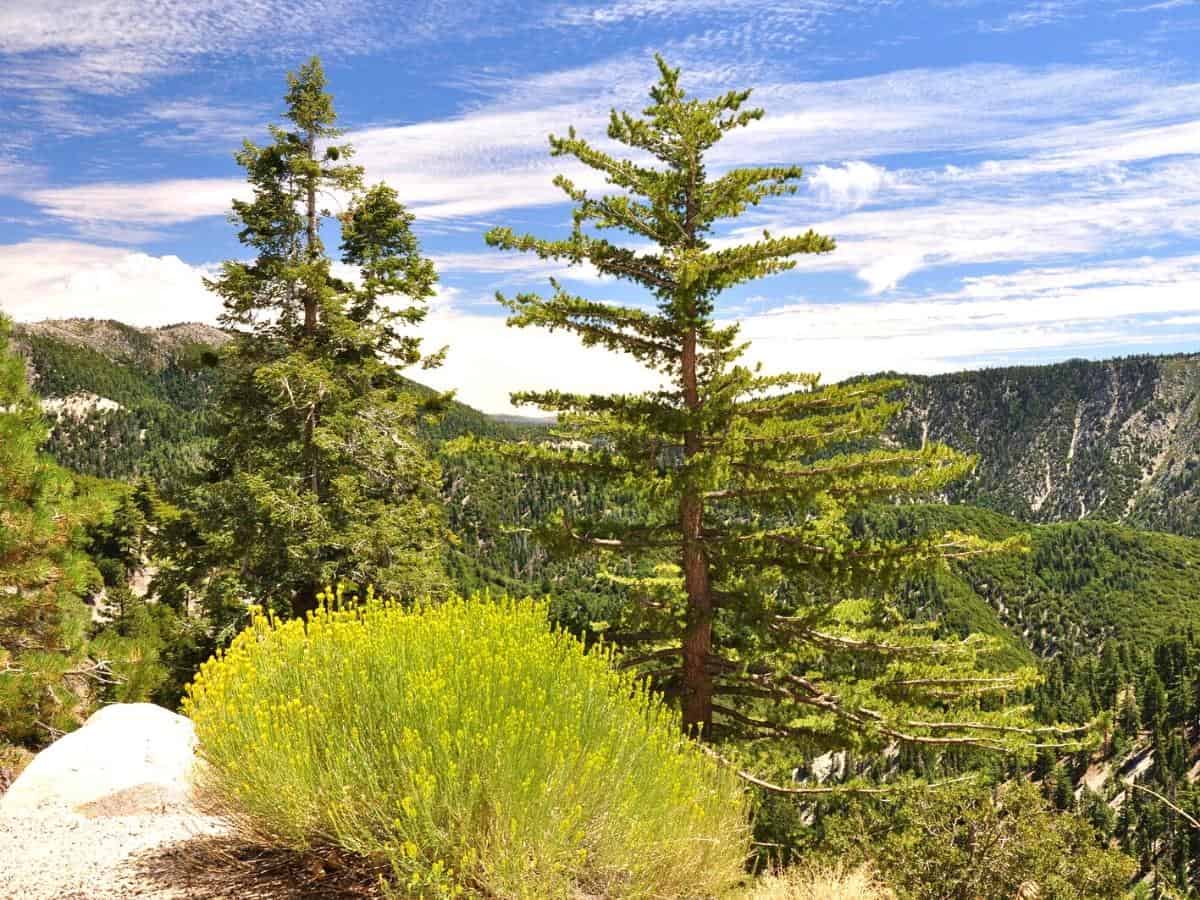 What Is Alpine County, California Known For?
Alpine County is primarily known for its outdoor recreation, particularly its skiing. Alpine County has two main ski resorts and various accommodations and dining facilities. The county began during the silver boom in the mid-1800s, after which the population declined rapidly until the ski resorts were established.
Alpine County is known for several reasons, namely:
Winter skiing at ski resorts
Hiking
Forests
Historical mining towns
Mountains
Cultural history
Alpine County Cultural & Mining History
Alpine County boasts a rich cultural history that attracts great historical tourism. There were the Ancient Washoe people who inhabited the Sierra Nevada, with the Hung A Lel Ti band that populated the Diamond Valley and the area that eventually became Alpine County.
Later came a degree of infrastructural development spurred by the discovery of gold. Still, the main catalyst for the growth of Alpine County was the silver boom that attracted miners from all over the country.
Alpine County Mountains
Alpine County occupies around seven hundred square miles of the Sierra Nevada Mountain Range. This location in the snowy mountains closely resembles the Alps, which is how the area received its name.
Forests Of Alpine County
The majority of Alpine County comprises three national forests: Eldorado Forest, Humboldt-Toiyabe Forest, and Stanislaus Forest. As a result, 96% of the land in Alpine County belongs to the federal government.
Outdoor Recreation
This leaves little room for development but allows major tourism and economic development opportunities through ski resorts, outdoor recreation, and historical tourism.
With its incredible mountain ranges, trails, forests, and parks, Alpine County offers unlimited opportunities for outdoor recreation. The biggest drawcard of the area is its two major ski resorts – Bear Valley and Kirkwood resorts, respectively.
Considered the next best thing compared to the Alps, the ski slopes in Alpine County offer excellent facilities and breathtaking scenery.
Alpine County is an escape for people seeking to get away from the crowded cities of Los Angeles and San Francisco to enjoy tranquility in nature and various outdoor activities throughout the year.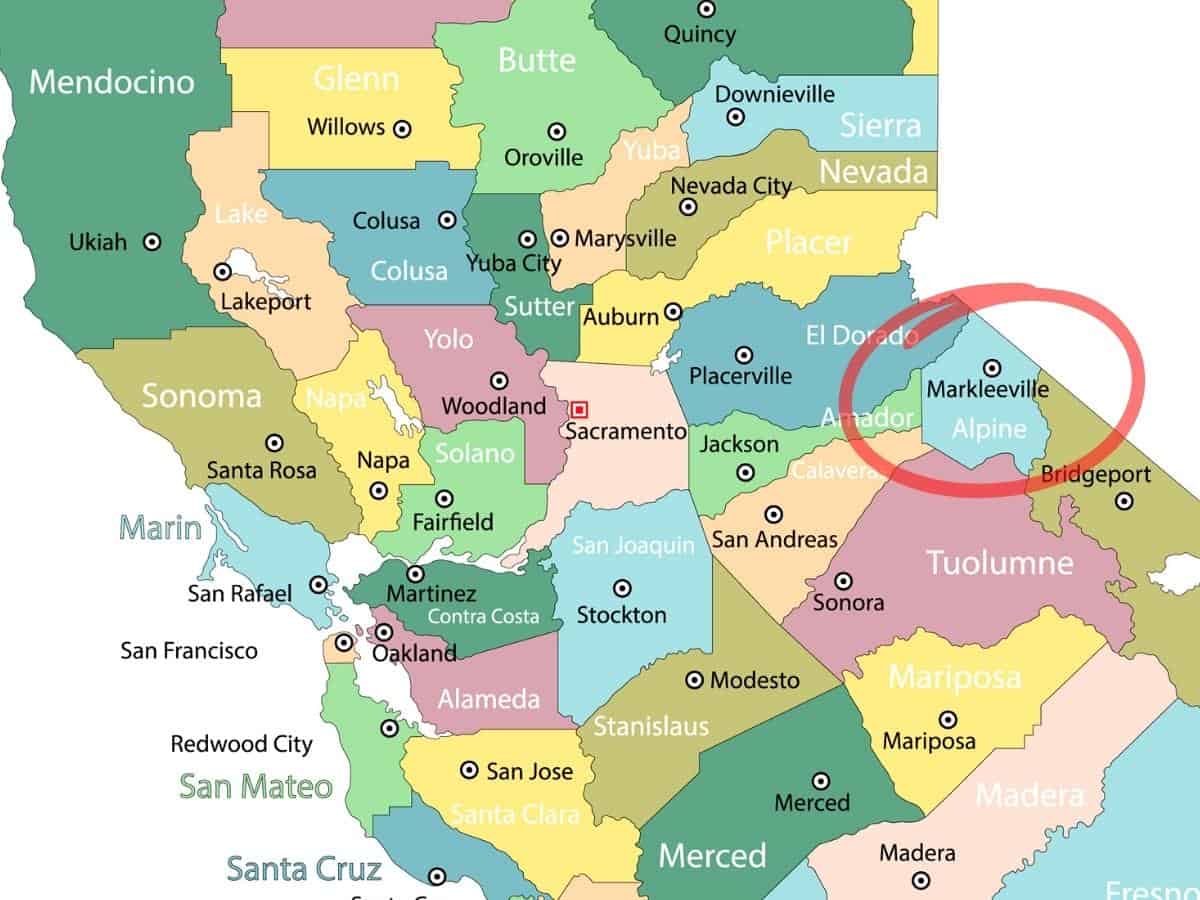 Interesting Facts About Alpine County
Alpine County received its name due to its resemblance to the European Alps. "Alpine" refers to anything related to "The Alps."
Alpine County prides itself on the fact that it has no traffic lights, no high schools, no banks, no dentists, and not a single supermarket in the entire region. Despite this, residents here enjoy a happy, healthy lifestyle.
At its peak, the population of Alpine County was over eleven thousand people. As the silver industry in the area started dying, so too did the population. When silver was demonetized in 1873, the prices of silver collapsed further, and the last remaining mines in the area were closed down.
At one point, the entire county had a population of only 120 people. It wasn't until the ski resorts were established and recreational tourism grew in the area that the population started to rise again to the current 1200 permanent residents.
What's In Alpine County?
Alpine County is predominantly made up of mountainous forests that account for 96% of the land in the area. Over 700 square miles of the Sierra Nevada Mountain Range are within Alpine county.
Alpine County Communities
While Alpine County has no officially designated cities, several geographical areas exist. These are known as Bear Valley/Lake Alpine, Kirkwood/Hope Valley, and Markleeville/Woodfords.
These small communities are connected via a multitude of high-altitude highways. There are no more than 1200 residents in the entire county, making Alpine County the least populous county in California.
Forests Of Alpine County
The three national forests that make up most of the land in Alpine County are Eldorado Forest, Humbault-Toiyabe Forest, and Stanislaus Forest. Throughout the year, much of the activity in the county centers around these forests and mountains.
Ski Resorts In Alpine County
Bear Valley and Kirkwood are the two ski resorts in Alpine County that offer various activities throughout the year. These resorts will be further discussed under "Things To Do In Alpine County."
Things To Do In Alpine County
Recreation in Alpine County primarily centers around outdoor activities. Different types of activities are more prevalent at different times of the year. The most popular activity in the region is skiing and snowboarding during the winter months. Summer brings hiking, fishing, and rock climbing, to name a few.
Some of the best-known attractions in Alpine County are:
Bear Valley Mountain Ski Resort
Kirkwood Ski Resort
Alpine County Museum
Bear Lake
Burnside Lake
Carson Pass
Elephants Back
Bear Valley Mountain Ski Resort
Bear Valley Mountain Resort is situated high up in the Sierra mountains. It offers a beautiful escape for visitors throughout the year. The resort offers activities for every age and energy level with breathtaking mountain scenery.
Whether you simply wish to relax and take in the scenery or aim to shred your way through the resort's many slopes, you will not be disappointed with the offerings at Bear Valley.
Kirkwood Ski Resort
The other well-known ski resort in Alpine County is the Kirkwood Ski Resort. This iconic ski resort is situated atop the Sierra Crest, taking visitors to heights between 7,800 and 9,800 feet. This extreme height allows the slopes to receive arguably the best snow for skiing purposes. Due to the altitude, the snow is light, dry, and deep.
Kirkwood boasts some of the most challenging ski terrains, with over 2000 feet in vertical drop across its slopes. The Kirkwood terrain stretches over 2300 acres, and the slopes vary in difficulty from beginner to advanced.
Kirkwood transforms into a spectacular mountain playground during the summer months, boasting some of the world's best rock climbing, fishing, hiking, horseriding, and mountain biking in and around the resort.
Alpine County Museum
The Alpine County Museum in Markleeville, the County seat, shows the history of the Native Americans in the area. It also shows the history of the pioneers who helped shape the county into its current state and the county's evolution through the silver mining years.
Bear Lake
Bear Lake, situated in Bear Valley, is 7,267 feet above sea level, making it one of the highest lakes in the region. Bear Lake is often planted with trout, making it a great place for fishing. A picturesque trail of around four miles also traces its way around the lake.
Burnside Lake
Burnside Lake is another lake in Alpine County with an elevation of 8143 feet. It is another popular destination for fishing and several other activities.
Carson Pass
Carson Pass, 60 miles east of Jackson in Alpine County, is a historic pass on the Carson Trail. The California Gold Rush and the American Civil War shipped goods into California.
The Carson Pass Sno-Park is a popular area with hikers throughout the year. Several major trails, such as the Emigrant Summit Trail, Tahoe-Yosemite Trail, the Pacific Crest National Scenic Trail, and numerous lakes, feature access points at Carson Pass.
Elephants Back
Elephants Back is a mountain peak close to Carson Pass with an elevation of over 9500 feet.
Famous People From Alpine County
Due to low population density since its inception, Alpine County has very few famous individuals among its citizens – past or present.
Robert Conrad
Robert Conrad, a film and television actor, originally hails from Alpine County. He is best known for his role in the CBS television series The Wild Wild West, which aired from 1965 to 1969. In this show, Robert Conrad played the character of James T West, a Secret Service agent.
Robert Conrad also played in the television series Black Sheep Squadron, portraying the character of Pappy Boyington, a World War II ace.
Gale Henry
Gale Henry is another celebrity born in Alpine County. She was born in Bear Valley in 1893 and became a well-known film actress and comedian. Between 1914 and 1933, Gale Henry was seen in 238 films.
Along with her husband, Henry East, Gale Henry also trained dogs for movies.
Alpine County FAQ
Is Alpine County A Good Place To Live?
Alpine County might be the right place for you if you search for an extremely remote lifestyle in the mountains. While there are no real facilities in the county itself, nearby towns in neighboring counties, feature shops and other amenities that will serve your needs.
Recreational activities abound in Alpine County, so you will never be short of things to do. However, this is only true if you enjoy outdoor activities such as climbing, hiking, fishing, and skiing. The area boasts countless trails through the Sierra Nevada mountains to keep even the most experienced hiker entertained for years.
Is It Expensive In Alpine County?
Overall, the cost of living in Alpine County is higher than the US average. However, it is significantly lower than California's average cost of living. Healthcare costs in Alpine County are higher than the Californian and US averages, and groceries are also more expensive. These prices are mostly due to limited supply and a need to travel to nearby towns to obtain supplies.
Resources