If you are touring our great nation or looking for a new place to live, you may consider coming to northern California. Shasta County is one of the counties you should consider stopping in for a while, or possibly for the rest of your life. Here's some info about this grand county.
Covering 3,847 square miles and populated by 182,155 people, Shasta County is known for outdoor recreation, the city of Redding, and 30,000-acre Lake Shasta, formed by Shasta Dam. The county lies at the northern end of the Sacramento Valley and takes in part of the Cascades range.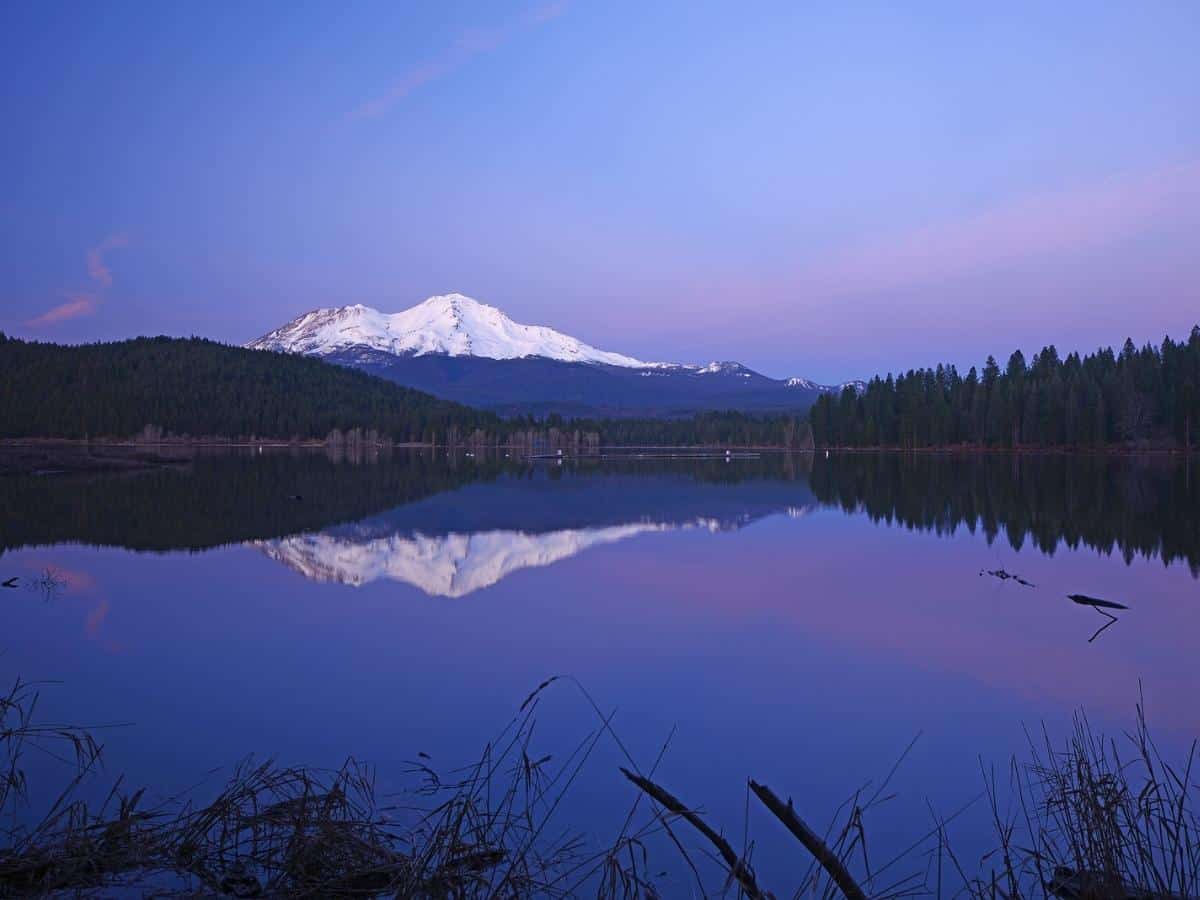 What Is Shasta County, California Known For?
Despite its name, Shasta County does not include Mt. Shasta (although it is named for the volcano). It is a largely rural county dominated by the city of Redding, a dynamic and sunny city that has been named the "Jewel of Northern California." It is also well known for Lake Shasta, a 30,000-acre lake formed by Shasta Dam.
Shasta County is especially well-known for the following:
Cutting-edge manufacturing
Outdoor recreation
Cattle farming and viticulture
Forestry
Scorching summers and lots of sunny days
The city of Redding is a hub of cutting-edge industries and hip coffee shops but maintains a largely conservative outlook on life. The rest of the county is mainly rural and hosts forestry, farming, and recreational activities.
Cutting-Edge Manufacturing
Robust infrastructure, a skilled labor force, and some of the cheapest electricity in the state have driven the growth of fabrication, CNC, and medical industries. Cutting-edge tech companies working in sectors from soil technology to silicon chips are basing themselves in this county. The services and infrastructure of the county serve the broader Shasta region, one of the largest in California.
Outdoor Recreation
Sunny weather and many lakes, mountains, and forests mean many opportunities for outdoor recreation such as water skiing, horseback riding, kayaking, trout fishing, hiking, and mountain biking. Many recreation manufacturers base themselves here for easy product testing minutes from the factory floor.
Shasta Is Known For Cattle Farming And Viticulture
The County of Shasta also has a thriving agricultural sector, with raising beef and dairy cattle prominent. The famous wine industry of California has also found its way here, with several vineyards in the county, in addition to farms growing other kinds of fruit and nuts.
Forestry
The economy of Shasta County relied heavily on lumber from the 1940s to the 1980s, and forestry is still an essential industry in the county. Much of the county is covered by forest, with mixed oak woodland, conifer-oak woodland, and Douglas-fir forest.
Very Hot Summers And Lots Of Sunny Days
Due to its position at the northern end of the Central Valley, and its proximity to the Cascade mountains, Shasta County gets little humidity and a lot of warm adiabatic winds.
The result is broiling summers, with temperatures routinely in the 90s and strings of triple-digit temperature days. The county also gets a lot of sunshine, with 249 sunny days per year in Redding, against a national average of 205.
What's In Shasta County?
Shasta County has Shasta Lake, the Shasta-Trinity National Forest, and several mountains, all offering outdoor recreation opportunities. It is also the home of the city of Redding, which affords numerous cultural activities and the internationally famous (or infamous) Bethel Church.
Shasta Lake And Shasta Dam
Shasta Dam, the largest center flow dam and second-largest overall in the United States, was opened in 1945 and dams the Sacramento River to form 30,000-acre Shasta Lake. Shasta Lake is known as the Houseboat Capital of the World and is a favorite among locals for water sports, although, in recent years, drought has led to shallow water levels.
Lassen Volcanic National Park
Lassen Volcanic National Park has numerous volcanoes and steaming fumaroles. Wildflowers bloom in mountain meadows, and small lakes dot the landscape. Black bears and mountain lions call the park home. You can camp, bike, or hike in this park in the summer; winter activities generally involve snow.
Shasta-Trinity National Forest
The various sections of the Shasta-Trinity National Forest are scattered across the landscape of Shasta County, around multiple lakes and mountains. In the east, you will find Lassen National Forest. They offer many opportunities for recreational activities ranging from camping and hiking to winter sports such as snowmobiling and downhill skiing.
City Of Redding
Redding is the county seat of Shasta County and home to many industries, as previously described. It is a service, retail, and administrative hub for the broader Shasta region. In addition, it offers a high standard of living and cultural and recreational activities from rodeo to theater, an arboretum to kayaking, and trout fishing.
Sundial Bridge
Redding is home to the sanctuary of Turtle Bay Exploration Park, which contains art, history, and environmental museums, and the McConnell Arboretum and Botanical Gardens. Sundial Bridge is a famous landmark in this landscape, being a 720-foot translucent glass cantilevered pedestrian and cycle bridge that forms a giant sundial.
Bethel Church
Redding is home to a nondenominational neo-charismatic megachurch, Bethel Church, headed since 1996 by Bill and Beni Johnson. The church is internationally famous (or infamous) for its worship music label, school of supernatural ministry, and unusual doctrines. It is controversial in Redding for its influence over city politics, with some residents dubbing it a harmful cult.
Things To Do In Shasta County
Shasta County will have something for you to do whatever your tastes, although the county is particularly rich in outdoor activities.
Houseboat on Shasta Lake
Kayaking and trout fishing
Tour Lake Shasta Caverns
Outdoor activities in Shasta-Trinity National Forest
Tour Shasta State Historic Park
Visit McConnell Arboretum & Botanical Gardens
Catch a performance at Cascade Theater
Redding Rodeo
Sundial Film Festival
Shasta County Farmer's Markets
Whether you are visiting Shasta County or planning to settle, you will have plenty to do. Choose from the following:
Houseboat On Shasta Lake
For a relaxing vacation, hire a houseboat and float on the crystal-clear waters of Shasta Lake, the Houseboat Capital of the World. You can fish, swim in the lake, or water ski. The sheer size of Shasta Lake means that you won't feel claustrophobic, despite all the other vacationers.
Kayaking And Trout Fishing
The numerous lakes and rivers in Shasta County are particularly suited for kayaking and trout fishing, with the lakes being well-stocked with rainbow trout. Redding makes an excellent base for such activities and has been named Time Magazine's US Capital of Kayaking and one of the top ten towns for trout fishing in North America by Forbes.
Tour Lake Shasta Caverns
At Lake Shasta, you can tour the limestone cave system that some geologists consider the most beautiful in the US. Formed 200 million years ago, the caverns feature a profusion of stalactites and stalagmites.
Outdoor Activities In Shasta-Trinity National Forest
The Shasta-Trinity National Forests cover many acres of Shasta County and are the largest national forest in California. You can do many outdoor activities in these forests, including camping, hiking, backpacking, fishing, boating, mountain climbing, horseback riding, snowmobiling, and downhill skiing.
Tour Shasta State Historic Park
Located close to Redding on the highway to the Whiskeytown Recreational Area, Shasta State Historic Park is an outdoor museum consisting of the remains of the former county seat and a once-thriving gold rush town from the mid-1800s before the building of the railroad diverted settlers to Redding.
Visit McConnell Arboretum & Botanical Gardens
Located in Turtle Bay Exploration Park, McConnell Arboretum & Botanical Gardens features extensive and thoughtfully-designed gardens with water features, a mosaic, and a special herb garden, plus a unique selection of shrubs and trees. A calm and soothing place to spend a summer's morning or a winter day.
Catch A Performance At Cascade Theater
Salih Brothers built Cascade Theater, a historic cinema in Redding, in 1935 in the Art Deco style. Murals feature scenes of California industries. It closed in 1997 but was reopened in 2004 as a community auditorium and arts center.
Redding Rodeo
If your tastes run to things cowboy, come to Redding in May and catch the bull riding, barrel racing, and roping action at the Redding Rodeo week. Activities run the entire week and include something for the whole family.
Sundial Film Festival
If you are more into watching indie films, come to the Sundial Film Festival, held annually. This festival celebrates North Country filmmaking and is held in Redding.
Shasta County Farmer's Markets
Shasta County has many farmer's markets in cities such as Redding and Anderson. Come along and enjoy fresh produce and preserves.
Famous People From Shasta County
There are several famous people born in Shasta County or associated with it. Here are three you may be familiar with:
Brian Sandoval
Born August 5, 1963, in Redding, Brian Edward Sandoval is an attorney and politician. As a Republican Party member, he served as governor of Nevada from 2011 to 2019. Since 2020, he has been the 17th University of Nevada, Reno president.
Megan Rapinoe
Born July 5, 1985, in Redding, Megan Anna Rapinoe is a professional soccer player and LGBTQ activist. Renowned for her crafty style of play, she captains the US national women's team. She won gold with the team at the 2012 London Olympics and 2015 and 2019 FIFA Women's World Cups.
Jim Hanks
Born June 15, 1961, in the town of Shasta, James Mathew Hanks is an actor and filmmaker. He is the younger brother of the more famous Tom Hanks and often substitutes for him in voice acting, especially as Sheriff Woody in Toy Story spin-off properties.
Shasta County FAQ
Interesting Facts About Shasta County?
As of the 2020 census, the population of Shasta County is 182,155 people. Shasta County covers 3,847 square miles. Shasta County was named after Mt. Shasta, but the volcano is now in Siskiyou County to the north.
Astronomers discovered the first astrophysical maser (the microwave equivalent of a laser) using the original antenna at Hat Creek Radio Observatory. There are over 100 miles of trails for hikers, bikers, and runners within 15 miles of Redding.
Is Shasta County A Good Place To Live?
Shasta County averages 44 inches of rain and 18 inches of snow annually, against US averages of 38 and 28 inches, respectively. Shasta County has, on average, 249 sunny days per year, against a US average of 205. The July high temperature is 93 degrees versus a January low of 32 degrees.
Shasta County has an unemployment rate of 7.5%, higher than the national average of 6.0%, and an average income of $23,763 per year, against a US average of $28,555 per year. Sales tax is 7.3% and income tax 8.0%, against national averages of 6.2% and 4.6%.
Violent crime in the county is 30.2, and property crime is 56.0, against US averages of 22.7 and 35.4.
Is It Expensive In Shasta County?
Shasta County is slightly more expensive than the US as a whole but a lot cheaper than California as a whole. For example, the cost-of-living index for Shasta County is 105.9, against a national average of 100, but the average for California is 149.9.
Housing is an excellent example of this trend, with the median home cost being $331,200 in Shasta County, against a national median price of $291,700. In contrast, the median price for California is $684,800.
Resources