Mendocino County exemplifies the natural beauty and rural charm of Northern California. The county is also part of California Wine Country, with some of the most highly-esteemed wineries in the US.  
Mendocino is a picturesque rural Northern Californian County with a rich history. The county boasts an abundance of state and regional nature parks with old-growth redwood groves and expanses of untamed Pacific coastline. Mendocino County also produces some of California's best wines.
What Is Mendocino County California Known For?
Mendocino County is renowned for its unspoiled natural splendor, high-quality wine production, and laid-back lifestyle. Let's look more closely at some of Mendocino's defining features.
Wild and pristine coastline
Redwood forests
Vineyards and wineries
Heritage cannabis production
Wild And Pristine Coastline
Mendocino County is known for its dramatic and isolated Pacific coastline. The county has steep bluffs and cliffs punctuated by secluded coves, creeks, and sandy beaches far from the Bay Area crowds.
Mendocino's shores are often shrouded in marine fog. This fog creates a surreal atmosphere and aesthetic unique to Northern California.
Stunning State Park beaches span Mendocino's 90-mile coastline, offering endless opportunities to experience this county's untamed coastal beauty.
Redwood Forests
Mendocino County is widely associated with old-growth redwood forests. The legendary Redwood Highway runs through Mendocino. Nature parks like the Mailliard Redwoods State Nature Reserve and the Montgomery Woods State Park are known for their majestic giant redwood groves.  
Vineyards And Wineries
Mendocino County is renowned for producing premium quality wine. The county is at the northern end of California Wine Country. While Mendocino has a much smaller acreage of land planted with wine grapes, the county is one of the largest wine producers in the state.
Mendocino has a long tradition of wine-making that goes back to the 1850s. Today, there are more than 550 vineyards and 90 wineries in Mendocino County. Most of the county's vineyards grow red wine grapes like Cabernet Sauvignon and Pinot Noir and the rarer Barbera and Carignane varietals.  
Heritage Cannabis Production
Mendocino County is known internationally for its heritage cannabis production and is part of the Emerald Triangle, along with the neighboring counties of Humboldt and Trinity. Indeed, Mendocino is almost as famous for its cannabis as it is for its wine.
There is a long tradition of small-scale, craft cannabis production in Mendocino County going back to the 1960s. Many of the cannabis farms are owned and operated by families that have been on the land for multiple generations. This legacy provides the foundation for the county's respected status in California's emerging legal cannabis market.
What's In Mendocino County?
In Mendocino County, highly-respected wine regions showcase the best of California Wine Country. There are dozens of nature parks encompassing pristine Pacific coastline and redwood forests. Mendocino County also has many Native American cultural sites. The small towns and villages in the county exude rural Northern Californian charm.
American Viticultural Areas
There are 12 wine regions or appellations in Mendocino County with formal American Viticultural Area (AVA) status. The AVAs have distinctive terroirs due to their unique topography, soil conditions, and micro-climates.
The Mendocino appellation is the largest AVA in the county. This appellation encompasses several sub-appellations like Anderson Valley, Redwood Valley, McDowell Valley, and Potter Valley.
Mendocino Ridge another notable AVA in the Mendocino appellation. This high-elevation appellation is the only non-contiguous AVA in North America.
Nature Parks
There are dozens of nature parks and reserves in Mendocino County with redwood forests, mountains, meadows, rivers, and an endless Pacific coastline. Mendocino's nature parks and reserves also provide habitats for abundant wildlife populations.
Mendocino Headlands State Park is one of the most impressive coastal parks in Mendocino County, with stone archways, sandy beaches, and grassy cliffs. There is also a 7400-acre wildlife corridor called the Big River Wetland in Mendocino Headlands State Park.
Other must-see coastal parks in Mendocino County include Russian Gulch State Park and Jug Handle State Nature Reserve.
Inland are many nature reserves and parks in Mendocino where one can see the county's old-growth redwood groves. Montgomery Woods State Park and Mailliard Redwoods State Park are highly recommended places in Mendocino to experience the grandeur of Northern California's giant redwood trees.
Indigenous Cultural Sites
There is rich Native American history in Mendocino County. This part of Northern California was populated for roughly 6000 years by several indigenous Native American groups.
The cultural legacy of local Native American people like the Pomo, Yuki, and Waikiki is found throughout the Mendocino landscape. As a result, many places in Mendocino County are culturally significant to these and other indigenous groups.  
Frog Woman Rock is a well-known Native American site in Mendocino. Located in the Russian River Valley, this intriguing volcanic rock formation is named after Frog Woman. Frog Woman was Coyote's wife and played a prominent role in the mythology of the Pomo people.  
Noyo Headlands near the city of Fort Bragg is another site with deep cultural significance for local Native American people. The headlands are an ancestral harvesting area where indigenous people regularly caught fish and mollusks in the intertidal zone. Today, Noyo Headlands is a coastal nature reserve.
Charming Rural Cities And Towns
The towns and cities in Mendocino County are full of unique Northern Californian charm and sophistication.
Mendocino's four cities (Ukiah, Point Arena, Willits, and Fort Bragg) are more like villages when compared with San Francisco and Los Angeles. For instance, Ukiah is Mendocino's largest city (and the county seat) but only has a population of roughly 17 000 people. Most towns and villages in Mendocino only have a few hundred residents.
The beautiful village of Mendocino is worth mentioning. This tiny coastal village is on the National Register of Historic Places. Many of the homes in Mendocino were constructed in the 19th Century during the Victorian era and bear a strong resemblance to the architectural style popularly associated with Cape Cod.
There are restaurants, art galleries, and a well-curated museum in Mendocino village. Mendocino is only a few minutes from Mendocino Headlands State Park and the Pacific Ocean.
Things To Do In Mendocino County
One could spend a lifetime exploring and enjoying Mendocino County. From the wineries to nature and wildlife, outdoor recreation and adventure, and cultural history, there are many things to do in Mendocino County.
Drive the Wine Road
Learn about local history and culture
Experience the giant redwood trees
Enjoy outdoor recreation and adventure activities
Drive The Wine Road
The northern end of The Wine Road runs through Mendocino County. This famed route is on Highway 128 and passes by a selection of Mendocino's best wineries.
The Wine Road passes 28 wineries and two appellations (Anderson Valley and Yorkville Highlands) along The Wine Road. Visitors can stop at multiple wineries each day to tour the vineyards and taste the distinctive terroir of their wines.
The Wine Road takes visitors past some of Mendocino's oldest wineries, such as Husch Vineyards (established in the late 1800s). This scenic wine route also provides opportunities to experience Mendocino's newer and equally well-respected wineries like Navarro Vineyards, Greenwood Ridge Vineyards, and Lula Cellars.
Learn About Local History And Culture
Mendocino County has many museums documenting the area's complex history and culture. These museums provide visitors with fascinating insights into Mendocino's storied past.
Make sure to include the Mendocino County Museum in Willits on your itinerary. This museum celebrates the local Native American cultural heritage, railway history, and traditional agriculture. There are about 60 000 artifacts in its permanent and rotating exhibits.
It is also worth visiting some of Mendocino's smaller and more localized museums like the Little River Museum. This museum is on the outskirts of the town of Little River and is in a historic timber building constructed in 1885. The Little River Museum exhibits the town's pioneer history. Little River Museum also documents the area's natural history.
Experience The Giant Redwood Trees
Mendocino County offers many opportunities to experience the majesty of Northern California's giant redwood trees.
The Mailliard Redwoods State Nature Reserve and the Montgomery Woods State Park are memorable places for walking among Mendocino's old-growth redwood groves.  
Alternatively, one can experience Mendocino's giant redwood trees by driving the world-renowned Redwood Highway. This scenic route is on Highway 101 and travels the length of the Northern Californian coastline and redwood territory.  
The Redwood Highway passes by some of Mendocino's most iconic old-growth redwood forests. The highway takes visitors past the Montgomery Woods State Park and the must-see Chandelier Drive-thru Tree near the town of Leggett.
Enjoy Outdoor Recreation And Adventure Activities
Mendocino County's coastline, rivers, lakes, and forests are ideal for outdoor recreation and adventure activities.
There are dozens of hiking trails in Mendocino County's nature parks. The hiking trails in Mendocino Headlands State Park and Jug Handle State Natural Reserve traverse some of the most stunning coastal areas in the county.
Hiking trails in Mailliard Redwood State Park and Montgomery Woods State Park allow hikers the privilege of walking among Mendocino's old-growth redwoods.
Mendocino County is an excellent place for fishing. Some of the best shore-angling spots in Mendocino are Caspar State Beach, Jug Handle State Natural Reserve, and Greenwood State Beach. Mendocino's most popular freshwater fishing spots include Lake Mendocino Recreational Area and Manchester State Park.
The coastal and inland waters of Mendocino County are a playground for kayaking and canoeing. Mendocino offers everything from leisurely paddles at Lake Mendocino and the Big River estuary, to more adventurous ocean paddling off the Van Damme State Park coastline.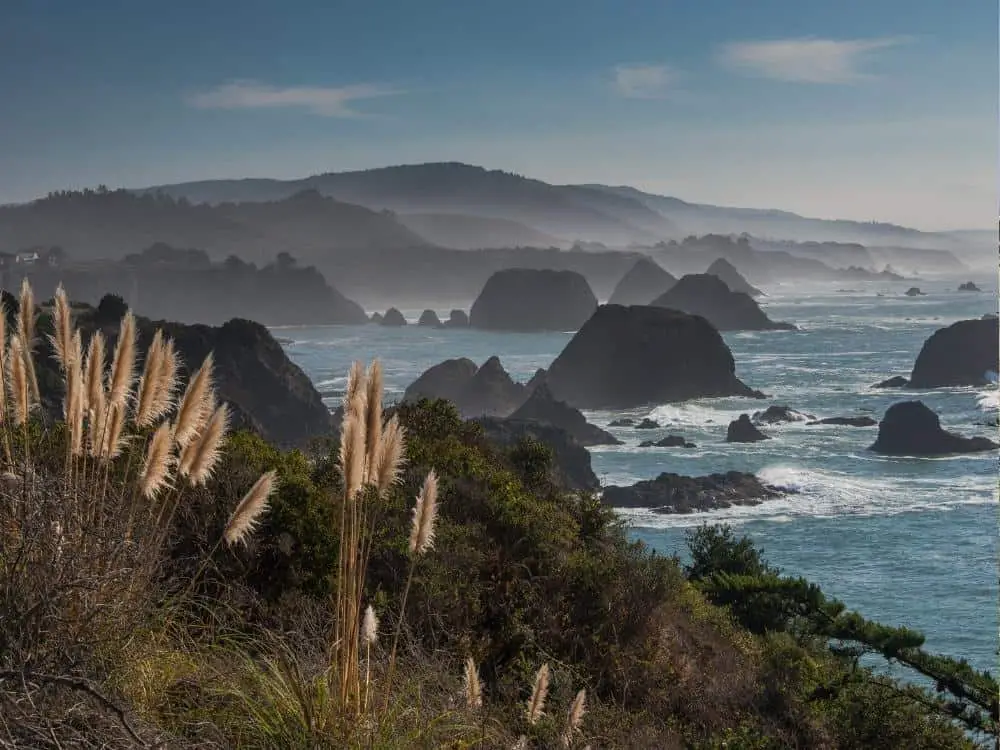 Famous People From Mendocino County
Here are some famous people from the small rural county of Mendocino.
Shiloh Thomas Fernandez
Robben Ford
Shiloh Thomas Fernandez
The actor Shiloh Thomas Fernandez was born in Ukiah (in 1985).
Fernandez is most well-recognized for his roles in television series like Jericho and films such as Red Riding Hood and Evil Dead.
Robben Ford
Robben Ford (born in 1951) is a world-famous electric guitarist who grew up in Ukiah.
Ford is renowned for his blues, rock, and jazz playing. He has worked with musical luminaries like Larry Carlton, Joni Mitchell, and the mythical Miles Davis.
Mendocino County FAQ
Interesting Facts About Mendocino County?
Mendocino County's vineyards grow the widest variety of wine grapes of any county in the United States.
The Cole Ranch AVA in Mendocino County is the smallest wine appellation in North America.
Is Mendocino County A Good Place To Live?
Mendocino County is an ideal place to live if one values rural quietude and natural wilderness. The quality of life in Mendocino is high.
Is It Expensive In Mendocino County?
Mendocino County is relatively expensive when compared to most counties in California. The overall cost of living in Mendocino County is nearly 50% higher than the national average.
Here are some average annual living costs in Mendocino County (based on the Living Wage Calculator developed by scholars at MIT):
housing = $11 789
food = $3999
transportation = $4938
medical expenses = $2288.
While Mendocino is quite expensive, it is worth mentioning that Mendocino is more affordable than some Californian counties like San Francisco, Santa Cruz, or Orange County.
References: