If you want to live near the Bay Area, but the high rents put you off, you should consider living in Tuolumne County, California. Or, if you are touring California and visiting Yosemite National Park, take a detour into a world of outdoor recreation and gold rush history in historic Tuolumne County.
Located three hours inland of the San Francisco Bay Area, Tuolumne County is renowned for its gold rush history, red wine, and outdoor recreation opportunities. It is a quiet place to live among conservative neighbors and is popular among tourists and retirees.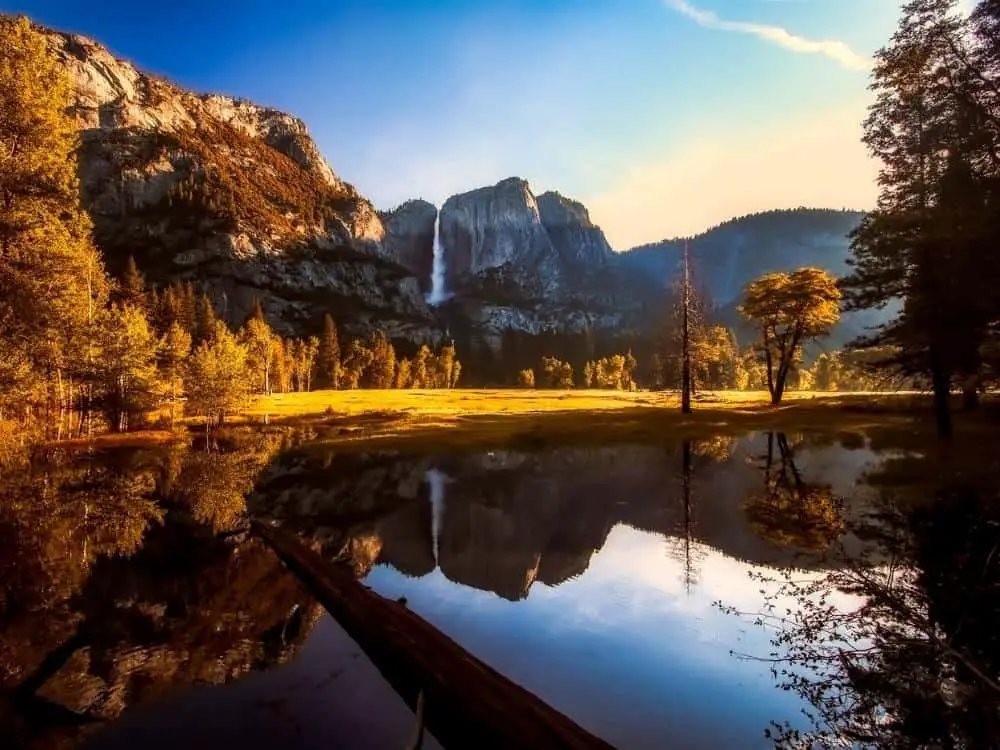 What Is Tuolumne County California Known For?
Organized in 1850, Tuolumne (pronounced too-all-o-me) was bustling with activity in 1849 during the California Gold Rush but now depends mainly on tourism. Most of the population clusters into the western third of the county, with the rest being wilderness areas, including the northern half of the world-famous Yosemite National Park.
Historic gold mining towns
Tourism
Film and TV shooting
Wine
Wilderness areas
This fascinating county is rich in history and all sorts of outdoor activities. It is known for its gold rush history, the shooting of films and TV shows, intriguing wine varietals, and outdoor recreation in the vast wilderness areas covering most of the county. Let's take a closer look.
Historic Gold Mining Towns
The 1849 California Gold Rush drew thousands of prospectors to this part of California to pan for gold. The 49ers established scores of small towns in what would become the western third of Tuolumne County. These are still the population centers, albeit with much lower populations than during their heydays.
Tourism
Tuolumne County is a popular destination for tourists due to its location three hours east of the San Francisco Bay Area, its wealth of gold rush history, and the abundance of outdoor recreation opportunities in the wilderness areas. Tuolumne's economy relies heavily on tourism, and many businesses gear themselves toward catering to visitors.
Film And TV Shooting
The historical buildings in towns such as Sonora and Columbia, and the presence of a vintage railroad at 1897 Railtown Historic Park, mean that many film and TV productions are wholly or partly shot here. Over 300 films and TV shows have been filmed here over the years, spanning the entire history of Hollywood.
Wine
The western third of Tuolumne County, located in the Sierra Nevada's foothills, has a Mediterranean climate suitable for cultivating grapes, and wineries produce full-bodied red wines.
Wilderness Areas
No overview of Tuolumne County would be complete without mentioning the internationally famous Yosemite National Park, which lies partly in this county. The Emigrant Wilderness section of Stanislaus National Forest also lies in Tuolumne County.
What's In Tuolumne County?
Tuolumne County is chock-a-block with wilderness areas waiting for you to explore them and take part in all sorts of outdoor fun. There are also historic gold mining towns in the western third of the county that are home to various museums and entertainment. It's a tourist's paradise and a quiet place to live.
Yosemite National Park
The northern half of Yosemite lies in the east of the county, including portions such as the Grand Canyon of the Yosemite, Tuolumne Meadows, and Hetch Hetchy. Yosemite is an unmissable Northern California destination, renowned worldwide for waterfalls, grand vistas, climbing, and hiking. And Tuolumne County offers excellent access from the Bay Area and Sacramento via Highway 120.
Stanislaus National Forest
Stanislaus National Forest lies partially in Tuolumne County. More precisely, the Emigrant Wilderness, which makes up part of the National Forest, lies in the middle of the county and offers various outdoor activities, summer and winter.
Table Mountain
Some 10.4 million years ago, lava flows transformed part of the bed of the ancestral Stanislaus River. Later, the Sierra Nevada was uplifted, and softer sediments around the lava eroded, leaving a sinuous, elevated river valley near Jamestown. You can take a 3.8-mile hike to the top to see the meadows of wildflowers. This landscape feature is also popular for rock climbing and birding.
Red Hills Management Area
The Bureau of Land Management manages the Red Hills Management Area to protect a rare minnow (the Red Hills Roach), conserve wintering habitat for the bald eagle, and look after some rare plant species: the California verbena, Rawhide Hill onion, Layne's butterweed, Congdon's lomatium, and the Red Hills soaproot.
Calaveras Big Trees State Park
This state park protects two giant sequoias groves, partly in Tuolumne County and partly in Calaveras County. Two campsites allow you to camp near these magnificent trees, and hundreds of miles of trail let you explore.
Historic Gold Mining Towns
Located in the western third of the county are the historic gold rush towns of Sonora, Jamestown, Columbia, Soulsbyville, and Groveland. These towns have a wealth of historical attractions, mom 'n' pop restaurants, and wineries and make fine places to vacation or live in tranquil surroundings close to the Bay Area but with lower rents and an unhurried pace of life.
Things To Do In Tuolumne County
If you visit Tuolumne County, you will find plenty to keep you busy. The county is ideal for people looking for history and outdoor adventure and doesn't disappoint in terms of food and wine, either.
Tuolumne County Museum
Columbia State Historic Park
Railtown 1897 State Historic Park
Gold panning
Wine tasting and dining
Outdoor recreation
Spelunking
The Motherlode Round-up
Tuolumne County Museum
Located in the old county jail in Sonora, the Tuolumne County Historical Society runs this museum; it preserves the rich gold rush history of the county, including over 35,000 photographs.
Columbia State Historic Park
The historical downtown of Columbia has survived undamaged since the gold rush days and has been a state historic park since 1945. Almost 30 gold rush era buildings form an inhabited open-air museum with a Daguerreotype photo studio, ice cream parlors, candy stores, an antique bowling alley, a working blacksmith shop, and stagecoach rides. The Fallon House Theater hosts performances.
Railtown 1897 State Historic Park
This park, operated by the Sierra Railway, is known as "The Movie Railroad," as the trains have featured in over 200 films and TV programs. It preserves locomotives, railroad cars, railroad buildings, and equipment. Take a 6-mile, 45-minute train ride through the oak-studded landscape of the Sierra foothills.
Gold Panning
Several private companies offer opportunities to pan for gold, and you can also pan for gold at Columbia State Historic Park. Learn the skills the 49ers used to sift gold out of the streams of the Sierra and have fun looking for your own flakes.
Wine Tasting And Dining
If you are more into food than history, fear not. You can get excellent food at the county's exciting little restaurants and B&Bs. The wineries of Tuolumne County produce rustic red wines for you to sample. The apple orchards of Indigeny Reserve produce organic hard cider and apple brandy.
Outdoor Recreation
Tuolumne County's trails are available for outdoor recreation such as hiking, mountain biking, and horseback riding. You can also camp under the stars, rock climb, raft whitewater, paddle a kayak, go fishing, watch birds, or look for wildflowers. In winter, you can go cross-country skiing, downhill skiing, ice skating, snowshoeing, snowboarding, and snowmobiling.
Spelunking
The county is home to California Cavern, which offers the hour-long family tour known as the Trail of Lights and the more demanding 2-hour Mammoth Cave Expedition and 4-hour Middle Earth Expedition.
If you haven't had enough, take the 45-minute tour through Mercer Caverns.
The Motherlode Round-Up
If you are into cowboy action, come to Tuolumne County in May for the longstanding Motherlode Round-up, a rodeo and parade the Tuolumne County Sheriff's Posse volunteer organization hosts in Sonora.
Famous People From Tuolumne County
Several famous people have come from Tuolumne County, including the following:
Larry Franco
Born April 5, 1949, Larry Joseph Franco is a film producer who has worked as an actor, assistant director, and second unit director. Notable films that he has produced include:
Christine (1983)
Big Trouble in Little China (1986)
Batman Returns (1992)
Jumanji (1995)
October Sky (1999)
Batman Begins (2005)
White House Down (2013)
Jungle Cruise (2021)
Jenny O'Hara
Born February 24, 1942, Patricia Joanne "Jenny" O'Hara is a film, TV, and stage actress born in Sonora. She is best known for the following roles:
Dixie (My Sister Sam, 1986-1988)
Janet Heffernan (The King of Queens, 2001-2007)
Nita (Big Love, 2006-2009)
Joel's secretary in Extract (2009)
Jane Kowski in Devil (2010)
Dan Pastorini
Born May 26, 1949, Dante Anthony "Dan" Pastorini is a former NFL quarterback who primarily played for the Houston Oilers. He was known for playing through injuries such as broken ribs and even a punctured lung. After retiring from the NFL, he became a Top Fuel dragster driver with the National Hot Rod Association.
Tuolumne County FAQ
Interesting Facts About Tuolumne County?
The county seat of Tuolumne County is Sonora.
Sonora was named for the Mexican state of Sonora because most of the Mexican miners who founded the town came from there.
The population of Tuolumne was 55,620 in 2020.
Tuolumne County has an area of 2,274 square miles.
The name Tuolumne is Native American in origin, but no one agrees on what it means. People have suggested the following meanings: Many Stone Houses, Straight Up Steep, and The Land of Mountain Lions.
Is Tuolumne County A Good Place To Live?
Most residents of Tuolumne County consider it a wonderful place to live, with many people who leave for college or in their young working lives returning to stay in the peaceful neighborhoods of this county. Others who find the Bay Area too expensive find Tuolumne County an excellent place to live near San Francisco.
However, if you are considering relocating, remember that some people think the inhabitants are overly conservative and stuck in their ways.
The climate is moderate in Sonora, with 41 inches of rain per year (slightly higher than the national average of 38), 8 inches of snow per year (much lower than the national average of 28), and 259 sunny days per year (national average 205). However, in the High Sierras, many snowfalls bring the average for the county up to 63 inches.
The July high is about 91 Fahrenheit, and the January low is around 32.
Violent crime in Tuolumne County is 25.7 against a US average of 22.7. However, property crime is 67.2, against a US average of 35.4.
Is It Expensive In Tuolumne County?
The average income of Tuolumne County residents is slightly lower than the US average of $28,555 per year, at $26,063 per year, and the income tax rate is higher (the US average is 4.6%, but in Tuolumne County, it is 9.3%). The sales tax rate is 7.3%, the same as the US average.
If one expresses the US national average cost of living as 100, Tuolumne County is more expensive, at 116.7. However, it is cheaper than the California average of 149.9. The median home cost in the county is $346,800, higher than the national median of $291,700 but lower than the California median of $684,800.
References:
https://sierranevadageotourism.org/entries/tuolumne-county-museum-history-research-center/9979acc0-6e3e-4e97-bb2d-fefe4dd5c4d3
https://www.parks.ca.gov/pages/491/files/railtown1897shpfinalweblayout091201.pdf
https://townsquarepublications.com/tuolumne-county-outdoor-recreation/