If you are visiting the San Francisco Bay Area, Fresno, or Sacramento, you should consider visiting Merced County. Whether you are into Shakespeare, vintage military aircraft, waterfowl, or want a base to visit Yosemite National Park, this county has something to offer you.  
With an area of 1,979 square miles and a 2020 population of 281,202, Merced County is a rural agricultural county known for Castle Air Museum, UC Merced, and the performing arts. Its county seat, Merced, has a low cost of living but high unemployment and crime rates.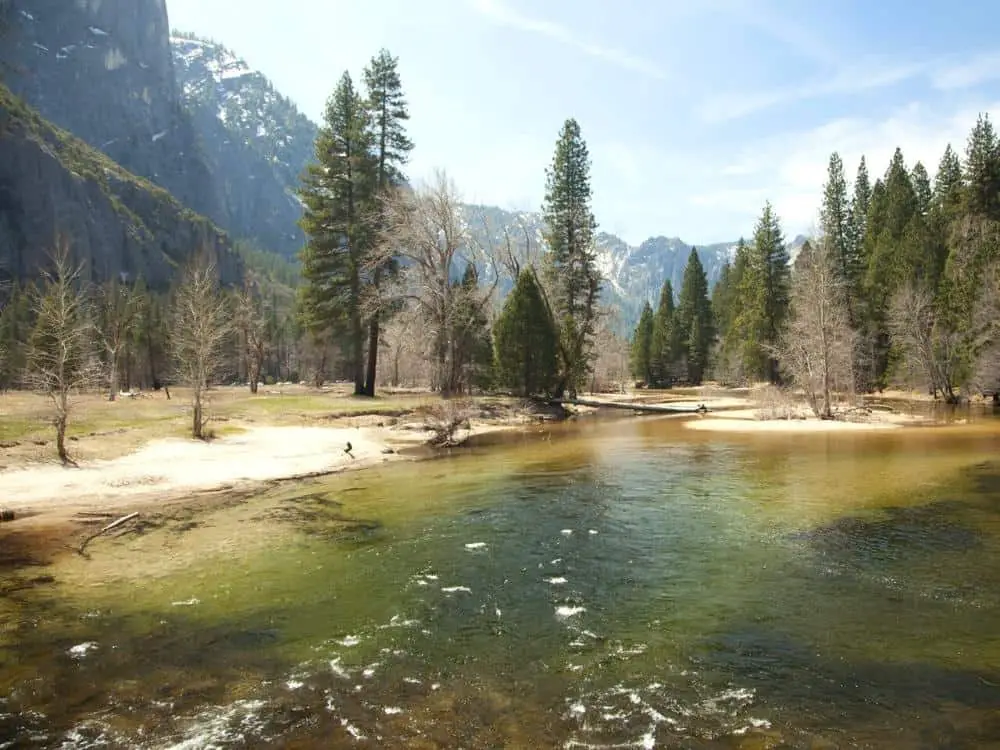 What Is Merced County California Known For?
Merced County is a largely rural county whose economy is based on agriculture, particularly sweet potatoes and dairy, although many other crops are grown. Organized in 1855 from parts of Mariposa County, it has a young and diverse population. Let's take a look.
Sweet potatoes
University of California, Merced
Castle Air Museum
Gateway to Yosemite
A young and diverse population
The city of Merced is home to the University of California, Merced, and has a small-town vibe with big-city facilities. The county trends liberal and has voted for the winning candidate in almost every presidential election since 1916, making it a bellwether county.
Sweet Potatoes
Although Merced County grows plenty of other crops, the one primarily associated with this county is sweet potatoes. The county produces 90 percent of California's total harvest. This industry began due to an immigrant from the Azores (Portugal), John Buttencourt Avila, who settled in Merced County and pioneered the growing of sweet potatoes.
University Of California, Merced
The tenth University of California campus to open, UC Merced is a technology-focused university whose research covers fields from artificial intelligence and climate change to stem cells and is known for its value for money and the number of first-generation graduates.
Castle Air Museum
Castle Air Museum, located next to Castle Airport, a former USAF Strategic Air Command airfield, is home to over 70 military aircraft from before World War 2 to the Vietnam War.
Gateway To Yosemite
The city of Merced, known as the "Gateway to Yosemite," is close to the world-famous national park. Merced is centrally positioned, two hours from San Francisco and Sacramento, so it's an excellent place to base yourself to explore Yosemite.
Young And Diverse Population
Merced County has a young population, with a median age of 29 in 2000. Over 70 percent of residents are of color; most of these are Hispanic (the county has a 61 percent Hispanic population). The county has notable Portuguese and Hmong communities. Approximately 52 percent of the population speaks a language other than English at home.
What's In Merced County?
Merced County is primarily farmland, with agriculture being the largest employer in the county. Merced County is the fifth most important agricultural county in California and the US. However, there are some features of general interest in the county. These are the most prominent:
University Of California, Merced
The first research university built in the US in the 21st century, UC Merced, is the 10th University of California campus. The university ranked 76 out of 739 schools in the US on Money's 2020 Best Colleges by Value and higher than any other University of California campus for transformative value.
Six Cities
Although predominantly rural, Merced County is home to six incorporated cities: Atwater, Dos Palos, Gustine, Livingston, Los Banos, and Merced. Merced is the largest city and the county seat. The rest of the population mostly lives in smaller, unincorporated urban settlements.
Castle Air Museum
Castle Air Museum has a collection of over 70 World War 2, Korean War, and Vietnam War military airplanes, helicopters, drones, and missiles, including a former US presidential jet (Air Force One). The indoor collection includes wartime photos, uniforms, memorabilia, and personal military artifacts.
Merced National Wildlife Refuge
Established in 1951, Merced National Wildlife Refuge was intended to draw wintering waterfowl from adjacent farmland and hosts the largest wintering populations of Ross's geese (over 60,000) and lesser sandhill cranes (over 20,000) in the Pacific Flyway. Thousands of other waterfowl, shorebirds, and waterbirds also overwinter here, making it a birder's paradise in the winter.
San Luis National Wildlife Refuge
This wildlife refuge holds a multitude of managed wetlands and oxbow lakes that provide winter habitat for pintail, mallard, green-winged teal, ring-necked ducks, and riparian woodlands that provide habitat for the wood duck. It also hosts a thriving population of reintroduced tule elk.
Things To Do In Merced County
If you visit Merced County, try one of the following activities. There's plenty to do in this county!
Merced Agricultural Museum
Castle Air Museum
Merced County Courthouse Museum
Merced Shakespearefest
Playhouse Merced
The MAC
National Wildlife Refuges
Vista Ranch
Applegate Park Zoo
Lake Yosemite
Merced Agricultural Museum
Agriculture is a massive part of Merced County's history and present-day economy, and this museum in Merced showcases this heritage with displays of old farming equipment and domestic appliances. You can also see a working blacksmith workshop.
Castle Air Museum
Visit Castle Air Museum and marvel at their comprehensive selection of over 70 military aircraft from before World War 2 through the Vietnam War. Get a chance to tour Air Force One.
Merced County Courthouse Museum
Located in the Merced County Courthouse, this fascinating museum records the county's history from the days of the Yokut Indians, Merced's Chinatown, a historical classroom, and an 1859 fire engine (Old Betsy).
Merced Shakespearefest
If you are in town during the summer or fall, watch out for performances by the Merced Shakespearefest, which draws performers and audiences from all over the central San Joaquin Valley, and has been running for two decades. This fest offers accessible performances of classic Shakespeare plays.
Playhouse Merced Theater
Take in a show at Playhouse Merced, located in downtown Merced, or if you prefer the silver screen, head next door to the movie theater.
The MAC
If you enjoy art, you should visit the Merced Multicultural Arts Center (known as the MAC) in Merced, which houses four galleries and offers numerous programs for residents.
National Wildlife Refuge
Visit Merced or San Luis National Wildlife Refuges to see sandhill cranes, Ross's geese, ducks of various species, and tule elk, among other kinds of wildlife. Or visit in spring and summer for the wildflowers.
Vista Ranch
Vista Ranch has a restaurant, vineyard, and RV park. You can stop off and try the local wines and wood-fired pizzas.
Applegate Park Zoo
Applegate Park Zoo allows you to see rescued wildlife closely and offers science workshops for the kids and the popular  Zoo Boo on October nights.
Lake Yosemite
Located next to the UC Merced campus, Lake Yosemite is a pretty body of water that affords opportunities for boating, fishing, and picnicking.
Famous People From Merced County
Several famous people have come from Merced County, including the following:
Ray Allen
Born July 20, 1975, at Castle Air Force Base near Atwater, Walter Ray Allen Jr. is a former professional basketball player who played 18 seasons in the NBA and won Olympic gold with the US men's team. He held the record for the most three-pointers in a career until 2021 and also acted in some movies.
Janet Leigh
Born July 6, 1927, Jeanette Helen Morrison was an actress, singer, dancer, and author. She was known professionally as Janet Leigh. She is actress Jamie Lee Curtis' mother, and they appeared in 2 horror films together. She wrote 4 books, including 2 novels.
She is famous for her role as Marion Crane in Alfred Hitchcock's Psycho.
Bruce Bowen
Born June 14, 1971, Bruce Eric Bowen Jr. is a former professional basketball player who was respected as a perimeter "lockdown" defender and was part of the San Antonio Spurs teams that won the NBA championships in 2003, 2005, and 2007. He is known as an advocate of child obesity awareness.
Merced County FAQ
Interesting Facts About Merced County?
Merced County is 1,979 square miles in area.
The population was 281,202 in 2020.
The county gets its name from the Merced River (El Río de Nuestra Señora de la Merced or River of Our Lady of Mercy).
Castle Air Force Base gets its name from Brigadier General Frederick Castle, a Medal of Honor recipient from World War 2.
Is Merced County A Good Place To Live?
Merced County is warm and dry, with an average summer high of 95 and a winter low of 38. The county receives only 12 inches of rain annually, well below the US average of 38 inches. It gets no snow, and on average, 263 sunny days per year, against a national average of 205 sunny days.
Merced County has an unemployment rate of 11.4 percent, against a US average of 6 percent. The average income in the county is  $18,464 per year, against a national average of $28,555 per year. However, the cost of living is low.
Unfortunately, crime in Merced County is high, with a violent crime index of 31.2 and a property crime index of 47.2, against the national averages of 22.7 and 35.4, respectively.
Is It Expensive In Merced County?
Merced County has a low cost of living, with an average cost of living index of 107.9, compared to a US average of 100 and a California average of 149.9. The median home cost is $338,300, higher than the US median of $291,700 but half the California median of $684,800.
References:
Area of 1,979 square miles and 2020 population of 281,202: https://en.wikipedia.org/wiki/Merced_County,_California
The university ranked 76 out of 739 US schools on Money's 2020 Best Colleges: https://news.ucmerced.edu/news/2020/uc-merced-makes-strong-debut-money%E2%80%99s-best-colleges-rankings-value
Merced County is the fifth most important agricultural county in California and the US: https://ucanr.edu/sites/uccemerced/files/40560.pdf