San Mateo is a small county between San Fransisco and San Jose, California. It is secluded in San Fransisco Bay and has several natural points of interest. You may not know anything about San Mateo, such as what's in it, things to do, or even famous people that live there.
San Mateo has vast agricultural lands bordering the Pacific ocean and the San Francisco Bay. San Mateo is rich in green energy innovation, tech, and bioscience. San Mateo offers various outdoor activities like cycling, walking, and visiting various points of interest like the Pulgas Water Temple.
What Is San Mateo County California Known For?
San Mateo is predominantly known for its agricultural lands and produce. It's known for its rich history at the San Francisco bay area center. A few of the biggest economic drivers are education, technology, and health care.
Overall, San Mateo County, California, is known for
Good wine
Beautiful beaches
Vast agricultural lands
Technology giants
Clean and safe neighborhoods
Good Wine
San Mateo County has several well-known vineyards that produce export-quality white and red wines. Most vineyards are open for public visits to the wine tasting rooms or on-site restaurants that offer a wide range of local delicacies.
Beautiful Beaches
With over 40 miles of beaches dotted along the magnificent coastline of San Mateo County, there is plenty of choice for an outing. However, some of the rock formations along the coastline at Gray Whale Cove are over 70 million years old. A splendid day at the beach with a bit of history sounds fun!
Vast Agricultural Lands
San Mateo County is a well-known agricultural asset to the local and general US economy. Due to the climate, staple crops such as pumpkins, Brussel sprouts, various berry types, apples, and cruciferous vegetables are successful.
Technology Giants
For a county that is on the small side, San Mateo is known for its own silicon valley and stands back for nobody. It boasts some of the best tech companies to work for, such as game giant Roblox, Medallia, action camera giant GoPro, and SiFive.
Clean And Safe Neighborhoods
With a 1 in 383 chance of becoming a victim of crime, San Mateo has a relatively low crime rate compared to the rest of CA. The neighborhoods are very clean, safe, and well patrolled, with great schools and parks. The safest neighborhoods are Sugarloaf West, San Mateo Park, and Baywood.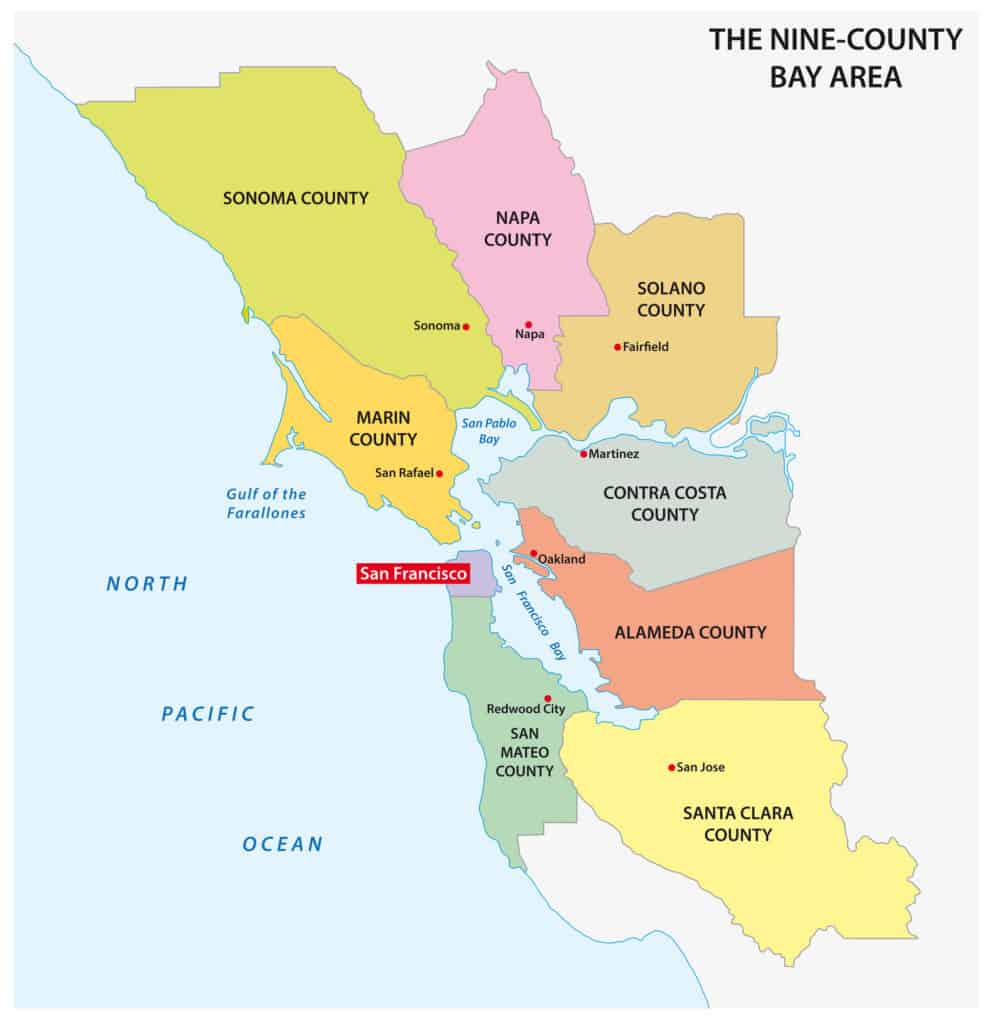 What's In San Mateo County?
San Mateo has beautiful weather making it more fun to do outdoor activities. There are also a lot of historic buildings to visit. In San Mateo County, you'll find the following:
The Sawyer Camp Trail
Although its closeness to one of the largest urban centers in the state, the place around San Mateo is full of public parks and outdoor areas worth checking out.
Sawyer Camp Trail is a six-mile-long paved trail that offers visitors reasonable elevation changes and beautiful views. The place is extremely photogenic, and the trail goes through a few natural environments. It is common to see some of San Mateo's local species, such as deer, fox, rabbits, woodpeckers, and waterfowl.
Japanese Garden
The Japanese garden is located in the city's central park and has 16 acres of green space. The garden was once an estate of a very wealthy local sailor. A Japanese landscape architect originally designed the garden and previously worked at the Imperial Palace in Tokyo.
The garden was made a public place in the early 1920s. Its stunning koi pond, cherry and bonsai trees, majestic multi-tiered granite pagoda, and waterfalls are the most known. A garden is a wonderful place for a quiet morning and afternoon.
Hillsdale Shopping Center
Hilldale is a large shopping center just off California Highway 101. It has more than 100 retailers. The center is a great place to dine, shop, and relax if you're tired of outdoor attractions. It is anchored by large retailers such as Nordstrom, Macy's, and H&M.
It offers a few dining options serving gourmet coffee, freshly baked goods, Asian food, hearty burgers, and California-style restaurant pizzas. The mall offers other amenities, including wheelchairs, one-day secure bag storage, and caretaker service.
Old Downtown San Mateo
There's no other better way for the architecture, history, and food lovers to spend a few hours in old Downtown San Mateo. In recent years, one of the most walkable neighborhoods has transformed remarkably.
They are making it a popular destination for hip eaters and drinkers around the bay area. The restaurants range from seafood to laid-back taco shops to high-dollar steak and almost everything else in-between. The area is also full of historical buildings, from art deco theaters built in the '20s and '30s to old Spanish churches.
Coyote Point Recreation Area
Coyote Point has 700 acres popular with locals and out-of-state visitors. The park is on the eastern shore of San Francisco Bay and offers people many activities like bird watching, fishing, swimming, windsurfing, and biking. For the people with kids, there is a huge playground that's medieval-themed and some interactive displays that engage topics like ecology and the animal kingdom.
The park entrance is located on Coyote Point Drive in San Mateo and can get extremely busy at peak times during the summer and spring weekends. It's the perfect place to go with your whole family to have a great summertime.
Bicycle Sunday
Since Californians tend to be more outdoorsy and fit than most, opportunities thrive for regeneration activities when visiting San Mateo. Bicycle Sunday is an attraction for cyclers and a popular end-of-the-week activity for most skill levels and ages.
The course for Bicycle Sunday is blocked off from traffic from mid-morning to mid-afternoon when riders are free or choose to participate. The rides start on Highway 280, just a couple of kilometers outside town, covering two miles through the beautiful countryside.
Several interesting attractions, like Filoli Estate and Pulgas Temple, are included, making a great side trip for those who need a break from cycling.
Central Park
Situated on East 5th Ave, San Mateo's central park is a convenience-packed place and is a huge hit with visitors interested in the outdoors. The park has covered features such as a baseball field, picnic areas, a big playground, and a tennis court.
The park also hosts a couple of events throughout the year, including live music events, easter, and the 4th of July. The park also has a mini-train that takes kids around the park, the aforementioned Japanese Tea Garden, and some eclectic oversized sculptures.
San Mateo STEM Fair
San Mateo has held an annual STEM fair for three decades. It was made to substitute interest in technology, science, math, and engineering among promising students studying and living in the area.
Even though the fair gets overlooked by those on vacation, it's a great activity for those interested in rubbing elbows with kids who put their all into their projects. The event is held in the San Mateo County Event Center, which hosts many annual events and festivals.
Things To Do In San Mateo County
Whether you love spending your days on the beach or wine tasting, hiking new trails, a family picnic, or spending a history-filled day at the museum, San Mateo offers something for everyone.
You can try the following while visiting and exploring the city of San Mateo in San Mateo County:
Visits to the beach
Museums
Wine tastings
Visits To The Beach
San Mateo has five beaches to visit. San Gregorio, Pomponio, Pescadero, Pebble Beach, and Bean Hollow State Beaches. The coastline of San Mateo is breathtaking, and the five state beaches offer places for picnics, long walks, and caves to explore.
Museums
Take a grand tour of the San Mateo Country Natural History Museum, where you can see how the original inhabitants lived compared to today, or visit the historical site Sánchez Adobe, where the first three centuries of the Ohlone Indian, Spanish and Mexican peoples are on display.
Wine Tastings
San Mateo County has some top-quality vineyards, and you can book ahead for a day of wine tasting and relaxation. Some notable wine farms are Peju winery, Olof Cellars, and Talbot vineyards.
Famous People From San Mateo California
San Mateo has many famous people who made it their preferred city of residence. You are guaranteed to spot one or more celebrities if you know the popular hangout spots or restaurants.
Here is a list of the most famous residents of San Mateo, California:
Dennis Haysbert
He is an actor and producer. He is known for Far from Heaven (2002), Heat (1995), and 24 (2001). On 2 June 1954, he was born in San Mateo, California, and was recently married to Lynn Griffith and Elena Simms.
Marc McClure
He is a well-known actor in Apollo 13 (1995), Back to the Future (1985), and Apollo 13 (1995). On 31 March 1957, he was born in San Mateo, California. He's been married to Carol Courson Cowley since 16 August 1985. They have one child.
Judy Kain
She is a professional actress and began her acting career in 1978 in Los Angeles. She has been in over 130 TV and film projects. She has also been in over 400 commercials and has won numerous awards. On 31 March 1955, she was born in San Mateo, California.
Raphael Bob-Waksberg
He is a writer and producer. He is best known for Tuca & Bertie (2019), Undone (2019), and BoJack Horseman (2014). On 17 August 1984, he was born in San Mateo, California.
Emma Chamberlain
She is a YouTuber and actress known for Untitled Creator Show with Emma Chamberlain, Adulting with Emma Chamberlain (2019), and Thanks a Million (2020). On 22 May 2001, she was born in San Mateo, California.
Renée Humphrey
She is a casting director and an actress known for fun (1994), Jay and Silent Bob Strike Back (2001), and Mallrats (1995). On 27 January 1975, she was born in San Mateo, California.
San Mateo County FAQ
Interesting Facts About San Mateo County?
San Mateo has a remarkably low unemployment rate compared to the rest of the US, at only 2%. San Mateo has a population of nearly 800 000 people and a median income of USD 110 000 annually. The county seat is in Redwood City and was formed in 1857.
Is San Mateo County A Good Place To Live?
San Mateo is a liberal, safe, but expensive place to live. Neighborhoods are clean and well maintained. The county has great schools and healthcare services. It is close to San Jose and San Fransisco.
Is It Expensive In San Mateo County?
Living in San Mateo is 86% higher than the national average cost of living. It is more expensive than most counties, and workers receive a good annual salary. Food and grocery are, on average, 29% higher.
References: