Humboldt County embodies the natural beauty of rural northern California. The county is blessed with misty old-growth coastal rain forests, mountain ranges, a rugged shoreline, abundant animal life, and plenty of solitude.
Humboldt County has a rich history and unique culture and is an outdoor enthusiast's paradise. This rural Californian county has stunning nature reserves covering its coastline and forests. Humboldt is also home to a wealth of charismatic fauna and flora, including the famed giant redwood trees.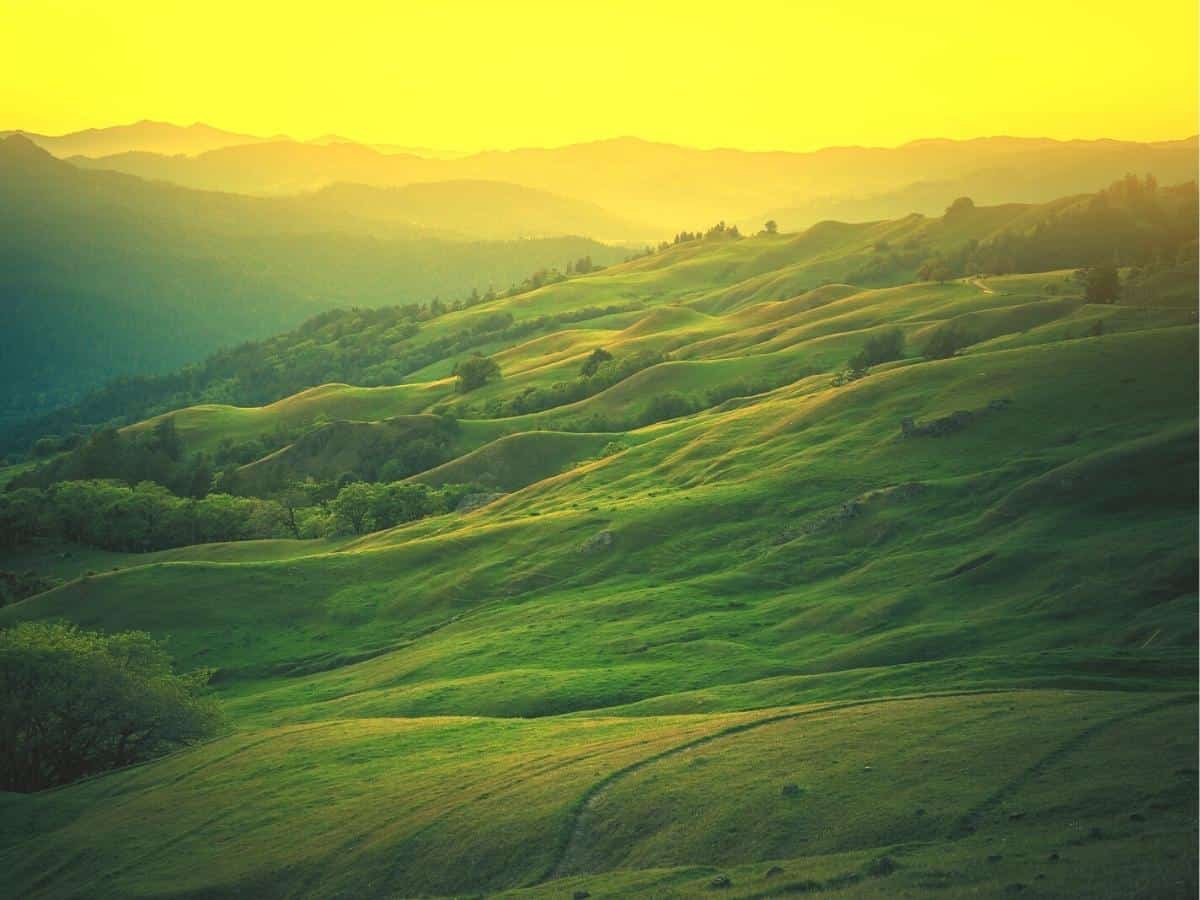 What Is Humboldt County Known For?
Humboldt County exemplifies the mystique and allure of northern California. When people think of Humboldt, they usually think of its wild and isolated natural beauty and the self-determined culture of the local people.
Humboldt County is particularly well-known for the following:
Old-growth redwood forests,
Rugged coastline,
Marine and terrestrial wildlife,
Diverse outdoor activities,
Cannabis production,
Fascinating history.
Humboldt County is well-known for such a small, rural county. This fame is largely due to the amount of vibrant wildlife and natural splendor condensed within the county's boundaries. Humboldt County is also known for its rich history, unique culture, and its traditional reliance on the cultivation of cannabis. Let's have a closer look.
Giant Redwood Trees
Humboldt is probably most well-known for having some of the tallest, oldest living trees.  The mythical giant coastal redwoods (Sequoia sempervirens) occur in old-growth stands in places like the Humboldt Redwoods State Park.
These trees are hundreds of years old and include world-famous specimens like Hyperion. This coastal redwood is over 379 feet tall and is the tallest living tree.
Rugged Coastline
Humboldt County is also known for its untamed coastline, which includes the legendary Lost Coast. The sounds and smells of the ocean pervade the atmosphere in Humboldt, and the county is often shrouded in cool coastal mists. This mesmerizing coastal ambiance is why many people visit or move to Humboldt.
This stretch of the Californian coast has sandy and boulder-strewn beaches backed by thickly forested cliffs. The Humboldt coastline is exposed to the full might of the North Pacific Ocean.
Marine And Terrestrial Wildlife
Humboldt is well-known for the abundant and diverse wildlife populations in the county's forested hills and mountains, and its creeks, rivers, and ocean.
Terrestrial mammals living in Humboldt include black bears, bald eagles, and gray foxes. The Humboldt coastline is populated by a variety of marine species like bottlenose and common dolphins, humpback and gray whales, great white sharks, and a wide diversity of fish species.
Humboldt is also home to many endangered native species, such as the Humboldt marten (a furry, weasel-type mammal), the Point Arena Mountain beaver, and the Behren's silverspot butterfly. Humboldt is also known for the threatened Chinook and Coho salmon found in the county's rivers and creeks.
Outdoor Activities
The county of Humboldt is known as an outdoor enthusiasts' paradise. Humboldt's nature reserves and parks are ideal places for a host of nature and adventure-related activities, from bird-watching and whale-watching to picnicking, fishing, hiking, surfing, kayaking, and rock-climbing.
Cannabis Production
Humboldt County is world-famous for cannabis cultivation. The county is part of the Emerald Triangle (along with Trinity and Mendocino) and is recognized internationally for local farmers' quality of the cannabis produced.
Fascinating History
Humboldt is often associated with its intriguing history. The county has a rich indigenous cultural history and was inhabited originally by groups like the Yurok, Hupa, and Wiyot people.
The county is also famous for its links to the California Gold Rush. Indeed, the seat of Humboldt County of Eureka (Greek for 'I have found it') was founded in 1850 after a significant gold discovery there.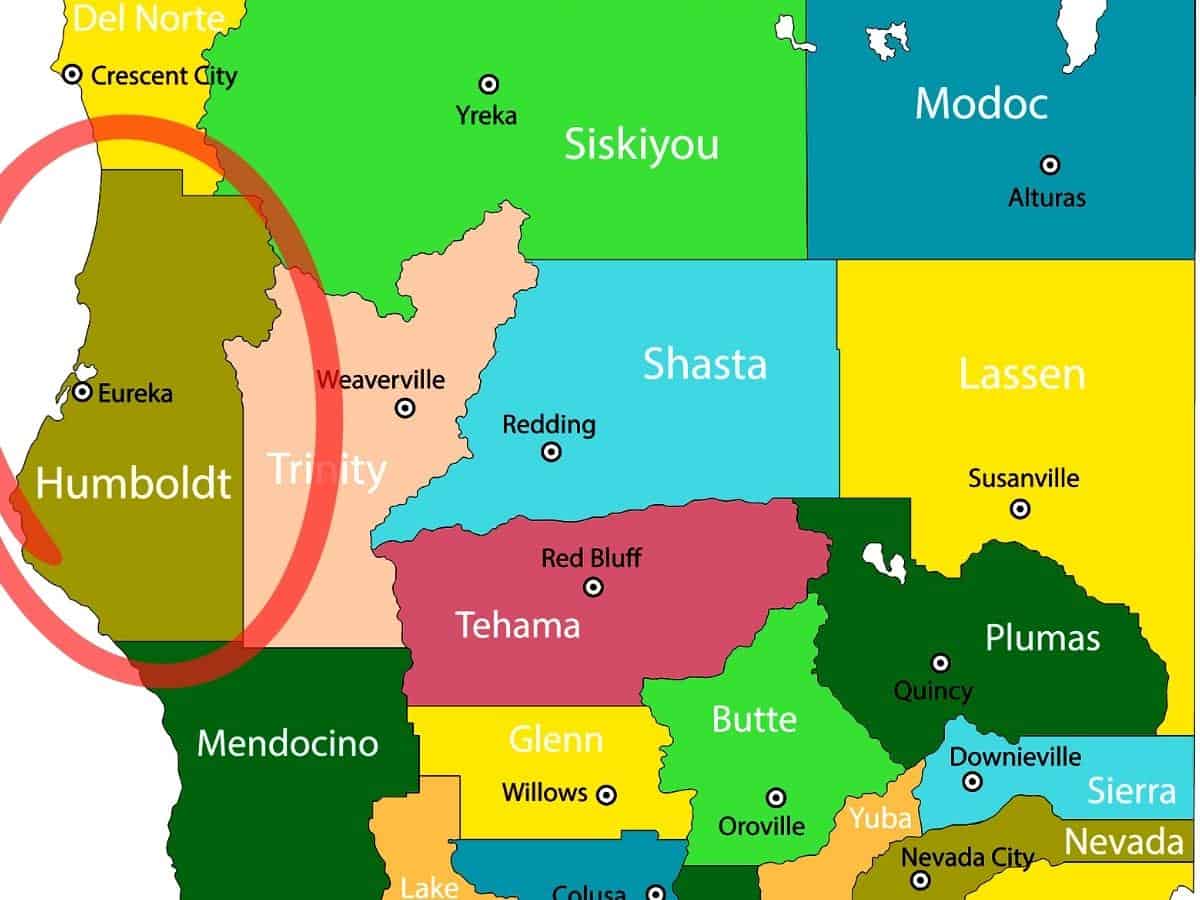 What's In Humboldt County?
Humboldt County has nature parks with coastal rain forests, old-growth redwoods, and abundant wildlife. There are many excellent places for outdoor adventure activities in Humboldt. The county also has several places of historical and cultural significance. 
Humboldt Redwoods State Park
Humboldt Redwoods State Park is an iconic nature reserve with some of the most majestic redwood trees on earth. The park spans 53 000 acres and has the largest known contiguous old-growth redwood forest (covering an area of roughly 17 000 acres).  
Humboldt Bay National Wildlife Refuge
Moving from the forests of Humboldt County to its coastline, you'll find the Humboldt Bay National Wildlife Refuge. The refuge is located near the cities of Eureka and Arcata and encompasses coastal wetland, marsh, and dune ecosystems.
The Humboldt Bay National Wildlife Refuge has exceptional biodiversity. The refuge is used by over 200 bird species as a place for feeding, nesting, and resting. There are also more than 100 fish species and several seal and sea lion species that frequent the Humboldt Bay Wildlife Refuge.
A section of the Humboldt Bay Wildlife Refuge called the Lanphere Dunes supports a unique array of rare and endangered plant species like the Humboldt wallflower, reindeer moss, and pink sand-verbena. The Lanphere Dunes section of the refuge also supports large fauna like bobcats, gray foxes, mountain lions, and deer.
Sequoia Zoo
Sequoia Zoo is a somewhat unexpected Humboldt attraction in the city of Eureka. The zoo was established in 1907 and is the oldest in California. Sequoia Zoo is set against the stunning background of Sequoia Park and is surrounded by giant coastal redwoods.
There are dozens of interesting species in Sequoia Zoo, including many which are rare or endangered. Sequoia Zoo also has a thrilling sky-walk traverses through a canopy of redwood trees.  
The Lost Coast
The Lost Coast is located along the southeastern part of Humboldt County. This stretch of coast is the most isolated and unspoiled part of the entire Californian coastline. The Lost Coast runs parallel to the King Range Mountains and is mostly within the boundaries of the King Range National Conservation Area.
The Lost Coast is most unpopulated except for a few tiny, idyllic villages like Shelter Cove. This stretch of coastline is defined by sandy, wild beaches backed by towering, forested cliffs. Due to its isolation, terrestrial and marine wildlife is abundant along the shores of the Lost Coast.
Sue-meg Village
Sue-meg Village is a reconstructed Yurok settlement in the Sue-meg Park, located in Patrick's Point at the northern end of Humboldt County. The village was built by local Yurok people using traditional materials like redwood planks.
At Sue-meg Village, there are traditional dwellings, a sweat lodge, a large dance house structure, and cultural artifacts like a dugout canoe (made from a redwood tree).
Though Yurok people do not inhabit Sue-meg Village, they use it regularly for conducting cultural ceremonies and for educational purposes.  
Things To Do In Humboldt County
The number of things to do in Humboldt County is nearly endless. Most of these things are related to the outdoors and nature, but many fascinating historical and cultural activities are worth doing in Humboldt.
Here is a short and incomplete selection of things to do in Humboldt:
Explore the Avenue of Giants,
Hike the Lost Coast Trail,
Wildlife watching,
Fishing,
Visit cultural and historical sites.
Explore The Avenue Of Giants
No visit to Humboldt would be complete without exploring the Avenue of Giants in the Humboldt Redwoods State Park. This 31-mile scenic drive (on Highway 101) passes along the Eel River Valley and is surrounded by redwood forest.
You can spend the day driving along the route, or you could stay at one of the local campsites and spend several days exploring the trails that run through the park's majestic coastal redwood forest.
The Shrine Drive-Thru Tree is a must-see attraction along the Avenue of Giants.  This giant living redwood tree is 275-foot tall and 21 feet in diameter and is one of three trees in the park whose trunks have openings large enough for cars to drive through.
Founders' Grove is another famous attraction that draws thousands of visitors to Humboldt's Avenue of Giants. The grove has some of the tallest coastal redwoods in California concentrated tightly into an area roughly an acre in size.
There is a 1.3-mile looping trail that circles Founders Grove, passing by the Dyerville Giant, a 362-foot-long fallen redwood tree.
Hiking The Lost Coast Trail
One of the most highly recommended hiking trails in Humboldt County is the Lost Coast Trail. The trail is within the King Range National Conservation Area and traces the shoreline of the wild and pristine Lost Coast. Hikers enjoy incredible vistas and a diversity of local fauna and flora.
This hike requires a reasonable fitness level to complete and is best suited for the more adventurous hiker. The northern section of the trail is 24.6 miles long and takes about three days to complete. Permits are required to stay at the overnight campsites situated along the way.
The southern portion of the Lost Trail is about nine miles long and can be completed in a single day.  This section of the trail takes hikers along exhilarating cliff ridges and through idyllic grassy meadows and old-growth forests.
Wildlife Watching
You don't have to go far in Humboldt to see wild animals in their natural habitat. The nature parks, reserves, and conservation areas provide ideal places to view hundreds of different species, from birds to foxes, bears, whales, and seals.
Humboldt County is an excellent place for birding. In addition to the Humboldt Bay Wildlife Refuge, bird-watchers are advised to visit the nearby Arcata Marsh and Wetland Sanctuary. There is a chance of seeing endangered or threatened bird species like black brants, bald eagles, western snowy plovers, and brown pelicans.
Humboldt's coastline is also a prime place for whale-watching. The best time to see whales in Humboldt is between March and June and from September to January. At these times of the year, there is a high chance of encountering species like gray whales, fin whales, and humpback whales.
Fishing
Humboldt is a great place to go fishing. Adventurous fishing enthusiasts can choose to board a charter boat and go fishing for tuna and other deep-water marine species.
Alternatively, fishers can go surf and shore-angling along Humboldt's beaches, rocky coastline, and harbors, where there are chances to catch fish like halibut, perch, and even salmon. Recommended spots include Big Lagoon and Trinidad Beach.
Humboldt also has countless opportunities to go freshwater fishing. The local creeks and rivers have fish species like coastal rainbow trout, steelhead, Chinook salmon, and coho salmon. Recommended spots include Freshwater Lagoon and anywhere along the banks of the Mattole, Eel, and Klamath Rivers.  
Visit Cultural And Historical Sites
Humboldt County has several places of cultural and historical significance. In addition to the Sue-meg Village introduced earlier, Ferndale Museum is worth visiting. Located in the town of Ferndale, this museum documents the local area's cultural heritage.
The Old Town in Eureka is also highly recommended. This part of Eureka is defined by its Victorian architecture, and it features a complex of restaurants, shops, galleries, and museums like the famous Clarke Historical Museum.
Famous People From Humboldt
Several famous people from Humboldt County, including actors, musicians, painters, and conservationists.
Morris Graves
The late great painter Morris Graves was from Humboldt. Graves was born in the early 20th century. His surreal, mythical paintings significantly contributed to the development of modern art in the US. There is a museum dedicated to Morris Graves in Eureka.
Lloyd Bridges
Lloyd Bridges was a legendary Hollywood actor who lived in Humboldt for many years. Bridges acted in many well-received films between the 1930s and the 1950s and featured in several satirical comedic films during the eighties and nineties. His two sons, Jeff and Beau, also became famous Hollywood actors.
Captain Beefheart
Captain Beefheart (real name Don Van Vliet) was a famous singer, bandleader, and painter who was born in the Humboldt city of Arcata. Beefheart is most recognized for his work with Captain Beefheart And His Magic Band and Frank Zappa. In later life, Captain Beefheart left music to focus on producing his critically-acclaimed paintings.
Humboldt County FAQ
Here are some facts and frequently asked questions about Humboldt County.
Interesting Facts About Humboldt County
The county was named after Baron Alexander von Humboldt, the famous German naturalist, geographer, and explorer. This name was given in 1850 by two of the earliest American explorers to sail into what is now Humboldt Bay.
Another interesting fact about Humboldt is almost 500 bird species have been recorded within its county lines, which is more than some states in the US!
Is Humboldt County A Good Place To Live?
Humboldt is a great place to live and raise a family, especially for anyone who appreciates nature and being outdoors. The natural beauty, quietude, and slow pace of life make it possible to have a low-stress, high-quality day-to-day experience in Humboldt.
Is It Expensive In Humboldt County?
Humboldt County is relatively inexpensive when compared with the rest of California. While prices of land and housing have increased over the last few decades, Humboldt is still an affordable place to live or visit, due in large part to its isolated, rural location.
References: