Mono County is sprinkled with several small and quaint towns, and some could even be referred to as villages. They are filled with gorgeous scenery and fun and exciting things to do all over this county year-round; additionally, it is home to historical attractions and national parks reserved for spectacular wildlife. If you enjoy the beauty of nature, you will love Mono County.
Mono County is home to a world-famous ski resort and is known on the whole as a vast recreational resource for those who love exploring the outdoors. There are great stretches of pristine wilderness and many adventurous activities you can engage in. Also, crime is low, and the population is small.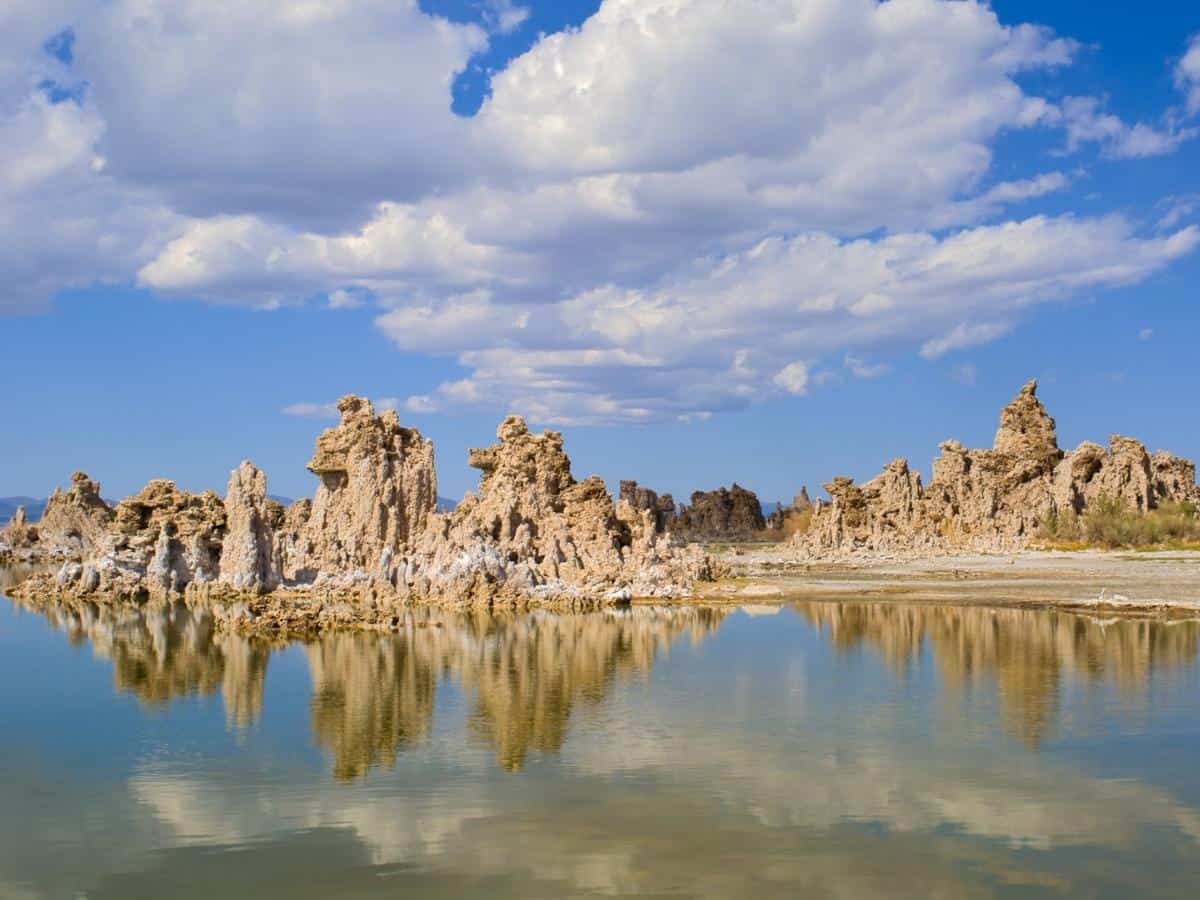 What Is Mono County California Known For?
Some counties are known for being agricultural hubs or the home to the larger cities where nightlife is at the center of all activities. But Mono County has its fame based on the outdoors and what its fantastic natural elements offer locals and visitors alike. From world-class skiing to Mono Lake (which gave the county its name) and even naturally formed national monuments.
World-Class Skiing At Mammoth Mountain
Mono Lake
Devils Postpile National Monument
World-Class Skiing At Mammoth Mountain
Mammoth Mountain is famous for its world-class alpine skiing and snowboarding that offers great excitement and enjoyment for all who visit. This mountain has 3,500 acres of skiable terrain that comprises 3,100 vertical feet (944m). The mountain receives approximately 400 inches (1,000cm) of snow annually.
This gorgeous mountain offers one of the longest ski seasons, and you will find it open from November through until June the following year. Thankfully there is an array of options available for all skill levels, from steep chutes and tree skiing to well-maintained trails.
If you are wondering how good of a place this is, you will be happy to know that it is ranked as one of the top ski and snowboarding parks in North America, which is most definitely something they can boast about.
Mono Lake
We shall get to what you can do in Mono County further. Still, it is worth noting that Mono Lake is only one of the many reasons that Mono County has been listed among the "Top 10 U.S. Destinations to Visit" in 2013 by Lonely Planet (a travel guide publisher).
Apart from being a spectacular sight to gaze upon, Mono Lake is also a vital natural landmark as it is the habitat for not thousands, or even hundreds of thousands, but millions of nesting and migratory birds.
The lake is predominantly alkaline and has a more salty than freshwater consistency. If you are an avid bird watcher or enjoy ecology, take your binoculars for the visit.
Devils Postpile National Monument
Devils Postpile National Monument is a natural phenomenon that resembles a giant pipe organ, only it is formed from columnar basalt and is massive, breathtaking, and awe-inspiring.
The monument stretches (at its shortest point) 60 feet (18m) into the air, and some theories state the columns could be as young as less than 100,000 years or even up to millions of years old.
The formation of the monument was likely caused by basalt lava, which is rich in iron and magnesium; these components typically mean that it is hotter than other variations of lava.
This causes the lava to flow more quickly and what likely happened is that it flowed down the valley and was finally blocked by a natural dam, which ultimately caused the results we see today.
What's In Mono County?
You are looking at a postcard-worthy county, and you will undoubtedly want to visit the things in Mono County. Mono County has other things besides the other incredible attractions we have already listed that the county is well known for. These make it a natural spectacle that anyone would want to visit if they are interested in natural wonders and scenery.
Sierra Nevada Mountain Range
This mountain range is found in the state of California and lies across a vast portion thereof, stretches 400 miles (640km) north-south, and has an equally impressive width.
It sits (east-west) at 50 miles (80km) wide at its thinnest sections and 80 miles (130km) across at its widest. The range stretches between the Central Valley of California and ends at the Great Basin.
Although the vast majority of the range is in California, and a fair section runs through Mono, the Carson Range lies mainly in Nevada; thus, it is named the Sierra Nevada Mountain Range.
The range makes up part of the American Cordillera, which is almost a non-stop range of mountains that create the physical western backbone of America.
June Mountain
June Mountain is a mere 20 miles (32km) north of the great Mammoth Mountain we spoke of and is often referred to as the sister resort. If skiing is not all you are looking for, then June Mountain is the place you want to head to as it offers a tranquil and highly family-friendly alternative that is often far less crowded than Mammoth.
At June Mountain, there is also a great lake with beautiful foliage to observe and scenery to take in while you engage in various activities here. You can go kayaking, whether you are an avid kayaker or you have never done it in your life.
There is also the chance to go fishing, and there are lake-side hiking trails that you can traverse.
Inyo National Forest
The Inyo National Area and Forest cover a vast area, including the White Mountains in Inyo and the Sierra Nevada. The forest is prominent and home to Mount Whitney, the highest point in the United States. There is also Boundary Peak, which is the highest point in Nevada.
Another remarkable aspect of the forest is that it is home to the Ancient Bristlecone Pine Forest; this is a vehemently protected area as it is home to the oldest living trees (and potentially even organisms) on the planet.
Humboldt-Toiyabe National Forest
The national forest is primarily found in the state of Nevada; however, a portion is located in the east of California. It happens to be the largest national forest outside of Alaska and extends across an astounding 6.3 million acres.
The forest is a bit unlike the other national forests in that it contains rather large, disjointed sections scattered across the mass of land.
Things To Do In Mono County
Whenever we escape from the humdrum of life, mainly that found in the big cities, we want to find places that have fun, relaxing, and unique things to do. Skiing, hiking, fishing, and so much more awaits you. And Mono County will not disappoint you, especially with its magnificent vistas, lovely crystal-clear lakes, and mountainous areas.
Skiing At Mammoth Mountain
Traveling To The Town Of Bodie
Hike Your Way Through Mono County
Skiing At Mammoth Mountain
There is a small town, Mammoth Lakes, based near the bottom of the world-famous Mammoth Mountain Ski Resort. There is ample place for people to stay while visiting here and enjoying the mountain with a summit of 11,053 feet (3368m) and, as mentioned earlier, has an area of 3,500 acres of skiable terrain on this mountain that comprises 3,100 vertical feet (944m).
There are approximately only 7,500 people who live in the town's area throughout the year. Still, when the peak skiing season is upon them, the number of people staying there at any given time usually sits at around 35,000.
Visitors come from around the country, but some travel from other parts of the world to enjoy the mountain and what it has to offer.
Traveling To The Town Of Bodie
The town of Bodie is a place of a historic gold rush, and its heydays were the late 1800s. Simultaneously, there were estimated to be around 10,000 people who lived there. Now, it is a tourist attraction for those who would like to view a town that is kempt but in a state of "arrested decay".
Hike You Way Through Mono County
Hiking is a wonderful pastime, and it is also incredibly healthy and allows you to explore places you usually would not be able to get to via vehicle. Mono County, you will be pleased to know, was listed by Sunset Magazine as being among the "Top 5 Places to Hike", especially during the autumn season, and this is due to the gorgeous splendor of colors during this time of year.
Famous People From Mono County
There are a few famous people from Mono County, including the likes of Trevor Donovan, an actor; Tracy Gallagher, a journalist; and Clark Ashton Smith, a writer, and artist.
Trevor Donovan
Trevor Donovan is his professional name and who he is known as, but his full name is Trevor Donovan Neubauer. He is an actor and a model known for playing Teddy Montgomery in the international hit series 90210.
Tracy Gallagher
Tracy Gallagher is known as Tracy G or Trace Gallagher and is a journalist and a news anchor for Fox News Channel.
Clark Ashton Smith
Clark Ashton Smith lived from 1893 and passed away in 1961; he was an artist and a writer, and his early local recognition came from the enthusiasm of George Sterling, who admired his use of traditional verse that was in the same vein as Swinburne.
Mono County FAQ
Interesting Facts About Mono County?
Mono County is the fourth-least populated county in California, with a population of only 13,195 people.
The county was officially formed back in 1861 and was made up of parts from Mariposa, Calaveras, and Fresno counties.
In 1864, only three years after Mono County was formed, a northern portion of the county was given to help create Alpine County; in 1866, another section was given up to Inyo County.
Is Mono County A Good Place To Live?
If you want to live in Mono County, you are likely someone who values healthy living and having a space that accommodates that. In Mono County, you are sure to find a great deal of what nature has to offer, which we have tarnished in many places, such as clean water and fresh air. There is also the reason of love for the outdoors and activities that allow one to soak nature up.
The outdoors can be an oyster of opportunities for fun activities such as hiking, fishing, kayaking, skiing, rock climbing, bird watching, and many others. If you love the fast-paced nature of the big cities, then this is not the place for you, but if you love the environment and are keen on enjoying all it has to offer, you have found the spot for you.
Is It Expensive In Mono County?
The cost of living in Mono County is less than in other areas of California. When it comes to the likes of transportation and housing costs, you are going to endure less of a financial burden.
However, groceries are roughly the same price as elsewhere, and the likes of healthcare and utilities are going to be more expensive than in other counties in California.  
References: