Located in the southern part of California lies Ventura County. With a population of approximately 845,599, Ventura County is the 13th largest county in California. It is officially named San Buenaventura and has long been known for its engaging and friendly coastal community.
Ventura County is known for its stunning nature, good climate, and friendly community. Mission San Buenaventura is one of the county's various historical and cultural attractions. Visiting the popular downtown and walking on the Ventura Pier are only some exciting things to do.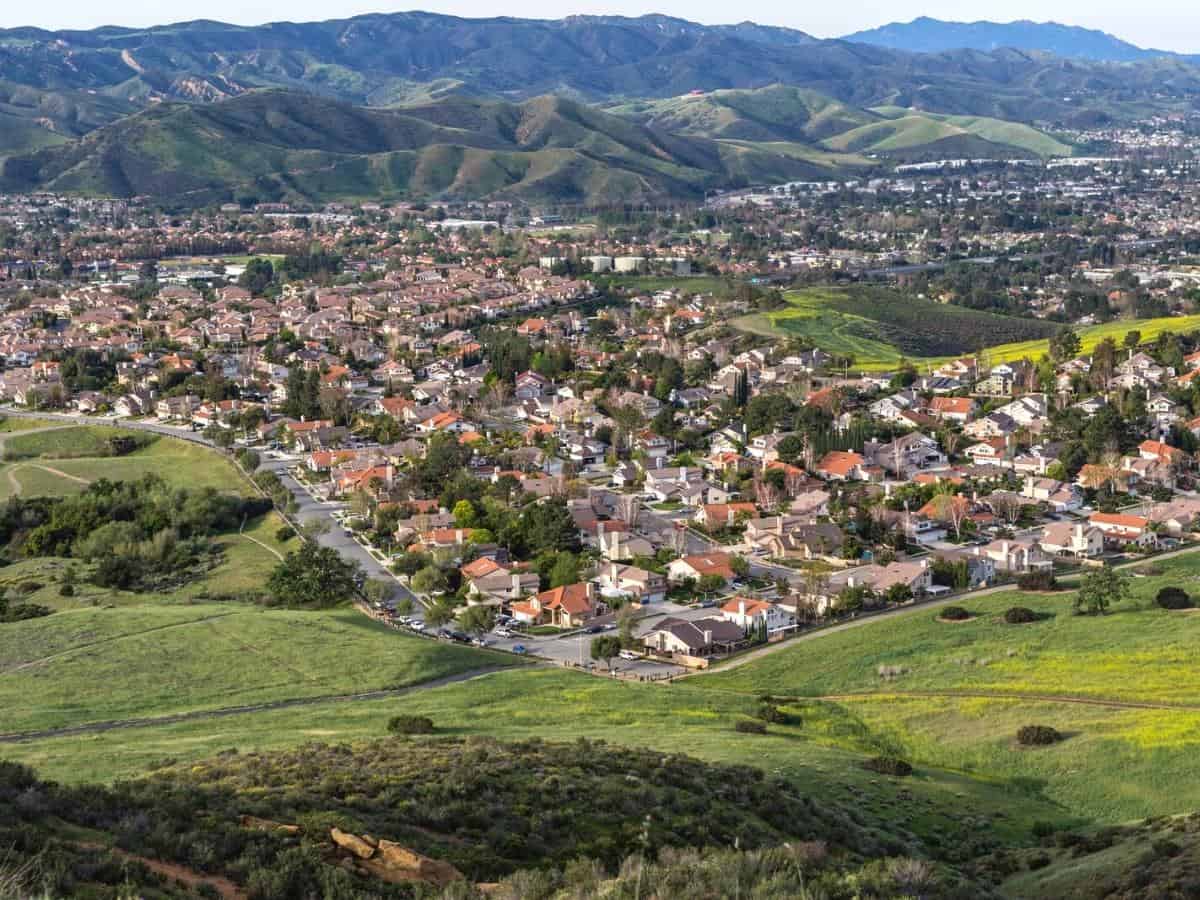 What Is Ventura County, California Known For?
Ventura County, California, is considered one of the most desirable places to live in the United States. It received this reputation for its friendly people, rich history, and vast scenic environments. Culture and community participation are critical factors in this county. Ventura is known specifically for the following:
Ideal weather and scenery
The history of the county
Friendly and participating community
Ventura County is also known for its mild climate, akin to a Mediterranean climate. Together with the fantastic coastal scenes, this has been reason enough for many people to move to Ventura.
Mild Climate and Scenic Environment
Ventura has a few must-see spots that show off its beautiful scenery. Surfer's Point and Ventura Harbor are two of these local gems. Other than nature's views, Ventura has a park system with 32 parks, including acres of green and an impressive aquatic center.
The temperature and weather conditions make the Ventura environment even more appealing. The weather is perfect, never really reaching any extremes throughout the year. Never too cold or too hot, locals and visitors enjoy many outdoor activities comfortably.
Similar to coastal weather, some fog and a chilly breeze is normal in Ventura. However, the ocean views, especially at Serra Cross Park, make it all worthwhile. The beaches are also a huge attraction, where you can enjoy the sand and sea, camp, surf, and birdwatch.
Rich And Detailed History
Originally a city named Mission San Buenaventura (and formally still known by this name), it was the largest ranching operation in the 1860s in California. This was the 9th mission to be built in California. An interesting detail – this mission was the only one that had bells made from wood.
The country's culture and architecture have an apparent influence from China, Europe, Spain, and other early inhabitants. By 1873, this city had become the County seat and was named Ventura County. A rich history includes an oil industry boom and a prosperous agricultural expansion.
This attracted many immigrants that worked on these projects and brought a lot of wealth to the county. The architecture also stood out by combining terra cotta "Beaux-Arts" and Victorian Revival-style buildings.
Culturally Engaging Community
Ventura County's people arCounty'sfor their friendliness and approachability. Citizens generally want to participate in community activities and, in doing so, improve aspects of the county.
Ventura is popular as a cultural scene, with a vibrant city life engaging citizens in art, culture, and history at the county's museums. Examples include a foodie scene downtown and interesting exhibitions and collections at local stores.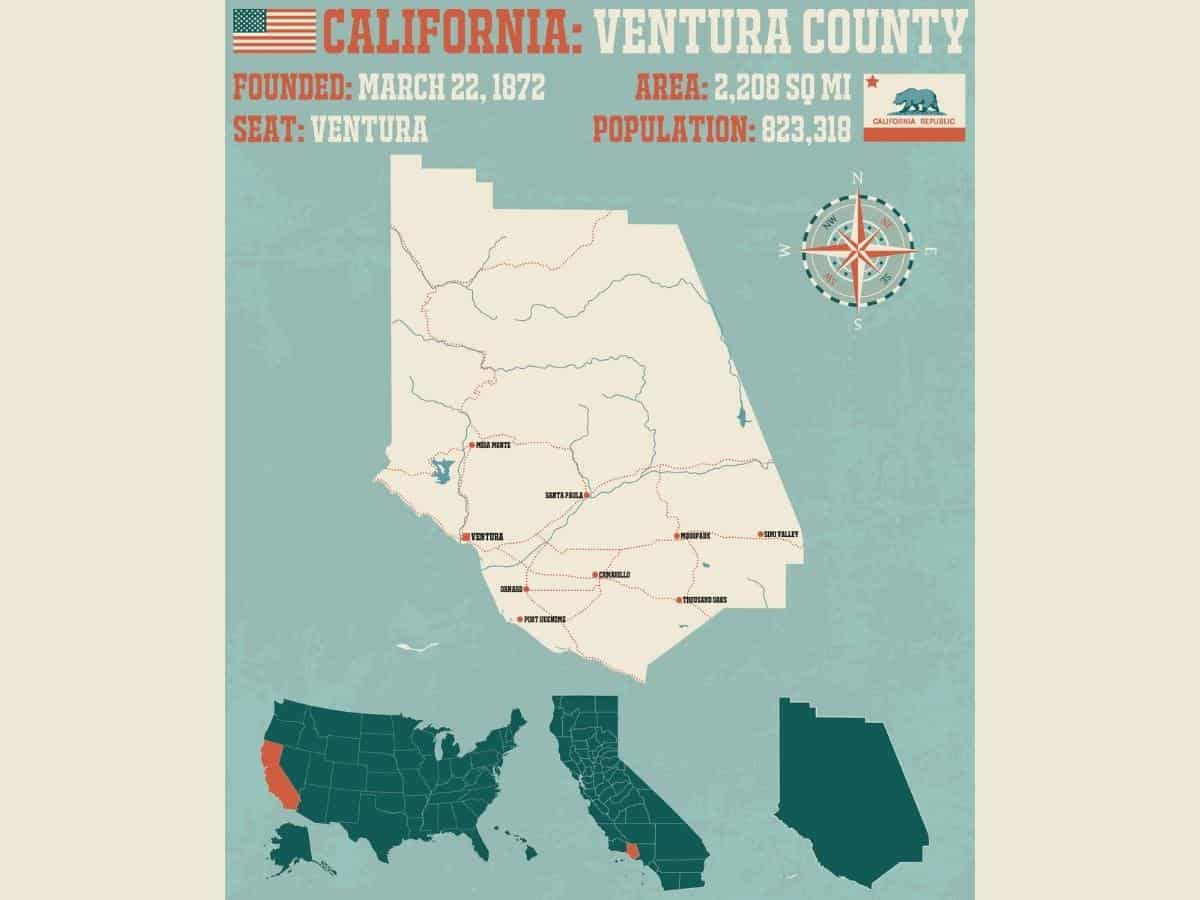 What's In Ventura What's?
Ventura County includes several attractions, from popular downtown spots to historical and cultural locations. Due to its remarkable scenery, the Channel Islands National Park is also a must-see in Ventura County.
A central part of the rich history, one of Ventura County's main attrCounty'sis the Mission San Buenaventura. It was established by Father Junipero Serro and founded as a Spanish mission in 1782.
It is a popular place for tourists and locals we well and specifically known for the beautiful gardens. The mission houses several restored artifacts, and tours are also available if you want to learn about the details of the mission.
Albinger Archaeological Museum And Museum Of Ventura County
Next to the mission is the Albinger Archaeological Museum which aims to educate people about the different cultures that once found a home in Ventura. The museum houses a display of archeological discoveries from 1974.
Another museum called the Museum of Ventura County is also a place of interest to many travelers. It was founded in 1913 and showcased numerous exhibitions and collections of Ventura's history. Ventura's an excellent place to learn about the county's beginning county has educational programs.
Downtown Ventura
The historic downtown of Ventura County is a walkable space with many eclectic restaurants, boutiques, and unique shops. It is quite the experience, mixed with city life and some more open green spots where you can enjoy other entertainments.
Art and culture are the roots of this popular space, a trendy spot for foodies and vintage shopping. The downtown of Ventura County boasts different kinds of breweries and bars and is also an ideal place for a family trip.
For outdoor enthusiasts, there are surfboard rentals, or you can rent a bike to explore the downtown differently. The entertainment ranges from watching a movie at the cinema or spending a few hours at a book bank.
Channel Islands National Park
The Channel Islands National Park in Ventura County comprises five islands with incredible flora, fauna, and ocean environment. The national park preserves the various species so visitors can experience what southern California used to be.
This national park is one of the newest ones in the country, although the islands encompass more than 12000 years of history. It has been quite the attraction over the last years for scientists, historians, and generally for a nature getaway.
You can explore the history and culture of the native Chumash communities here. Each island has a different past and shows uniquely how life might have been before it was used for other purposes like sheep and cattle ranches in the 19th century.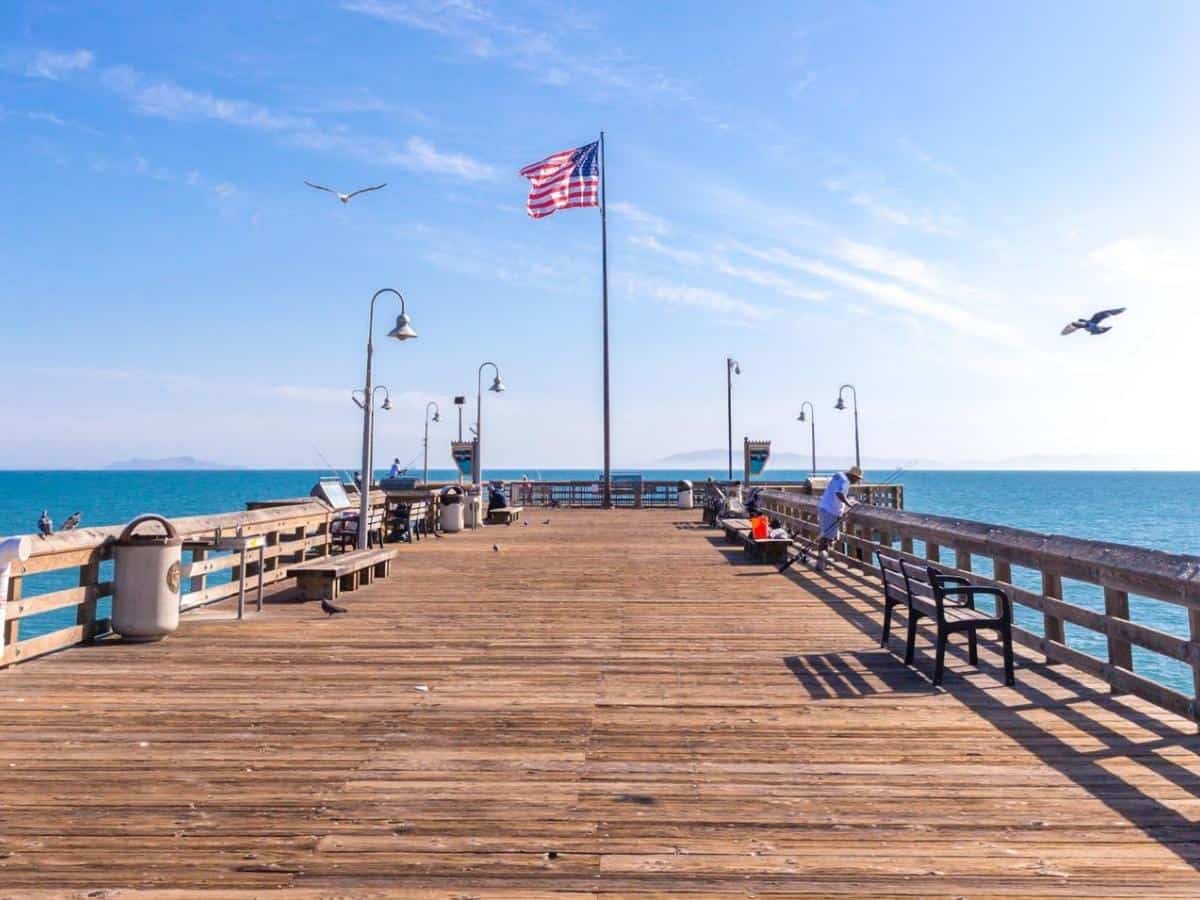 Things To Do In Ventura County
There are many things to do in Ventura County, including visiting museums, national parks, popular viewpoints, and exploring the city's downtown ca city's bars and entertainment spots. Specific things include visiting San Buenaventura State Beach, the Harbor Village, the Botanical Gardens, and Channel Islands National Park.
The Ventura pier and promenade
Historical and cultural sites
The main street of the historic downtown
Walk Along The Ventura Pier And Promenade
The Venture Pier and Promenade is a great place for a stroll and to grab a bit to eat. Nearby, there are also bike and food tours if you want a little more structure to your visit.
The ocean views from the pier are impressive, and when it's not too crowded, it's the place to go for a peaceful walk or run. You will find many restaurants and breweries less than a kilometer away. A perfect place for a family trip, there are also play areas for children.
Visit Historical And Cultural Landmarks
The Mission San Buenaventura and local museums are the thing to do if you want to learn more about Ventura County. Serra Cross Park, managed by the Serra Cross Conservancy, has hiking trails and an option to do a scenic drive to the top of the park.
The view at the cross is arguably the main attraction, showing a 360-degree view of the ocean, beaches, and city. Educational boards also explain the history of the cross and the stonework.
Shop And Dine In Main Street, Downtown
After visiting the beaches, surfing spots, parks, and historic landmarks walk down the central street downtown. Shop at vintage stores, book banks, and other specialty shops before relaxing with a drink at one of the popular breweries on the street.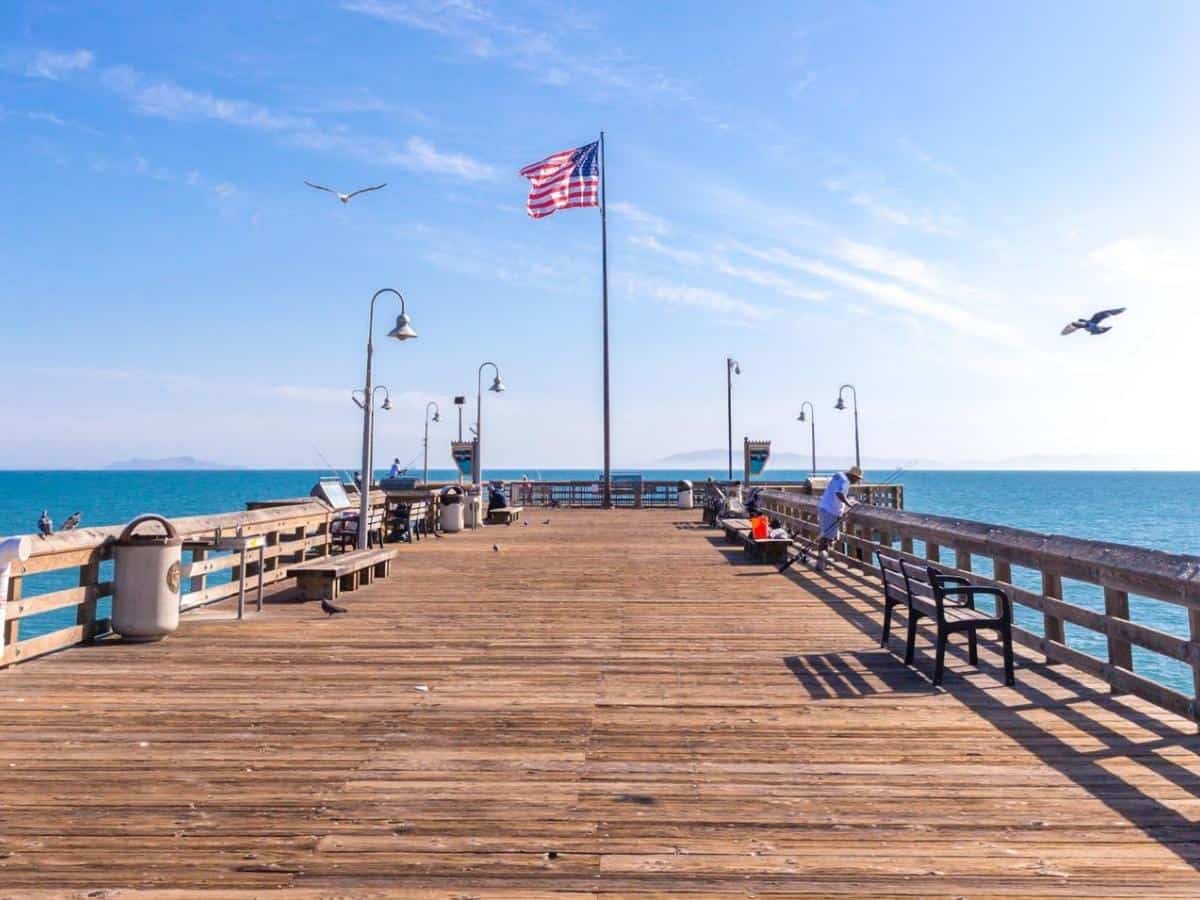 Famous People From Ventura County
Some famous people like John McCook and Krista Allen were born in Ventura County. However, many famous people live there, such as Britney Spears and Hailee Steinfeld.
John McCook
John McCook is a well-known soap opera actor who played for several years in The Young and the Restless and one year in The Bold and the Beautiful. He was born in Ventura County in 1944.
Krista Allen
This famous actress and model come from Ventura County. Although she was born in Ventura, she grew up in Houston and later Austin, Texas. She is best known for acting in Days of Our Lives, various Hollywood films, and many guest appearances on TV shows.
Ventura County FAQ
Interesting Facts About Ventura County?
Ventura County was the first place in the world to make lima beans outside their native country, Peru. This is why Ventura is known as where "gluten-free" comes from. Brea and pastries made from soy and lima beans were healthy food about 100 years before the gluten-free trends as we know them came about.
Is Ventura County A Good Place To Live?
Ventura County is a good place to live based on its friendly community, beautiful landscapes, and vibrant city life. It was named the most desirable place to live in the country in 2015 by the US Department of Agriculture.
Is It Expensive In Ventura County?
The most notably expensive aspect of Ventura County is the housing. Buying and renting both pose a significant problem for citizens as Ventura has some of the country's most expensive country's houses. Besides housing, the cost of living in Ventura is around 5% higher than the California average and 45% higher than the national average.
References: