Exploring new places and seeing how other American live is one of the most enjoyable parts of traveling through our magnificent country. Whether it's the Grand Canyon, the beauty of Yellowstone Park, the white sands on the Gulf beaches, or the majestic county of Butte, North America has it all.
Situated in the Shasta Cascade region of Northern California, Butte County covers 1,636 square miles and has 211,632 residents. The county is renowned for its natural wealth and beauty, including magnificent mountain ranges, the longest river in California, and the highest dam in North America.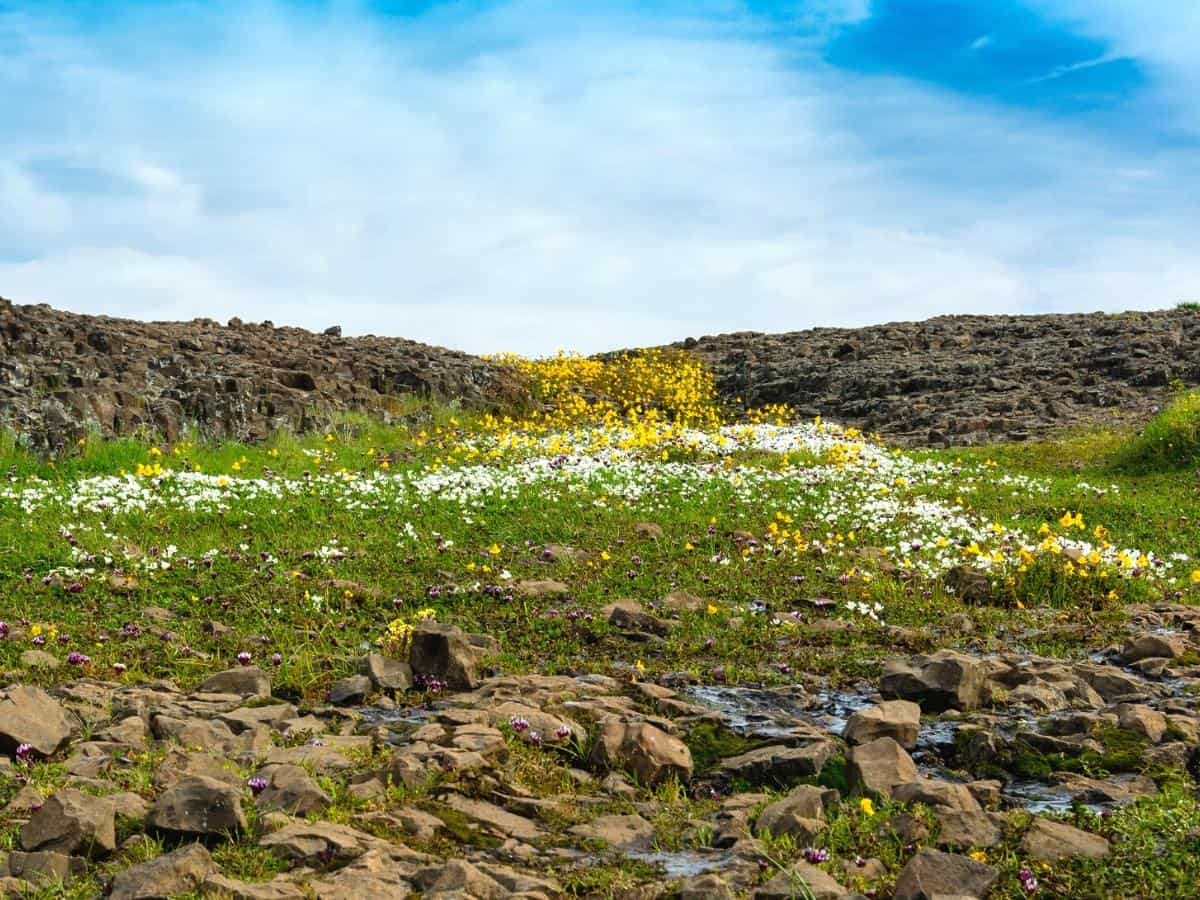 What Is Butte County Known For?
Butte means " mound," "hillock," or "butt" in French. The county derives its name from its neighbor in Sutter County, which features a complex of volcanic lava domes which rise as buttes above the flat plains of the Sacramento Valley.
Butte County could be described as the world in one county where it features.
Agritourism
Parks and Forests
Mountain Ranges
The two rivers
Centers of Learning
Agritourism
Butte county is renowned for its huge plains of citrus farms and is a popular destination for agritourists.
Parks and Forests
Visitors will get to soak up the view of rolling forests and can hike through the impressive 3,670 acres; Bidwell Park is one of the largest city parks in the United States.
Mountain Ranges
The magnificent Sierra Nevada Mountains frame Butte county's western boundary. The elevations on the eastern perimeter span from 90 to 7,800 feet above sea level. The county is enriched by the water flowing into Butte County through the Feather River and the Sacramento River's largest river in California.
Water flows out of the county through the Sacramento tributaries of Butte Creek and Big Chico Creek.
Centers of Learning
California State University, Chico, and Butte College are in the county.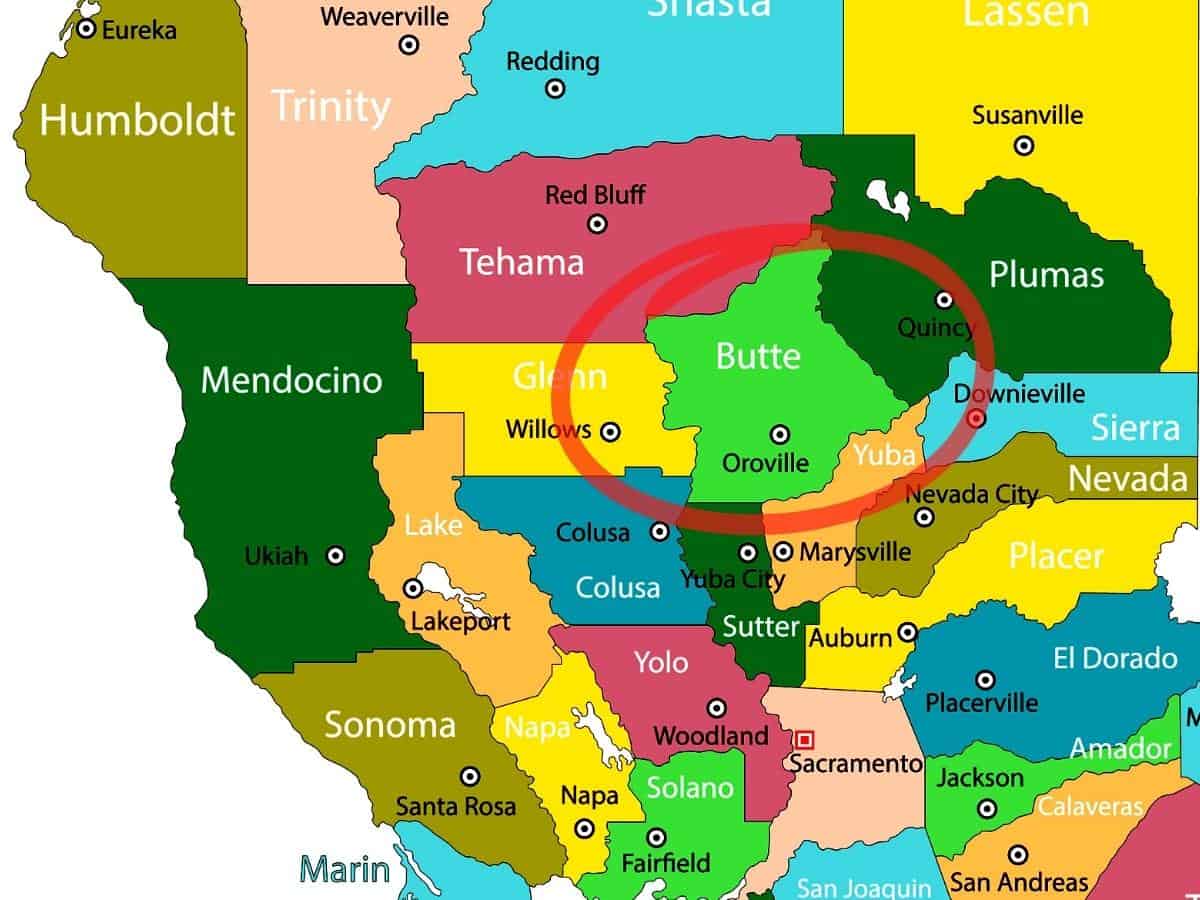 Interesting Facts About Butte County
There are several interesting facts about Butte County.
Butte County Is situated in the Shasta Cascade region of Northern California, and It is pronounced like the first syllable in "beautiful" ("BUTTEiful").
Butte County covers 1,636 square miles and, in 2020, had 211,632 residents.
Butte County is home to one of the largest municipal parks in the United States, Bidwell Park.
At 719 km, the Sacramento River, which runs through Butte County, is the longest river in California.
Between November 8 to 25, 2018, a fire caused by a faulty electrical transmission line started on Camp Creek Road.
A phenomenon called an urban firestorm formed in the foothill town of Paradise and razed most of the city.
Butte County is home to four national protected areas.
Butte Sink National Wildlife Refuge
Lassen National Forest
Plumas National Forest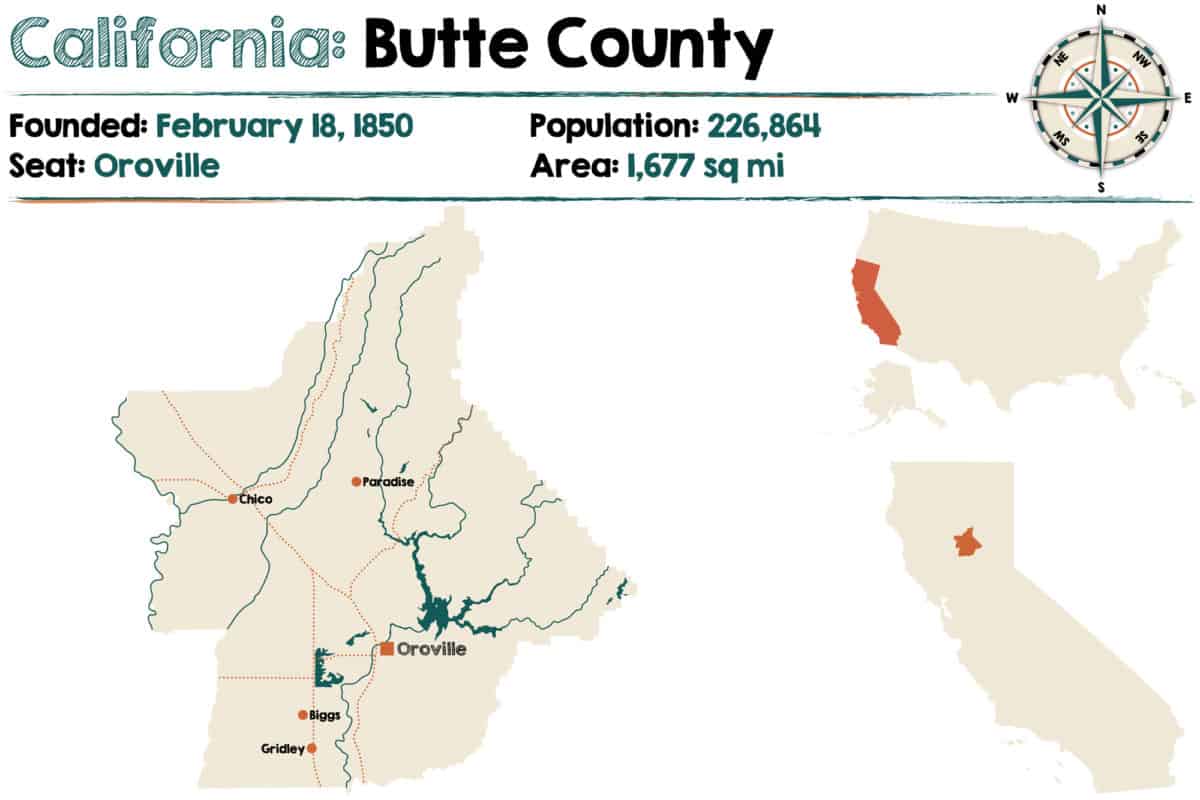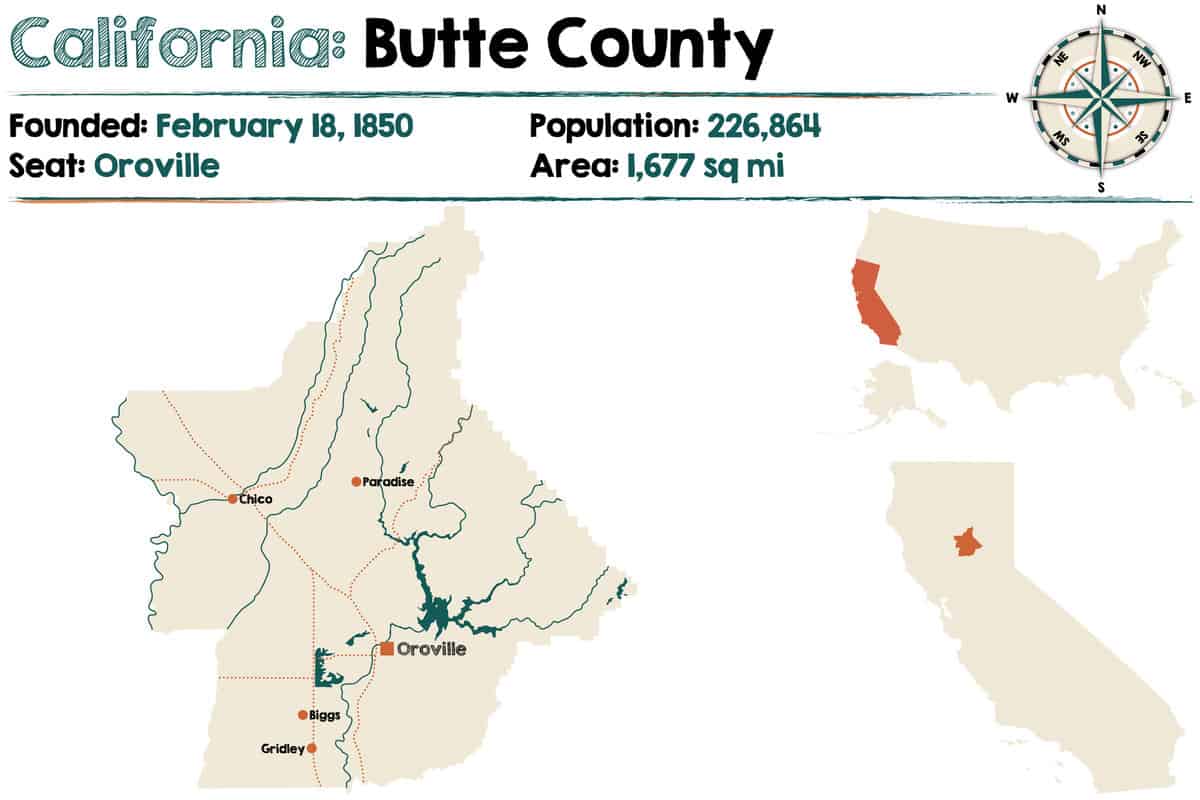 What's In Butte County?
Butte county has numerous beautiful towns, the county's highest dam, California's longest river, rows of citrus farms, large water expanses, and beautiful mountains.
Wine Farms
With 20 wineries and vineyards in the county, wine lovers have a massive choice of wine-tasting possibilities.
Butte county is renowned for producing Northern California wines, and you can book tasting sessions at reasonable fees in relaxed and inviting tasting rooms.
Butte County Has Its Own Grand Canyon
On Skyway Road, leaving the town of Paradise, there is a magnificent view of the Butte Creek Watershed Overlook, colloquially known as the "Mini Grand Canyon.".
The Highest Dam In America
Why don't you arrange to walk on top of the tallest dam? At 770 feet, Oroville Dam is the highest in North America and offers vehicle and pedestrian access.
Things To Do In Butte County California
You can enjoy almost endless activities in Butte County; the following lists a small sample of the county's attractions.
Farmers Markets In Butte County
Bicycle trails
Chico Community Observatory
Night-Time Kayak Rides
Outdoor Concerts
The Butte County Fair
Paradise Lake
Joy Lyn's Candies
Gold Panning
camping sites
Salmon Migration
Table Mountain
Sierra Nevada Brewery
Farmers Markets In Butte County
Being a county renowned for its picturesque farms is brought into focus with year-round Wednesday and Saturday Chico Certified Farmers Markets. Purchase your fruit and vegetables directly from the farmers themselves with no middleman costs.
Cyclists Have A Ball In Butte County
Cyclists can enjoy the picturesque scenery at the annual Chico Velo Century Wildflower event. Cyclists can cycle between 12 and 125 miles across the county by choosing many available routes.
Chico Community Observatory In Butte County
Chico Community Observatory offers the chance to get your inner Elon Musk out and gaze at the heaven above. It's open on weekend nights for a FREE view through the high-powered telescopes in the observatory.
Night-Time Kayak Rides In Butte County
The Forebay Aquatic Centre offers Moonlight Paddles in the summertime, where participants enjoy a guided kayak ride under a full moon.
Outdoor Concerts In Butte County
On Friday nights during summer, Chico's City Plaza comes alive with the Friday Night Concerts series.
The Butte County Fair
The Butte County Fair has been an important fixture on the calendar for seventy-five years. In August, the fairground hosts a carnival, street vendors, livestock shows, and a huge Assortment Of Exhibits.
How About A Picnic Along Paradise Lake?
Picnic on the picture-perfect shore of Paradise Lake, framed by a magnificent conifer woodland. Paradise lake does justice to its name and offers the chance to take part in a relaxing paddle, picnic, or hike.
Having fun in this beautiful environment is a bucket list item for many. While you are there are plenty of fishing opportunities on the 244-acre lake.
And For The Chocaholic In Butte County
Joy Lyn's Candies, founded in 1969, makes and sells "heavenly candies made in Paradise." Not only can you choose from their huge selection of artisan chocolates, but you can also watch the magic while they are being made.
Strike It Rich In Butte County
The Forks of Butte Creek Recreation Area offers you a chance to hone your skills in panning for gold and other minerals.
For Those Who Want To Live In The Wild Side
There are many easily accessible camping sites throughout Butte County, but perhaps the most interesting and unique is the floating campsite on Lake Oroville. This facility offers boaters the chance to moor alongside and enjoy camping under the stars and on the lake.
Watch The Salmon Run (Or Swim)
Butte county is not short on offering unique adventures, and the Salmon Run in Feather River is at the top of the list. It is particularly unique in that it runs through the city of Oroville, where the town celebrates all things Salmon during the Salmon Festival held on the 4th Saturday of September each year.
And You Thought Table Mountain Is In Cape Town, South Africa
 While Table Mountain in South Africa may be an iconic landmark, Table Mountain in Butte County, California, is equally so. It is situated south of Oroville and has hiking trails you can traverse all year round.
The most spectacular time is when the streams start flowing at the end of winter. Another wonderful time is early- to mid-spring, when the wildflowers wake up, blossom, and take hold of the mountain.
Finally, To All The Beer Drinkers Out There
The Sierra Nevada Brewery in Chico can take part in a plant tour to see every aspect of the plant's activity. At the end of the visit, there is the option to participate in a tasting session.
Famous People From Butte County California
Three of the many famous people who came from Butte County are the following:
Tiffany Brissette
On December 26, 1974, Tiffany Brissette was born in Paradise (Butte County), California. Tiffany was a child star who made her name between 1985 and 1989 in the hit TV series "Small Wonder." In the series, she played the character VICI (Vicki), which was an autonomous robot living in a suburban family setting.
In 1985 and 1986, she won Best Young Actress, starring in a New Television Series. She studied nursing, which ended up as her full-time career.
Aaron Rodgers
On December 2, 1983, Aaron Rodgers was born in Chico Butte County. Aaron was an American football quarterback for the Green Bay Packers of the National Football League from 2006 and is still playing. He has competed in 4,651 competitions, thrown 449 touchdowns in his career, and holds multiple NFL records.
Glynnis Talken Campbell
On January 1, 1950, Glynnis was born a successful author, musician, and voice artist. Her first novel, which was called "My Champion," was nominated for
A Romance Writers of America's RITA award for Best First Book
Best Long Historical Romance in 2001.
In 2009, her novel, Danger's Kiss, won the "Book Buyers Best Award for Historical Romance.
Butte County California FAQ
Want to know more? Here are some answers to commonly asked questions.
Is Butte County A Good Place To Live?
The incredible scenery, outdoor activities, and farmers' markets are just some of the reasons why living in Butte County is great. Regarding weather conditions, May, October, and September are the most pleasant months in Butte County, while January and December are the least comfortable months.
Is It Expensive In Butte County?
House prices are more affordable in Butte County than the national average – $271,700 (American Median $374,900). House rental prices equal the national average at – $1,060 (American Median $1,062).
Butte County's median household income is $98,305.59, which compares favorably to the American Median at $67,521.
Crime Rate In Butte County
Sadly, the crime rate is a little higher in Butte County than the national average.
Crimes per 100,000 people
Assault – 344.1 (national average national 282.7)
Murder – 1.4 (national average 6.1)
Rape – 85.4 (national average 40.7)
Robbery – 78.5 (national average 135.5)
Burglary – 656.9 (national average 500.1)
Theft – 2,636.4 (national average 2,042.8)
Motor Vehicle Theft – 482.1 (national average 284)
On the positive side, Butte county's rankings are
Butte scores 17 of 55 for the Best Public Schools in California
Butte scores 23 of 55 for Young Professionals in California.
Butte scores are 30 of 55 for Families in California.
References: