Glenn County in California is situated in the heart of the Sacramento Valley. With the Mendocino National Forest on the West and the Sacramento River on the East, this picturesque agricultural county is situated midway between Sacramento and Redding.
Glenn County is synonymous with quiet, small-town living. The majority of families in the area work in the agricultural industry. There is a lot of history to the area, its lush farmlands, and the towns such as Willows are filled with beautiful old buildings preserved by proud communities.
What Is Glenn County California Known For?
Glenn County is primarily known for its agriculture industry. The area is predominantly made up of farms. The majority of permanent residents are somehow involved in this industry. Others have come to the area searching for a quiet, tranquil small-town lifestyle.
Overall, Glenn County is known for:
Rice farming
Almond plantations
Prune farms
Dairy farms produce an array of dairy products
Livestock farming
Endless views over the beautiful landscape
Small-town living
Glenn County Farming
The county boasts over eleven hundred farms, producing commodities such as rice, almonds, prunes, dairy products, and general livestock.
Views Over The Landscape
Driving through the county, you will enjoy views over countless lush farms growing high-quality, wholesome foods.
Food Exports
Glenn County's food is exported globally, and the region also hosts several fabricators within its manufacturing community.
Small-Town Living
The county is well-known for its small-town living atmosphere, making it a great place to raise a family. Many families anxious to escape from fast-paced city lifestyles can find solace in Glenn County. The peaceful, slow lifestyle in the area is extremely desirable for those simply not suited for the big city lifestyle.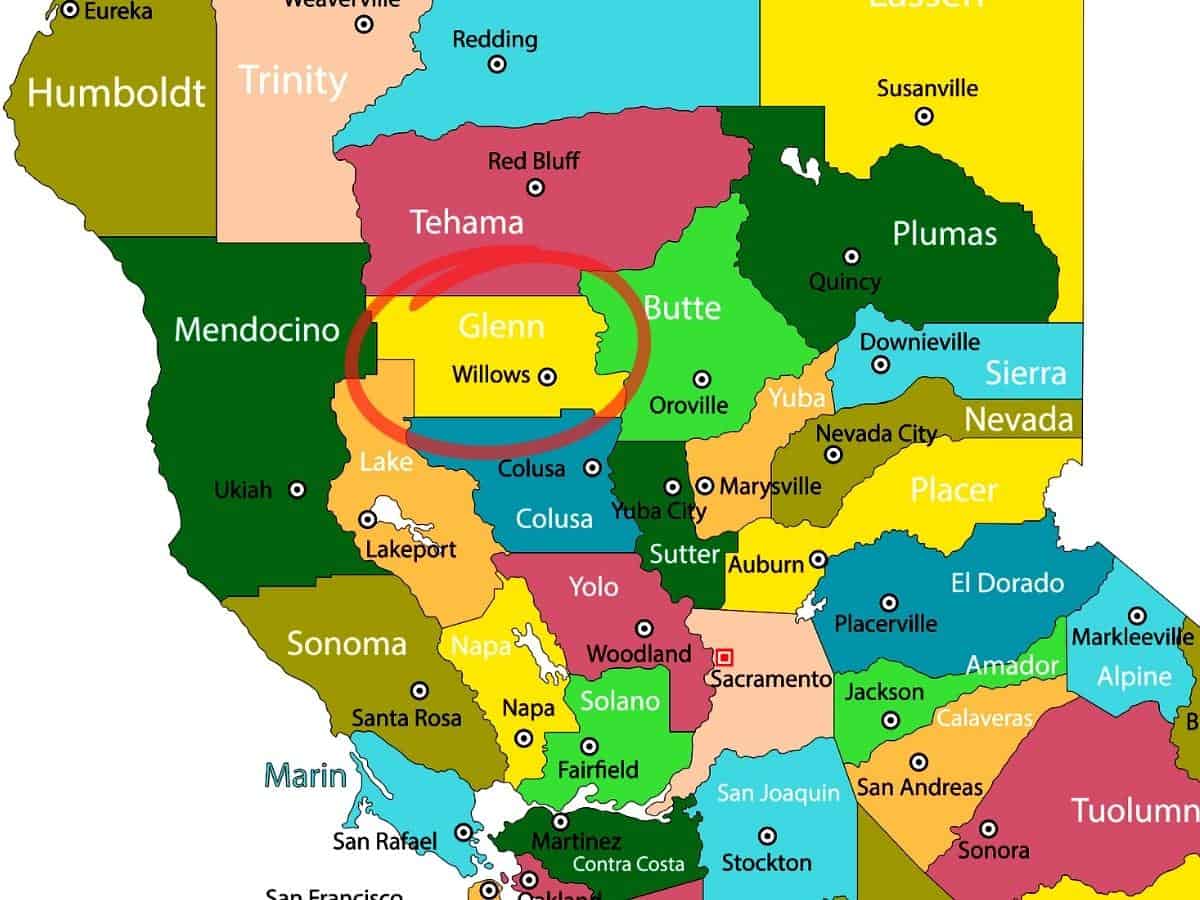 What's In Glenn County?
Glenn County is predominantly made up of farmland situated on the valley floor. Along with the farmland, there are several natural features, including forests and numerous bodies of water boasting an array of activities.
Vast Expanses Of Farmland
This vast area is relatively flat and boasts an enormous amount of highly productive soil. Thanks to the Sacramento River, which laid the fertile soil over time. The farmland is used to produce a variety of commodities, including rice, prunes, almonds, dairy products, and livestock. Glenn County boasts over 500,000 acres of cultivated land.
Mendocino National Forest
Besides its expanses of fertile farmland, Glen County is home to several natural attractions, including the Mendocino National Forest. This vast forest covers over 1 million acres from the Sacramento Valley's foothills to the North Coast's mountains.
Visitors can enjoy various camping options throughout the forest in well-developed campgrounds with well-maintained facilities. These are dispersed across the forest, allowing visitors to the forest to enjoy whatever degree of peace and isolation they choose.
Water Bodies
There are numerous bodies of water, including the Black Butte Lake, Stony Gorge Reservoir, and the Sacramento River, which borders the county's eastern side. Black Butte Lake is a particular favorite in the area and was created over Stony Creek.
There are two campgrounds at Black Butte, and the dark volcanic buttes that define the area give it enormous appeal. There are plenty of recreational opportunities at Black Butte Lake. It's a popular destination for fishing, sailing, water skiing, and camping. Wildlife viewing, hiking, and picnicking are popular activities in this peaceful, scenic park.
Stony Creek itself is another popular area for recreational activities, and fishermen, in particular, enjoy it for its availability of rainbow trout.
Sacramento Wildlife Refuge
Glenn County is also home to the Sacramento Wildlife Refuge. This facility is part of the Sacramento National Wildlife Refuge Complex, which offers recreational activities.
Among the activities available at the Sacramento Wildlife Refuge are wildlife viewing, hunting, photography, hiking, and other exciting activities.
Towns Of Glenn County
Glenn County has five cities and towns: Willows, Orland, Artois, Hamilton City, and Elk Creek. Willows is the official county seat for Glenn County, and it was founded in 1891.
Willows and Orland are the two main cities in Glenn County, while Artois, Hamilton City, and Elk Creek are smaller communities with low population density.
The entire county of Glenn has a population of around 28000, with the vast majority of this population split between the cities of Willows and Orland.
Its proximity to the California State University in Chico and world-class medical facilities in the nearby towns of Chico and Redding make Glenn County somewhat appealing to many potential residents and visitors.
Things To Do In Glenn County
Glenn County is home to several bodies of water that serve as major attractions to visitors and residents alike. Black Butte Lake, Stony Gorge Reservoir, and the Sacramento River are nearby. Much of the recreation in Glenn County centers around these.
Thunderhill Raceway
Glenn Golf & Country Club
Cultural Events
Thunderhill Raceway
Another attraction in Glenn County, outside Willows, brings motorsports enthusiasts from across the country: the Thunderhill Raceway. Thunderhill is an extremely popular racetrack that offers customers a superior motorsports experience.
Thunderway Raceway Park is one of US's best, cleanest, and safest road courses. The park offers two skid pads and three track layouts. Whether you drive an ordinary car, a motorcycle, a go-cart, an autocross car, or a drift car, you can enjoy what is on offer at this scenic spot.
Glenn Golf & Country Club
The Glenn Golf & Country Club is another exciting feature of Glenn County that offers guests the ideal opportunity to enjoy its golf facilities. Only four miles north of the city of Willows and ten miles south of Orland, the Glenn Golf & Country Club is situated amongst the lush farmlands of Northern California.
The country club is exceptionally well-manicured and is known for generally fast play. Glenn Golf & Country Club is a standard nine-hole course boasting numerous tee boxes that allow the front nine to be changed from the back nine. The course is extremely tranquil.
The Glenn Golf & Country Club also boasts a popular restaurant called the Greenside Grill. Golfers and their families can enjoy a relaxed meal after a long round of golf.
Cultural Events
Glenn County is home to several cultural events that occur throughout the year. These events are well-attended by locals and visitors alike, with some major events attracting visitors across state lines.
The Glenn County Fair is a popular event in Orland during May. (19 to 22 May 2022). This annual fair has been going since 1916 and continues to be a staple in the calendars of Glenn County residents.
Some aspects to enjoy include a livestock auction, a Demo Derby, Butler Amusements, and all the food and fun expected at a family fair.
The Avenue of Lights is another event at the Orland Fairgrounds during December. In addition to this, Glenn County residents can enjoy the Lights Parade in Willows during the same period. The historic Lamb Derby Parade in Willows also occurs during May, as does a Car & Bike Show in August.
Hamilton City hosts a Levee Festival every year during October. Another notable cultural event is the "Splendor In The Valley" festival held at the Cal Worthington ranch yearly. This festival is aimed at supporting the local hospital, Glenn Medical Center.
Famous People From Glenn County
Little information is available about any famous people from Glenn County. Seemingly, the most famous person from Glenn County is the founder of the county and the man for who it was named – Dr. Hugh J Glenn.
Hugh Glenn was the most prominent wheat farmer in the state throughout his lifetime. He was an exceptionally prominent figure in both political and commercial circles.
Glenn County FAQ
Interesting Facts About Glenn County?
Glenn County was previously part of Colusa County. Glenn County was developed from the northern section of Colusa County and was incorporated on March 5, 1891. Willows, the county seat, was created on March 11, 1891.
Is Glenn County A Good Place To Live?
People who relocate to Glenn county tend to do so in search of enjoying the small-town life that is on offer here.
If you are a family looking for a good, safe, and peaceful place to raise your kids, Glenn County might just be the right area for you.
Glenn County is in very close proximity to California State University. This well-known university offers excellent qualifications in construction, business, and agriculture. Numerous good schools serve the children of farmers in the surrounding areas.
Is It Expensive In Glenn County?
Generally speaking, the cost of living in Glenn County is lower than in the US. Glenn County's cost of living is around 2% lower than that in the rest of the US, making it an attractive place to live in terms of affordability.
The most expensive city in Glenn County is Orland, with a median home price of $419,5K. On the other hand, Willows has a median home price of $283,5K.
When comparing the cost of living in California to the US Average, California is significantly higher. However, the cost of living in Glenn County is significantly lower than in the rest of the US. As a result, it would seem that Glenn County is one of the cheaper places to live in California.
For example, looking at indices where the US average is 100, housing in California sits at 239.1. By contrast, housing in Glenn County sits at 94.
Groceries and transportation costs in Glenn county are well below the national average. In contrast, healthcare in Glenn County is significantly more expensive than in California or the rest of the US.
Utilities, on average, cost significantly more in Glenn County than in California and the rest of the USA, respectively.
Resources